August 25, 2022
A First-Timer's Bikerafting Trip on the Lower Deschutes River
Bikerafting and fishing the Lower Deschutes
A film and story by Chris Wilson
I had some nerves going into this trip.  I knew I'd be pushing my comfort level. I've had some experience in swiftwater, running light class II on a stand up paddle board, hydrospeeding in Europe, and some guided rafting trips here in the Pacific Northwest, but this will be my first time in a packraft with a bike strapped to the front.  
My buddy Rob is joining me on our first of many adventures with our shiny new Alpacka Caribou packrafts.  The Lower Deschutes River has some class III rapids which has me nervous.  After some careful deliberation we feel given our experience we can run this safely and portage anything that feels too risky. 
The Deschutes River Trail is smooth sailing for the first 17 miles.  After that, the trail starts to degrade, getting rockier and more overgrown.  We end up pushing through rocky and steep terrain scarred by the Harrimans railroad trestles which once spanned this now rugged trail. In the heat, we're having a lot of type two fun navigating this terrain with heavy packs.
We make it to the other side of the the last downed trestle and take cover in the small bit of shade where we set up camp for the evening.  We spend the remaining daylight swimming and fishing, excited to get in the water with our new boats.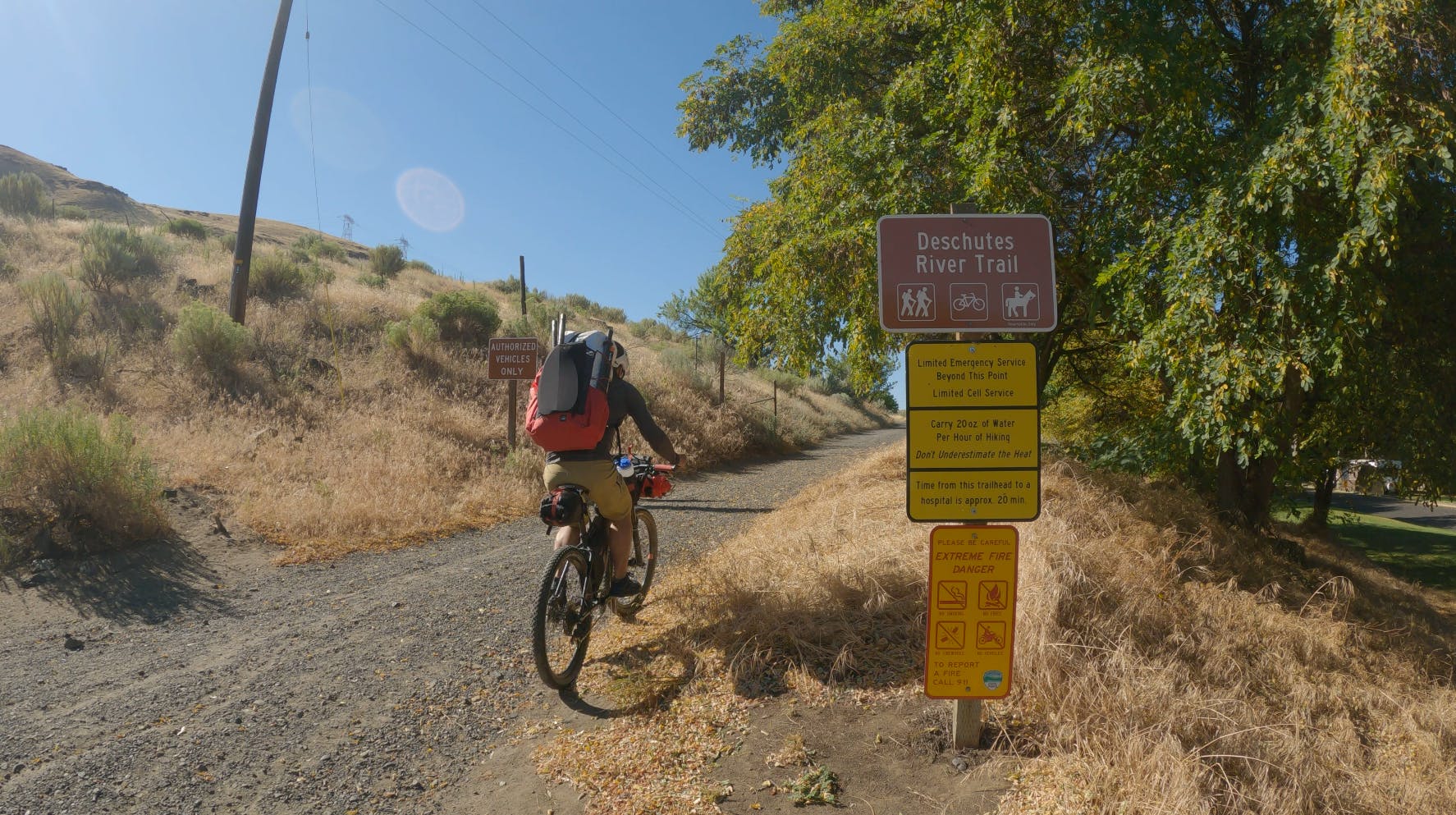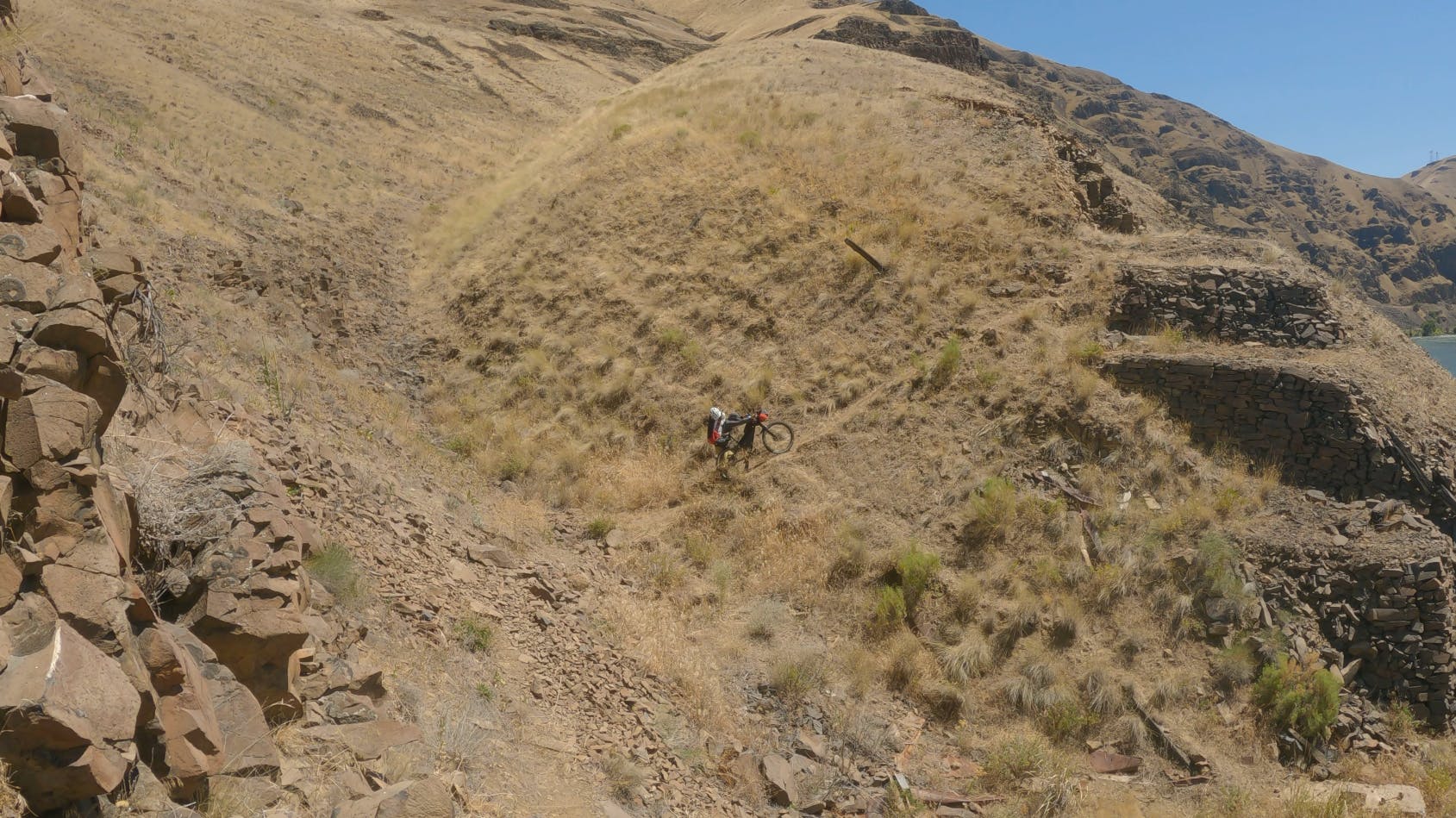 On Day two we're riding about 7 more miles to our put in.  We've practiced mounting our bikes onto the rafts many times, but I still make a mistake and put my multi tool inside the Cargo Fly and inflate the boat before taking my pedal off. After 30 minutes of packing, we finally get our boats in the water.
We're having a ton of fun, even on the small waves.  Our first day in the river has class I and II rapids.  It's good training for what lies a head tomorrow.  We floated around 17 river miles before finding a place camp.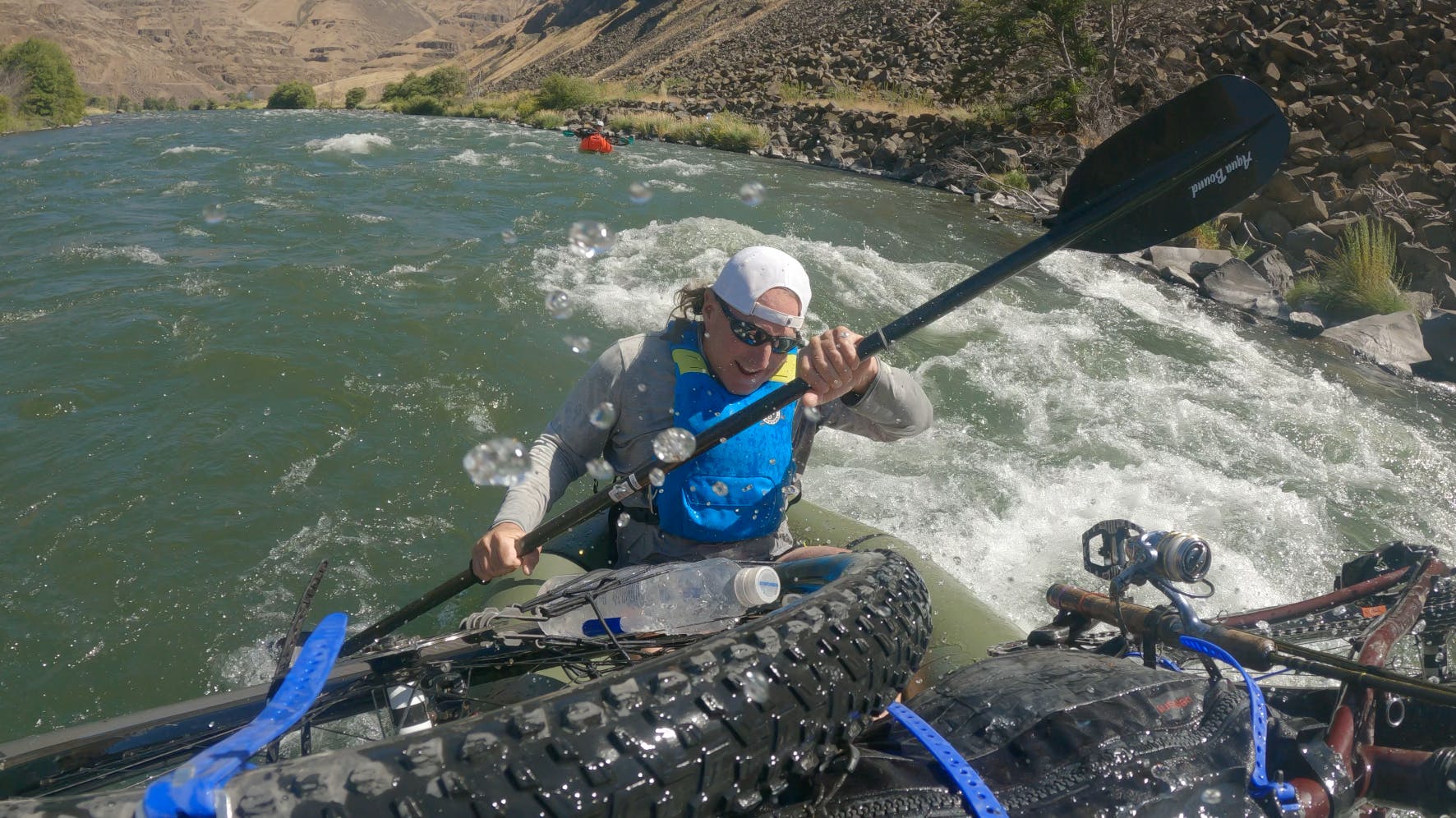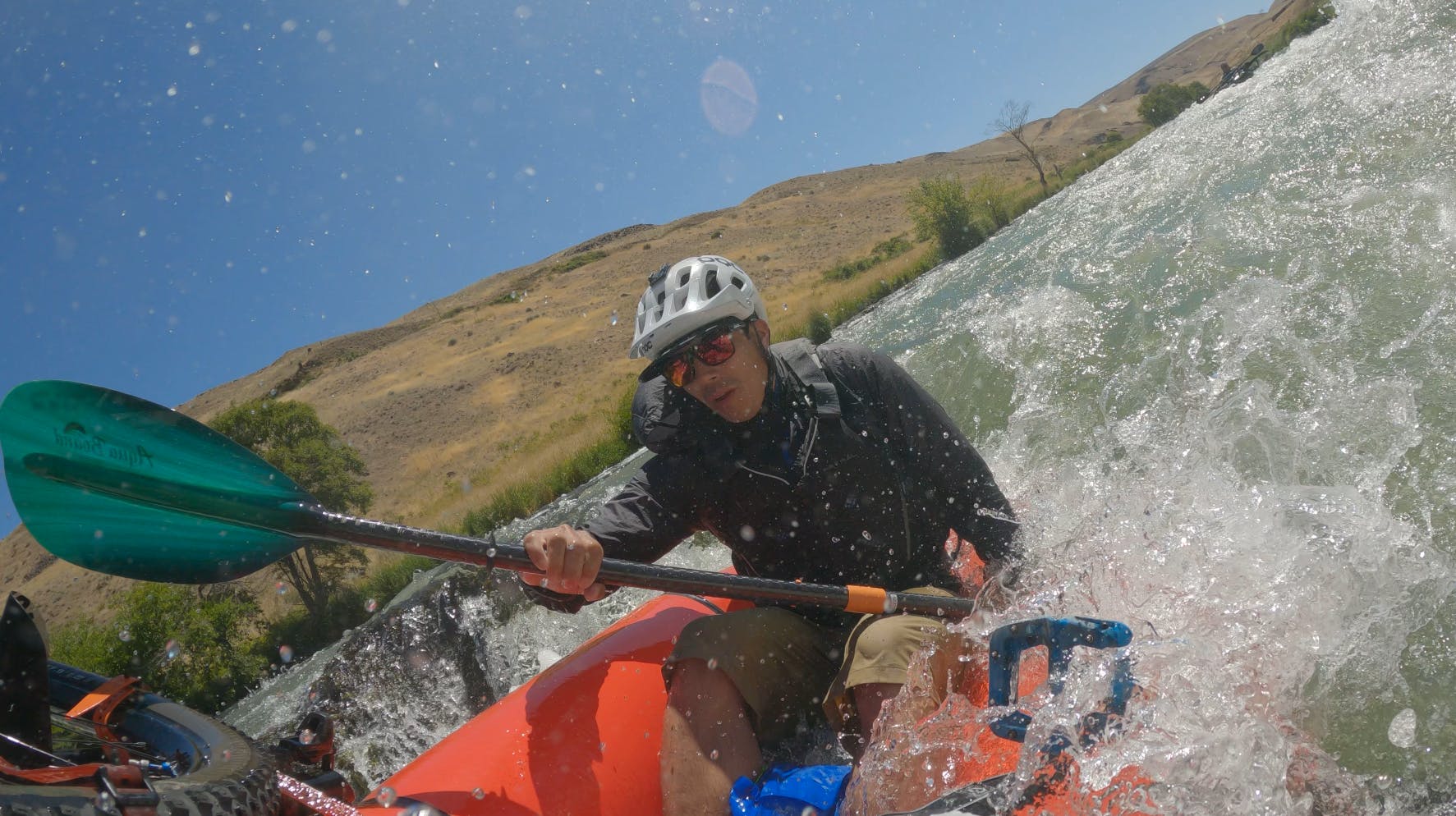 On Day three we'd hit the class III rapids.  We were both feeling prepared.  Yesterday was nothing but fun and we were starting to get comfortable maneuvering the boats with bikes on them.  We approached the Colorado Rapids with confidence recognizing that we may end up going swimming.  I followed Rob's line, right into the biggest wave.  I saw him flip right in front of me, and I thought for moment I may be able to pull it off.  But before I knew it I was upside down, just like Rob.
We had a chance to redeem ourselves on Rattlesnake Rapids, but this time we'd pick our line more carefully.  We even pulled over and scouted the rapid to pick the best line. Despite our efforts our skills were not mach for this rapid either and we both end up flipping again.  
We get our rafts flipped back over, and continue down the river, laughing and grinning ear to ear.  This is the most fun either of us have had in a long time.  We make it to the take out, and are already scheming our next bike rafting trip.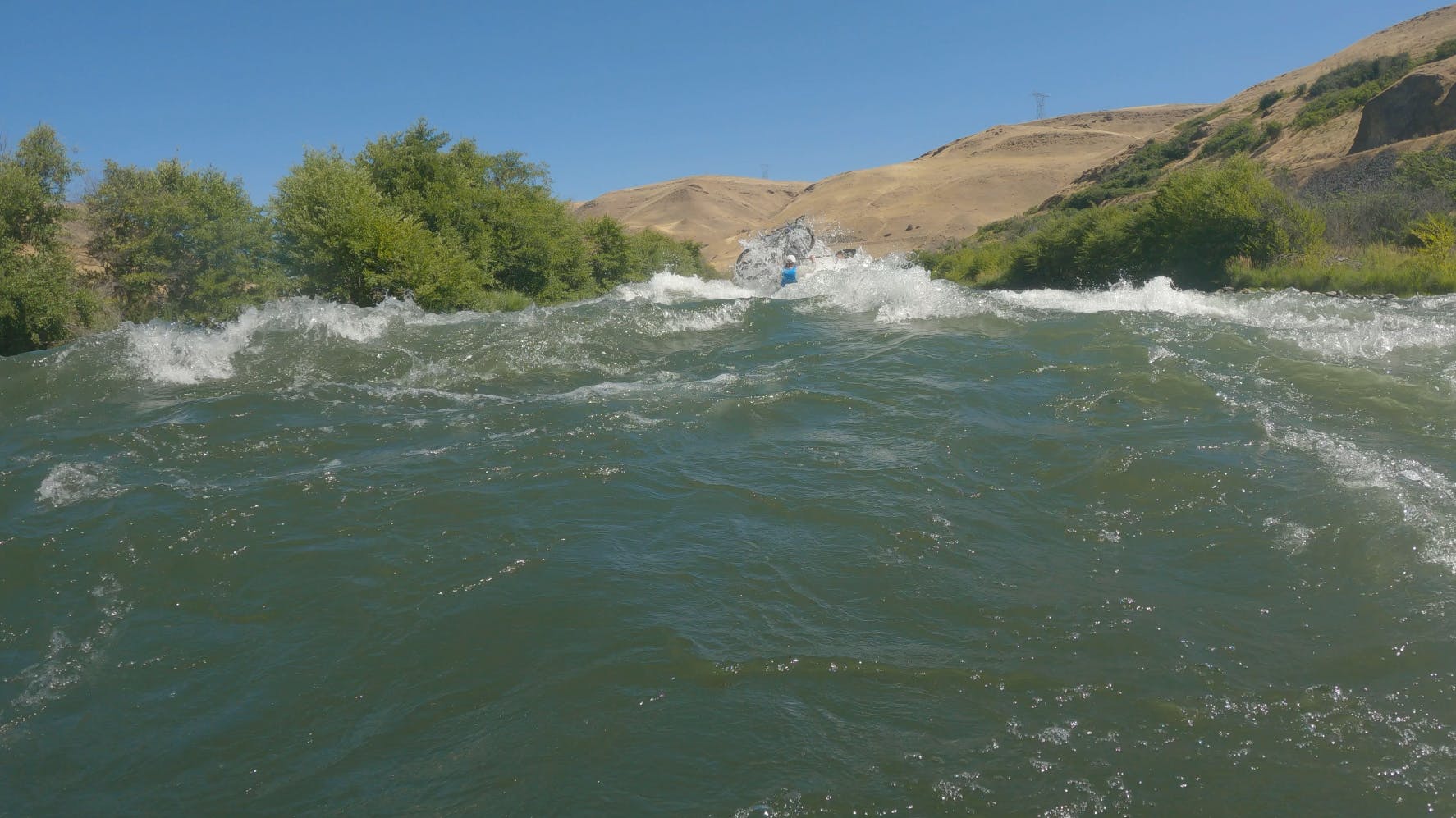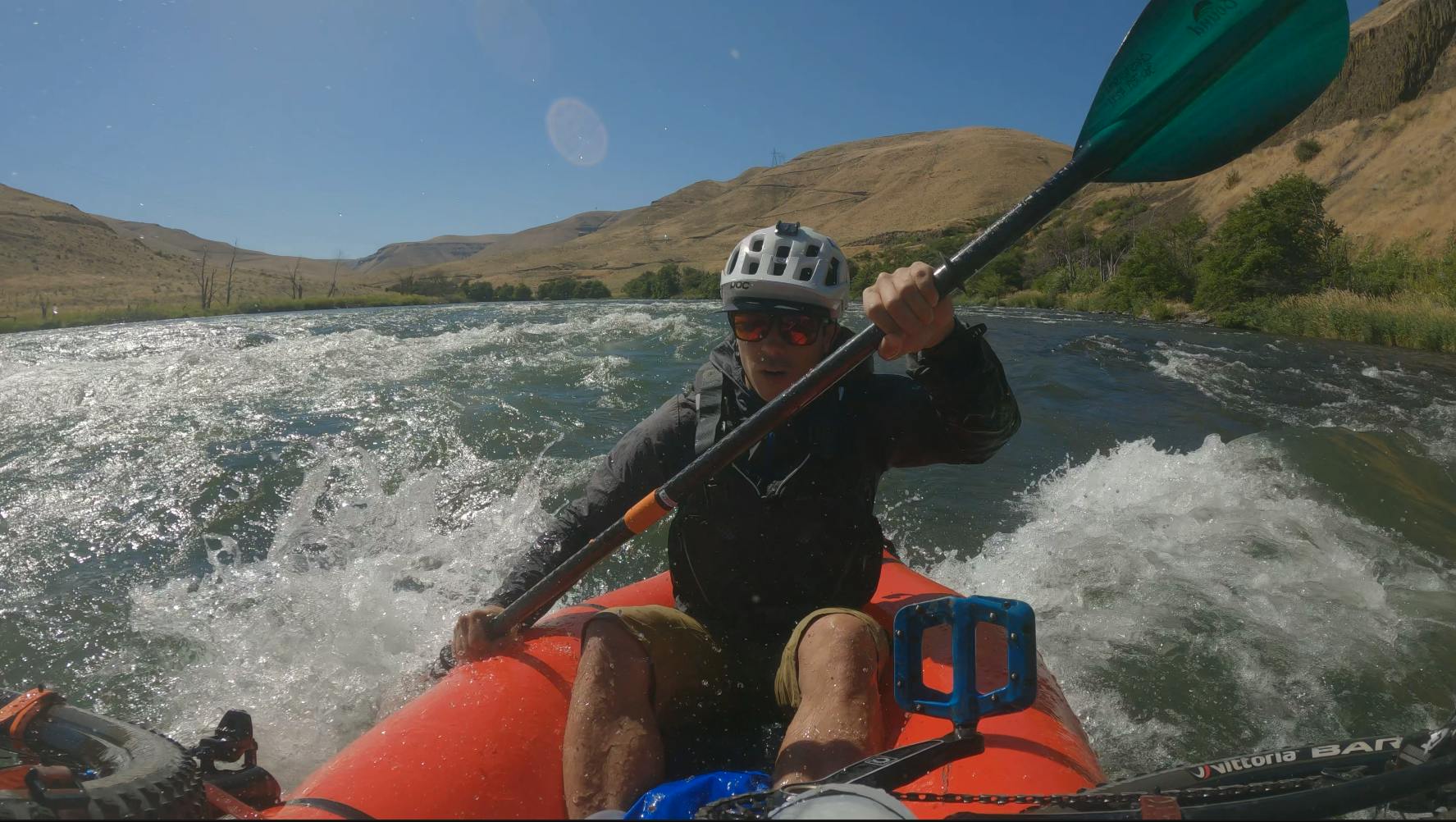 Check out another great bikerafting film that Chris made of a solo trip he took. It's his second bikerafting adventure and a bit more mellow. Enjoy.