How one woman's passion for design and innovation revolutionized the outdoor industry.
A film produced by:
Q Stories, in partnership with Alpacka Raft
Film Synopsis:
Sheri Tingey defied the odds by starting a company at age 50 that has revolutionized the outdoor industry.
The film is a story about the hurdles Sheri overcame to launch the company, the ways she hid from view so that people would judge her products, and her role in creating them. It's the story of her son, Thor Tingey, who has built the company alongside his mother, but has only recently begun to fully grasp what she has created not just for him, but for adventurers who've used the boats to access remote and wild rivers around the world.  Sheri's story will warm audiences and ask them to grapple with important questions about who belongs.

We created this film to honor Sheri and celebrate Alpacka Raft's 20th Anniversary. The world premiere of "Sheri" was at Mountainfilm 2022. This film has also been accepted into additional film festivals around the world, we will announce those as dates get closer.
Upcoming Viewing Opportunities:
More About the Film: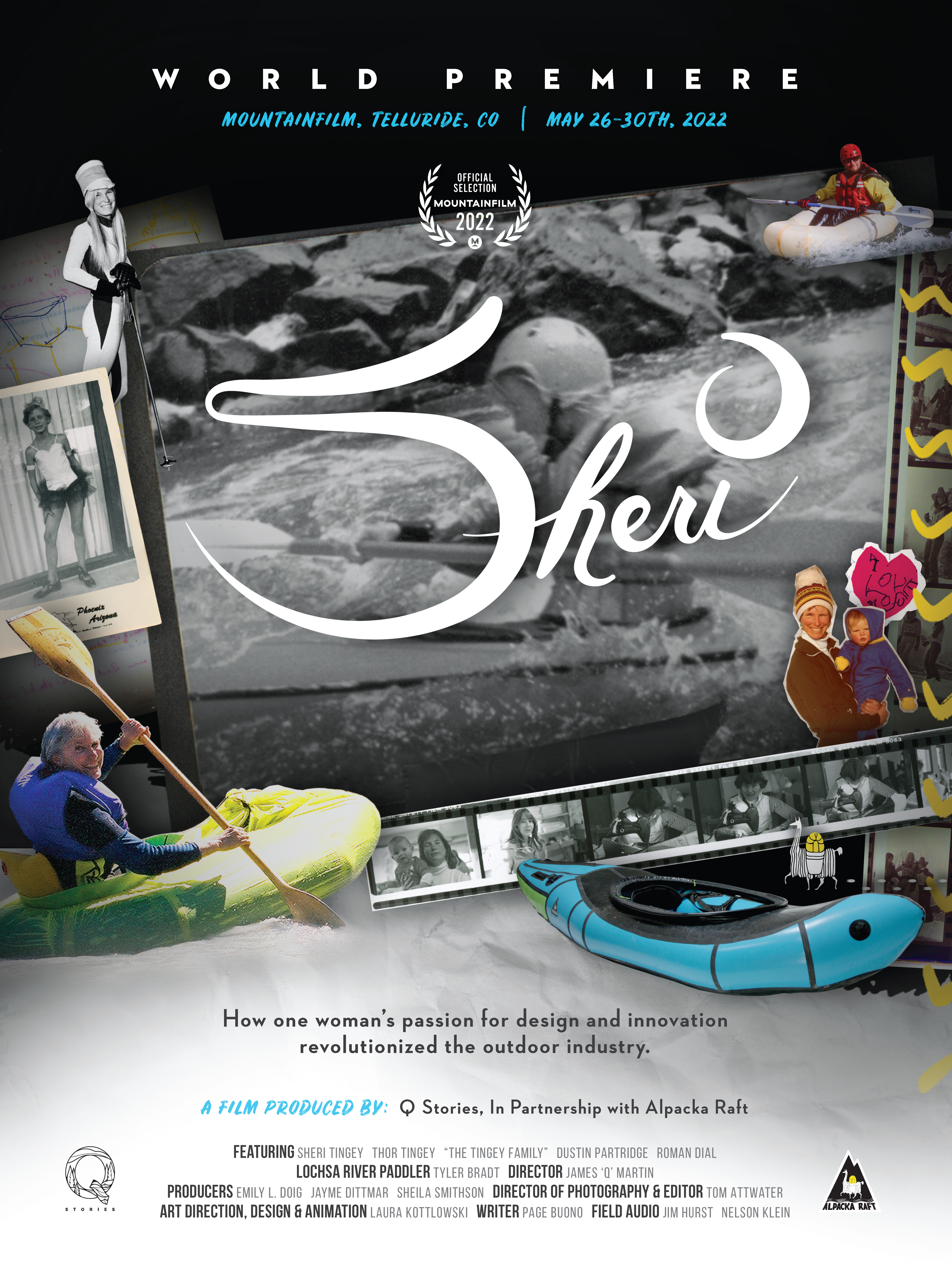 Featuring:
Sheri Tingey, Thor Tingey, Sarah Tingey, Waylon Tingey, John Baker, Roman Dial, Dustin Partridge, Tyler Bradt
Director:
James 'Q' Martin
Director of Photography and Editor:
Tom Attwater
Art Director, Design and Animation:
Laura Kottlowski
Writers:
James 'Q' Martin, Tom Attwater, Page Buono
Field Audio:
Jim Hurst, Nelson Klein
Producers:
Emily L. Doig, Jayme Dittmar, Sheila Smithson
Music:
Portugal. The Man
Film Teasers
Who is Sheri?
"In one word, describe Sheri." A tough task to those who were asked. Sheri Tingey, founder of Alapcka Raft, is a unique and beautiful individual that is hard to describe. It's hard to pick just one word." The word may just be "Sheri". We're looking forward to getting your thoughts after you see the film.
Building a Better Boat
Thor Tingey had just finished a 700-mile traverse of Alaska's Brooks Range when he asked his mom, Sheri Tingey, to build him a better boat. He and his trip partners had a heck of a time on their trip with wholly inadequate boats and multiple gear failures keeping them on the verge of hypothermia. Never in a million years did anyone realize that Thor's request would revolutionize the outdoor industry and lead to the start of Alpacka Raft, a company that would become the industries leading packraft manufacturer.
From Struggles to Success
The trials and tribulations of a female business owner, starting her company at age 50 while struggling with a chronic illness, and getting criticized by others that didn't think she could do it. Sheri is the story of a woman who took her struggles in stride and proved her passion for innovation and design would revolutionize the outdoor industry.
Mountainfilm Recap:
Plus, Sheri Tingey's Reaction to Seeing Surprise Documentary Film About Her Life
We set out to create a 20th Anniversary film for Alpacka raft that morphed into a love letter documentary for Alpacka's Founder, Sheri Tingey. We kept that all a surprise to Sheri. Although she took part in the filming, she had no idea the film was actually about her and her 60 years as a pioneer in the outdoor industry. She arrived at Mountainfilm to watch a few films, knowing there was a film that had something to do with Alpacka Raft, but had no clue this film was a documentary about her life. She first saw the film at Mountainfilm and this is her response...
We successfully pulled off the surprise and are thrilled with Sheri's reaction.
We were also able to gather up some of her old "Designs by Sheri" ski gear to accompany us at the event.