Ultralight Gear Entrepreneur & Adventurer Steve Evans Spent Eight Days Alone on Baffin Island, Circumnavigating Mt. Thor & Getting the First Packraft Descent of the Weasel River
Thanks so much to Steve Evans (@suluk46Suluk 46blog, and see below for on extensive Q&A with this itinerant adventurer.
Alpacka Raft: What inspired you to go to Baffin Island? 
Steve Evans: Over the years my backcountry trips have continued to become more remote and challenging. Perhaps as I get older and more experienced, I am more open to riskier expeditions, but my thirst for adventure continues to be insatiable.
Like many of us, I spend a portion of my free time researching new routes and areas that offer the excitement and solitude that bring nervousness and excitement while still be achievable when well prepared. Baffin Island was no different. I first laid my eyes on Mount Thor many years ago and always thought of just hiking Ashuyak Pass so I could see it with my own eyes. But as years went by, I took up packrafting and it changed the way I looked at maps.
I started to link epic hiking trails to remote rivers and waterways where I could piece together routes that had never been done. Years later, when I revisited a trip to Baffin island, I couldn't help but notice two rivers that run through the valley, both beginning at the center where the glacier melt flows both directions from the highpoint, with the Weasel River flowing right in front of Mount Thor. I began to do research and before you know it I was committed to the trip.
Alpacka Raft: Why go alone?
Steve Evans: It is rare that anyone joins me on my adventures. Some would say this is dangerous or risky, but I think the opposite. As a solo hiker, I am able to move at my own pace, not pressured by others, and can move as long or short of a distance as I like. I am able to sustain long periods of discomfort, which others may not be accustomed to and would potentially jeopardize the trip. in the same way, I would not want to be a burden on someone more fit or faster.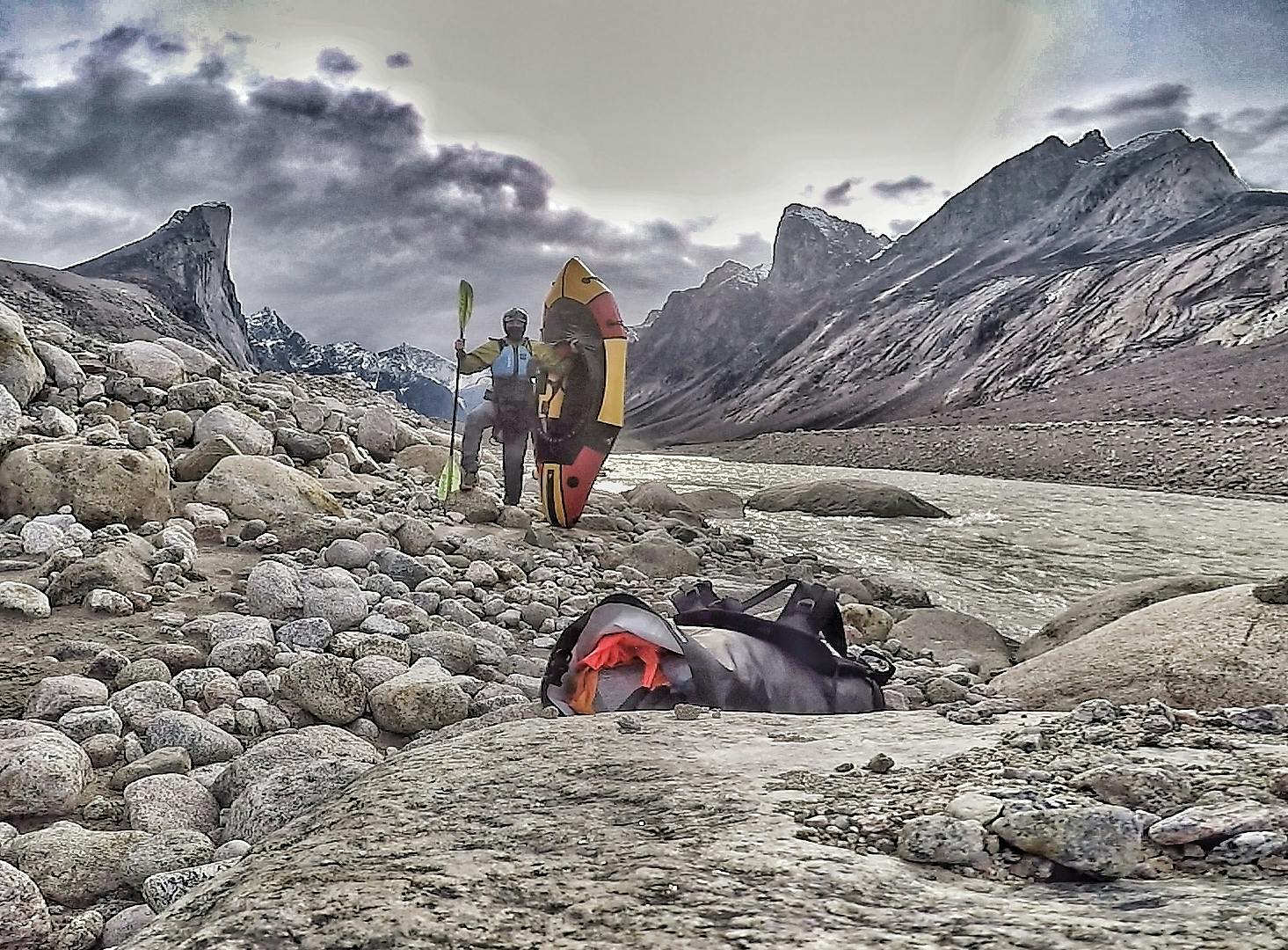 I lead a busy life. By the time I leave for a trip, I look forward to the solitude, spending days upon days without seeing or talking to anyone except for my camera. In my early years, I would get a bit nervous being alone so far from safety, but that feeling soon fades and a appreciation for the mental challenge that it takes to overcome this feeling begins to overshadow it.
AR: What of your previous trips prepared you for this particular adventure?
SE: This is a great question for me… I had a life changing benchmark trip in November of 2016. It truly opened my eyes on what is required to be successful on a trip like this. I traveled to Chile to hike in Patagonia, specifically the O'circuit in Torres Del Paine (read about it here).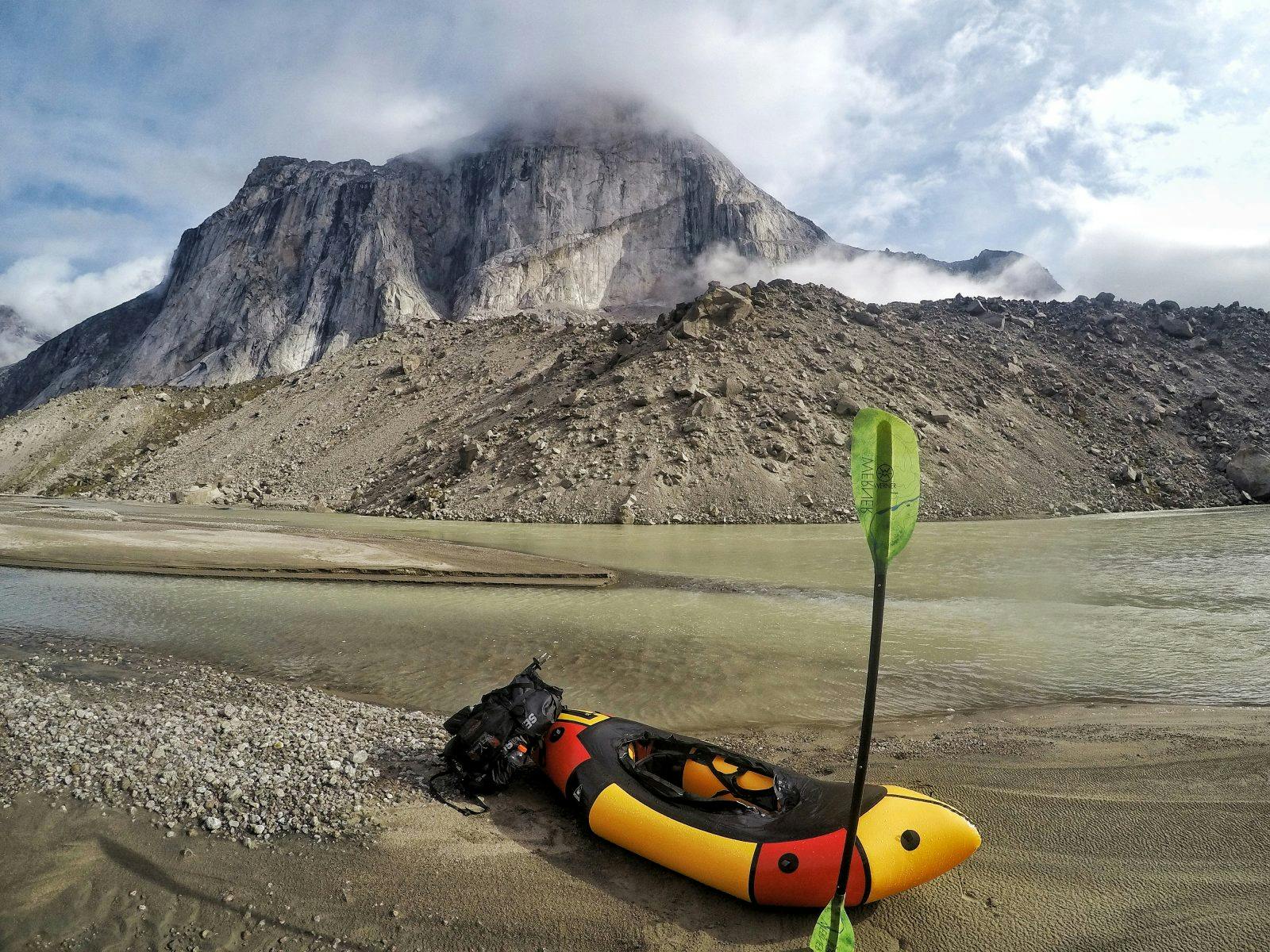 This was early on in my packrafting days, and my skills were not yet developed. I noticed a river just on the outside of the park called The Rio Paine. After some research on the internet I found about two people who had paddled the river before. Unbeknownst to me it was Roman Dial, a clearly well experienced and successful expeditioner. Not knowing his skill level at the time, I came to the conclusion that I was capable of running this river as well. That was a mistake I would regret.
After seven days of hiking, I inflated my packraft and began my journey down the river. I had no helmet, no drysuit, and very little information on what to expect. The river moved fast, but was within my skill level. But then the wind picked up, the river narrowed, and the rapids became increasingly difficult. Before I knew it, I was literally flying down the river. I tried my best to keep upright and look for an eddie to exit. I spotted one, and made it to safety. But I needed to make it to the edge of the river, and entering and exiting current was still a new skill for me.
Upon exiting, the current caught my upriver edge and flipped me. I wet exited the packraft and held on to the boat as long as I could as I went down the river. Eventually I let go and made a dash to swim for the side. Rocks lined the waters edge, they were steep. I desperately tried to hold on, but the current pulled me downriver. Through the rapids I went, eventually smacking my knee on a rock and tearing the meniscus. The water pulled my neoprene gloves off my hands, and I very much thought it was the end.
I made another attempt to exit the water. It took everything I had to hold on to the waters edge rocks and pull myself out. This was my first experience with the stinging cold of a glacial melt waterway. I climbed out, caught my breath, and watched my packraft with all my gear float down river attached to my packraft. I probably spent 30 minutes sitting there trying to contemplate my next move. I had nothing but what I was wearing and my paddle, and I was soaked from head to toe. I estimated a 30 km hike to get to the end of the river. I figured I would push hard to get there, back to civilization, and figure things out.
I limped along the rivers edge, up and down the rocks, not really knowing my fate. About an hour later, the river opened up, and in the small cove of calm water, was my packraft and all my gear! I swam over to get it and ended up floating a good portion of the river back to the park, portaging any rapids that came in view. Needless to say, I made it out, and it took three months to recover from my knee injury.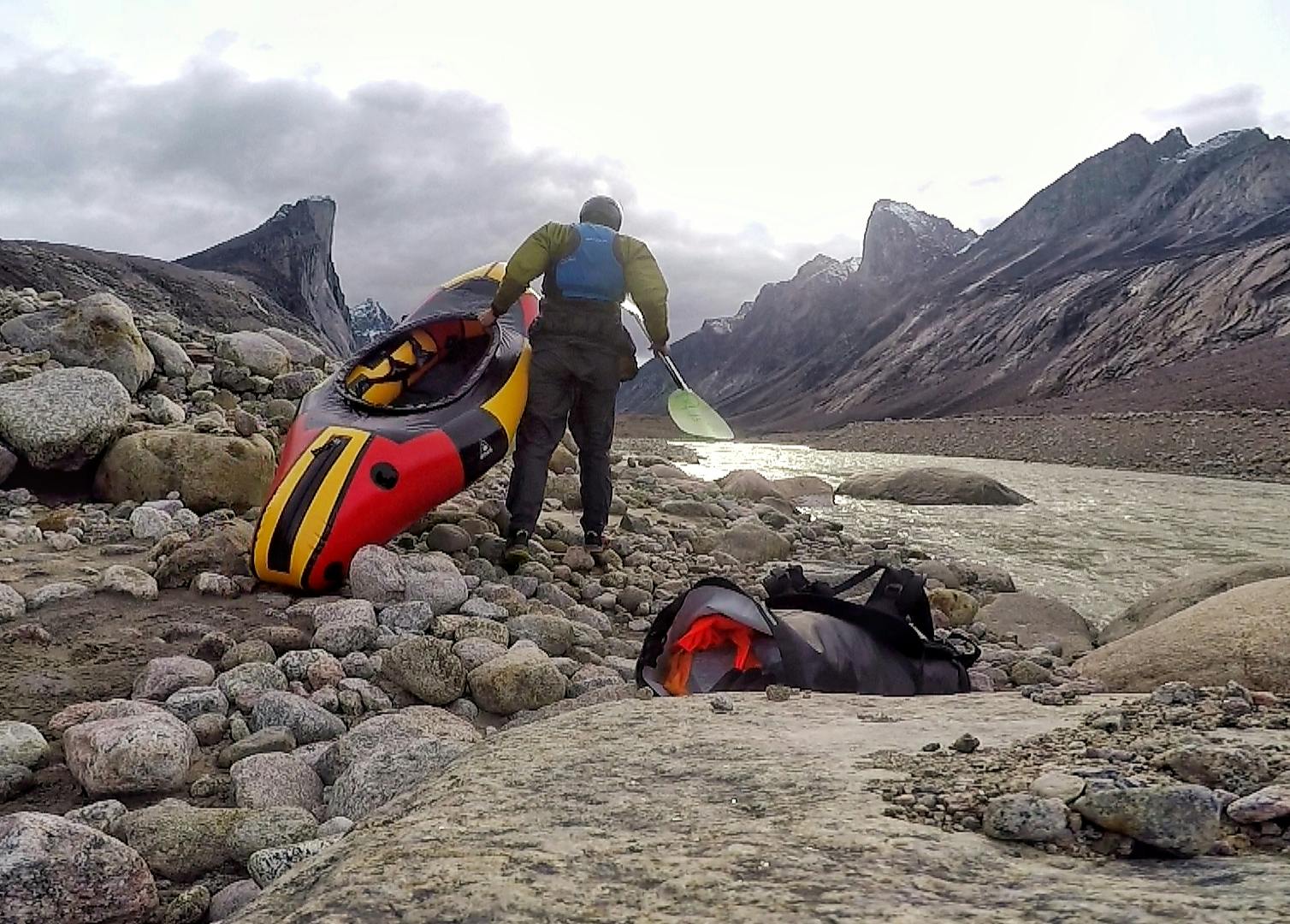 I decided to never let that happen again. In the summer of 2017, I signed up for white water lessons, learning from the basics, reading water, picking lines, and self rescue. My incredible instructor spent time with me to learn how I traveled, and he educated himself on what a packraft was, and even took it for a spin to understand how it performed. Two years later, I was an order of magnitude better at handling the packraft. I invested in a drysuit, upgraded to a Alpacka Gnarwhal, and paddled as much as I could. At the end of the summer in 2018 I was ready for the Weasel River.
AR: What was your objective? Just to paddle the Weasel River?
SE: The primary objective was to have fun. But yes, there were many route to choose from and packrafting and documenting the Weasel River so that others could enjoy it was the primary reason. My initial research gave me very little information on whether or not it was possible. I corresponded with the park, and to be honest they were not helpful in planning, actually telling me that in the past 16 years of working there, they had never heard of anyone who had paddled the river. And the only person I could find who had run the river was Eric Boomer, a professional kayaker with an incredible skillset. He helped me immensely with the planning, and I thank him for that. Hopefully, the information I put on the blog and my video will helps others plan their trip.
AR: How did you even find out about this river and this region?
SE: I used Google Earth to search for terrain and rivers that can be pieced together for epic trips.
AR: Do you do a lot of exploring in polar regions? In what ways (besides the obvious COLD) is it different from some of the other areas you have explored?
SE: I have been to the arctic only a couple of times. I don't have a preference, and all my trips are quite diverse in that they vary from hot, dry, desert hikes to extremely cold winter expeditions. I enjoy the experience of all climates.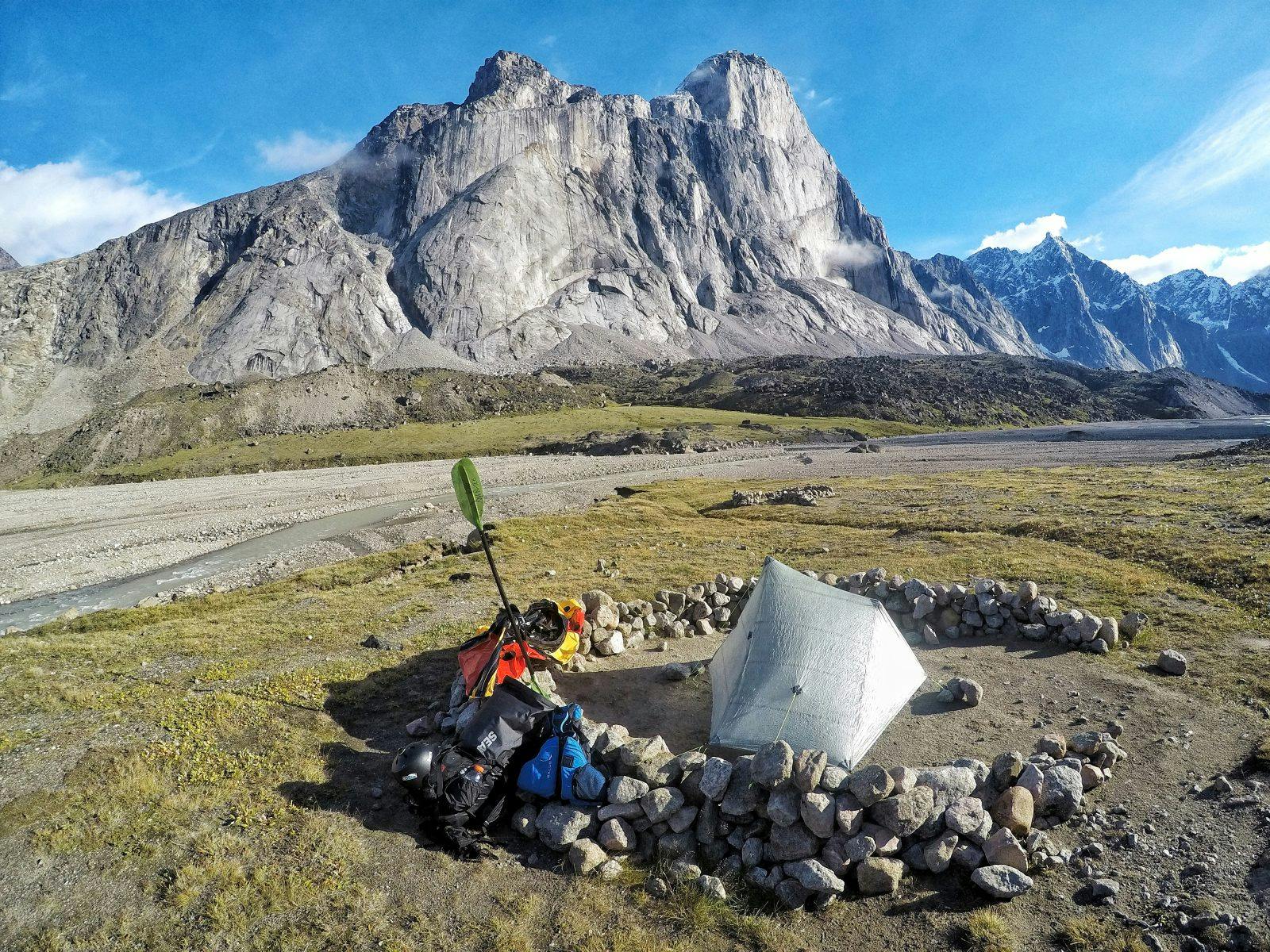 When dealing with the arctic, I believe the key element is understanding exactly what you are getting into. There are no trees to build a soothing fire at the end of the day, very little sheltered campsite selections because of the scarcity of brush, and obviously the cold and wet weather can be detrimental if not prepared. Also to keep in mind, is the mental aspect to it. It can be very difficult to deal with the sustained bad weather or the extreme solitude.
Physically, you will need to be prepared to carry much more gear to stay comfortable and potentially deal with some of that gear in severe winds, heavy rain or snow, and extended exposure. You should practice setting your tent up in gale force winds, during torrential rain, trying to dry your soaking feet when temperatures are below freezing, and any other additional challenges that seem simple during a beautiful summer trip. As an example, going to the bathroom outside during a significant winter storm can be an experience you will not soon forget.
AR: Please tell me how the gear you use/develop makes a trip like this possible?
SE: I not only rely on my own gear from Suluk 46 on these trips, but also other manufacturers such as Alpacka to make these possible. At this point in my life, I am well versed in backcountry adventure, and it takes time to learn these skills.
Research on the internet and through books or similar are great ways to expedite that skill, but actually going out and getting real world practice is the way to go. For each of my trips, I post a blog report that typically includes a video and gear list that can be downloaded. This is all in hopes that this will help others on their trips. It's no secret that I am an ultralight practitioner and I am always looking for the absolute lightest possible gear to use on my trips. And if I don't find something that I want, I simply design and make it myself!
AR: Is there anything I am not asking you that you want to share with our readers?
The only thing I would add is that one of my biggest regrets in life is waiting too long before doing some of these trips. I began camping at a very young age and did a ton of hiking, but nothing more than a few days out on the trail. It wasn't until my late 20's and early 30's is that I began to do more difficult and challenging adventures. A great example of this, and I'm not saying this simply because Alpacka is doing this interview, but I didn't buy a packraft until I was in my late 30's… and do I ever wish I had one when I was younger. Basically, you only live once, so make sure it counts!