A First-Timers Bikerafting Adventure
Victoria, Australia isn't known for its whitewater, but a few rivers fed by alpine snow melt are runnable through spring and into early summer. And, they offer up to Class III and IV rapids. The Jamieson River is one of those, with two raftable sections when river levels rise above 1.5 meters. 
Photos, videos, & story by Will Hartnett.
I had been scouting a packrafting trip down the Jamieson after several bikepacking trips through this area. From the sections I saw and information I read, I saw the possibilities. However, I knew no one who had done it.
But, everything lined up one October to make the trip happen. The river rose. I found a willing participant for a quick weekend away. And, a good friend had kindly gifted me his Alpacka packraft. It did not disappoint!
We opted for the lower section with only a few Class II+ rapids, as I had not been paddling much in the past decade and the idea of putting a bike on the front of my borrowed raft for the first time was a little daunting. 
Finding the Rhythm
We got up to Jamieson around 9a.m. and parked by a locked gate at Alpine National Park. With no 4WD vehicles allowed until November, we explored the entire valley without seeing other people.
That first morning, we either pushed our bikes up or rolled down the brutally steep and technical trails. A few kilometers in, we found an old pack horse track that climbed up the valley and offered incredible views of the river below. I always appreciated the challenging singletrack on previous trips. But this time, it became secondary, a tool to access the river below.
Hollering like school kids, we shredded the singletrack and caught glimpses of white water in the gorge. The riding fueled our adrenaline, but the river fueled it even more.
Half way along the pack track lies the Silvermine hut. Built for the third time in the past 100 years after twice burning in bushfires and a part of a Silvermine settlement, it would be a good place to stay if passing by late afternoon. We stopped there for morning tea and a snack on the way up. 
We rode only about 20 kilometers to the put in, but because of the humidity, the ride took a little over three hours. We reached the put in ready for a dip in the river.
The Jamieson River twists and winds down narrow gorges and massive horseshoe bends, so the return leg was closer to 30 kilometers on water, and we planned to camp somewhere along the way. 
Being back on the water in a paddle craft for the first time in a while felt natural, and I quickly found my rhythm. The raft felt so much more stable than the whitewater and sea kayaks I was more accustomed to. 
We ran the first few rapids with ease and glided through some beautiful deep pools with fern-covered banks and past a few waterfalls. With some shallow pebble races, we occasionally bounced along the river bed. Ideally, we agreed, the river would be best at 1.7-1.8m, as measured at Gerrans Bridge. At 1.6m, we found some of the rapids quite technical and would have been easier with a bit more push and height.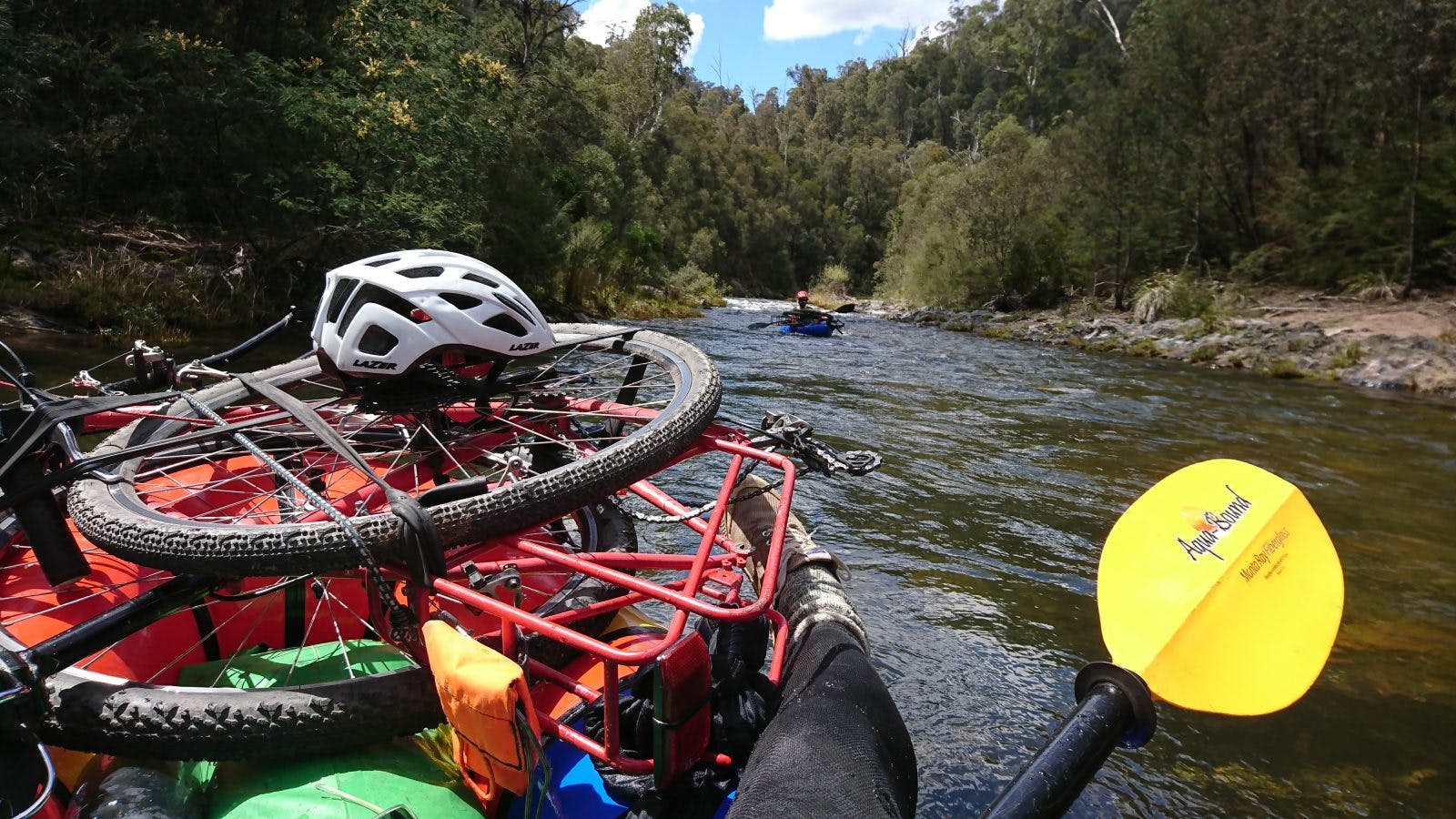 Wildlife Abounds
Wildlife in the area abounds, along with good trout fishing. We spotted a few Yabbies in the clear deep pools and even a platypus surfaced near us.
However, the large number of deer really surprised us, especially a huge buck with massive horns that stood eight feet tall. We saw him from river level, five meters away. He got a fright and raced across the shallow pebble race in front of us, letting out the piercing honk they always do. Everyone involved felt the rush.
We also came across some massive antlers, which I decided to strap to the front of my boat for the remainder of the trip. Sadly, many deer carcasses lay in the river, maybe the result of lazy hunters with poor aim?
For a small river that needs spring snowmelt to paddle and turns into a series of pools in summer, it really kept on giving. We paddled through large pools and dropped down easy rapids, followed by long shallow gravel races.
We began to think the real fun was coming to an end, yet around every bend the river would descend into yet another gorge, and challenging Class II rapids would spring up again.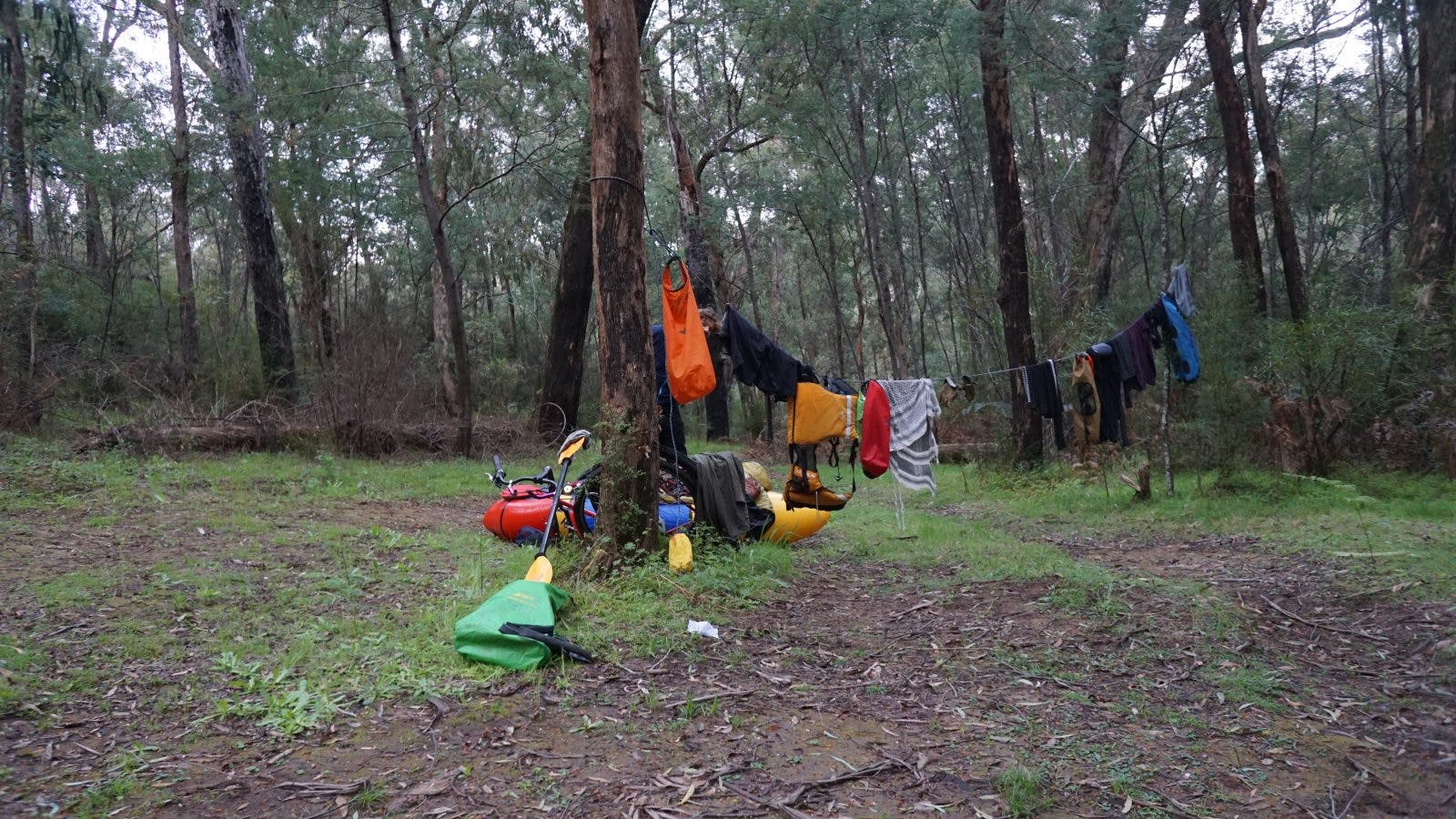 A Night Out
Several free campgrounds lie along the banks, all closed to 4x4s this time of year. So, we had a big fire pit all to ourselves, though we didn't make much use of it. After the 5a.m. start in Melbourne, two hours driving, three hours on the mountain bike, and five in the boats, we hit the sack by sundown! 
Compared to the bikepacking trips I do most weekends, the addition of a packraft required a slightly different packing technique. I opted for a rear rack as opposed to my saddlebag. This made it easy to strap the raft and paddles onto the bike. Evan and I agreed to just bring one of his big tarps he makes from cuben fiber as a super light shelter, though super warm temps allowed us to sleep without it.  
The following morning, we woke a little after sunrise and got on the river early. Contending with colder temps after the previous sundrenched spring day, we struggled to put on our wet clothes, and we paddled hard to stay warm.
We expected an easy paddle back out to the car, but yet again, the river served up some nice little rapid runs, despite the pebble races beginning to get very low. Late morning, we got off the river and made the few kilometers by bike back to the car.
Despite having spent hundreds of days on sea kayak expeditions, crossing numerous ocean passages, I was apprehensive about this trip as a first timer to the world of strapping a bike to a packraft and sending it down a Class II/III river. I really shouldn't have been, as the stability of the rafts was super impressive, and I really loved every minute on the water. It's safe to say I'm now hooked and will be adding another 'adventure tool' to my arsenal.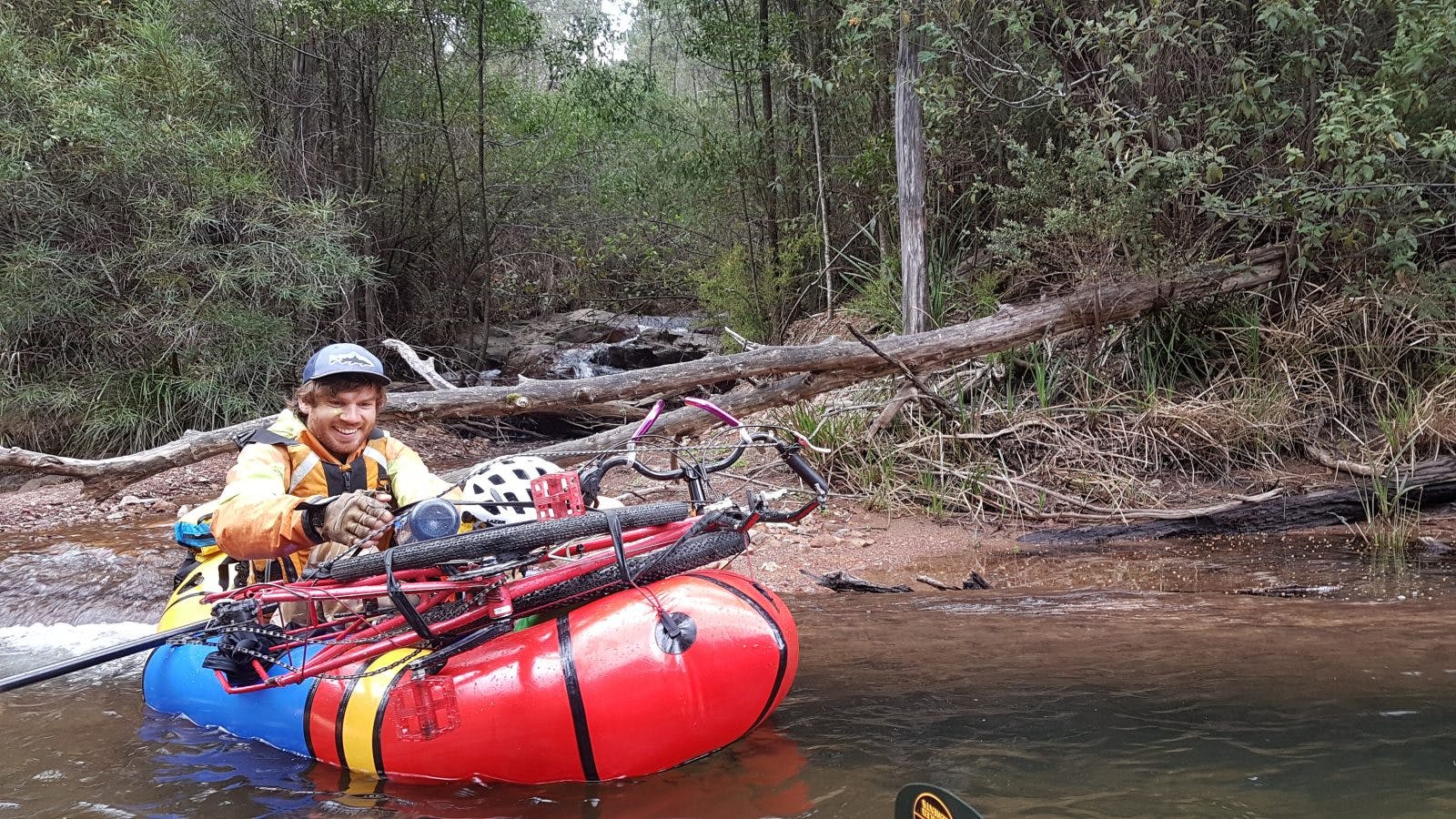 A big thanks to Evan from Terra Rosa gear for agreeing to my crazy plan and for some of the photos. A big thanks to Ross for the loan of the raft. Thanks buddy. You've now got someone else to join you soon!