September 25, 2018
Where The River Meets The Road - A Solo Adventurer Bikerafts the Yukon River
Jessica Kelley, Winner of the New Kyle Dempster Solo Adventure Grant, Bikerafts the Yukon River
This summer I completed a 1300-mile bikerafting loop through Alaska that I called, "Where the River Meets the Road." My goals for this trip were to promote low-impact travel, to encourage human-powered exploration in Alaska, and to inspire other people–especially women–to tackle solo adventures.
I pedaled out of Anchorage on June 19, 2018, and over the next six days, I biked 500 miles on pavement, gravel, and dirt roads to the small town of Eagle on the Yukon River. Once in Eagle, I inflated my Alpacka Caribou, lashed my bike to the bow, and set off down the Yukon.
She Bikerafts the Yukon
Although I had spent months dialing in my bikerafting set-up and training for this trip, many folks expressed skepticism when I told them what I was doing. When I got to Eagle, I filed a backcountry float plan with the National Park Service (NPS), and the ranger asked me what I'd do with my bike while I floated down the Yukon.
"I'm going to lash it to the bow of my boat."
"You're going to do what?" It seemed as though he genuinely hadn't heard me, so I said it a little louder and more clearly.
"I'M GOING TO LASH IT. TO THE BOW. OF MY BOAT."
"You're going to do what?" He said again, as he lowered his glasses to look at me more closely.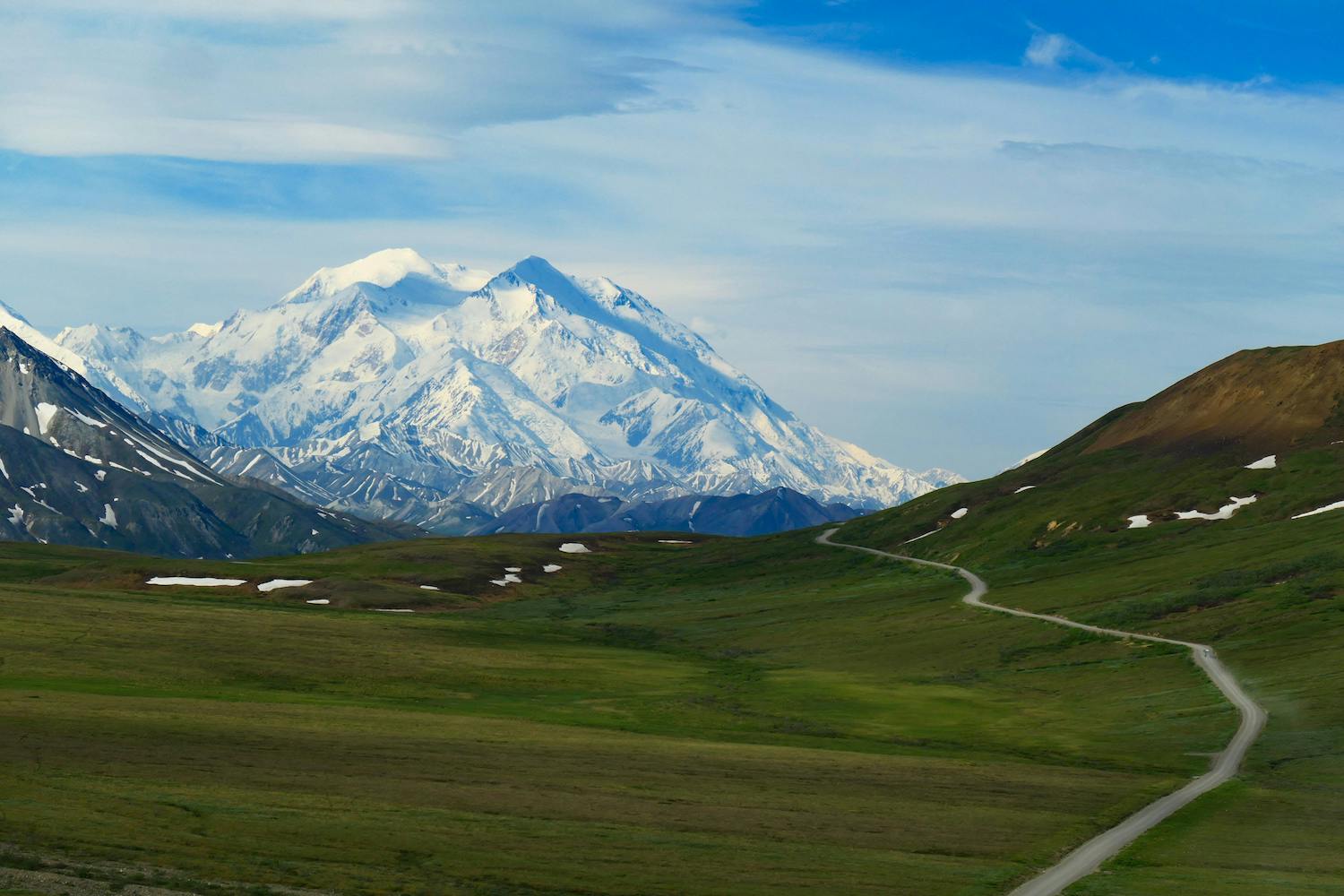 He started to smile, and I realized that he was half-teasing and could hear me just fine–he just couldn't believe what I was planning to do. Ultimately he turned out to be supportive of my adventure, but I'll admit that his initial reaction shook my confidence a bit. In fact, I was surprised to encounter any skepticism at all in Alaska. After all, Alaska is the birthplace of packrafting. But apparently the idea of bikerafting is still a new one, even to NPS rangers on the Yukon.
The morning I put in, the same ranger came down to the river to see me off, taking pictures as I loaded my gear into the cargo fly, inflated the boat, and strapped my bike to the bow. He was visibly relieved when I showed him that the rig did indeed float.
As I paddled away from shore he shouted admiringly: "It actually looks like you've got the weight pretty well-distributed in that thing!" And it was true–with my gear stored in the boat tubes and my bike firmly bungeed to the late-rise bow, the boat felt great and handled well in the water.
From Eagle to Circle – Fires, Bugs, & Cruiser Waters
Over the next three days I floated the Yukon from Eagle to Circle, covering 160 miles of remote river inaccessible by road or trail. After I left Eagle I didn't see another human until the day I took out.
This entire stretch is Class I, and the water moves at an average of 5mph. However, even at these relatively slow speeds I successfully covered the 160 miles in just three days, in large part because I spent 10-12 hours per day on the river.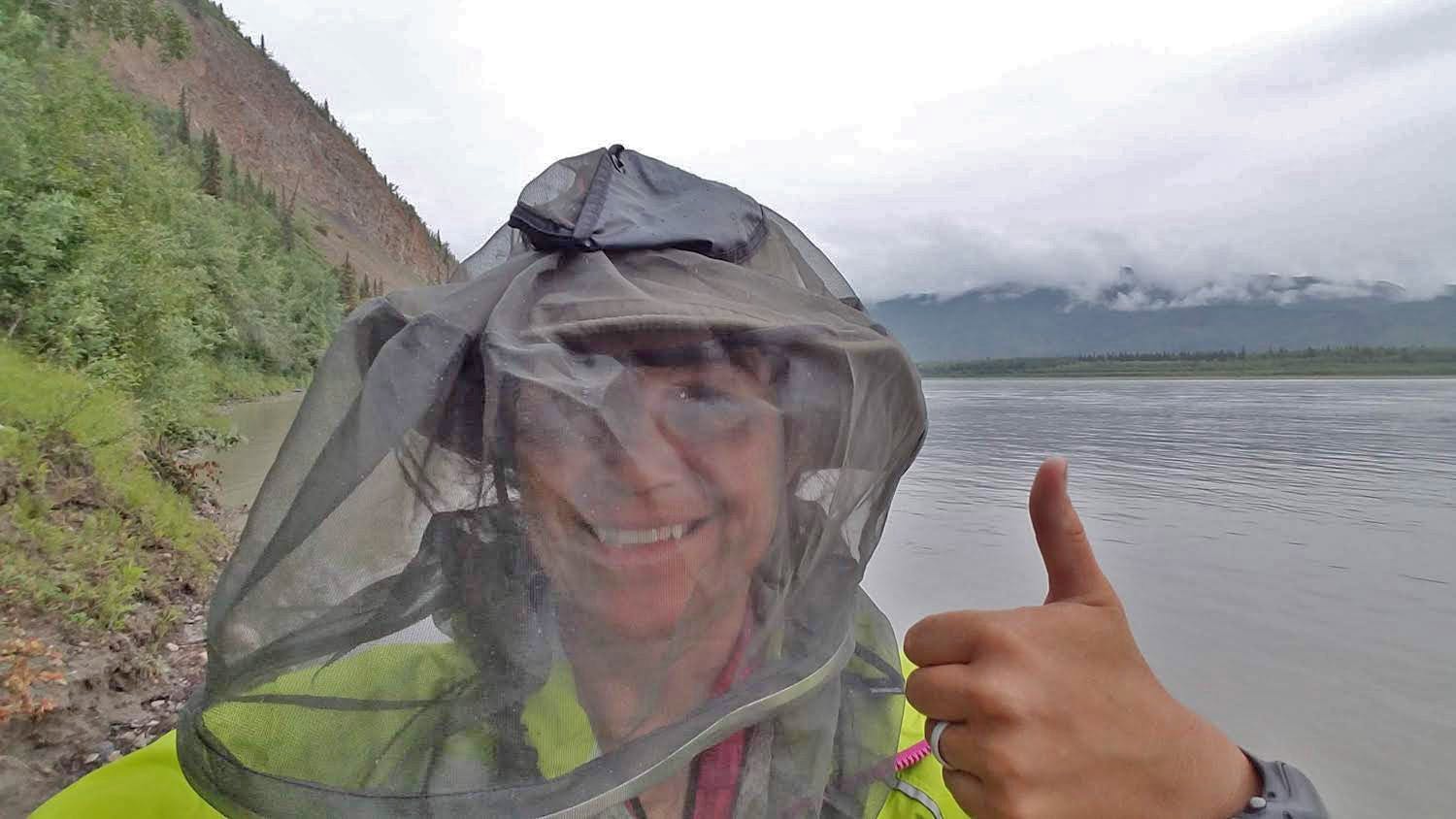 The bugs were horrendous and kept me out on the water, far from shore. This, combined with the fact that the sun was only briefly dipping below the horizon each night, led me to spend long days in the boat, avoiding the bugs and watching the world pass by. My packraft was roomy enough that I could comfortably shift around and stretch my legs as needed, even while carrying both a bike on the bow and a daypack in the boat.
Though not as dramatic as the glacier country I rode past outside of Anchorage, the scenery enchanted me with its unique geology. Early in my first day I paddled past Calico Bluff, which the NPS calls the "grand entrance sign to Yukon-Charley Rivers National Preserve." I remembered looking at photos of Calico Bluff months ago, while sitting on my sofa at home in Seattle. And now I was here.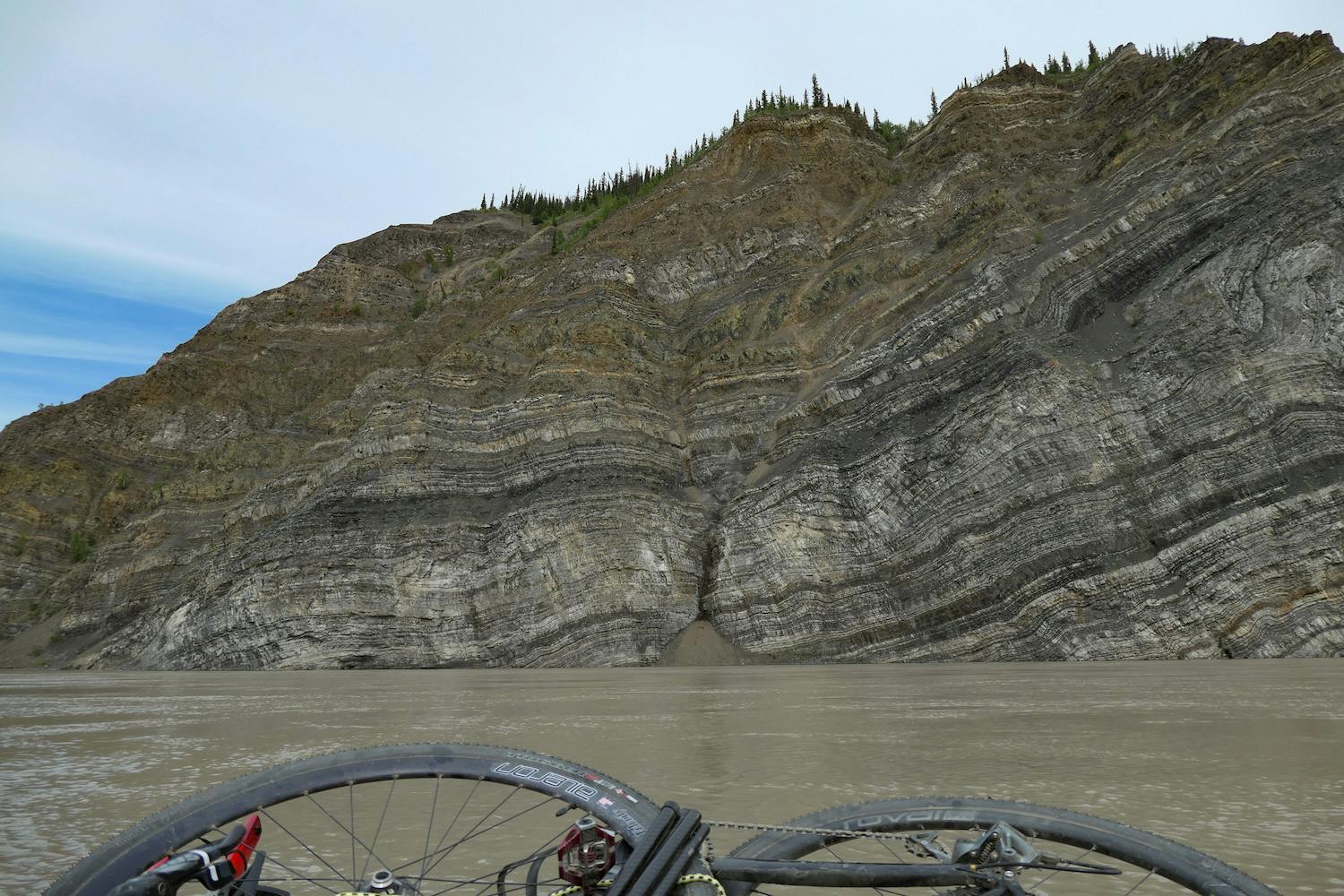 Although only late June, several wildfires burned along the river. The first one I passed, the Windfall Mountain Fire, I later learned had been smoldering since 2012. The cause of the fire, and the reason it continues to burn through the bitter cold of winter, year after year, remain a mystery.
Later in the trip I came across another burning hillside. Clearly more active than the one on Windfall Mountain, heavy smoke spiraled up from the trees. Concerned about unreported fires, I used my satellite messenger to text my husband and ask him to contact the NPS. He reported back that the NPS knew of the fires, that they had started within the last several days due to lightning strikes, and that the fires were currently being monitored and allowed to burn.
Somewhat reassured, I paddled on into a brisk crosswind, the only bad day with significant wind. It made for slow going, but I was glad it blew the thick smoke away from me.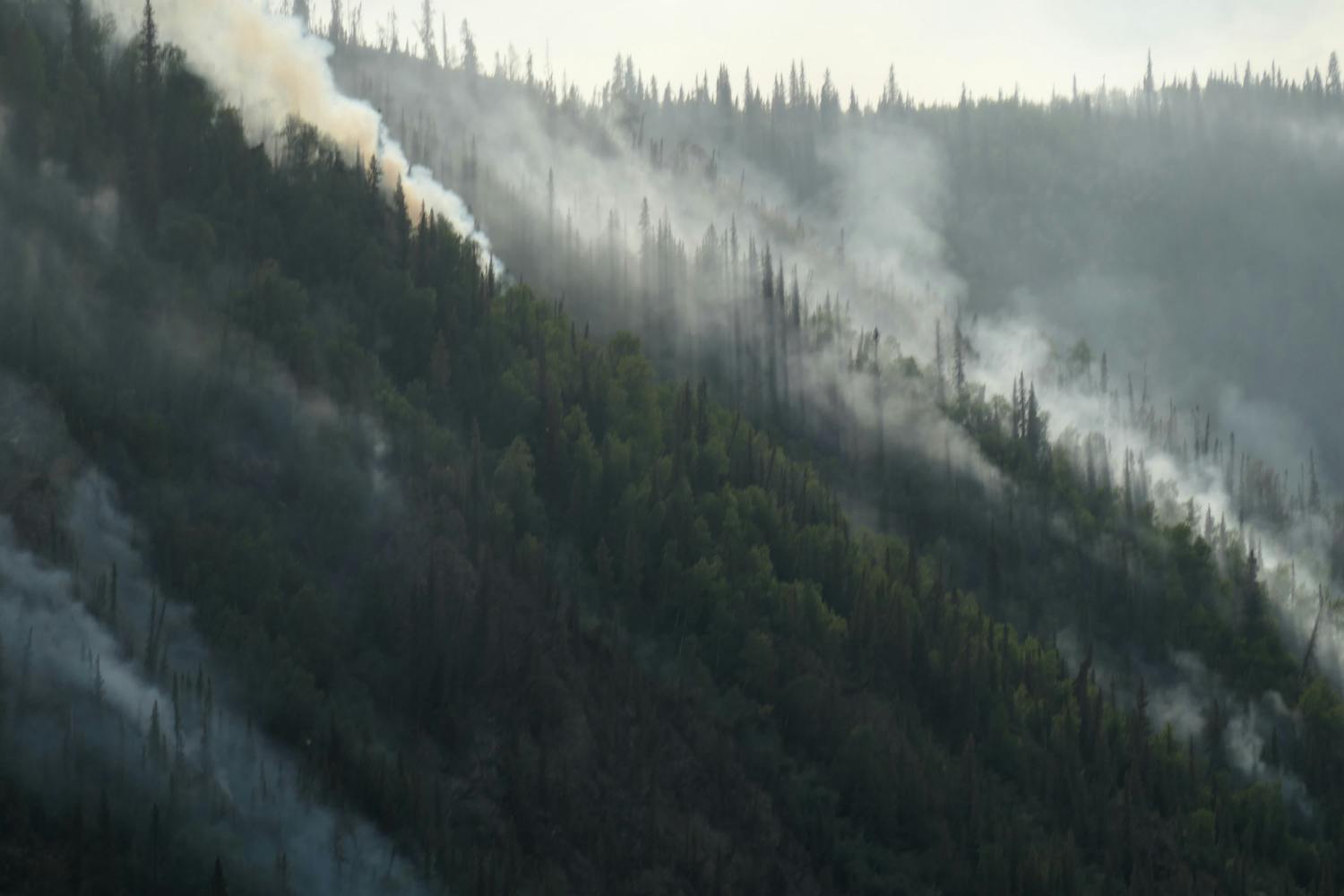 The Moose
People warned me about bears on the Yukon, but ultimately I only saw one lumbering through the brush on the far side of the river. However, I saw several moose, and one of my closest wildlife encounters of the trip happened early one morning on the river. As I paddled down a narrow side channel, a bull moose emerged from the brush and waded into the water in front of me. I quickly realized we would collide, so I reached down and blared the small marine air horn I kept accessible in my boat.
Other adventures told me air horns were good for startling bears away from camp, but this moose was not a bear. The air horn didn't faze him at all. He just glanced at me and kept wading into the river as I floated towards him. Sometimes 5mph felt unbearably slow, but right now it felt much too fast. I started looking for a place to eddy out, and also grabbed my bear spray, hoping I wouldn't have to use it–and if I did, hoping it was more effective than the air horn.
While my hands were busy with the paddle and the bear spray, I started to yell at the moose, trying to make my voice deep and even. I don't remember exactly what I said, but it was something along the lines of, "That's a BAD IDEA, moose! Do not come this direction! Get outta here!" It was as though he understood English. As soon as I told him to turn around, he did.
My guess is that the air horn didn't faze him because it's not a distinctly human noise. Maybe he didn't even know what I was. Perhaps I looked like some kind of large ugly swan, part plastic, part metal, making loud honking noises.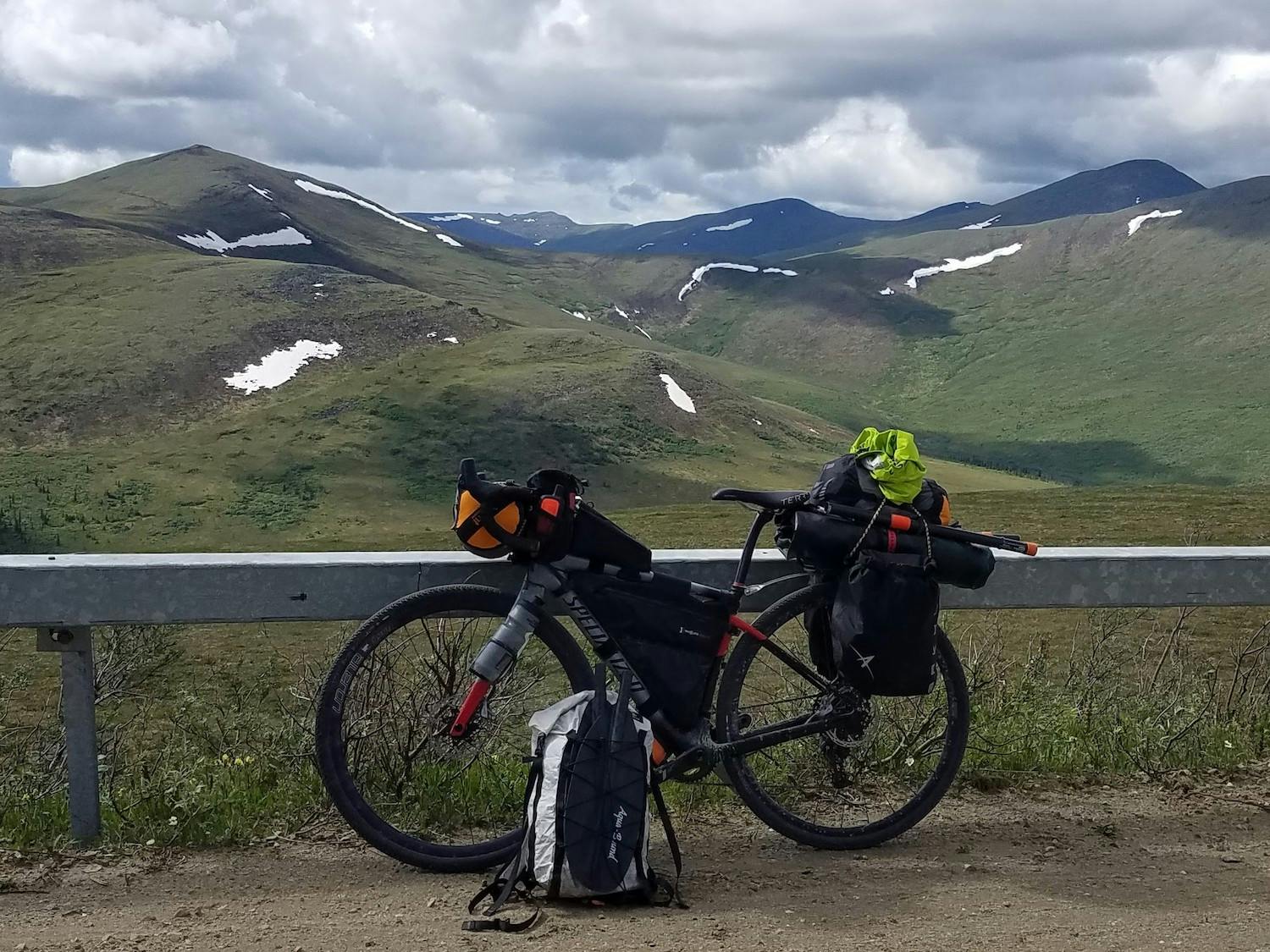 But once he heard my human voice he figured it out. He made his way to shore surprisingly quickly for such a large awkward animal, kicking up big splashes of water with each step. Once he was on solid ground, he kept on trotting, glancing back occasionally until he disappeared into the brush. I think we were both relieved to have avoided any closer contact.
Back on The Bicycle
After three days on the Yukon, I reached the small town of Circle, where I put my bike back together and continued on my loop back towards Anchorage. I had another 650 miles of riding ahead of me, including muggy days and thunderstorms on the Steese Highway, a long climb over Eagle Summit, and a stunning but challenging gravel grind through Denali National Park.
As I pedaled up the road out of Circle, I realized that although there was still plenty of ground to cover, the Yukon had been the crux of my trip. It was by far the most remote leg of the journey. In addition, I had decades of experience on a bike, yet only one year of experience in a packraft.
There was a sense of relief to be safely off the river, but also a sense of disappointment that it was already over… Maybe I should've taken my time and savored the experience more. I looked down at my hands, which were now covered in so many mosquito bites that you couldn't tell where the inflammation from one bite ended and the next began. Nope, I'd gone at the just the right pace.