August 13, 2018
The Canol Heritage Trail - Taking on 221 Miles of Canada's Most Remote Terrain by Bike & Packraft
Four Itinerant Adventurers Bike & Packraft the Canol Heritage Trail, One of Canada's Most Remote, Rugged, River-Strewn Paths Through the Wilderness
Dylan Stewart, Anthony DeLorenzo, Paul Burbidge, and Josh DeCloet recently returned from a trip to the Mackenzie Mountains to bike the Canol Heritage Trail (and back). This 221-mile trail runs from Norman Wells, Northwest Territories, through the Mackenzie Mountains, to the Yukon border. Because of its remoteness, length, and river crossings, it is considered one of the most challenging trails in Canada. The trail is in the process of becoming a territorial park. Unfortunately, due to some bike failures, they were unable to make the return trip. Thanks to Stewart for letting us share his story.
Day 1: Leaving mile 222
Packs were heavy, but the mood was light as we spun our way on good road and were able to enjoy the great scenery in which we were immersed. Road conditions were great and allowed us to make good time in the afternoon heat. We made camp on the Godlin River just past Godlin Lakes.
Day 2: The Twitya River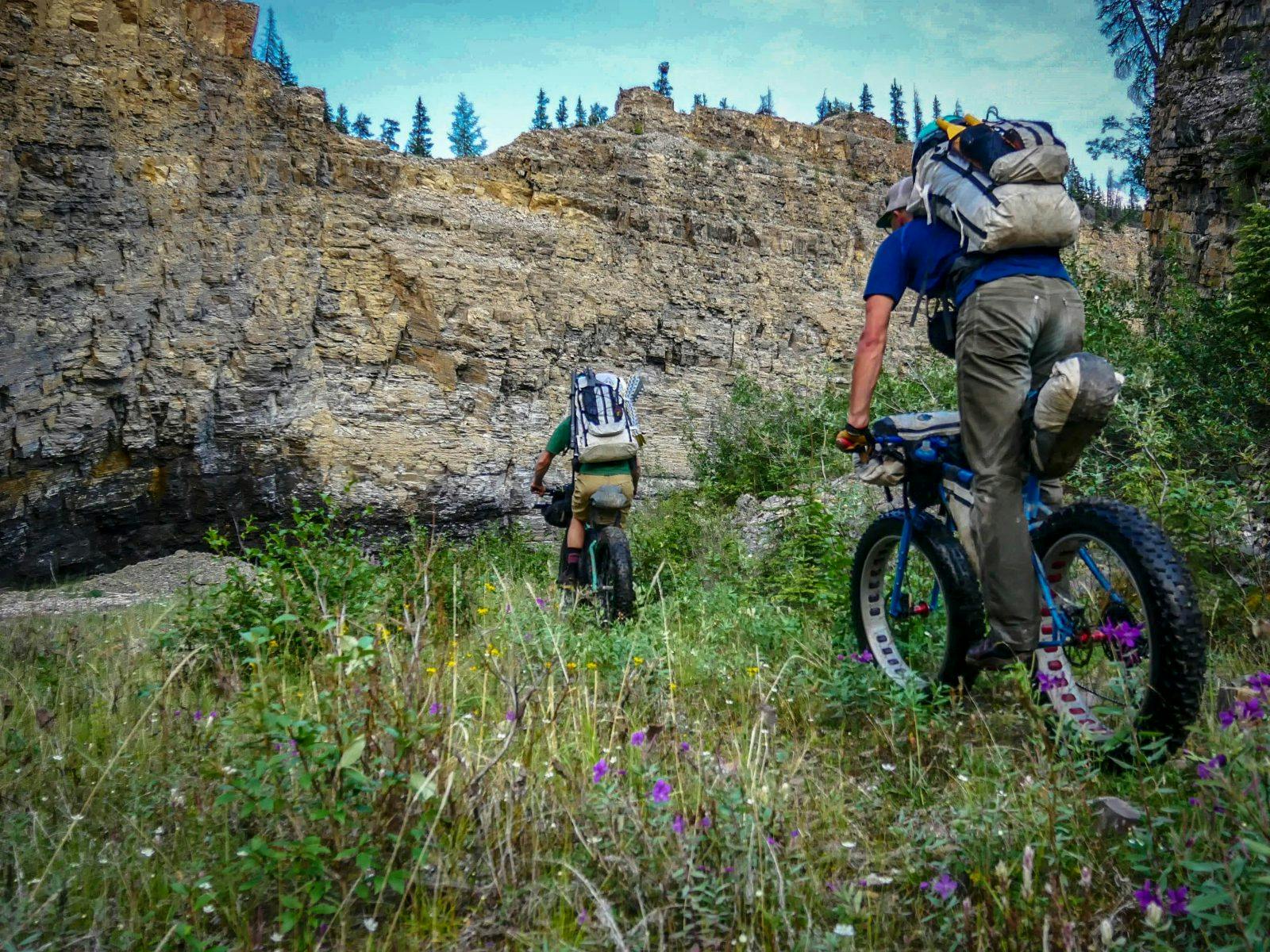 The good road continued along the Godlin River, but soon deteriorated with overgrown bush, muskeg swamps, and swollen river crossings to the Twitya River. The heat wave grew unbearable over the course of the day and made the swamps especially steamy. The Twitya River, which is the route's most difficult river crossing, was no match for our Scouts. We took out at Deca Creek and cowered under our tarp to escape the heat, which was north of 30 degrees celsius. After a good siesta and fresh fish shore lunch, we packed up and made a break for Trout Creek around 5:30p.m. We lost the trail quickly and resorted to pushing through the brush until we heard Paul Burbidge yell, "trail!" Shortly after which he started his daily routine of pre-camp mechanicals with a nice 1″ tire gash. Josh DeCloet made quick work of the repair using some fishing line, a dehy bag tire boot, and a fresh tube, and we were back on the move. This section proved to be the most overgrown of the route, and we spent a few hours thrashing through willows until we reached Trout Creek around 10:30p.m. A solid day had us in bed shorty after a quick dinner and civilized cup of tea.
Day 3: Trout Creek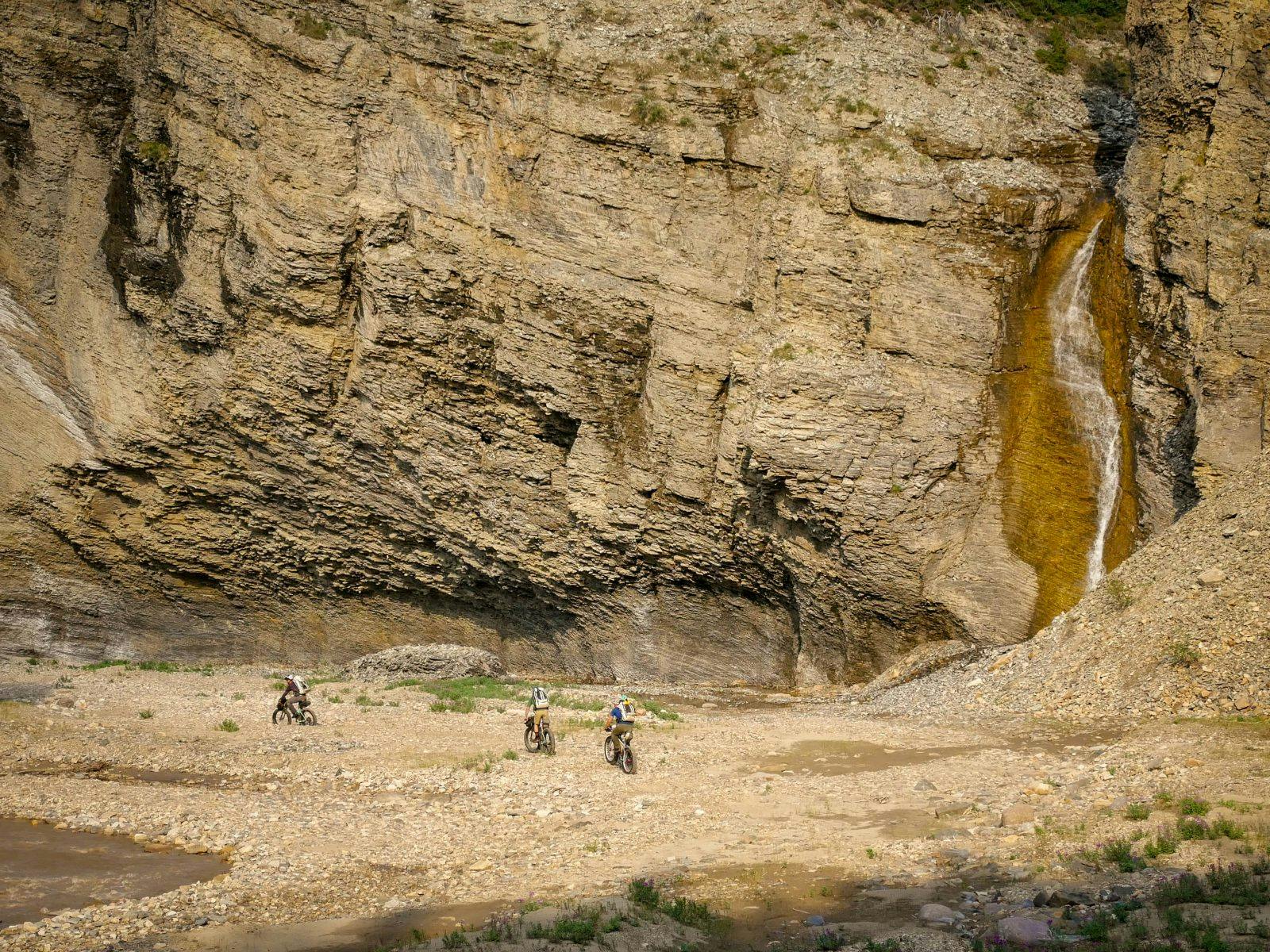 We awoke to another hot day and were staring down the snout of Trout Creek. Trout Creek has been described as the crux of the route. However, having completed this section of the trail in 2015, we knew what to expect; an eight-kilometer boulder gardens leading up to good road. We packed up, some of us electing to move some weight from our bikes to our packs in an effort to make carrying our steeds a little easier, and we began making our way towards Devil's Pass.
We kept cool on the many stream crossings, and before we knew it we were again on good road bed spinning and pushing our way to the next milestone. After a quick derailleur repair and a few good alder shwacks, we found ourselves again cowering under our tarp at Devils Pass trying to avoid heat stroke as temperatures again went above 30C. While the heat didn't want to let up, we had hopefully drank enough liquids to keep dehydration at bay. After we dropped a few days food in the food cache, we were back on the bikes, joined by a few curious caribou on the cruisy descent to the Carcajou River. The beautiful ride in the evening sun was briefly interrupted by Burbidge's daily mechanical, but another tube and DeCloet had us again rolling towards our camp at Andy Creek. A hearty dinner, supplemented with a nice fresh fish dessert and lots of tea, had us ready for bed, dreaming of the next day's climb, which now loomed above us.
Day 4: The Plains of Abraham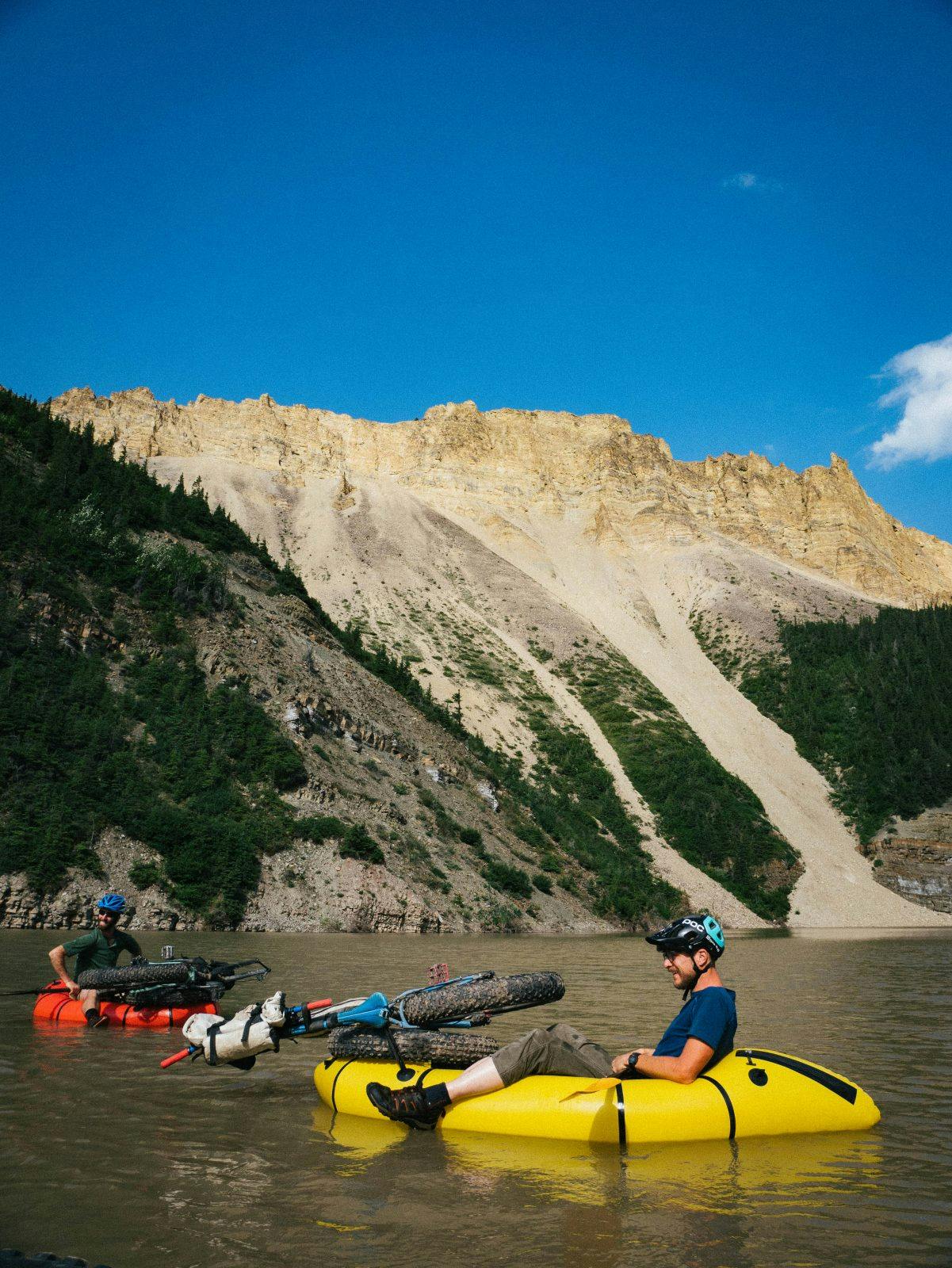 Our morning ritual was briefly interrupted by a hungry ground squirrel as we tried to get our caffeine fix for the day. Stones were thrown, but neither party was worse for wear as we started the day with a monster climb to the Plains of Abraham. While the trail was 100% rideable, heavy bikes and tired legs meant a bit of pushing. Views from the top were nothing short of breathtaking, but shortly after camp 80, a large washout took the majority of the road with it, which meant a few solid hours of pushing down to the Little Keele. Once down at the river we were again forced under the tarp to get some reprieve from the sun, temperatures again rising above 30C.
Anthony DeLorenzo, the trip guru and fortune teller, laid out what was coming up, and none of us seemed too anxious to leave our nice little shade patch. But after an iced coffee or two, we pushed on. Tales of sorrow were sung of the low and the high road, so we elected to continue along the river bed to the pump station as the road turns up Blue Mountain. We thrashed, pushed and pedaled up to the first pass where we enjoyed a nice sunset and fresh breeze. After a quick look at the maps, DeLorenzo revealed that we had a "nice cruisey 20-kilometer decent to Camp; it should only take four hours." While the rest of us wrestled with the math on that, we continued to the bottom of the next pass, the final push to Camp.
Say what you want about Burbidge, but he is a man of ritual, and as we crested the final pitch, his daily mechanical reared its ugly head. A blown freehub meant DeCloet was back on the wrenches. A temporary fix, and a quick decent had us racing a thunderstorm to camp, where vicious mosquitos and slight drizzle had us eating dinner in our Hyperlite Mountain Gear Ultamids, seemingly safe from the mossies. A bug-filled tent, unrelenting heat, and the implications of the blown freehub made for a rough night, with half the group only banking a few hour's sleep.
Day 5: A Blown Freehub Ends the Trip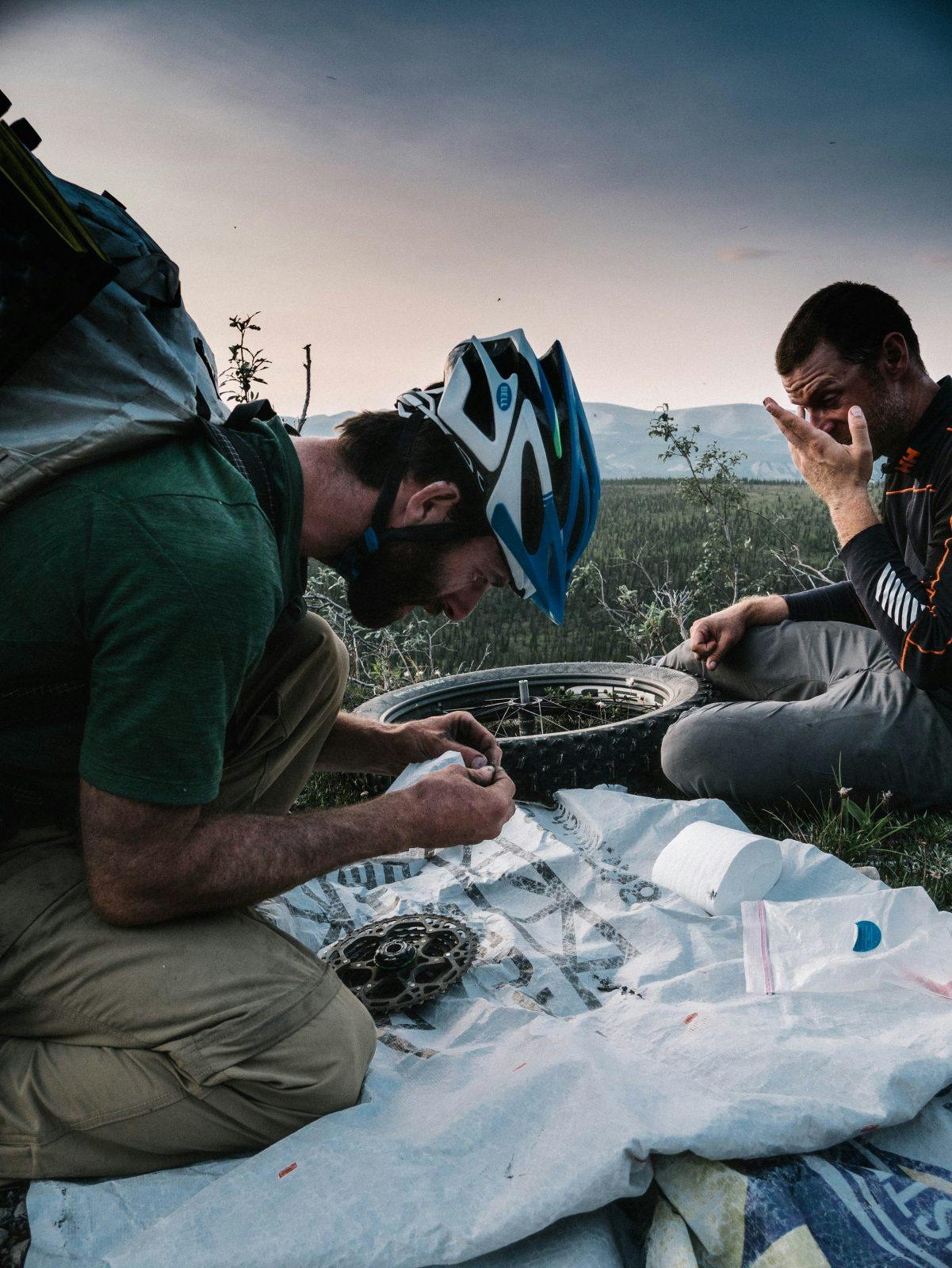 Paul and I spent most of the night in our HMG Shells, as they offered good bug protection from the barrage of mosquitos with minimal warmth. Overnight temperatures stayed above 20C. Running on minimal sleep, we were up early as the tent was no longer a fun place to be. The day started with a frank discussion about the trip goals and whether a return trip was feasible with the condition of our bikes and particularly the blown freehub from the previous night's failure. In the end, we decided that our trip would end with the trail in Norman Wells, and the satellite phone came out in an attempt to start and make plans for flights back to 222.
With the temperature back above 30C by 930a.m. and trip objective now cut in half, we were no longer in any great rush. We ferried our gear across the Little Keele in our Alpacka rafts and filled the morning with lounging in the shade, swimming in the refreshingly cold river, and eating our now surplus food. With the intent of making it to Echo Canyon, we set off for Whore Hill around 2p.m. The temperature read 35C in the shade, and we were bags of sweat by the time we reached the top. 30C and no wind in the alpine is unheard of in these parts. We rode, pushed, and thrashed our way down to Dodo Creek with minimal trails, but made pretty good time. Most of the canyon proved to be quite rideable on our fat bikes, but I couldn't help but think that this landscape was indeed an amazing place to ride a bike, let alone find a road. We made camp at a reasonable hour and were able to spend some time exploring Echo Canyon—a wild slot canyon 200 feet tall and only 20 feet wide in spots. Much to our surprise, the small canyon stream also held many small fish. Armed with fishing rods and cameras, we gleefully explored quite a way's up the canyon. As an added bonus, with our camp at the mouth of the canyon, we were also rewarded with a nice cool breeze in which we enjoyed a nice cup of tea and comfortable sleep. A good camp really accentuates the trip, and this was unanimously voted to be ALL TIME!
Day 6: And It Ends…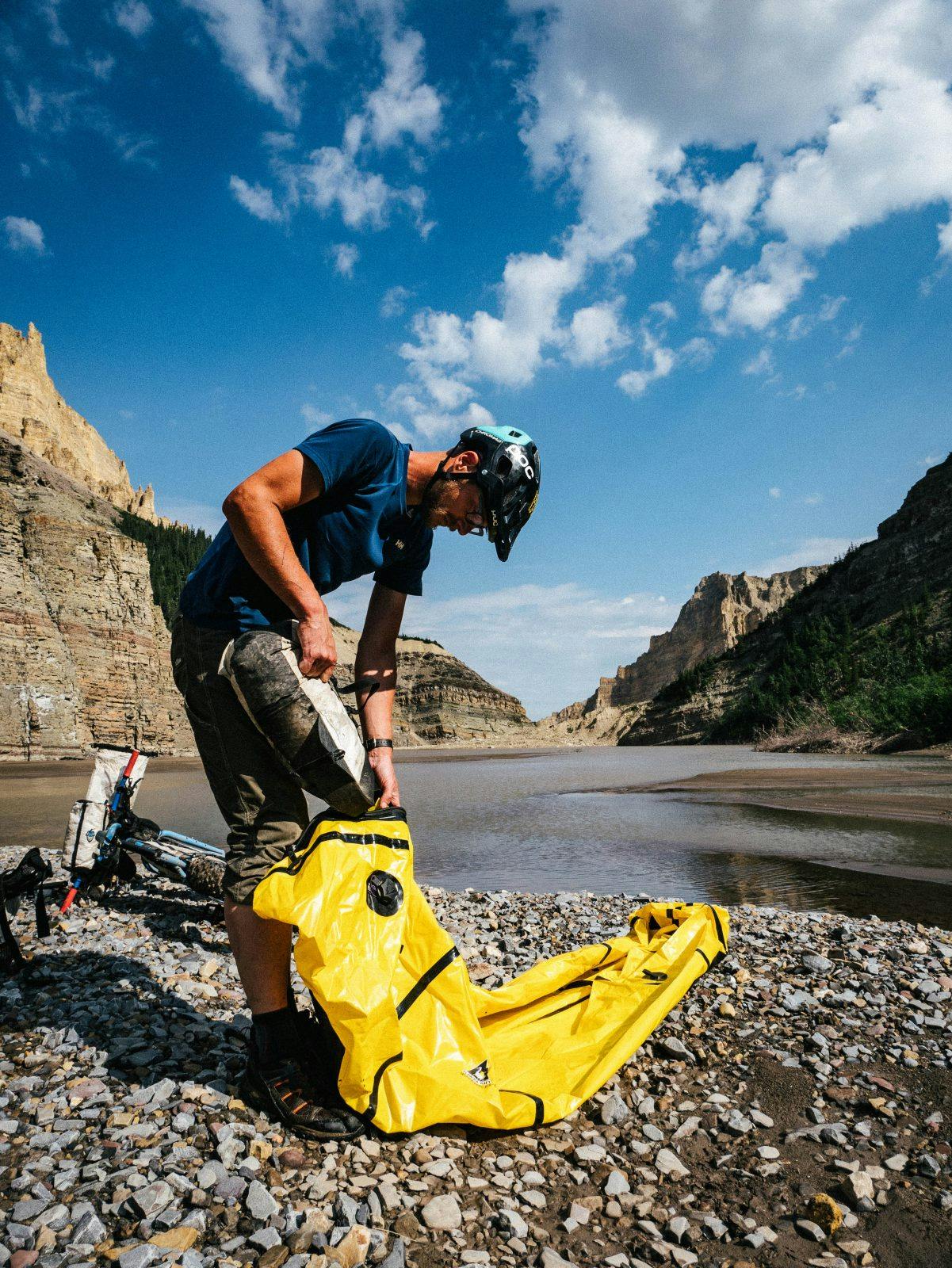 The cool breeze and previous restless nights made a great night sleep, and we awoke refreshed and ready to hit the trail. Hoping to make the Mackenzie by that night, we were up and at it early without too much messing around. We had another 25 kilometers in Dodo Canyon and were excited to see the rest of this crazy place. The trail is nonexistent, but the views are spectacular. Fat bikes made the cobble filled canyon rideable, so we bounced our way along at a reasonable pace. The heat wave seemed to have broken, and we were relieved to pedal along at a reasonable temperature until we reached the lake. The lake is a new addition to the route and formed as a result of a large landslide in 2013. While hikers typically resort to swimming, we blew up our trusty Scouts and one Caribou and made quick work of the crossing. A lone hiker was waiting on the other side and just so happened to have the phone number for a boat that could take us across the Mackenzie. We exchanged beta and were back on our way, bouncing along the canyon bottom.
Dodo Canyon, while not the best riding of the trip, offered fantastic vistas all the way along. After a few more hours, with sore wrists and tender posteriors, we pulled up to the final river crossing, the Carcajou River, around 5p.m. This, incidentally, was also where we had pulled out on our packraft trip in 2015. With only 40 kilometers to the Mackenzie we would make it that night, but with our past experience on this section of trail we were in no hurry to get going. This section, dubbed "The Mackenzie Death March," is a horrible section of trail through steamy swamps and overgrown bush. We pulled out the satellite phone and finalized the flight details with the help of our friend Paul Christensen and arranged a pick up in the morning from Sahtu Adventures. After a hearty dinner and coffee, we loaded our bikes up for the last time and got to it. The trail didn't disappoint, and before long we were shouldering our bikes and wading up to our waist in warm swamp water. The day's rain made for a wet ride, and we arrived at the sandy, bug invested shores of the Mackenzie around 9:30p.m.
Check out Dylan Stewart's Instagram feed for more photos and to read more about the trip!