When the Blue Lines Became Trails – Tales From Luc Mehl: Adventurer, Conservationist, & Alpacka Raft Pro Team Athlete
Luc Mehl Stylin' the 205 rapid in the Grand Canyon from Alpacka Raft on Vimeo.
In 2007, Luc Mehl borrowed his first packraft, intending to use it to extend the backpacking trips he did with river crossings. But he quickly realized the potential of these little, inflatable boats. They opened up previously inaccessible terrain, he says.
"Suddenly I had access to way more landscape than I did before, whether that was doing longer water trips or simply flying in and floating or hiking out to do loops or thru hikes," he adds. He worked all that summer digging carrots on an organic farm to save up enough cash for his own boat.
"I used all the money I got from the farm and bought a packraft from [Alpacka Raft founder] Sheri Tingey's garage when it was still in Anchorage," Mehl says. Then, he "fell in with" Roman Dial and his crew of adventurers, including one expert kayaker named Timmy Johnson, and game on; he became part of what he calls, "the Whitewater Revolution of Packrafting" in 2008.
"We were pushing the limits on the technical water and what the boats could handle," Mehl explains, and he and Dial's crew were absorbing all the information they could from Johnson about how to read and run whitewater, and learn the safety skills and techniques necessary to do so. "Timmy took us down run after run. Every single weekend we just looked at the guide book that he wrote, and we'd ask him, 'what's the next Class IV we should do.'"
At the same time, Dial was making a lot of whitewater videos, the first ones promoting packrafts as a whitewater vessel. That season, Mehl says, things shifted in the general perception of what the boats could do. He and others started thinking about taking them not only on bigger rivers, but also on bigger wilderness trips, across what we now call large packrafting landscapes. Mehl started with the Wilderness Classic in 2008.
"Alaska has a lot of water, and all of a sudden every blue line on the map became a trail; it was awesome," Mehl explains. "I very literally looked at maps in a different way than I ever had before. Instead of flying in and out of the mountains, I could fly in one way and float out. If I did that four times, it would be the cost of the boat. I used it at the Classics, and then I applied those skillsets to mountaineering objectives and monster traverses."
Making the Connection – Mountains & Packrafts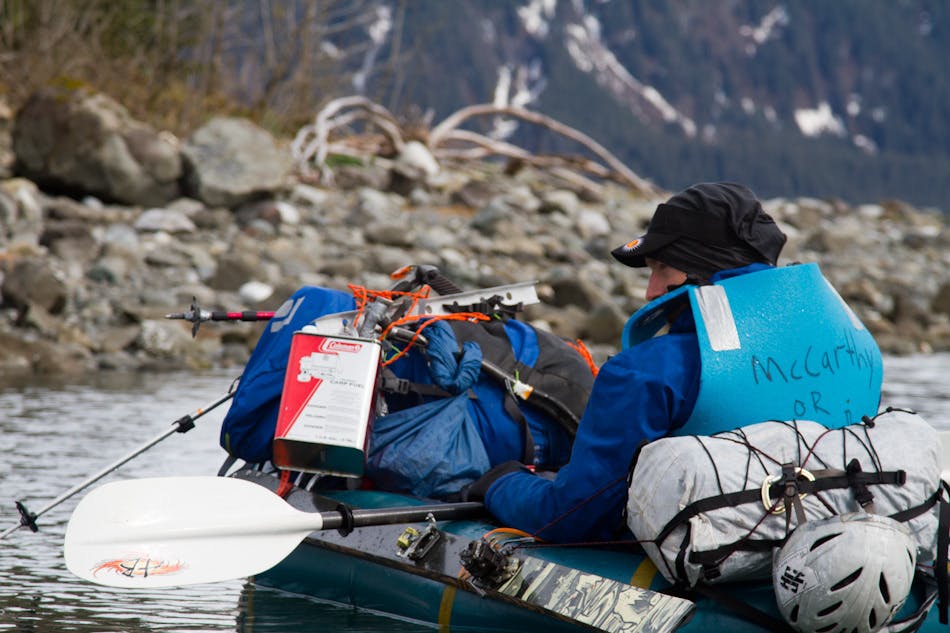 Most people don't think of using a packraft as a means to summit Denali, but in 2010 Mehl did just that. It would be more affordable, cooler, and cheaper to bike and ski in the road system and then exit via the river. So over many months, he and nearly 40 friends planned a month-long adventure that would include a bike, ski, climb, and packraft components. Eight friends helped them carry supplies into the range via a 50-mile bike ride on a park road, while other friends stashed gear; then Mehl and his four climbing partners skied to basecamp and spent a couple weeks climbing the Muldrow Route and descending the Standard Route on Denali; and after summiting, they dug out their cached packrafts, skied a few more days, and floated 80 miles back to Talkeetna.
"Everything went really smoothly," Mehl explains. "A huge community of people helped make it possible, and we were strong, healthy, and had good weather. And we got to see the mountain grow during the approach, but literally dropped 20,000 feet on the way out. It's hard to get that much relief on your own in a couple weeks." (Read more details about Mehl's adventure on his blog, "Things to Luc At.")
Not all of Mehl's trips were so effortless, including his subsequent trip in 2012 to climb Mt. Logan in a similar style. He and four partners traversed from Yakutat to McCarthy via Mt. Logan (19,551 ft), over 370-miles, in 30 days, unsupported! (Read about that adventure here.) However, despite being "crushed", the trip changed Mehl's life, he says. "It was empowering to realize that we could move that fast, averaging 15 miles per day over 30 days, while contending with weather and altitude, avalanches and more."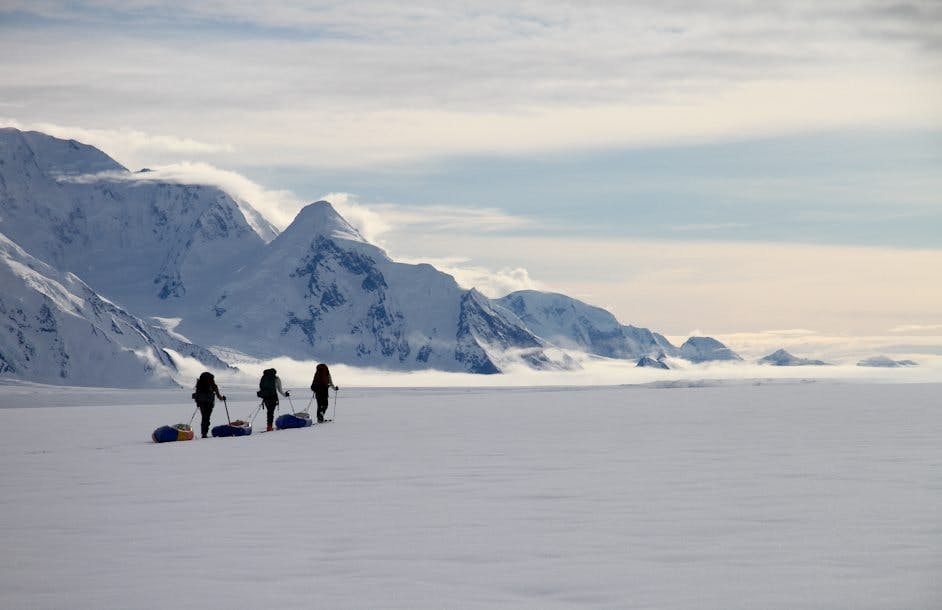 Plus, he says, the trip reemphasized the role of boats on big adventures. "They work really well," Mehl explains. "We planned a route that was not the most direct, but that would allow the least double hauling. We had 130 pounds of gear each. So we jumped on this inland fjord system in the boats, and we had so many bags it was kind of like this Tetris approach to boat packing. This was before Sheri invented the Cargo Fly to store gear inside the boat tubes, so you'd put one bag on the bow and stern, under your legs; it was like we had crazy shipping container boats. We spent three days paddling that system to get to a beach, and then we only had to hike two miles to the first ice, where we could ski. And, as soon as we hit the snow we were able to use the boats as sleds, which in many cases actually worked better than a plastic sled because of their buoyancy."
Numerous adventures with packrafts followed that one, including a "recovery trip" to Orizaba, which Mehl embarked on with a variety of friends, including fellow Pro Team athlete, Steve "Doom" Fassbinder.
"It was a perfect, wonderful adventure with a fun group," he explains. "We bought the cheapest bikes we could find, and put way more weight on them than we should have. Jim Harris's brake pads melted down to the metal base; and my rear axle was so shifty that the tread would rub against the frame, and so we cut all the tread off the edges of the tires. Oh man. It was perfect. We biked to the base, hiked up the mountain, and then did a crazy bike descent—one of the coolest things I've ever done on a bike. We descended 8000 feet with bikes overloaded with gear, got to where we could run this beautiful river, all the while eating chicken on the roadside."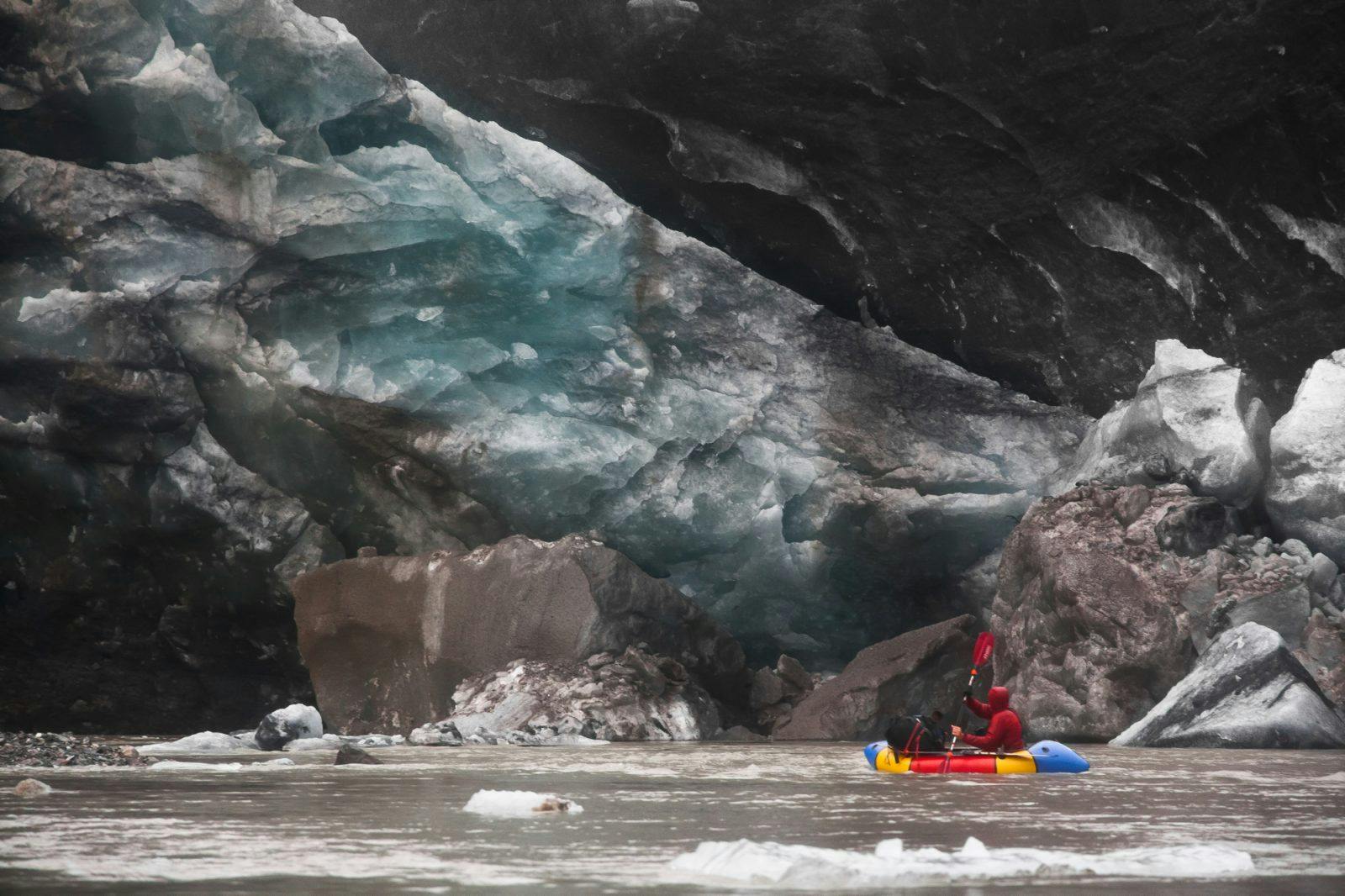 Now What? Shifting Priorities
These days, Mehl still embarks on adventures, though he's not pushing his whitewater limits any longer. Losing a friend a few years ago, along with getting freaked out on various occasions has driven Mehl to pay more attention to the safety side and risks of playing in whitewater.
"That's where I'm at in this evolution," Mehl says. "Rather than seeking the whitewater limits, I'm trying to figure out what needs to be promoted to protect new boaters from these mistakes that are really easy to make." A certified swiftwater instructor for Swiftwater Safety Institute, Mehl is working closely with the American Packrafting Association to create a culture of safety for packrafters. "The sport is new enough that I hope we can skip all the accidents and get to this point where we are really heads up about risk and observing what's going on with other paddlers on the river."
Mehl also founded Stickers for Conservation, a project that inspires people to take action to support conservation in various ways. You can make a "sticker claim" (i.e. claim one of various gorgeous stickers made with original artwork) by doing any of the things listed below:
Donate any amount to any conservation group;
Call your representatives. Phone calls are more effective than emails or form letters;
Write a letter;
Share this campaign, convince friends to get proactive. Facebook: @StickersForConservation; Instagram #StickersForConservation. Offline shares are even better!;
Other: If you think you deserve a sticker, you probably do. Make a claim.