January 14, 2018
Buy Packrafts Not Smartphones - A Packraft & Climbing Adventure in the Weminuche
Exploring the Eastern Weminuche Wilderness of Southwest Colorado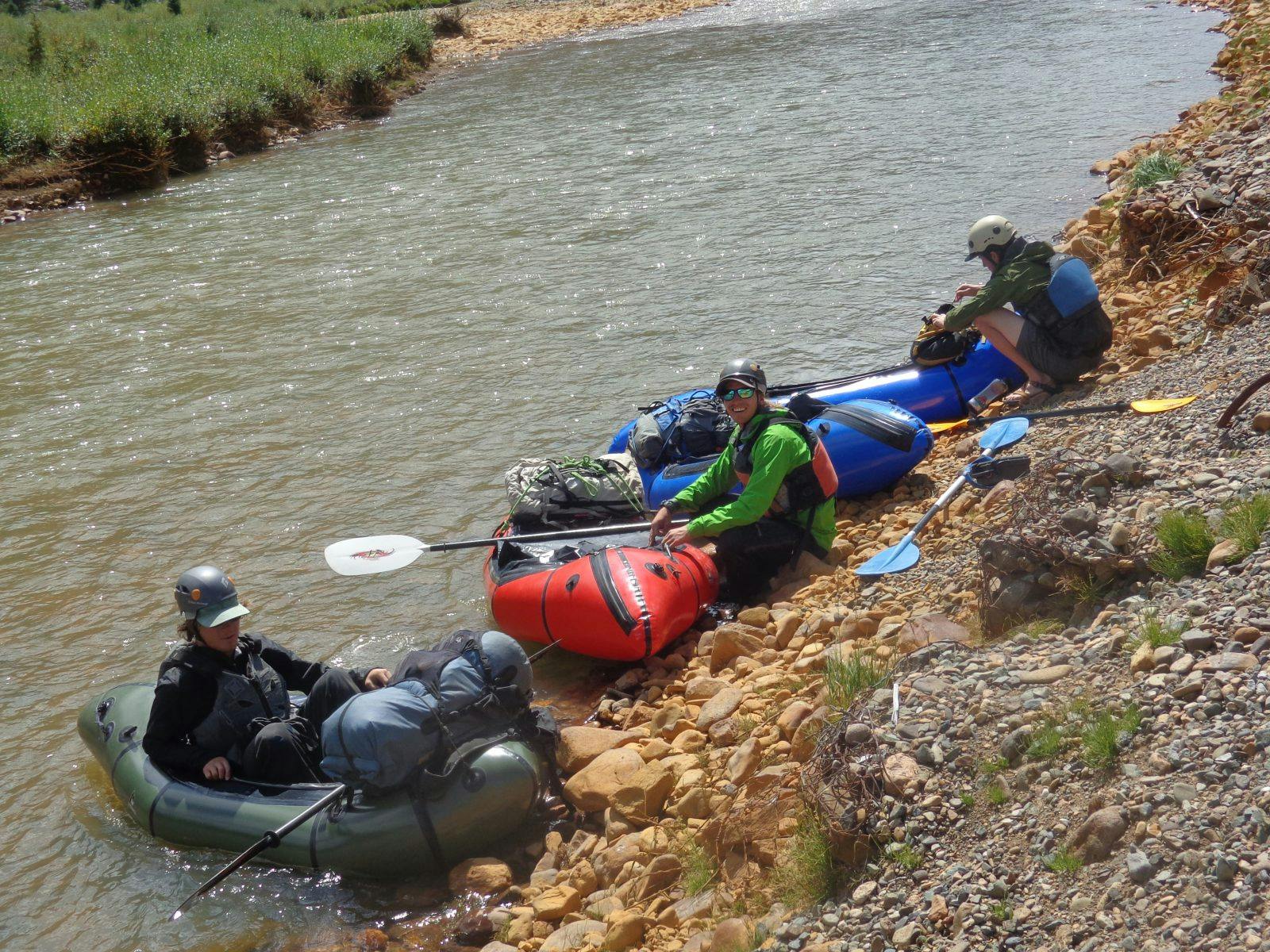 Photos & text by Katie Grauel
The Animas River flows from just outside Silverton, Colo., cutting a deep river valley through the San Juan Mountains. In 2015, the EPA accidentally released a flood of contaminated water into Cement Creek previously trapped in the Gold King mine. These contaminants flowed into the Animas, turning the water a mustard yellow and staining the banks as it flowed through. I was there on a climbing trip a week after it happened and saw the yellow water still swirling in eddies as an orangey film settled on the bottom. Two years later, toxic sediment still stains the banks of the river contrasting with the gray rock and our brightly colored Alpacka rafts.
We put on the Animas at 120 cubic feet per second, roughly half of the lowest runnable recommended water level. Our boats were loaded down with all the necessary camping equipment, six days of food, two ropes, almost four sets of cams and nuts in a range of sizes, alpine draws, and some extra carabiners and cordelettes in case we needed bale or leave fixed anchors to rappel. We packed most of this gear inside light weight dry bags in the tubes of our Alpacka rafts, leaving only what we needed accessible throughout the day stuffed inside a backpack strapped to the bow of each of our one-person sized rafts.
Our goal was simple enough—we wanted to explore the stunning and rugged granite cliffs and spires that comprised the formidable peaks encircling No Name drainage. Why this drainage has no name is beyond me, as it contains some of the most beautifully rugged terrain in Colorado. Some of the mountains that surround it have names that help evoke the imagination; Jagged, Knife Point, Sunlight, Gray Needle; while others simply go by Peak Ten or Point 13160.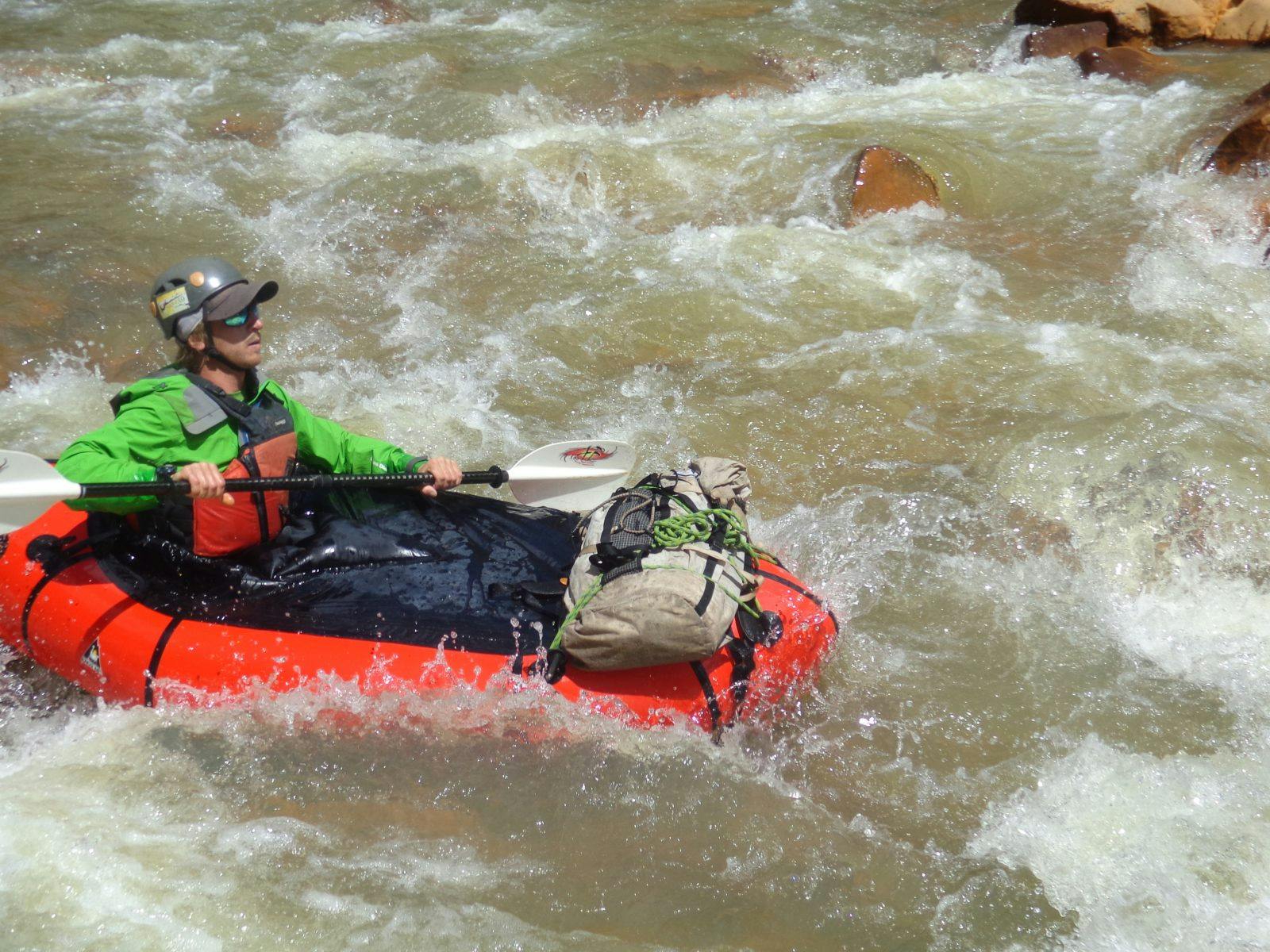 Our plan was to packraft in the ten river miles from Silverton to No Name and hike the five miles and 3,000 feet of elevation into the drainage the first day. Not only did the packrafting afford us the most direct human powered access, but it also added an appealing multi-sport element. Due to some last-minute logistics, we didn't leave Silverton until about noon. The stretch of river we were running, commonly called the Upper Animas, packs in some of the most intense whitewater in the country at high flows, with almost no flatwater sections, and anywhere from riffles to class five rapids. At low flow, this meant we were dodging rocks continuously and trying desperately to avoid getting strung up on gravel bars.
Tourists waved as we paddled, passing us on the Durango-Silverton narrow gauge train, an anomaly in the otherwise pristine wilderness. After ten miles of grueling concentration, we took out just above No Name rapid, the first Class V rapid we had encountered, deciding it would be a needless risk to run it, as we still had miles to travel on foot. We unpacked our dry gear from inside the boats, carefully stashed the boats, pfds, and paddles in the forest above the river and set off uphill just as a short-lived thunderstorm swept through. We came to our first possibility for marginal camping around 7p.m. and decided to push on to the dilapidated old miner's cabin that marked the beginning of No Name meadows. The last hour or so we hiked growing darkness until we finally reached the meadow, quickly set up camp and crashed hard, planning to awaken early the next morning to attempt our first objective: Animas Mountain.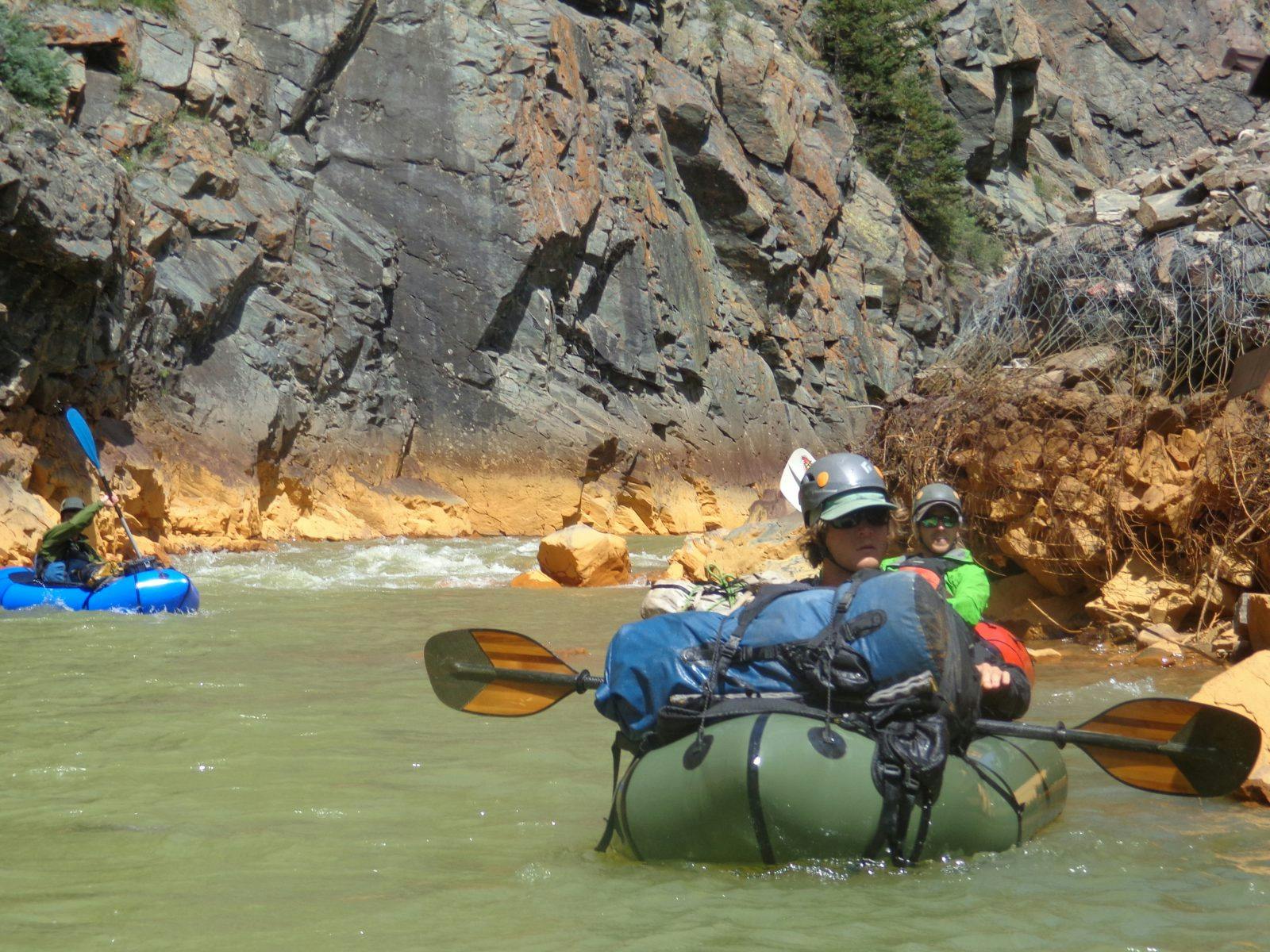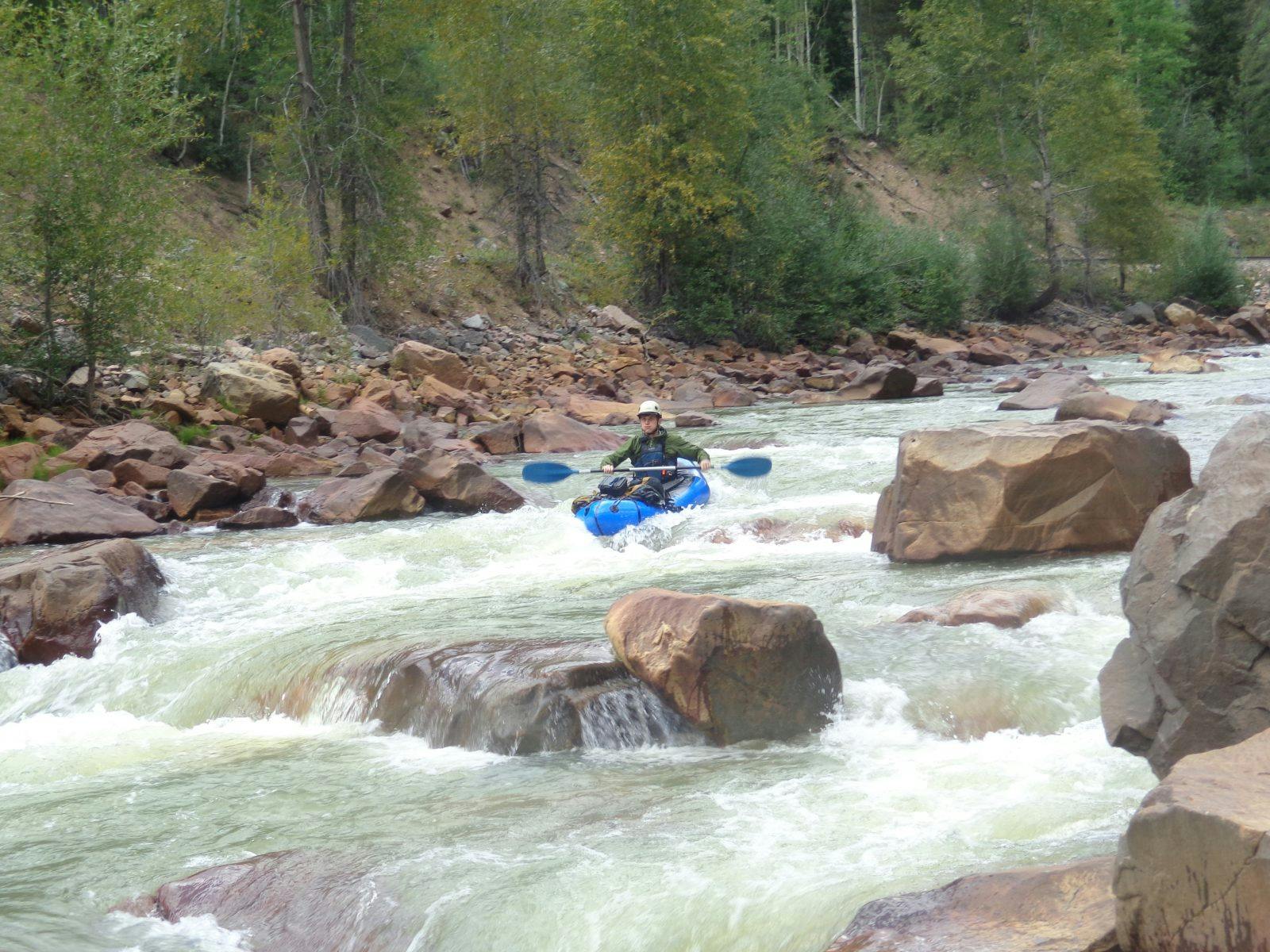 We all overslept, waking up at about 7a.m. and discussed the options before us. We split into two teams, Jake and Kreston attempting a free-standing tower just below the main ridge, and Nick and I going for the most obvious main arete to the summit. We divided gear and set off on our respective missions. Nick and I gained the base of the arete after an hour and half of talus scrambling and grassy ledges. We roped up and decided to try simul-climbing until the terrain dictated that greater precaution should be taken, which it did almost immediately. I led the first pitch and slipped off shortly after placing my first piece, rattling my confidence slightly. Continuing forward the climbing was proving to be more difficult than expected and I brought up Nick as he then belayed me from a grassy ledge. I took another surprise fall as a piece of rock I was standing on broke loose just as I was about to place my second cam above a ledge and my hand ripped out of the crack, leaving a good chunk of skin behind. Recovering for a minute and taping up my bloody hand I labored upwards, feeling the lack of oxygen from the previous month at sea level, and taking yet another whipper and loosing more skin just at the top of the pitch as the crack widened and my largest cam was just below my feet.
After bringing Nick up we were able to scramble unroped for a while, down climbing a notch and re-ascending before roping up again, as it was his turn to lead. Nick also tested his boundaries, aiding up a shallow wide crack with our two largest cams, walking them almost to the top of the pitch. By the time I rejoined him, we were not even half way up the ridge and storm clouds were building. We decided to start trying to find a way to bail, which meant another hour or so of climbing through easy terrain upwards, ducking off the main arete of the ridge and working our way slowly towards the gully to the side. We carefully picked our way down the choss gully and steep spruce needles disguising solid slabs of rock beneath. We made it back to camp moments before the storm finally unleashed around 5:30p.m.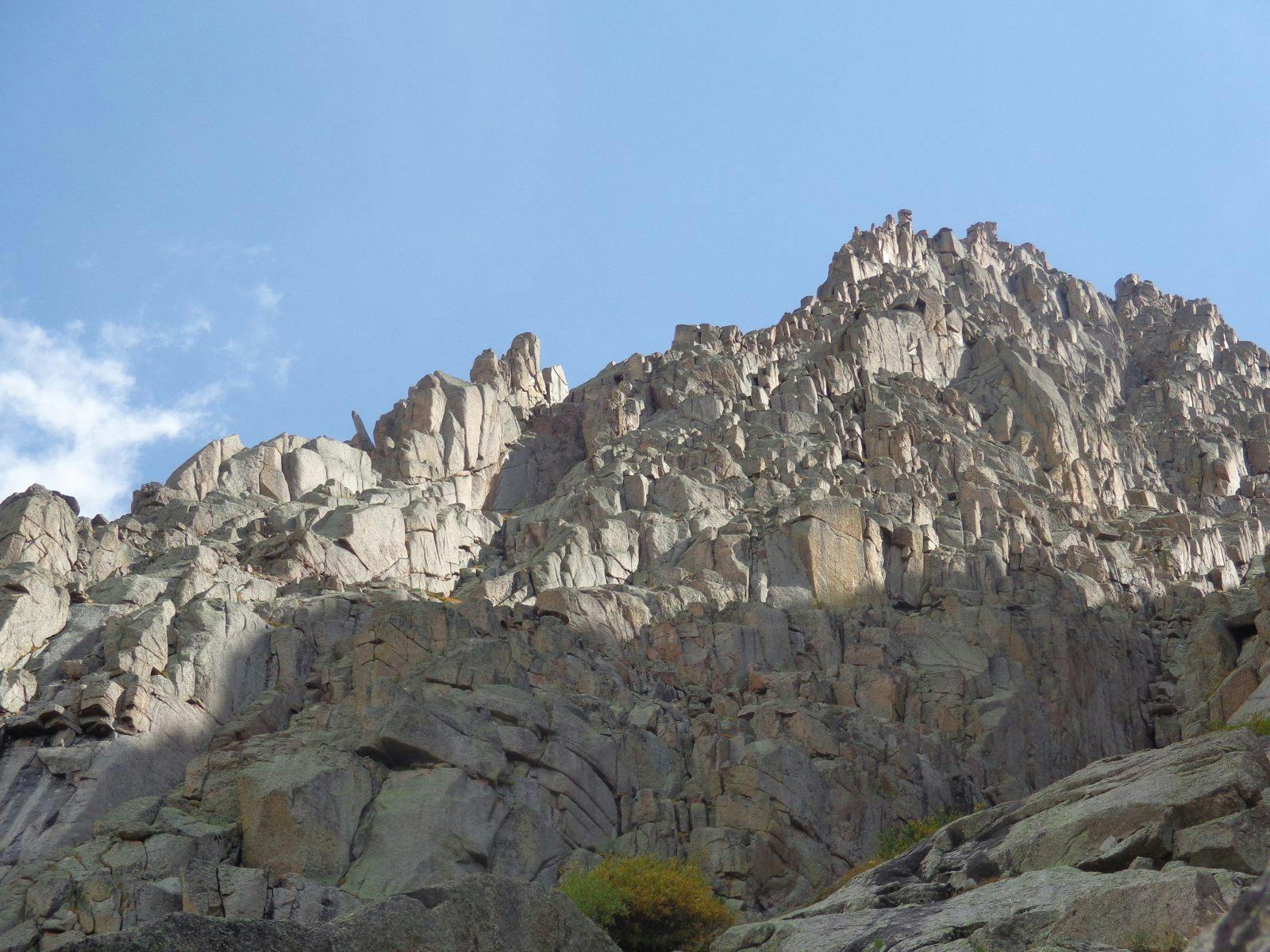 Just before it hit we heard our one of our companions yell, "Off-belay!" We scanned the tower for any sign of them, but failed to pick out their forms against the expanse of rock. We then waited out the storm in our shelter, again hearing their voices after a series of flash-boom thunder and a prolonged rumble we determined to be rock fall, which gave us some confidence that they were at least still alive. After the storm a period of silence dragged on into the dusky skies as our anxiety grew. Shortly after dark they appeared looking haggard and telling harrowing tales of loose blocks and kitty litter choss. As we devoured our dinner we unanimously decided to take the next day as a rest day.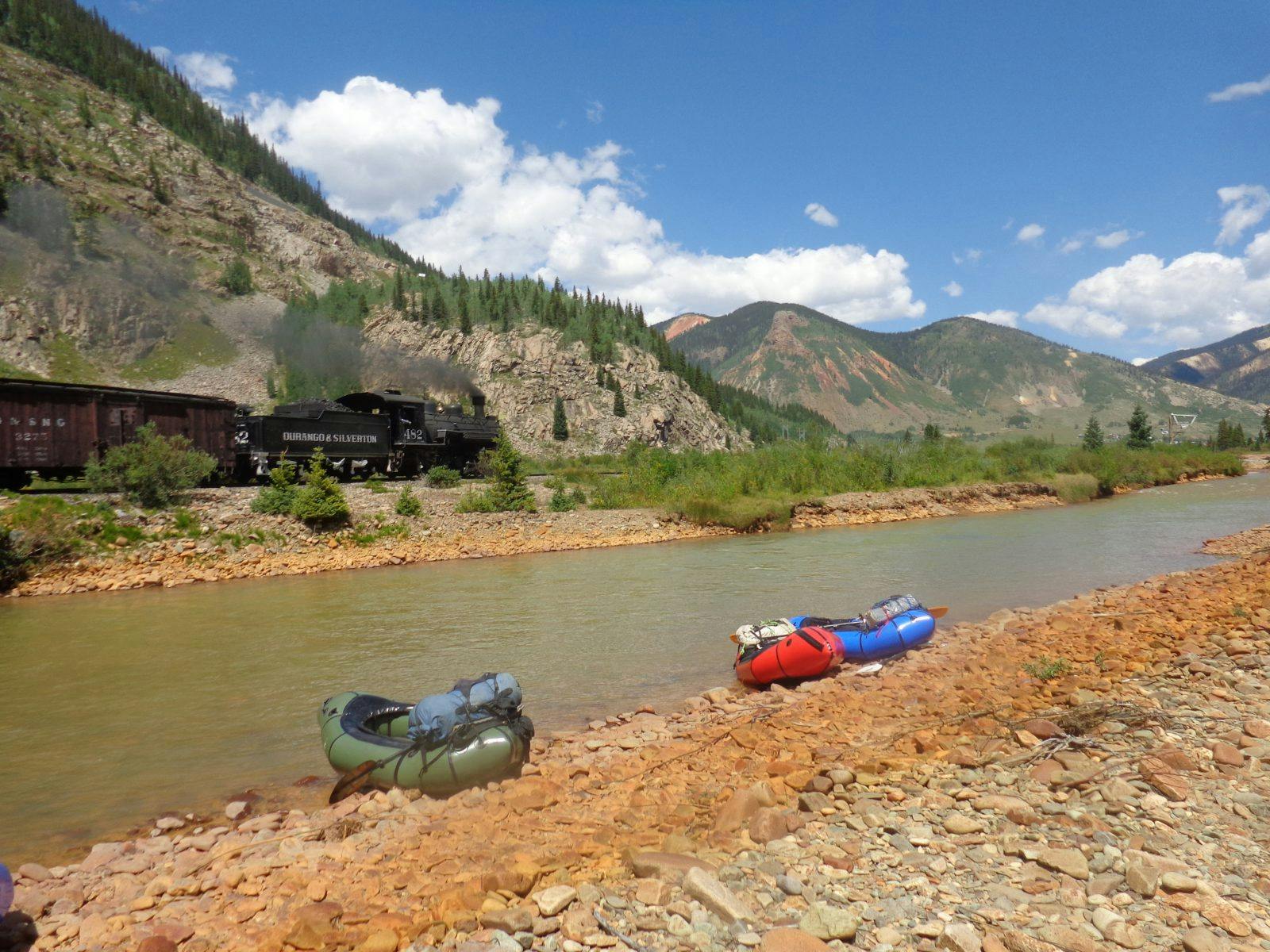 I awoke the next morning as stiff and sore as I can remember being in a while. We took a leisurely morning, eventually moving camp another mile or so up the drainage to our originally intended spot. Then we scouted higher, determining that our next hopeful objective needed greater scrutiny in route selection and rock quality. After nearing Knife Point, we dared to admit our disappointment: the rock looked worse than the "good" rock we had climbed the day before. We indecisively examined other alternatives. Our indecision was not helped by the fact that one of the teams now had 35-meter rope and a 25-meter rope, instead of one 60. In the day light we had discovered that Jake's rope had been struck by a falling rock, creating two worn soft spots near the middle required some field surgery. Eventually we split into new pairs and settled on two objectives, a formation we called the ship's prow on North Eolus peak, and an arete on Peak Ten.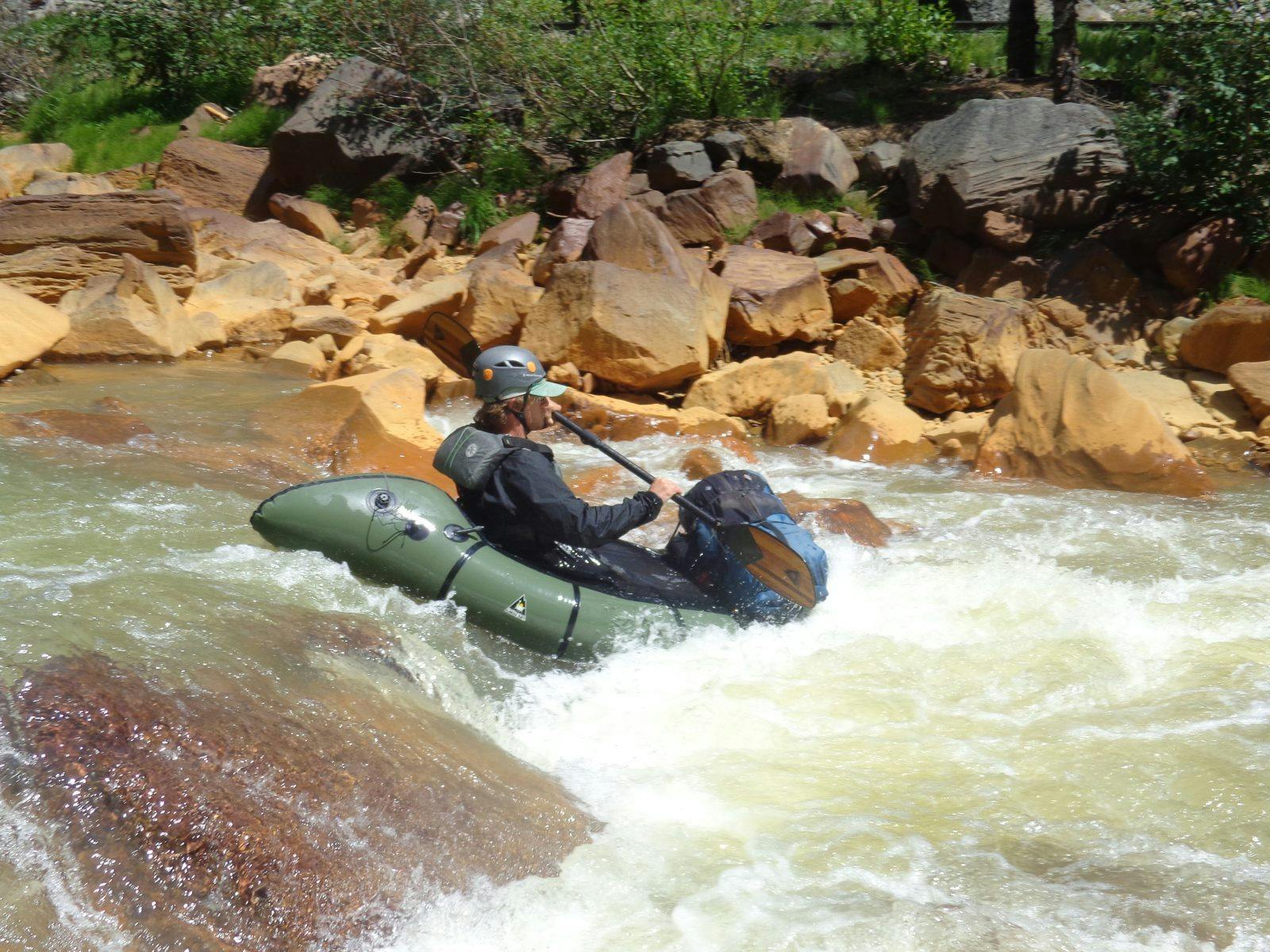 It stormed through the night, but stars twinkled as I poked my head out of our shelter at 4:30a.m. Jake and I set off towards Peak Ten with the two severed halves of the rope. As we neared it and the dawn broke, we saw that our distantly scouted line looked more like a jumble of blocks and rerouted to Gray Needle. We were greeted with some comparatively solid rock and a couple of beautiful splitters –even if they did require some gardening with a nut tool to climb. After summiting and rappelling one of the spires, we called it a success, heading down to meet our pre-determined reunion time. Kreston and Nick arrived 40 minutes later, after successfully summiting North Eolus via the ship's prow. Delighted in our successes, we ate an extra dinner, deeming it possible to hike the 15 miles back to Silverton in one go the following day.
The first five miles back to the river were light and easy. We took the time to take a closer examination of No Name rapid, just below our takeout point. It looked consequential, earning its Class V rating as the main line dumped you into a recirculating hole at the bottom, after dodging a mean-looking pour off onto a jagged rock. The only one with the confidence and courage to attempt it was Kreston, and he geared up to go down as the rest of us packed rafts into our backpacks, finding a suitable spot to wade across upstream. After a rocky start, Kreston executed the sequence of consequential moves perfectly and packed up as we dried out on the other side of the river. The last ten miles burned into my retinas as two parallel lines extending into oblivion as we trudged along the tracks back to Silverton. I resigned myself to misery the last three miles as a passing deluge of hail just never quite passed. Soaking wet and fumbling with car keys, we changed into dry clothes and parted ways, united by the memories we shared in our minds rather than Instagram, as we all had made the choice to invest equipment rather than technology. But if any of us did get a smartphone in the future, this would be our hashtag: #buypackraftsnotsmartphones.