Overcoming Tough Times Through Mindfulness, Gratitude & Adventure
Happy New Year, and cheers to new beginnings!
Story by Leialoha Sousa-Sommo, photos by Cameron Sanders As I pulled out totes for our most recent packrafting trip, I felt like a neglectful boat owner. Sure, they were packed with love but that's where they seemed to stay more often than not these days. As I began to unpack each tote—containing rafts, dry bags, straps for mounting bikes, drysuits, PFDs and paddles—I was flooded with memories: overnight trips down many rivers, bike trips that finished with a boat out, days spent meandering fresh waters, rafts pulled to snowy shores to share hot cocoa-coffee. Adventures I was able to have because of packrafts.My partner Cameron, @renaissancecyclist, introduced me to packrafting five years ago. We rented some boats and gear, jumped on a train, and swapped out tracks for river in the Alaskan backcountry. I was hooked from day one. For the next few years, we daydreamed of the adventures we could have if we owned packrafts.
Unfamiliar Waters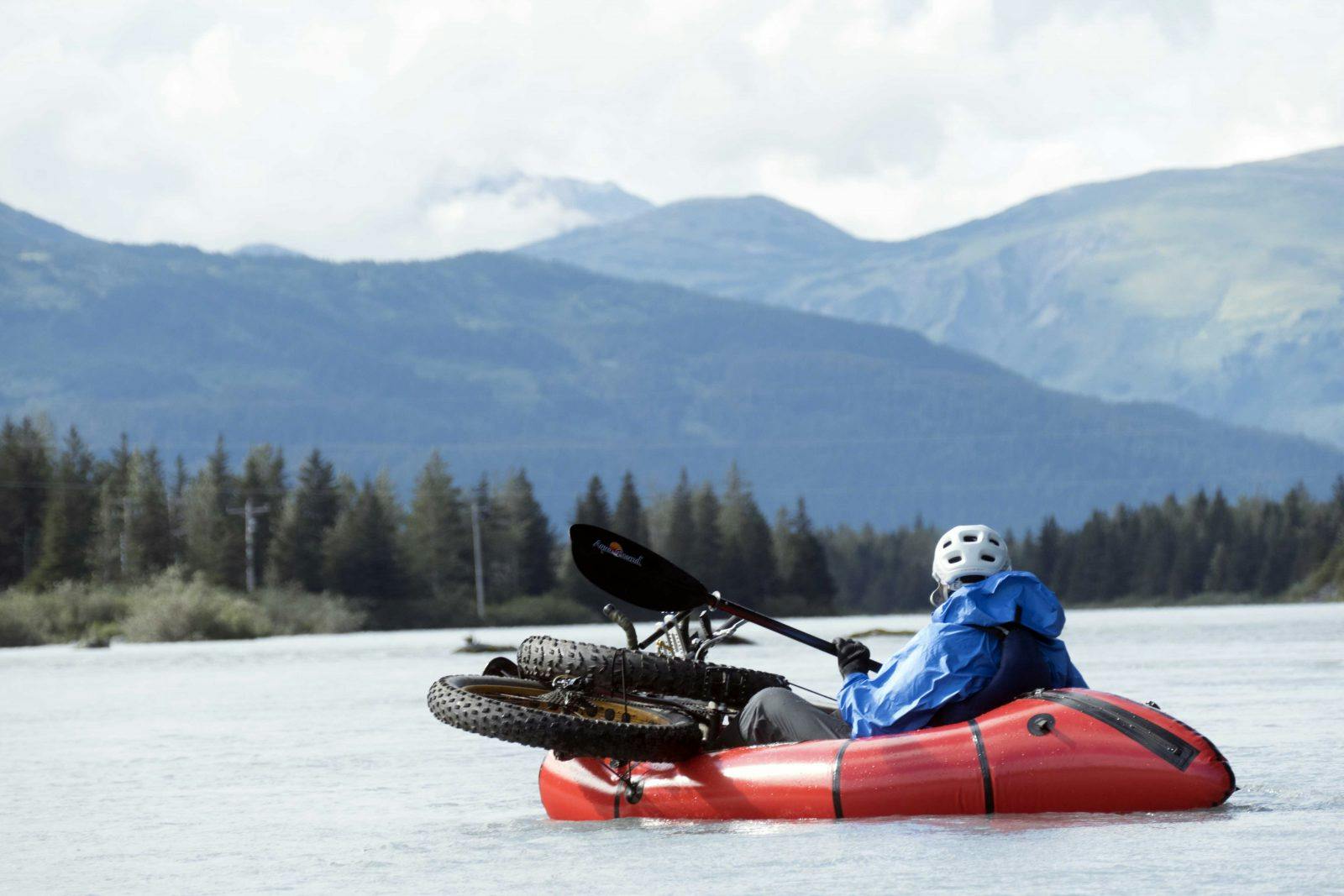 It's often so easy to let dreams stay dreams but, in 2017, we finally made our dream a reality and committed to acquiring packrafts. That same year, doctors diagnosed me with an aggressive form of Hodgkin's Lymphoma, a rare cancer.
"The life you have led doesn't need to be the only life you have." ~Anna Quindlen
Just after I finished my fourth round of chemotherapy, we took our first trip on our new rafts, a trip unlike any I had done before. Winter was making its departure from Eastern Oregon, and snow blanketed the ground. Though not exceedingly technical, I felt triumphant in my raft, tucked between high banks of snow. I felt alive.The short jaunt down a normally unnavigable section of the headwaters of Middle fork John Day River left me feeling elated and powerful—a welcomed pick-me-up at a time when I often felt helpless in the direction life pulled me.In June, I returned from radiation therapy in California, my life in limbo. Radiation separated me from my home, my partner, and what little sense of routine I had left. While I had completed aggressive treatment for my cancer, I did not yet know if I was 100% cancer free. Regardless of gnawing fear, I needed to figure out my new "normal."During this tumultuous period I embarked on my first overnight packrafting trip. Full of sunshine, butterflies, laughter, friendship, snacks, stars, and various things, it left me empowered. While I packrafted, I wasn't worried about my body betraying me. I didn't feel overwhelmed, small, weak, or out of control of my own life. Focused and successful, I felt only happy.
"If you think adventures are dangerous, try routine: It's Lethal." ~Paul Coelho
Recovery from chemotherapy and radiation shaped my first summer with packrafts. I'm passionate about cycling, but sometimes my body felt too tired to climb mountains by bike in 90 degree heat. When my legs tired from a zealous return to backcountry cycling, I rewarded myself with days on the water where I truly discovered the magic of life from a boat. I found in packrafting the same intimate connection to one's surroundings that cycling allows.At the end of the summer I learned I was cancer free. The news prompted Cameron and I to hurry up and get back to Alaska, a place we both loved and considered home.
North to the Future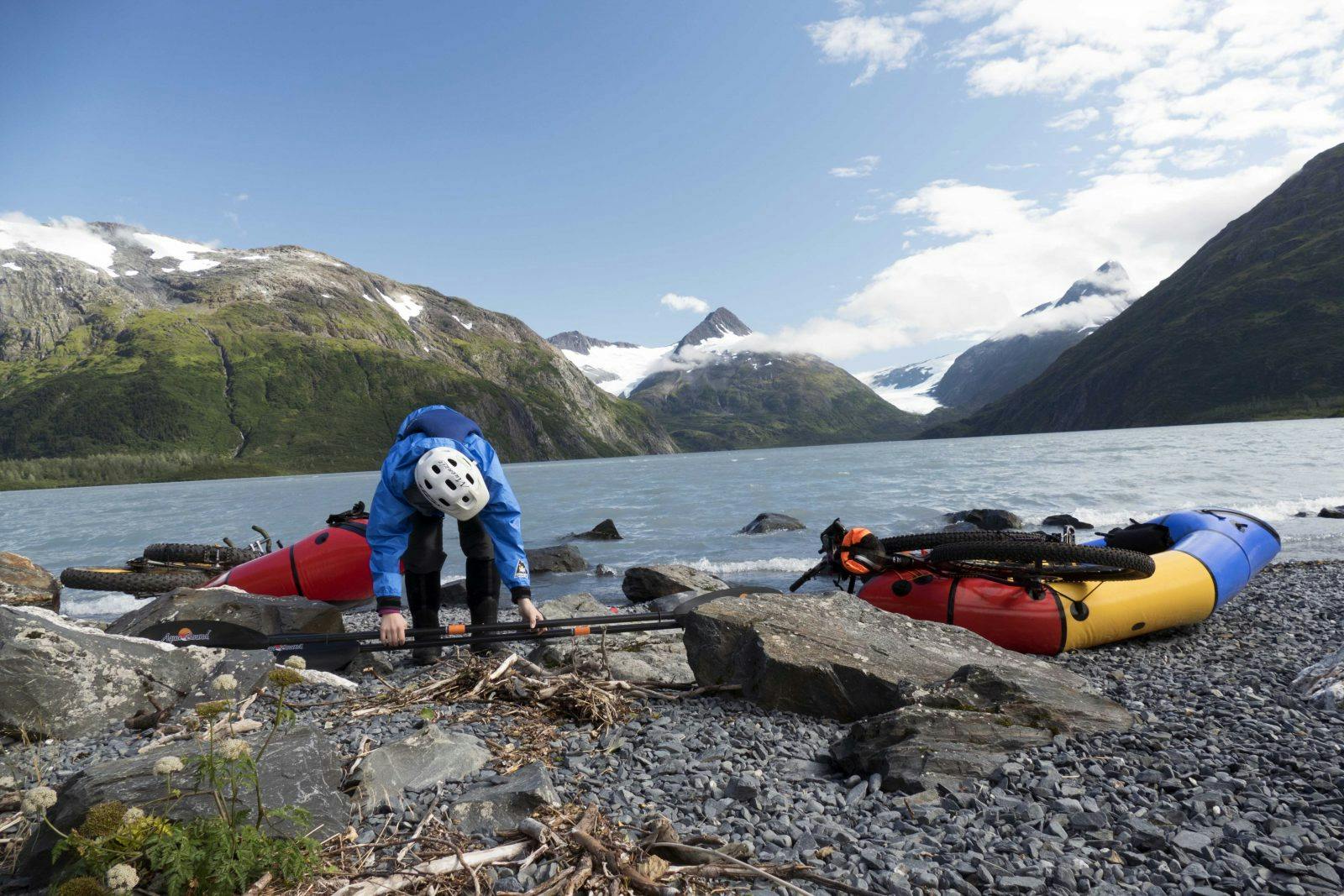 My second summer with packrafts finds me back in Alaska where it all began… still a weekend warrior, still in love with mindful adventure but still with less boating stories than I'd like to admit.Unfortunately, I tore my ACL in February at a trampoline park. Surgery replaced it in March. But in July I had a second procedure to break up excess scar tissue. These injuries have kept me off the boat and bike most of 2018, having only taken back up bikepacking and packrafting within the last month.
"Remember that happiness is a way of travel; not a destination." ~Roy M. Goodman
Since my ACL recovery, packrafting has taken me into totally unfamiliar territory. We took a trip on a 20-mile loop, consisting of 10 easy miles biking woodland trail followed by 10 miles floating back along a glacial stream to where it meets the ocean. The slow pace, gentle "pop-popping" sounds and spectacular vistas of braided glacial river valleys rendered me speechless, in awe of the magical world where I live. A day spent on calm water with my partner, celebrating my 29th birthday and one year in-remission filled me with a sense of overwhelming gratitude for my health and life and a burst of anticipation for the possibility of adventures, by bike or by boat, in my future.
"We travel not to escape life, but for life not to escape us." Anonymous
When I started writing this blog, the same feelings of neglectfulness I felt when pulling my packraft out for the first time in 11 months, crept in. My life lacked the big multi-week backcountry expeditions I always envisioned myself doing. Mapped out epics still sit unexplored in desktop folders. My travels pale in comparison to the other amazing adventures you can find online and I still long for executing my own National-Geographic-worthy expedition.Yet, what experiences I have been able to do brought joy, light, and hope on my road to recovery. More importantly, I forget about my desires to be fully healed or to embark on even more expansive adventures when I'm out packrafting. Instead, I am content in the moment. There is no recovery. I am a powerful lady, in a boat, on this wonderful wild ride.
"Travel isn't always pretty. It isn't always comfortable. Sometimes it hurts, it even breaks your heart. But that's okay. The journey changes you; it should change you. It leaves marks on your memory, on your consciousness, on your heart, and on your body. You take something with you. Hopefully, you leave something good behind." ~Anthony Bourdain