January 22, 2018
The Caribou – A Modern Take on an Original Classic Boat (Bikeraft, Backpack, Hunt)
The Caribou – Alpacka's New Front End Loader, Designed as a Bikeraft; Ideal for Backpackers Exploring Big Packrafting Landscapes; The Ultralight Option for Solo Big Game Hunters. Includes Our Exclusive, Innovative, & new "Late Rise Bow"
Buy it Now! Comes in Mallard Green or Persimmon
"Thirty-one years ago I had never heard of anybody else lashing a bike onto a boat before. It was my own idea, with my first mountain bike in 1987. I wanted to explore an area for moose hunting on the far side of the Delta River, a big glacier river in the Alaska Range. I used a Sherpa Packraft to get across. I rode buffalo trails, ended up shooting a moose, used the bike to wheel meat to the river, and then I ferried it all over in my raft." ~Legacy Ambassador, Roman Dial. He acquired his first Alpacka Raft in the early 2000s. See photos of his trip and other historical shots below.
For the first 11 years of Alpacka's existence (and before that with the original Sherpa packrafts), the only way to carry your gear on large, multi-sport adventures was either inside the boat on the floor or mounted to the bow. However, in 2011, we changed the game completely when we invented the three-part Cargo Fly internal gear storage system. This design not only kept your gear drier, it also dramatically increased the handling and performance of the boat. However, it didn't solve the problem of carrying large bulky items like bicycles, big game animals, and large packs on short sections of water.
Welcome the Caribou Packraft; its innovative bow design makes it an excellent front end loader. With a bow unlike any other in the industry, this packraft provides a broad and stable platform for mounting these bulky and heavy items and supporting them higher and drier when the boat is in the water. And, when resting on land, the load remains balanced and stable.
To keep the weight and bulk at an absolute minimum, while preserving our legendary durability, we utilized the same lightweight 210-denier fabric as the Scout and the 840-denier floor featured in our other packrafts. The result is an ultralight, full-size bikeraft or ultralight hunting raft that rolls up small for stashing in a pack or on your handlebar roll. It's also available with a Cargo Fly, for keeping bulky gear on the bow and loose gear inside and dry.
Key Features:
Ultralight – The lightest and most packable full-size packraft ever
210-Denier Lightweight Nylon (same as the Scout) with 840-denier Floor (same as our standard packrafts)
Innovative New Bow Design – Front end loader designed to carry bikes, full sized packs, big game, and other heavy loads, while keeping the boat balanced in and out of the water
4 Bow Strap Plates – Oriented for attaching a bike frame with straps
Bow Handle – Provides a convenient carrying point for portaging and entering or exiting the water
Cargo Fly Option
New Color – Available in Mallard Green (also available in Persimmon)
Affordable Price Point – Starting at and ~5lbs
A Brief History of Bikerafting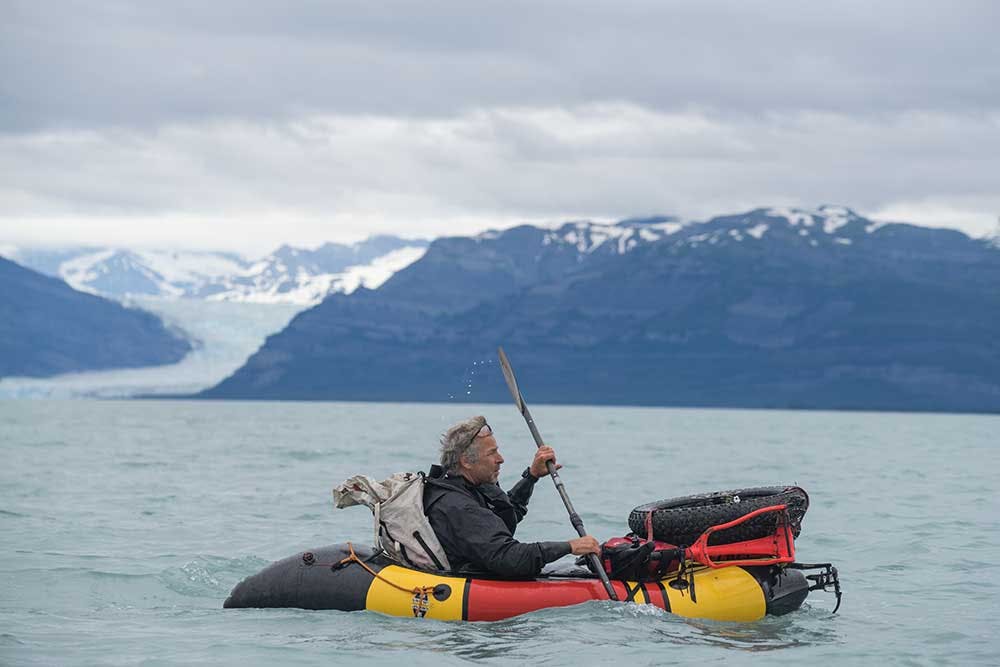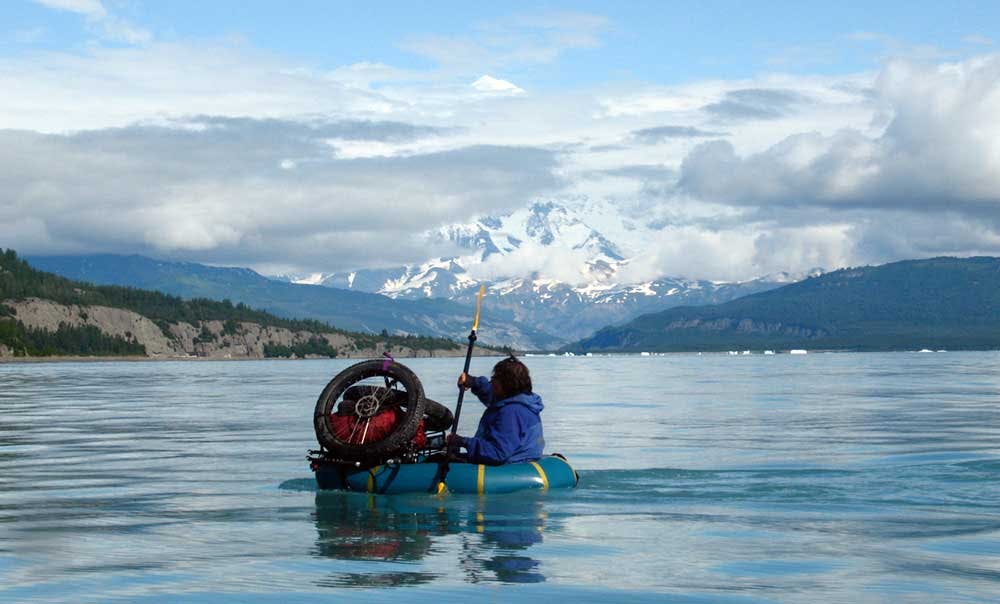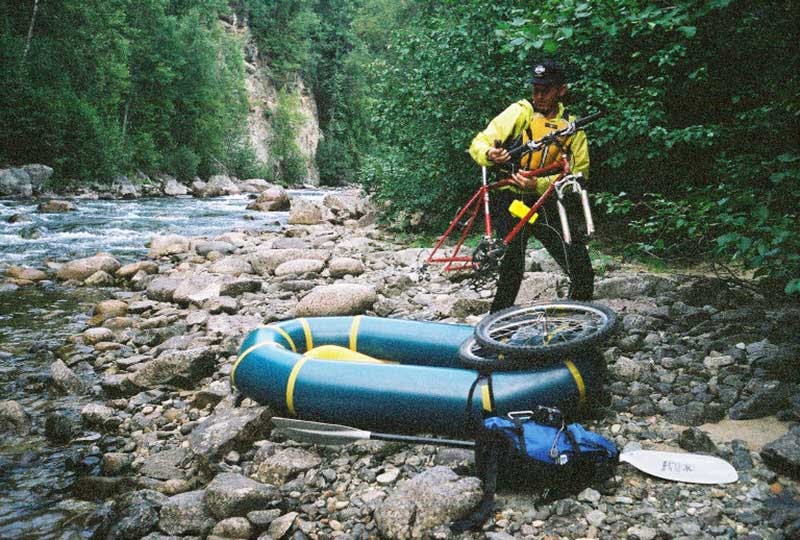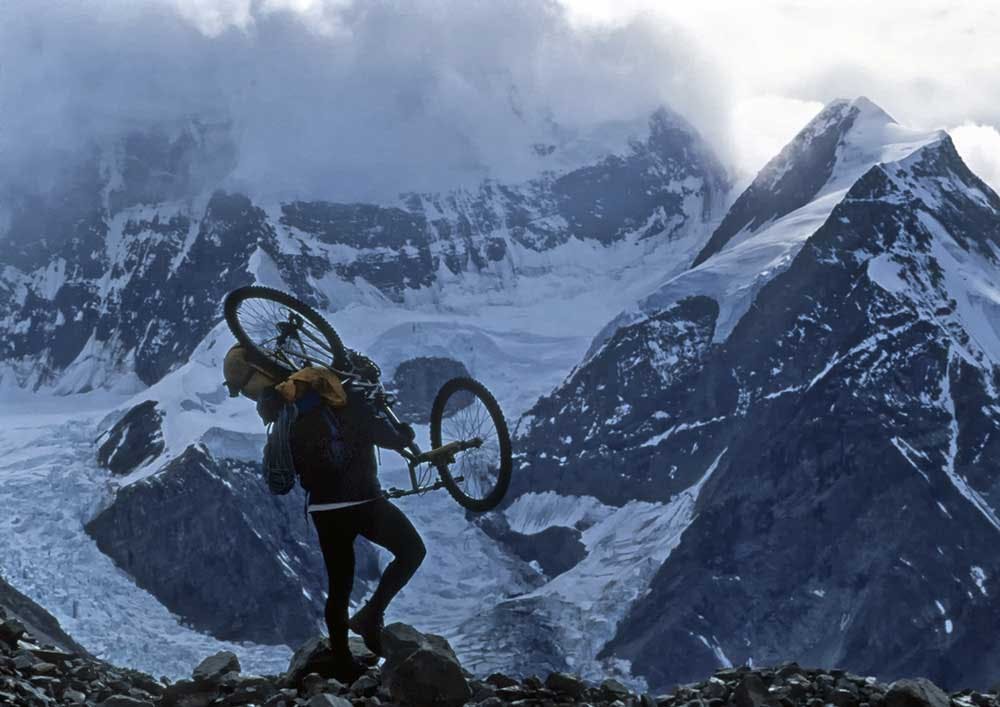 Check out our new and Improved Forager!  Stay tuned, along with our March launch of the Caribou, we'll be delving into the history of bikerafting (or "hell biking" as Roman Dial calls it), as well as the design story behind the development of the Caribou.