March 20, 2018
Alpacka Raft Caribou Packraft & Aqua-Bound Whiskey Fiberglass 4pc Paddle Sweepstakes
Congratulations to Our Randomly-Chosen Sweepstakes Winner, Tom Gilmore of New Smyrna Beach, Florida!
From Tuesday, March 20th at noon until Tuesday, April 3rd at noon, Alpacka Raft and Aqua-Bound are partnering up to do a giveaway worth .00! Win one of Alpacka's brand new Caribou Packrafts, ideal for bikerafting and solo ultralight hunting, and its perfect, ultralight paddle companion, the Aqua-Bound Whiskey Fiberglass 4pc Paddle. One lucky winner will have this sweet paddle before anyone else, as it won't officially be released until September 2018! Enter once with an email address; and then SHARE the sweepstakes on social media and get unlimited additional entries IF your shares lead other people to sign up for the sweepstakes!
Please note, all entrants will be added to both Alpacka's and Aqua-Bound's enewsletter lists. You may unsubscribe anytime, and neither company will share your contact info with anyone. And, yes, you can enter the sweepstakes even if you are already on either newsletter list.
About The Whiskey…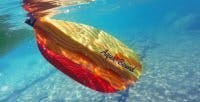 The Whiskey Fiberglass paddle features oversized blades perfect for high-angle, high-energy paddlers, and packrafting enthusiasts. Hand-crafted compression molded, multi-laminate fiberglass blades, the 26oz. Whiskey Fiberglass paddle comes in three eye-popping colors: Fuego, Agua, and Sunwave. The shaft is a super-light and durable, 100% carbon T-700 shaft. The 100% Carbon Posi-Lok ferrule features a corrosion-free construction, convenient dual-button release, and infinite feathering angles. Proudly handcrafted in Osceola, Wisconsin, USA. Learn more about the Whiskey Paddle.
About the Caribou…