Techniques for Cleaning Your Packraft to Keep Our Waterways Free of Invasive Species
By R. Isaí Madriz 
Taking time to properly clean and dry a boat is key to keeping waterways healthy and preventing the spread of introduced and invasive species, which can wreak havoc on ecosystems and their native flora and fauna.
I have been studying the aquatic insects of Patagonia, in the Aysén region of Chile. Between each packrafting expedition I thoroughly clean my boat using various techniques. Here is a step-by-step run down:
When I am done packrafting, first I look the boat over to make sure that I am not carrying any chunks of plant debris. I leave the boat inflated.
If I am entering a new water body that same day, the cleaning has to be in the moment. I portage high up on shore and take a bottle or bucket of water with me.
I use a biodegradable soap and a soft sponge to gently massage the boat, especially the crevasses. (Our favorites at Alpacka are Green Goo Castile Soap or Dr. Bronner's).
I rinse the boat with the water I carried up from the river, allowing the small amount of soap that I used to filter through the grass or sand, rather than enter directly into the water (leave no trace!) If instead I have access to filtered water that I can spare, I will use that to rinse the boat.
The Velcro is a trickier part. For this I use a bit of ethyl alcohol that I carry for my insect collections. I pour a bit on the Velcro (rudder, spray deck, etc.) to displace any water and microorganisms that are trapped inside, ultimately drying it out in the process.
I take a clean, quick dry rag that is only for gear and wipe the boat top to bottom, taking special care of the crevasses, which hold much of the water and hiding "hitch-hikers". If I have some time and the sun is out, I will angle the boat so the sun's rays hit it all angles, rotating it as needed and taking a moment to enjoy some maté tea in the meantime.
All other gear that has hit the water that day also needs to be cleaned and dried similarly (dry/wet suits, booties, paddles, PFDs, etc.)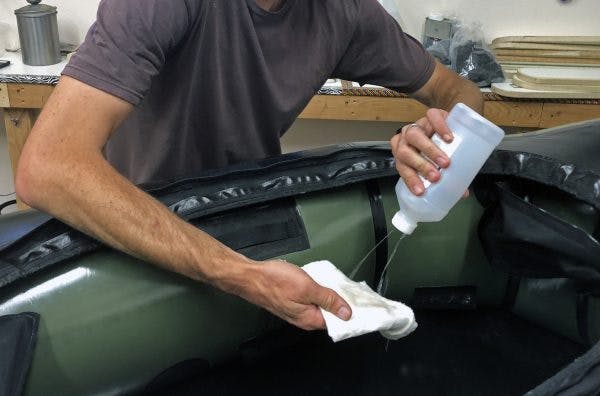 Taking the time to follow these steps not only keeps the waterways clean, it also helps your gear over time. Of course, dry and store all gear well so it doesn't mold. I hang my boat inflated on my wall, my dry suits and PFDs hang on display in my "livingroom" of my tiny home. They dry completely and they double as art!
Featured photo by Anand Varma: Isaí Madriz is a field entomologist, PhD candidate, and Fulbright-National Geographic Digital Storytelling Fellow. He spent recently spent six months on a trip on the Chacabuco and Baker River in Chile. His goal was to tell the story of deglaciation of the Northern Patagonia Ice Field (NPIF) in southern Chile's Aysén region, focusing on its vanishing aquatic insect diversity through images and stories of exploration, science, and human connections.