A Packraft Adventure on the Middle Fork of the Salmon River, Idaho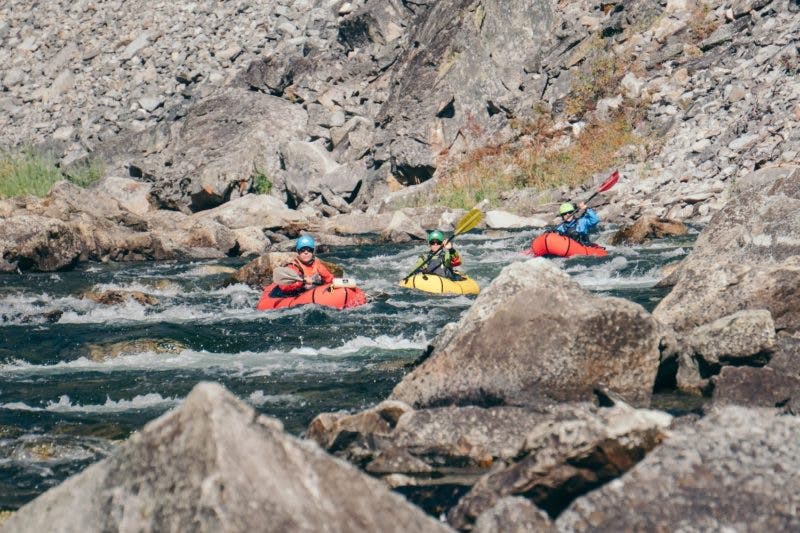 Follow us all this week on Instagram to see more photos & read more stories by Dan Ransom
The Middle Fork is definitely not a traditional packrafting river. It's one of the most famous and popular river trips in America, with over 13,000 applications last year for just 387 launch dates. Packrafts, on the other hand, excel deep in the backcountry, where lightweight gear is paramount to access those super remote, rarely run wilderness stretches. I don't have a huge quiver of boats in my garage, so the real question is – how comfortable can I be self-supporting a slackcountry trip for eight days in a 9lb. boat?
I had never really considered a big trip like this in a packraft, until I picked up the Alpacka Self Bailer. It can easily haul a week's worth of food and gear, (including the mandatory groover system). The cargo zip allows you to clip two drybags with gear inside the tubes of the boat near your hips, which keeps the center of gravity low and dialed – and more stable. The only downside to the self bailer would be the cold weather late in the trip, with constant rain and ambient air temps that require an extra layer of insulation that you could probably skip in a decked boat.
No matter how light you want to go, there is no escaping the mandatory pieces required on the Middle Fork, including a fire pan and groover. For a fire pan, we carried a custom made titanium pan that met the minimum dimensions, with a total weight of a couple pounds. For a groover, I strapped an Imlay Canyon Keg to two glued plates inside the butt of the Alpacka, so that when the tubes were fully inflated, the keg rests off the tubes entirely. That setup was super lightweight, and more than sufficient for eight days.
Everything else was basically backpacker style – dehydrated meals, Aquamira for water treatment, Hyperlite Mountain Gear Ultamid for shelter. In the end, I couldn't fully divorce myself from the river-life of luxury, and I tossed in a lightweight collapsible chair from REI. Total luxury item, but oh-so-nice.
The First 25 Miles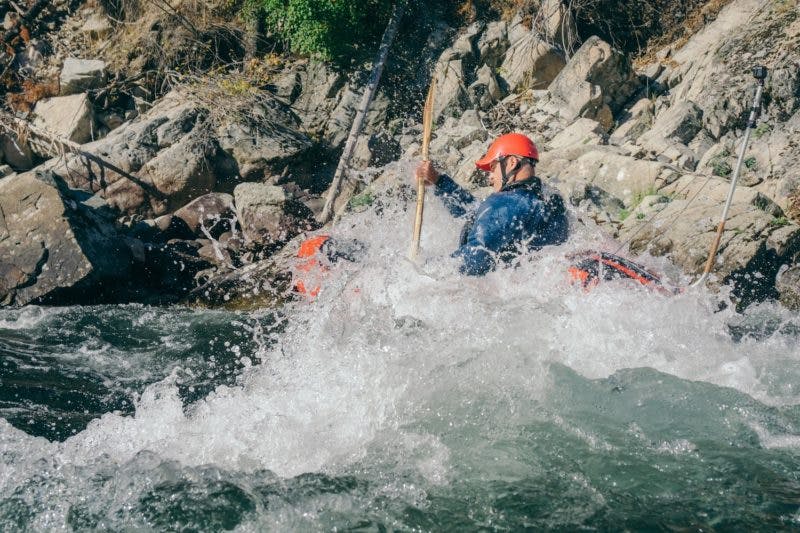 The Middle Fork is most famous for two things – almost a hundred miles of fairly consistent whitewater, and hot springs. At these flows, the whitewater is definitely more mellow, while the hot springs are prime. Air temperatures are cooler, and the riverside springs are completely exposed by lower water.
We launched with 1.5 feet on the gauge, and most beta would describe this stretch as notoriously difficult at these flows. For rafters, that's entirely accurate. Expect to beat the hell out of your boat (and yourself) as you scrape your way downstream. But for our little inflatable go karts, it's a rock concert. The first rapid starts just a few hundred yards below the put-in, and for the next few days it is pretty consistent. I'd place my comfort level squarely at Class III, and I expected the Middle Fork to stretch that comfort level at least a few times, especially in the first dozen or so miles.
At mile 5 is Velvet Falls, a notorious class IV rapid with a nearly riverwide recirculating ledge hole at higher flows. I remembered this rapid well from a previous trip at 4 feet, and was sufficiently gripped as I paddled into it. At 1.5 feet, the ledge is much more exposed, but almost all of it's bite is gone, making for a fun but ultimately benign run.
The more difficult challenge is a day or two downstream at Pistol Creek. This is one of the legendary rapids on the Middle Fork, in high water it is class IV, with a tight s-curve and some nasty rocks along the right wall. At lower flows there is far less to fear, but it does require enough attention to avoid the one obstacle you absolutely have to miss.
I lagged behind our group to photograph guys surfing the big wave in Cannon Creek just a mile or so upstream. By the time I made my way to Pistol most of the crew was on the shore with cameras in hand. I put on a helluva show, stuffing my little boat straight into the only rock I had to miss. I cartwheeled out of my boat and smashed my hip into a shallow water shelf, but fortunately walked away with just a bruised hip and wounded ego.
Below Pistol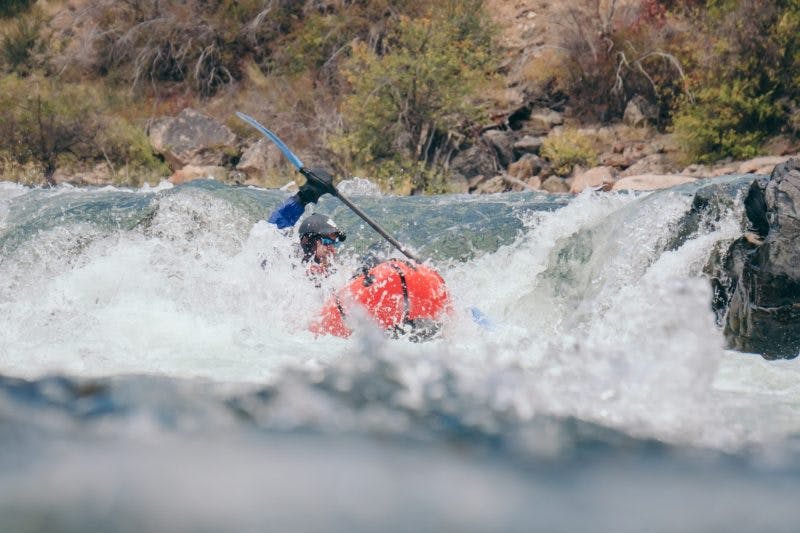 Below Pistol and Indian, the river gradient relents, the flows get higher, and mellow water is only occasionally interrupted by a rapids like Tappan Falls and Cove Creek.
About this same time, a storm moved in that would consistently dump light rain on us for the rest of the trip. Temperatures dropped, and overnight snow dusted the upper ridges of the canyon. Wet and cold, we hoped to make some miles and set ourselves up for a daytrip on Big Creek the next day. Just below Flying B is a long rock garden called Haystack. Our first boat through flipped, and ended up swimming all the way to the bottom. Score one point for mid-summer trips when warming up is certainly a lot easier.
Big Creek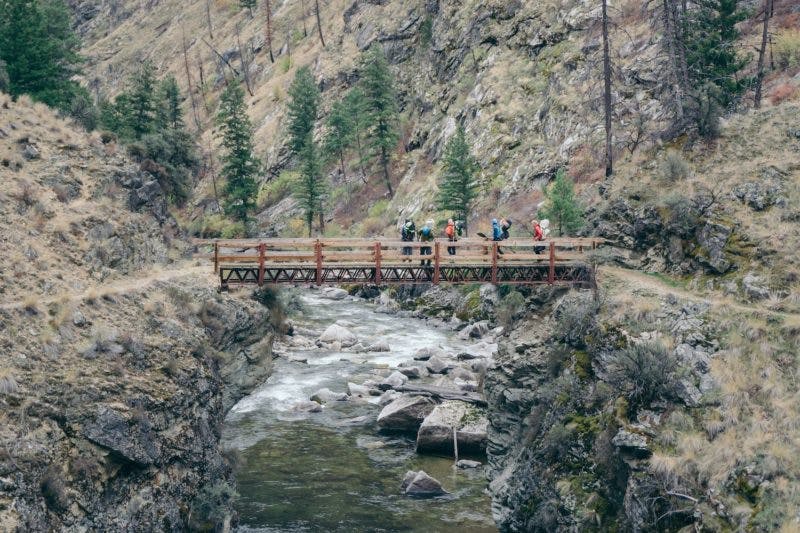 Big Creek is the largest tributary of the Middle Fork, and itself a worthy destination for kayakers. Most folks avoid the uncomfortable logistics of getting their on foot, and fly into the airstrip, and paddle 35 or so miles back to the confluence.
This late in the season, we had our sights on the four miles from Soldier Bar, through the gorge, and back to the confluence. We stashed our drybags and gear at the bottom, rolled up the packrafts, and made a quick 90 minute hike to the top. This also gives you the advantage of scouting the entire run on the way up.
At higher flows, this stretch could easily be above my paygrade. But with just a couple hundred CFS, the water was not very pushy, and ended up being the best stretch of paddling of the entire trip.
Impassable Canyon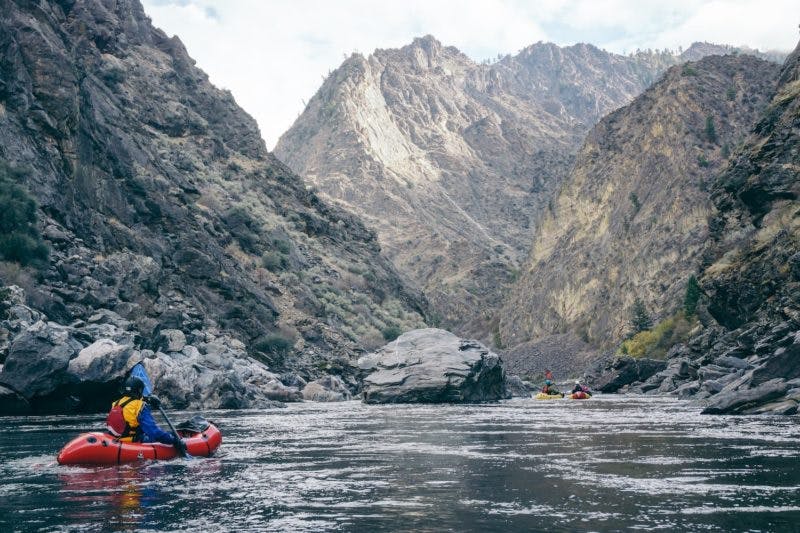 Below Big Creek, the canyon dramatically changes character, as it cuts through the Impassable Canyon. These last 20 miles are well known for their whitewater, but the scenery is even better.
This section has more of a pool drop feel, with a handful of really fun rapids like Weber, Rubber, and Hancock. At these flows they were fairly straightforward read and run. Surprisingly, the biggest waves of the entire trip were in Cliffside, where most of the flow piles up on the wall on river left, creating a massive wave train.
Our last bit of adventure came in Devil's Tooth. At low water, the tooth creates a nice hole dead center in the river channel, and will instantly flip the dude asleep at the wheel. I got a nice recirculating wash in the hole, before finally getting spit out.
Those last few miles of Impassable Canyon are insane, and my photos just don't do it justice. And then just like that, you round a bend, the canyon relents, and you are on the Main Salmon.
I've now seen the Middle Fork twice, both times completely different experiences. Hard to say one is better than the other, both are pretty damn good.