January 1, 2019
#DogsOfPackrafting - Adele Ng on How, Why, & When to Packraft with a Dog
Pups & Packrafts – A Q&A "How To" With Photographer Adele Ng
Submit your #DogsOfPackrafting Photo Contest via Instagram Today!
This year, as part of our campaign, we are featuring special guests Adele Ng and Whiskey the vizsla. Check out our Q&A with Ng. She talks about why dogs and packrafts are the perfect combo, and she offers some tips on the best ways to packraft with a pup. Thanks Adele! 
All photos courtesy of Adele Ng. Cover photo: Whiskey running around Dry Island Buffalo Jump Provincial Park, Canada, autumn 2018.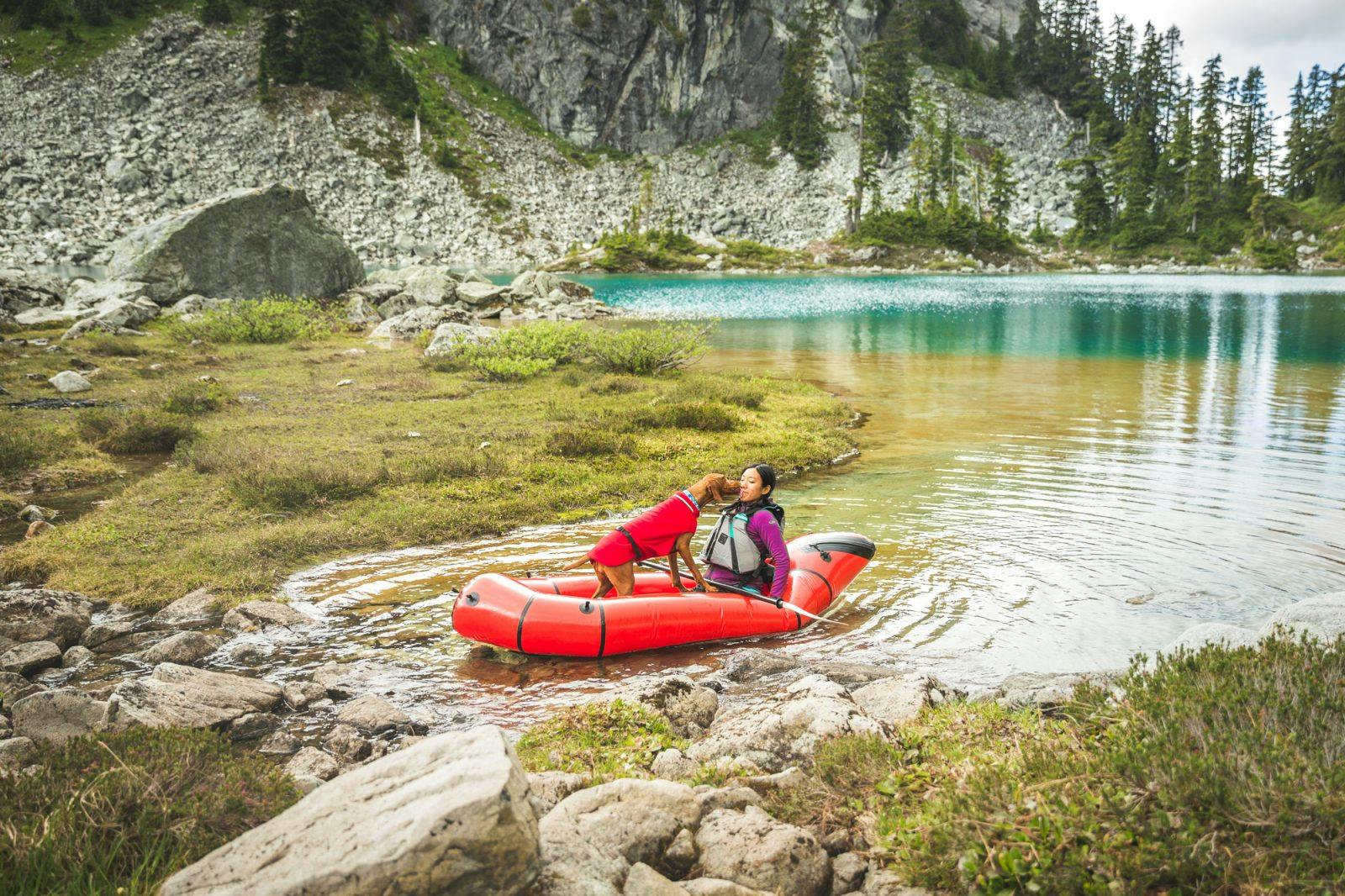 A self-described city girl, Adele Ng never liked the outdoors growing up the suburbs, and she never had her own dog. Instead of camping our or hiking with a furry friend, she focused on the arts, studying everything from drawing, painting, fashion design, film, and photography. However, when she moved to Vancouver, Canada, she got the adventure bug. It developed slowly, she says, but she eventually settled into a more outdoorsy life that was only enhanced by welcoming her Vizsla, Whiskey into her life.
With Whiskey needing more than three hours per day of off-leash activity, Ng found herself constantly in the mountains and also found that photography was something the duo could enjoy together. Not only did Ng get to practice the art, but she could also train Whiskey on a daily basis as they practiced commands. And then they discovered packrafts. We asked Ng a few questions about her life and adventures, and also to share some tips on taking your pooch in a packraft.
Alpacka Raft: Why adventure with animals?
Adele Ng: In Vancouver, if you are living downtown it can be really difficult to find a pet-friendly place to rent, so I actually had to buy a place in order to have a dog! Whiskey is my first dog, and she's been amazing. We immediately took her out adventuring as a puppy to get her used to everything from wildlife to scrambling on cliffs. Almost everyone we pass by on trails give us a smile, and she really makes everything so much more fun. Whiskey also keeps me company when I hike and camp alone.
We also have a cat that loves to travel. Moo cannot do most things a dog can, but we do take her as much as possible on road trips. Whiskey keeps a close eye on her feline sister and will track her if I ask. We've had quite a few opportunities to dogsit and love how each have their own personalities and really do love travelling in a pack! We hope to add to our family once we can find larger living situation (we live in a one bedroom apartment).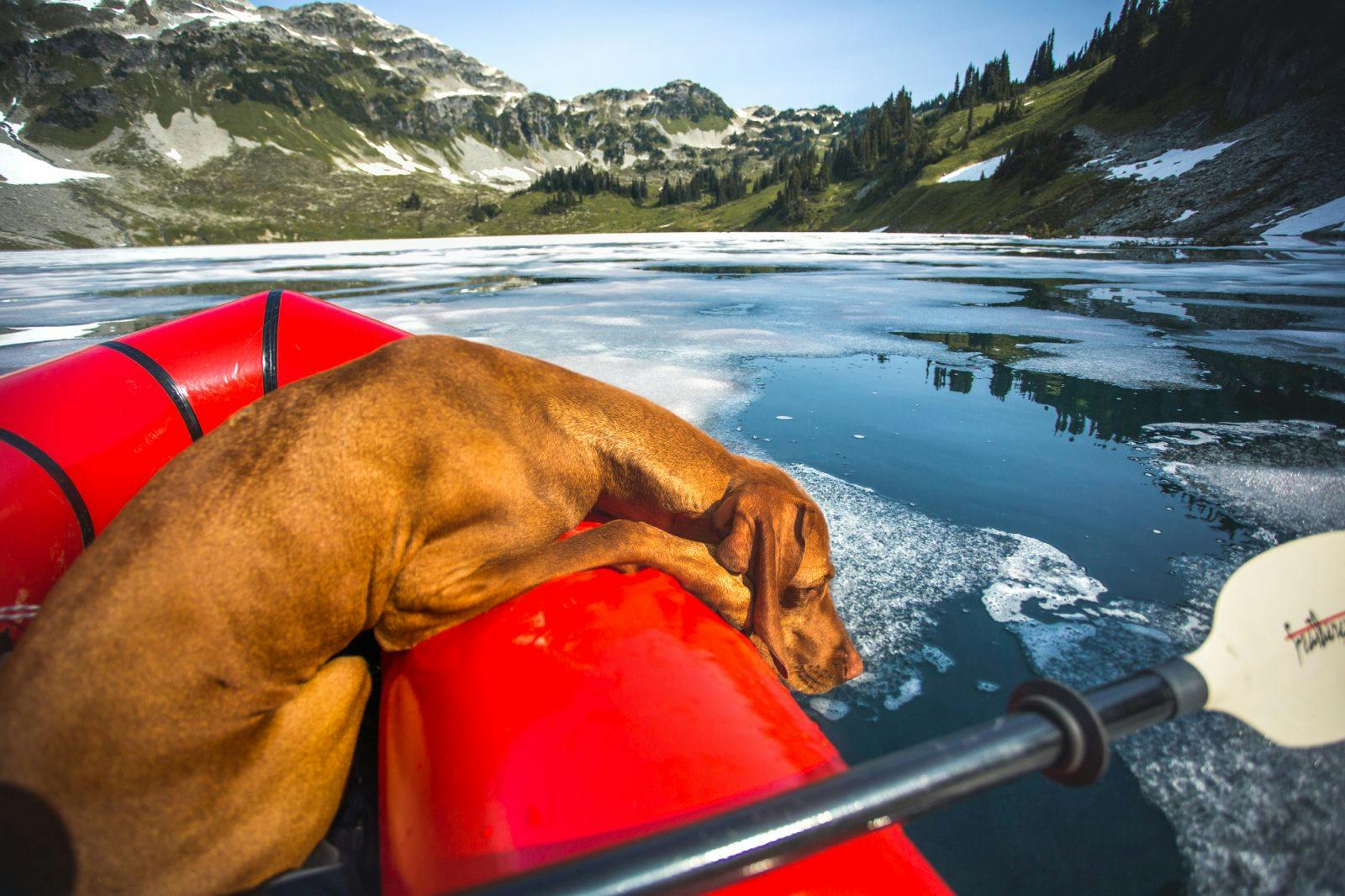 AR: Why packraft with Whiskey?
AN: I wanted a way to get into the water, but canoes or kayaks were prohibitive in the size and difficult to store. I first found out about packrafting on an adventure TV show. I learned they are fun, stabile, easy to carry, sturdy, and unaffected by dog nails.
But the best thing about packrafts is their light weight; you can carry on a hike and quickly inflate them without carrying too much equipment. They opened up a whole range of possibilities for exploring alpine lakes that I've never been able to explore before.
Whiskey has always been calm in watercraft, but she does have a tendency to lean on canoes and try to "point" at birds in the water. With a packraft, I feel so much more stable even if she decides to jump in.
AR: How do you think she feels about it and about exploring the wilderness with you in general?
AN: Whiskey loves being outside. We've done road trips past the Arctic Circle to as far south as Utah with her. As long as we stay with her, she's happy. She carries her own backpack, and as soon as I lay the tent out, she knows she's home. Likewise, as soon as the packraft comes out, she gets worried I'll go without her. The forest, desert, tundra, mountains are our home.
AR: Are there specific things you have to do to travel with her that you wouldn't do otherwise?
AN: We need to avoid the National Parks in the United States and some parks in Canada where dogs are not allowed on trails. We cannot fly with her (no one puts Whiskey in cargo!) on commercial flights, and we are limited in rental homes/hotels, activities (like tours), and cannot stay long in museums or restaurants with her in the car. Our road trips involve a lot of take-out and food trucks and lots of research on dog-friendly trails and parks. It can sometimes be frustrating but I wouldn't have it any other way.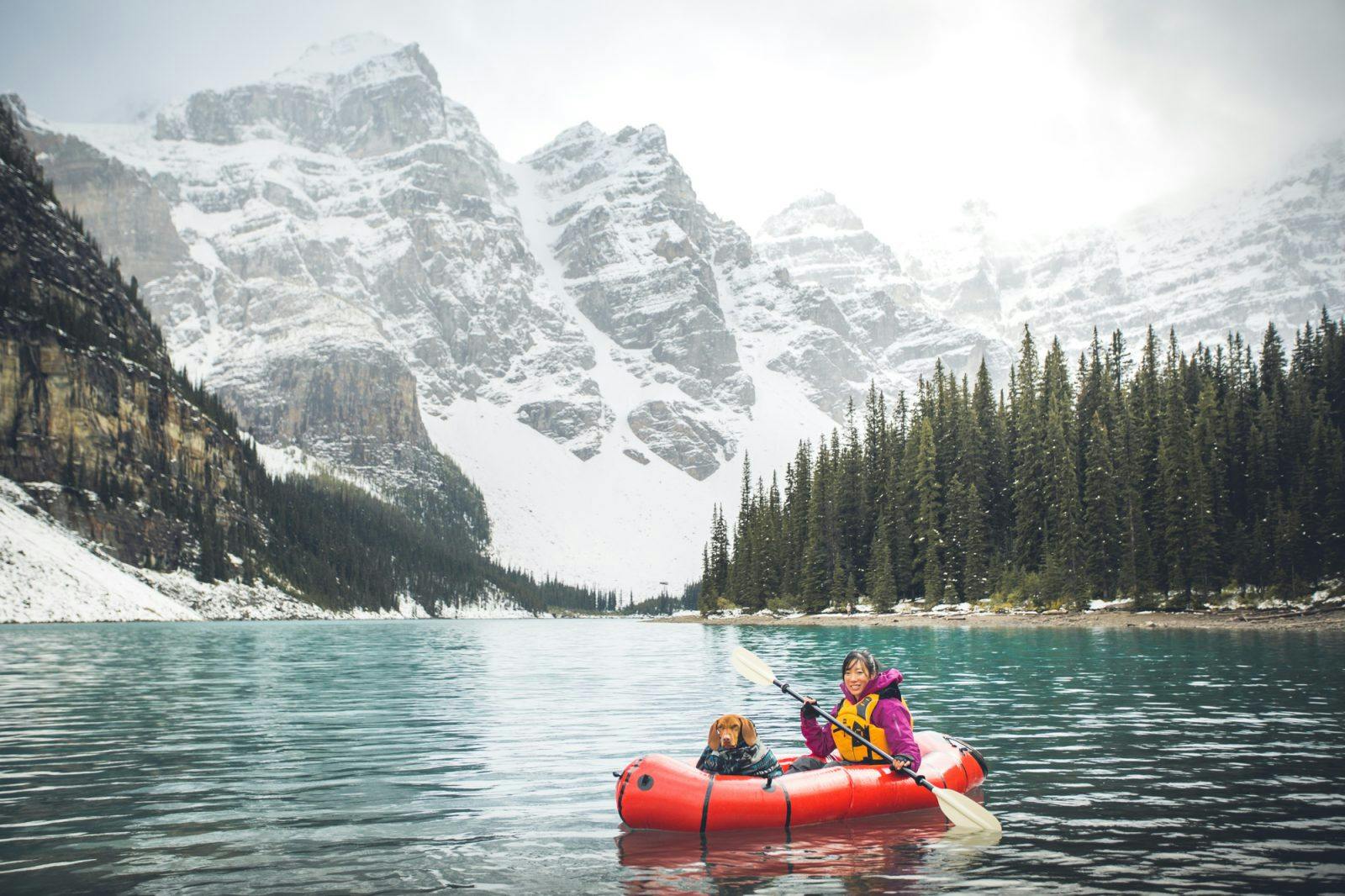 AR: Do you have any recommendations on things you've learned the hard way that we can share with first time folks taking their dogs out packrafting?
AN: Definitely start with small steps if your dog is uncomfortable. It really helps if there's more than just one person the first couple times you try this. Try to bring your pup first in a shallow pond, just so she can learn quick movements. And offer plenty of positivity and treats if possible.
We usually bring an old towel so Whiskey can comfortable sit, along lots of blankets if it's cold. We primarily raft in glacial lakes and have done so while it's snowing, so keeping your pup warm is important. Have commands that your dogs understands to "stay" "get on" and "get off" the boat.
AR: Is there anything I'm not asking you that you want to share with me about packrafting with Whiskey?
AN: These rafts are not the cheapest, but they are sure worth the investment if you want to hike with a boat or if you want something that's small and easy to carry and travel with.
I recommend getting some of the extras to be more comfortable (ie the seats and backrest) especially if you are in cold water like I am. Wear a lifejacket; it's usually the law, but it will make you feel safer with a moving pup. If your pup isn't comfortable swimming to shore from your location (or if you are in quick moving waters) get your pup a life jacket as well.
Last but not least, take your time getting your dog accustomed to packrafting. Be slow and deliberate when you first start, be patient with your pup, and enjoy the freedom a packraft gives you!
A photographer and filmmaker, Adele Ng spends much of her spare time outdoors, hiking and adventuring locally with Whiskey. A four-year-old Hungarian Vizsla, Whiskey is a pointing birddog with a lot of energy. The duo lives with Ng's husband in the Pacific Northwest in Vancouver, Canada, and are always looking to discover new places, new people, and new ways of seeing the natural world. Find her at @mywhiskeygirl on Instagram and Facebook!