Heather is coming to Maria's Bookshop in Durango for a reading, discussion, and book signing! Check out her Facebook event.
Solo Packrafter, Writer, Conservationist, Heather Hansman Shares Stories From Her New Book, "DownRiver: Into the Future of Water in the West" 
A freelance writer and editor, Heather Hansman writes about a variety of topics for publications like Outside, The Guardian, California Sunday, and Sunset. She specializes in stories about "the intersection of science, adventure, and culture." Heather recently published, "Downriver: into the Future of Water in the West," a story about her trip down the length of the Green River, and the water system in the Western United States.
According to the description of her book (which you can purchase at IndieBound.org), the story is about the Green River, the most significant tributary of the Colorado River. "It runs 730 miles from the glaciers of Wyoming to the desert canyons of Utah. Over its course it meanders through ranches, cities, national parks, endangered fish habitats, and some of the most significant natural gas fields in the country, as it provides water for 33 million people. Stopped up by dams, slaked off by irrigation, and dried up by cities, the Green is crucial, overused, and at risk, now more than ever.
So she set out on a journey, in a one-person inflatable packraft, to paddle the river from source to confluence and see what the experience might teach her. Mixing lyrical accounts of quiet paddling through breathtaking beauty with nights spent camping solo and lively discussions with farmers, city officials, and other people met along the way, Downriver is the story of that journey, a foray into the present—and future—of water in the West."
Heather will be doing a reading and book signing on May 31, at 7p.m., at Maria's Bookshop, 960 Main Ave, Durango, CO 81301 and other venues. For more information, visit her events page. Read more about her book and adventures at Outside Online, which recently wrote in a review that, "Heather Hansman's new book is a must-read for anyone who loves rivers or is concerned about the future of the West." 
Photos courtesy of Heather Hansman. Feature photo: Heather looking downriver in Desolation Canyon, Utah.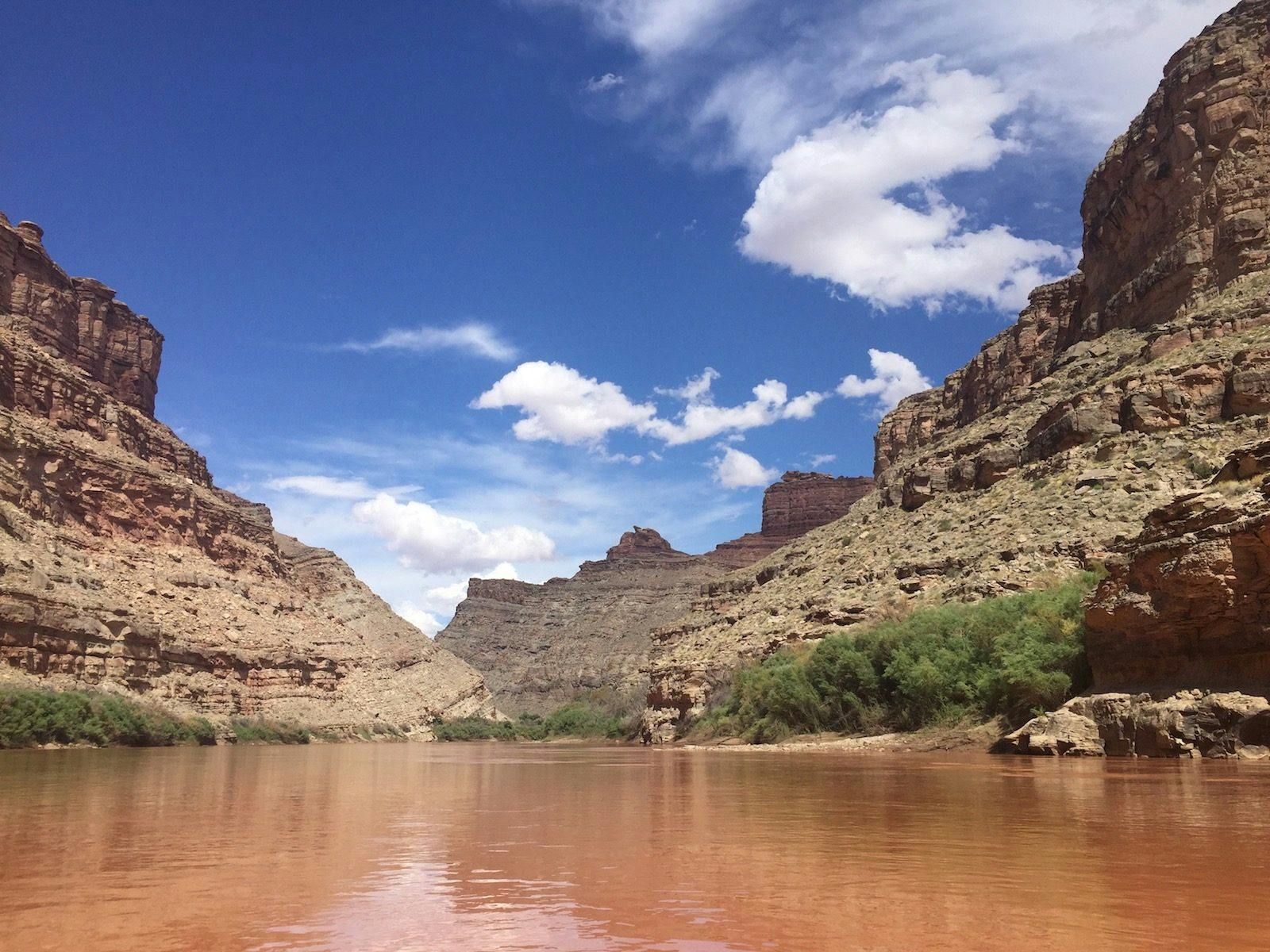 Inspiration & Lessons Learned
Alpacka Raft: What inspired this adventure and this book?
Heather Hansman: I was a raft guide for a long time, so rivers were an important part of my life, community, and relationship with the outside world, but I'm also a journalist, and I struggled for a long time with trying to find ways to tell stories about water use and drought. That felt interesting and compelling instead of wonky and full of policy and dates. Everything that I read made my eyes roll back in my head
On a trip down the Yampa River in 2015 I started talking to some water experts about all the different groups who used water. And, I started to think that talking to those people and finding out where they did and didn't agree could be a way to tell a story about water that I hadn't heard. I wanted to show that concretely, so I started dreaming up the idea of a river trip to show how the water along one specific river was used.
The Green had been the first western river I'd paddled (I'm from the East Coast originally and started running rivers in Maine), so I had a relationship with it. I was pretty sure I could paddle the whole thing, so I started looking at that as the framework for the story I wanted to tell about water.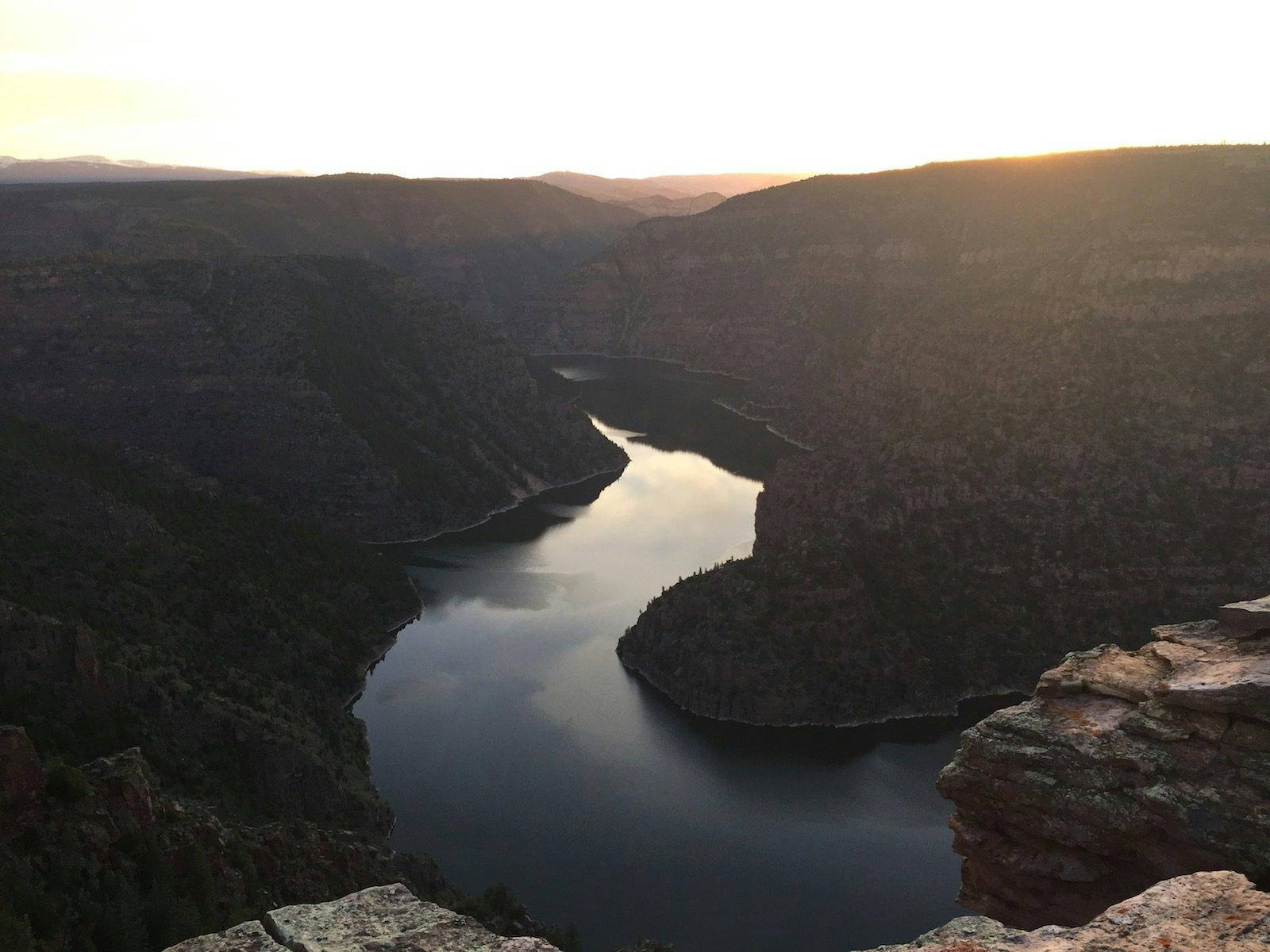 AR: It sounds like you went into this thinking one thing, and came out with a new perspective. Can you cite one particular event or conversation where you shifted in your thinking and why?
HH: I think that going in, my idea of conservation and smart use was really narrow. As a paddler, and someone who thinks of myself as an environmentalist, I thought leaving more water in the stream and ripping out dams was the ultimate goal. But, that's unsubtle, and doesn't take into account all the different ways we use and need water. I was pretty quickly educated along the way, from ranchers in the headwaters who told me how they think flood irrigating benefits the ecosystem, to dam managers, who explained how they slowly let out water for places downstream.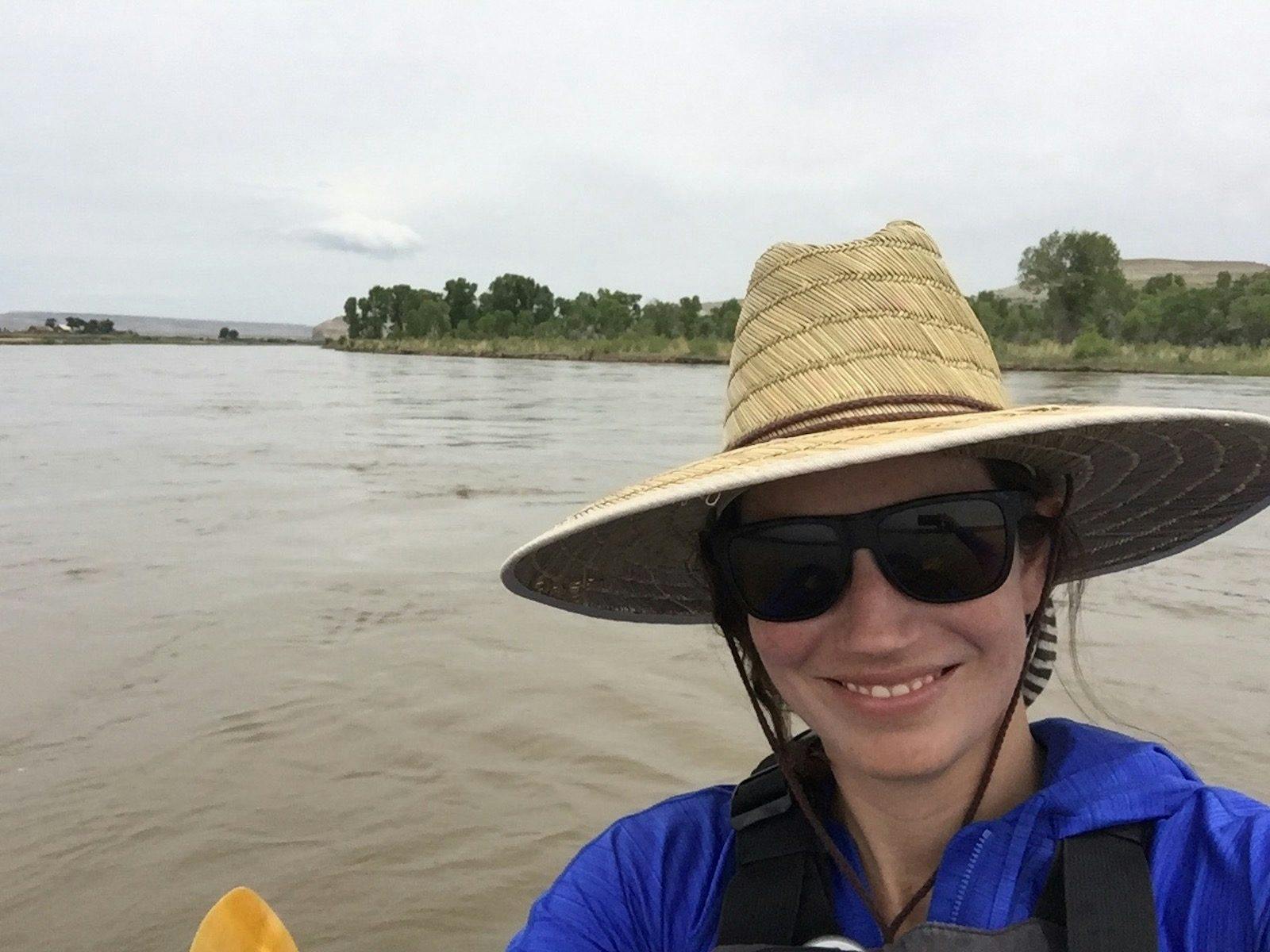 Traveling Solo & Other Challenges 
AR: Why did you decide to go alone?
HH: I think I subconsciously wanted to prove to myself that I could do a big solo adventure, but logistically, stubbornness was a big part of it, too, I wanted to make it happen, and doing it alone was logistically simpler in a lot of ways. I didn't have to work around anyone else's schedule, and I could make the decisions.
Running it that way had good parts and bad parts. I'd never been alone for that long before, and I ended up really liking it, but I also got into some scary situations where it would have been nice to have someone else to bounce ideas with. Plus, it was really FUN to have people along, and to be able to share experiences with them
AR: What were some of the most difficult things you confronted on your trip, from traveling alone to dealing with hostile people? Can you give an example, maybe of one that's in the book? 
HH: I think the hardest parts happened inside my head, when I was lonely or frustrated or unsure of my own judgement. Almost across the board people were kind, and helpful, and willing to talk, once I showed them that I was trying to be open minded (I asked a lot of people a lot of stupid questions). I scared myself a few times, like the time I thought I was getting attacked in the middle of the night (it was a beaver). The only time I had trouble getting people to talk to me was when I tried to engage folks from the oil and gas industry.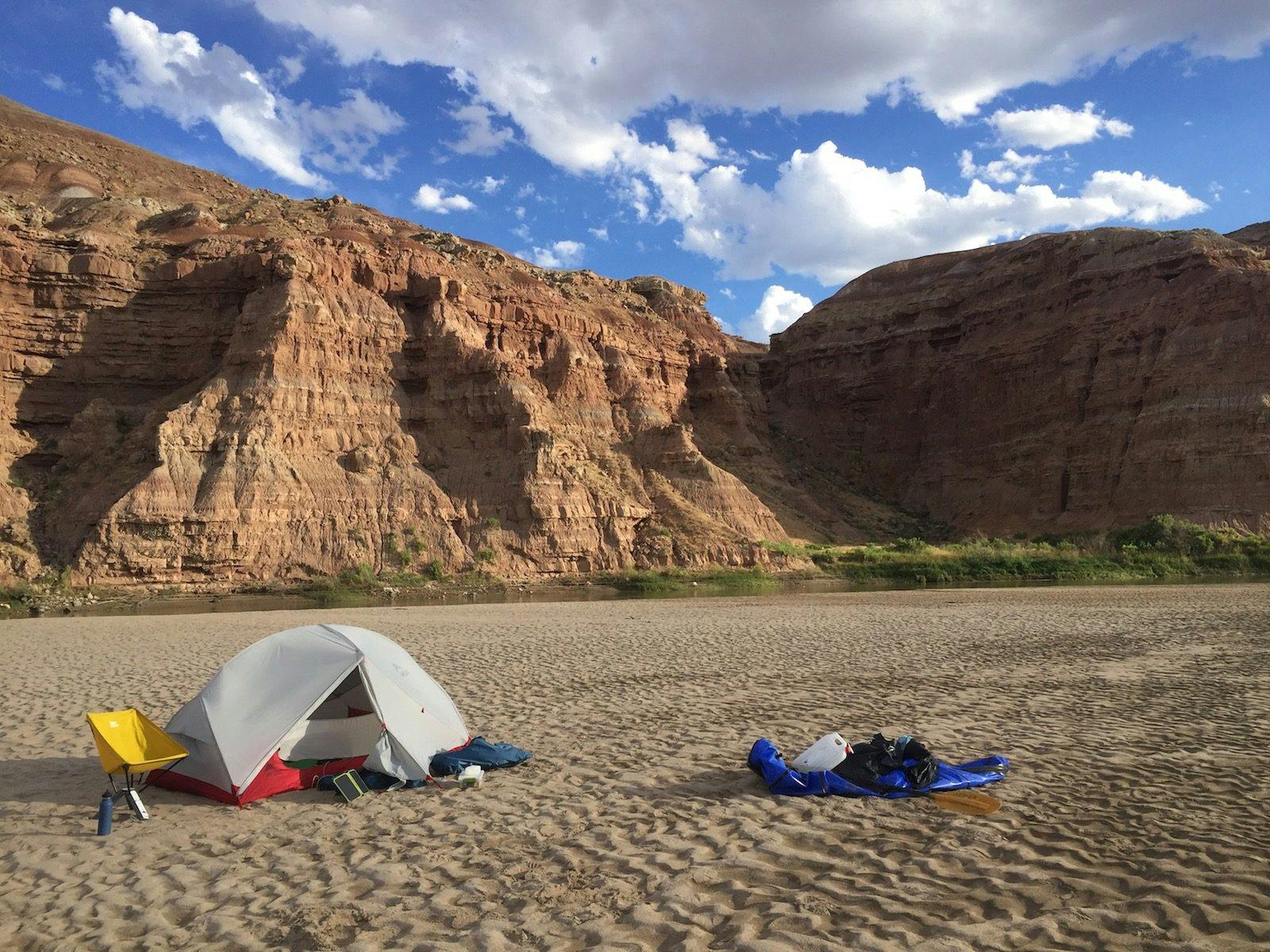 Taking the Packraft
AR: When did you get the idea to do part of the trip in a packraft? How much of the trip did you do in a packraft?
HH: I ended up doing about two-thirds of the trip in a packraft. I did a few sections in bigger rafts (like when my parents came along through Desolation and Grey Canyons). And, I did the last stretch of flat water in a canoe. But, for the most part the packraft was the best compromise between ease, independence, and stability in whitewater. Before I went, someone tried to talk me out of it. They thought it would be too slow in flat water. There were definitely some times I got pushed around by wind, but overall I'm really glad I picked that boat.
AR: How difficult was the water you ran, and what level did you run it at? How did you contend with the dangers of river travel alone?
HH: I tried to be smart without being overly cautious, and without talking myself out of things. I scouted A LOT, and walked around things I thought were scary or sketchy. No shame in that! The biggest rapids I ran alone were class III. There are some class IV sections, but I ran those with other people. I'm not that dumb.
AR: What was one of your most beautiful moments on the trip, either with others or on the river?
HH: There were so many! In Stillwater Canyon, when I had friends with me, we got caught in one of the biggest thunderstorms I've ever been in. We got out of the river and found a little, dry cave to sit and watch the storm come through the canyon. Alone, I had a pretty good stare down with a wild horse after I'd been out and hadn't seen a single human for nine days.
What The Future Holds & How You Can Help
AR: What were your initial goals with the book? What are your goals now?
HH: Initially I wanted to write a book that I wanted to read and that could explain the complication of water law and water use in a tangible, readable way. I think I was thinking about it as a piece of education. Now, it feels more important for the book to be a point of connection, and a way to talk about bridging divides.
AR: Is there anything I'm not asking that you want to share with our readers about your adventures, your conservation work?
HH: If you want to go do a weird solo trip, go do it! This trip was definitely one of the best, most fun, most beautiful things I've ever done. And I've been asked quite a bit about what folks can do to take care of water and rivers. I think the most important things are being educated about your local issues and voting!