A Hidden Past of the City – Discovering Leeuwarden's Heritage From a Packraft
Photos & text by Konstantin Gridnevskiy (June 2018)
George is an old friend of mine who, just like me, has recently become a father. As they moved to Leeuwarden not long, I thought it would be a good idea to invite him on a small tour of the city and get him out of the house for a while (two birds with one stone, so to speak). And right now, we are exploring Leeuwarden's past in packrafts.
History & Heritage
The link between history, heritage, and urban environments has always fascinated me. It's why I got a minor in history back in Russia, and it's why for the last ten years I taught or coordinated in a "heritage" minor at the local university of applied sciences in Leeuwarden.
Whenever I travel, I always try to find out more about the past of the places I visit. Eventually, as Carl Sagan said: "You have to know the past to understand the present." And I completely agree with him.
But, for me, there's more to heritage than just knowing the history of a place. A fellow packrafter once told me his fascination for cities extended to the people who lived in them. For me, urban environments are collections of artifacts, which captivate me because they represent layers of history. In turn, these layers tell the story of how those places appeared and evolved over time and what they are now.
And indeed, each place has traces that can tell you stories about its past, as long as you know where to look for them. And sometimes the best place to look is actually from the water. This is definitely true for many Dutch cities, including Leeuwarden.
Water has been central in Leeuwarden's development. In this respect, the city, with its network of canals, looks like a typical Dutch town (I have even heard people referring to it as Little Amsterdam). But in reality, the relationship of the city with the water goes far beyond what meets the eye at first glance.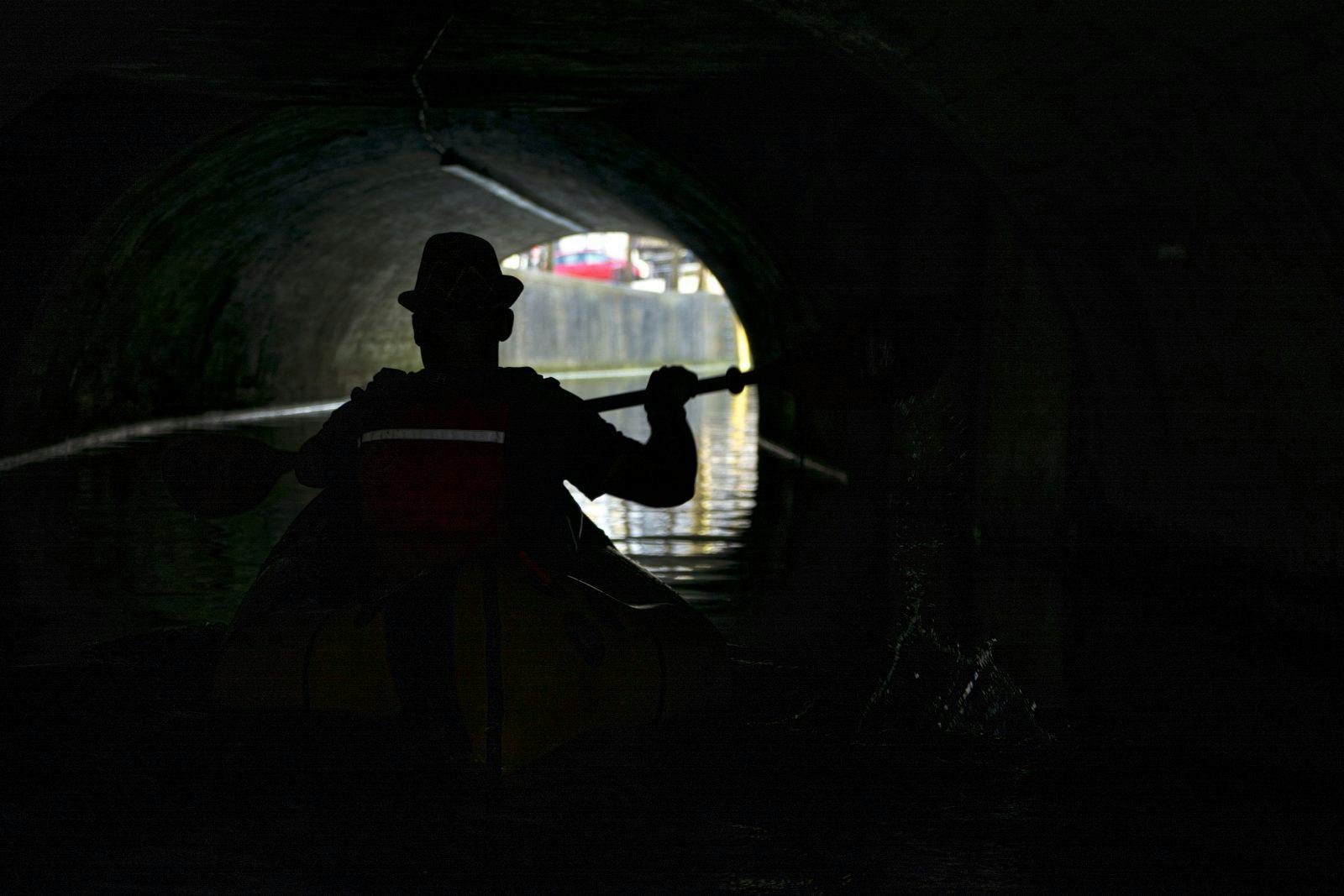 Leeuwarden – a Look Into the Past

Located on the shore of the Middle Sea, people started to live here on top of terpen (artificial mounds) already in the first century AD, during the time of Romans. Such location was beneficial for trade, and in the 11th-12th centuries the trading routes extended as far as Russia.
After the shallow Middle Sea silted up in the 13th century, a network of waterways was developed that allowed Leeuwarden not only to become the capital of the province of Friesland (early 16th century), but also one of the ten most prominent cities of the Republic (17th century). And whereas, the city lost most of its importance, a lot of traces from its great past remained including some of the city's many canals. And that's where George and I found ourselves.
A bit further from de Kelders, we passed a narrow canal and enter de Nieuwestad, which literally means the New Town. While part of it used to be the Middle Sea, the area was dried (hence the name) and it became the center of the trade of the city in the 15th century. It's still the heart of Leeuwarden now.
Attesting to it is de Waag (the weigh house), which was built at the end of the 16th century and was used to weigh batches of butter, cheese and meat before they sold at the market. Publi executions took place in this same spot, along with trade, and one of the floors of de Waag used to house a police station. Now it's a lovely café where they serve really good, hot chocolate.
But these are not the only things now in the past. A combination of health concerns over the polluted canal waters and the increase of the importance of land transport led to the filling of a number of canals in Leeuwarden in the late 19th and 20th centuries (similarly to other places in the country); their traces could only be seen if you know where to look for them.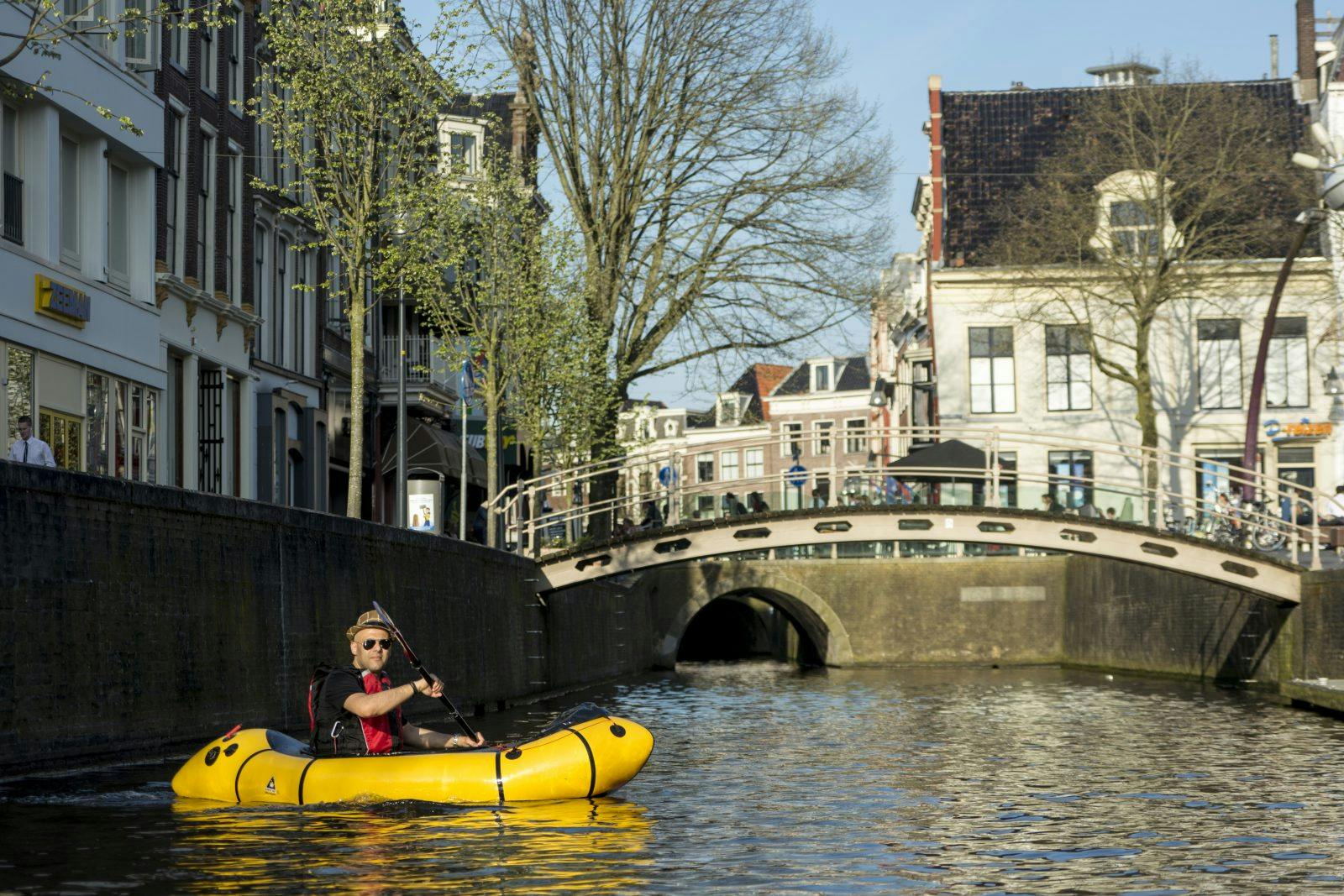 Hidden Heritage Sites Still to be Explored
One of Leeuwarden's hidden places lies under a long, barrel-like bridge that forms a square in de Nieuwestad, and it can be seen only from the water. We switched on torches on our mobiles to examine the entrance to an old canal a bit better. It looked like a small alcove with a boarded-up entrance.
"Is it possible that part of the canal is still there?" we asked ourselves, but as there was no way to explore it further and we started running out of the time we got off from our wives, continued on our way through the city center, around the remnants of old defensive works, part of which is a city park now, and back home.
It's a pity we could not see more, but we agree to explore more another time.
And indeed, while it was my first time to give such a guided tour in a packraft, it will not be the last. Seeing the city from the water level, discovering the "hidden" places that otherwise cannot be seen, and doing it all at your own pace made it an especially remarkable experience. And very often you don't need to travel far to do it either.
Each place has its own (often hidden) heritage there to be discovered. Sometimes all it takes is to change your everyday perspective and look at things from "under a bridge." And if you are up for it, invite a friend along. It can be a lot more fun to do it together with someone else.