A 1st Descent: Chris Higgins Leads A Team of Cavers Under 3 Mountains, Down 7 Miles of River 
Around ten years ago I visited a cave with a massive river flowing through one of the deepest passages. Until recently the cave was only visited during the "dry season;" the lack of water in the river passage allowed cavers to explore the far reaches of the system without the fear of being swept into the abyss. Recently, a small crack was found on the surface that lined up almost perfectly on the map miles down from where the river passage began. The thought was if the crack were enlarged it would make the end of the cave more accessible and open a tremendous amount of opportunities for further explorations. When I heard the crack had been connected to the cave system, I knew we would be able to now make it to the back of the cave in just a few hours rather than a trip that would usually take over 24 hours.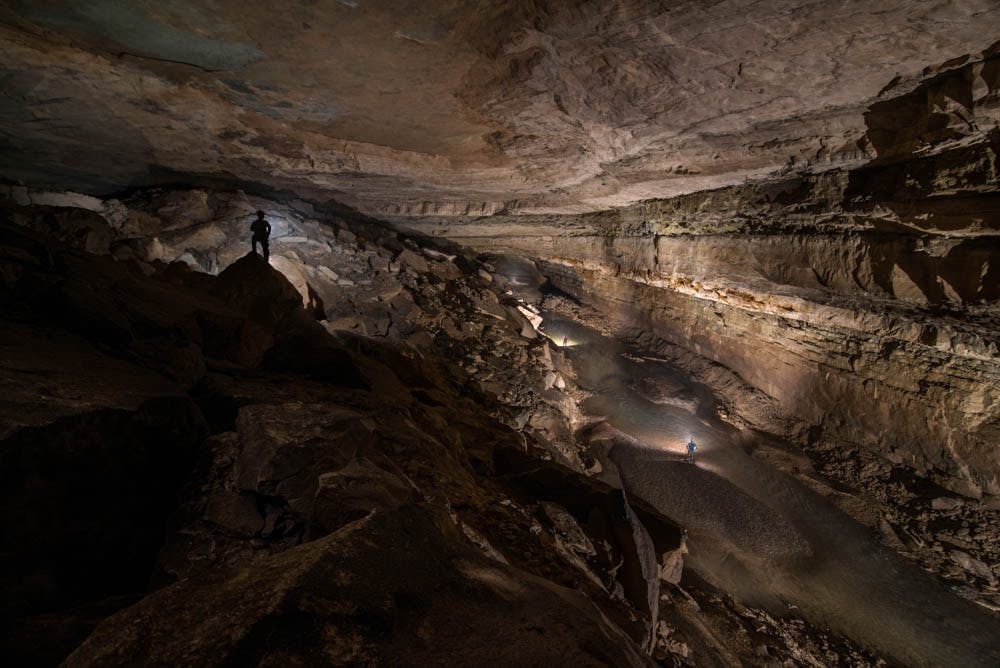 For a few years, I have tossed around the idea of rafting downstream in high water in this cave. This would mean we would float the river; they would have to camp for a few days underground and wait for the high water to drop before we could make the slog back upstream. Surprisingly, however, I couldn't find many cavers who wanted to volunteer to become "stuck" in the cave on purpose. With the new entrance, I started to believe my dream could become a reality. Maybe I could lay my eyes on seven miles of a massive, underground river passage no one had ever seen in the high water? Getting to this underground river, however, was not going to be as easy as just driving up, tossing some boats in, and taking off. This river requires an underground approach of over a mile of tight, technical caving that ends in a 200-foot rappel down to the river bed.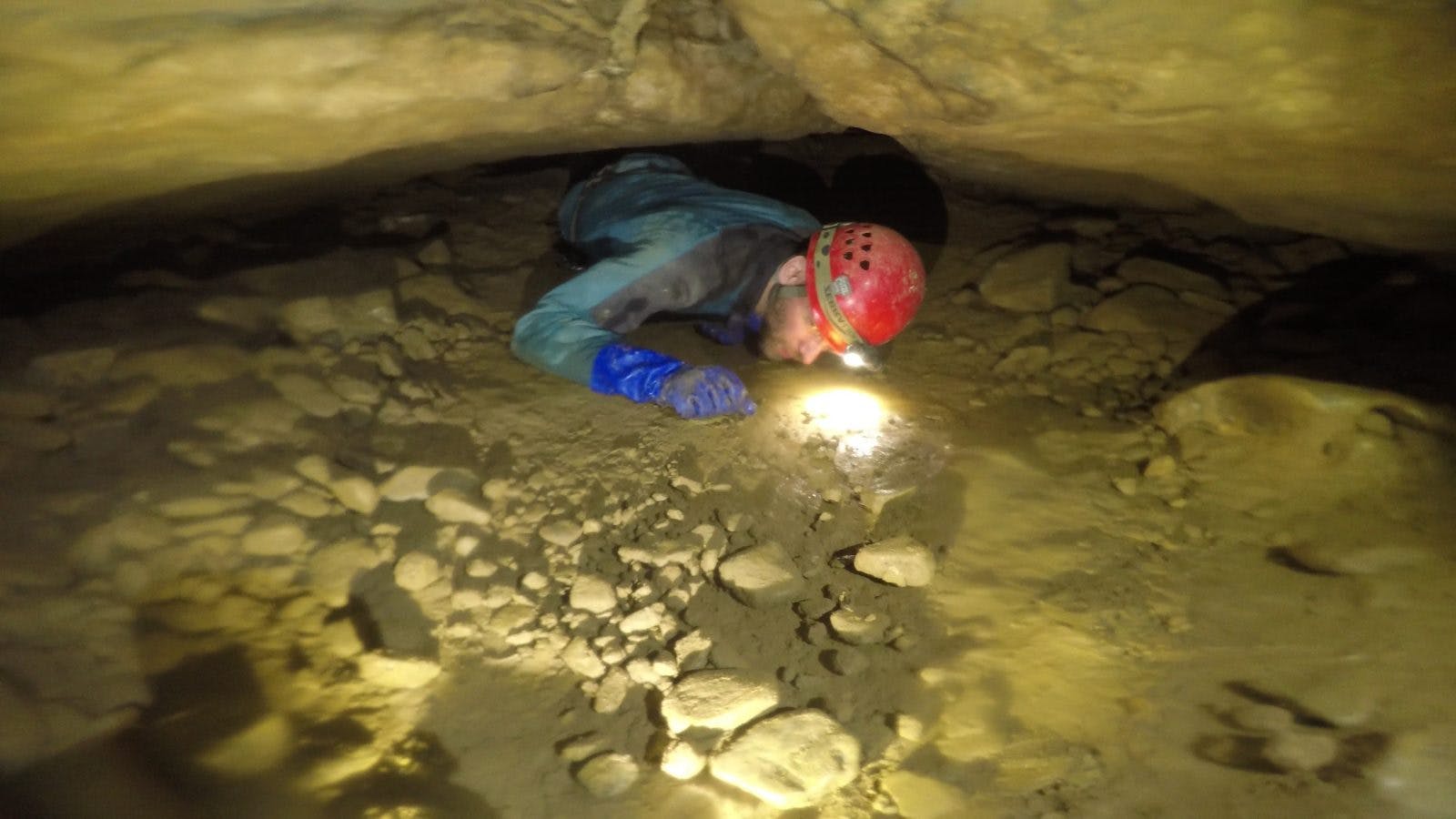 This meant that we couldn't just pull kayaks, or large rafts through the cave. The only way to access this river was going to be with small inflatable boats that we could pack away and pull out when it was time to float.
It wasn't until I was at Gauley Fest, in West Virginia, several years ago that I was introduced to Alpacka Raft packrafts. My mind was instantly captivated and went straight to the possibilities of using them in caves. Alpacka's packrafts could easily be packed away into our cave bags, allow us to better negotiate through the tight passages. And then we could pull them out and inflate them upon reaching the river. I knew instantly that packrafts were the perfect choice for our underground mission.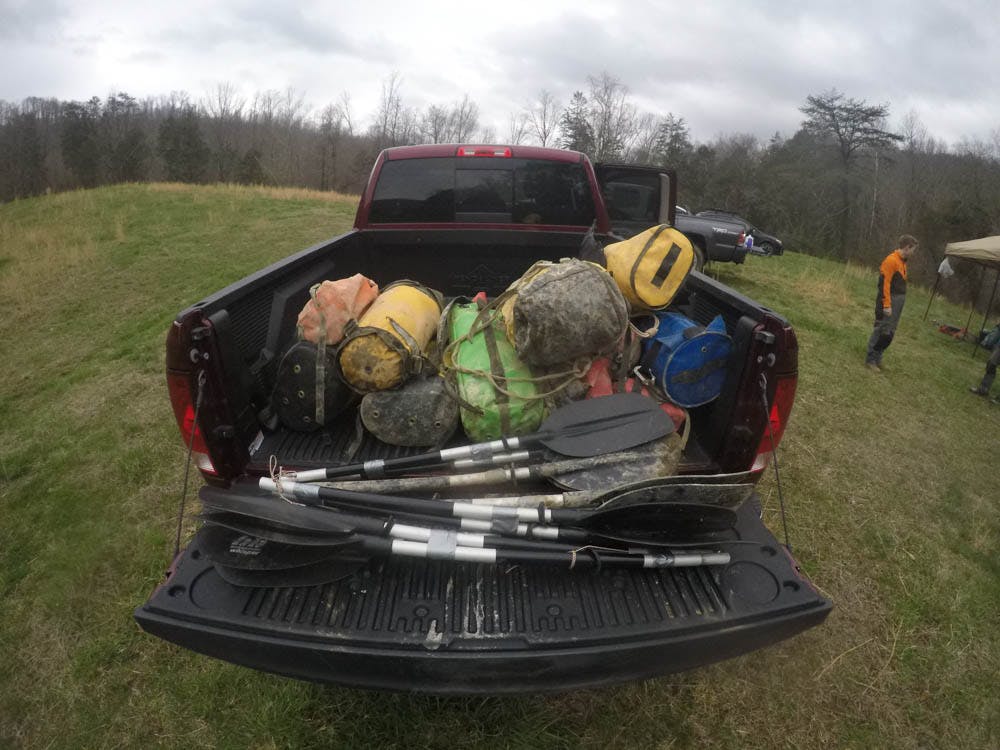 Our next step was finding a crew that would be willing to float blindly down a river in total darkness… Luckily my friends are as crazy as I am! They were eager to sign up on this mission with very little selling on my part. After all, we were getting ready to do something that had never been attempted before, in one of the most spectacular caves in the country. We visited the cave when it was dry and measured the lowest spots in the ceiling so we could figure out how much water would be too much. If the water got too high the cave would "sump," meaning the water would reach the ceiling in the cave, making it impossible for us to go through the passage. After a few weeks of rain, we continued to monitor the water level until it was perfect, enough to allow us to float, but not so much that we would be trapped against the ceiling.
The first thing we noticed once all the gear was packed was the ridiculous amount of stuff we were about to carry through a mile of technical caving–caving that required tight crawls climbs and rappels through icy water. Each person carried around 40 pounds, plus a paddle. To put it into perspective, a normal cave load is about 10lbs or less. Cavers don't simply carry their gear on their back like they would above ground; the bag has to be pushed, pulled, dropped down, pulled back up, all while one is trying to navigate through these tight passages. Simply carrying this load was going to be a challenge within itself.
The cave begins with a 70-foot rappel. One at a time we each went down, rappelling for the first time with a paddle and raft in tow. Once all seven of us reached the ground, we pulled our rope down with us, as we were not planning on exiting the way we came in. We knew that once we pulled the rope down, we were signing ourselves up for a "through-trip," meaning the only way out is the new exit at the end of the cave. Making it crucial that we could navigate this river. The moment that rope hit the floor, everyone realized we had just committed ourselves to raft down a river no one has ever seen in high flow. With the amount of gear we had, it took us around five hours to get to the edge of the 200-foot rappel. No matter how many times I stare off the edge of this rappel, I always say, words or photos cannot describe the feeling of staring into this dark abyss. The rappel drops you into the center of the ceiling into a void that is two times larger than a football stadium. One, by one, we took the incredible rappel to the floor of the massive room. Once all seven of us reached the ground, we pulled down our rope once again. Watching a 400-foot rope fall into the void you are standing in is an amazing, yet somewhat terrifying feeling. Now, with the rope packed away, we made our way to the river and began something I will never forget.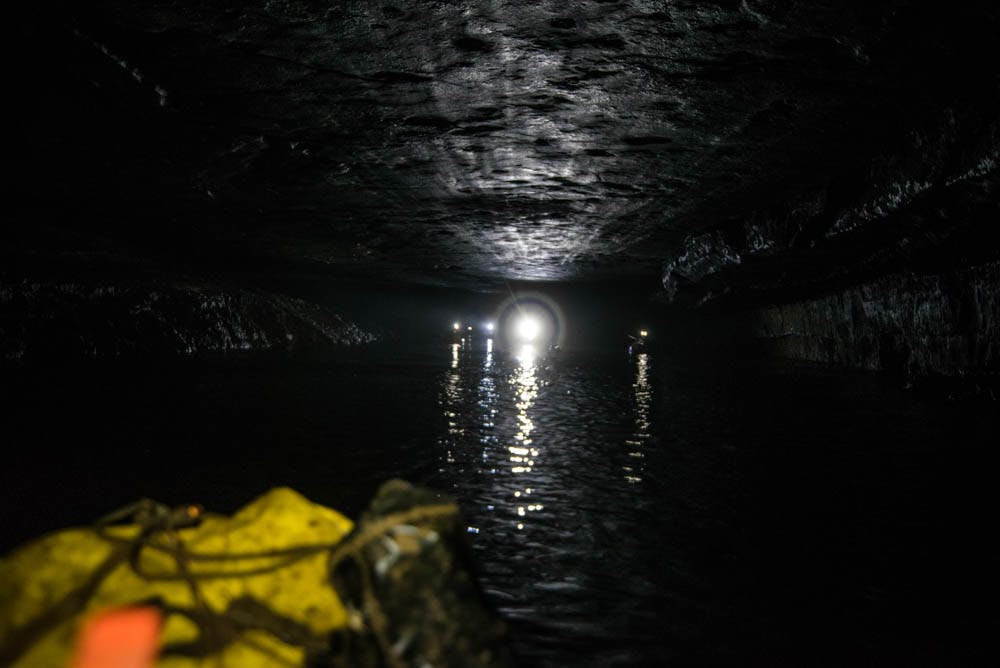 Once on this incredible 50-foot wide, underground river, we immediately noticed we couldn't see anything past the water in front of our boats. We had no point of reference and were floating almost blind down this river.
We passed a few spots where the ceiling was only inches above the rafts, forcing us to use our fingertips on the ceiling to navigate these tight squeezes. Outside of some tight spots, the water ended up being much tamer than we anticipated, which, all things considered, was a good thing since we were not able to see much of the river ahead of us. Though secretly, I was hoping for some raging whitewater. Aside from a few razor-sharp rocks that could have left us swimming in 50-degree water for miles it was an incredible float on water that was moving swiftly through the cave.
A walk that usually takes five or six hours, we floated in an hour. We stopped a few times to take some photos and explore some dry side passages, but we made it to our take-out spot in no time. A few days earlier we had marked our take out with a reflector because missing the takeout would certainly have been fatal, leading us deeper into the cave…
Once all the boats were packed up, we traversed the final miles to the new exit. Our total trip time was 19 hours from entrance to entrance. A trip we will never forget as we passed through the center of three mountains and floated around seven miles of this underground river. Once back at camp, we celebrated with well-earned hamburgers at sunrise and passed out just as the sun was coming up.
All photos and video where shot by Chris Higgins. To see more of Chris's work follow his Instagram @chrishigginsphoto or check out his website www.chrishigginsphoto.com.