Tag us on Instagram, Twitter, or Facebook with your best packraft fishing photos. The first 50 people get a free 2019 Trout Unlimited Membership!
Want to go Packraft Fly Fishing in New Zealand? Andrew Harding Gives You a Few Good Reasons Why It's a Great Idea
Troutboyz, to see some awesome videos. Also, check out our new Backcountry Hunters & Anglers Series.
April in New Zealand marks the end of the trout fishing season as winter sets in. Most people have put their fly rods away by the end of March due to the cooler weather and higher river flows. But, it's a time I absolutely LOVE to get into New Zealand's wide open spaces for some packraft fly fishing.
Why? The weather can be quite settled with little wind, and the fly fishing?…amazing! My fishing companion of nearly 30 years, Dan, and I load up the campervan, like we've done for the past 25+ years. WE hit the South Island for a roadie of epic proportions. Eating, sleeping, laughing, fishing, and packrafting…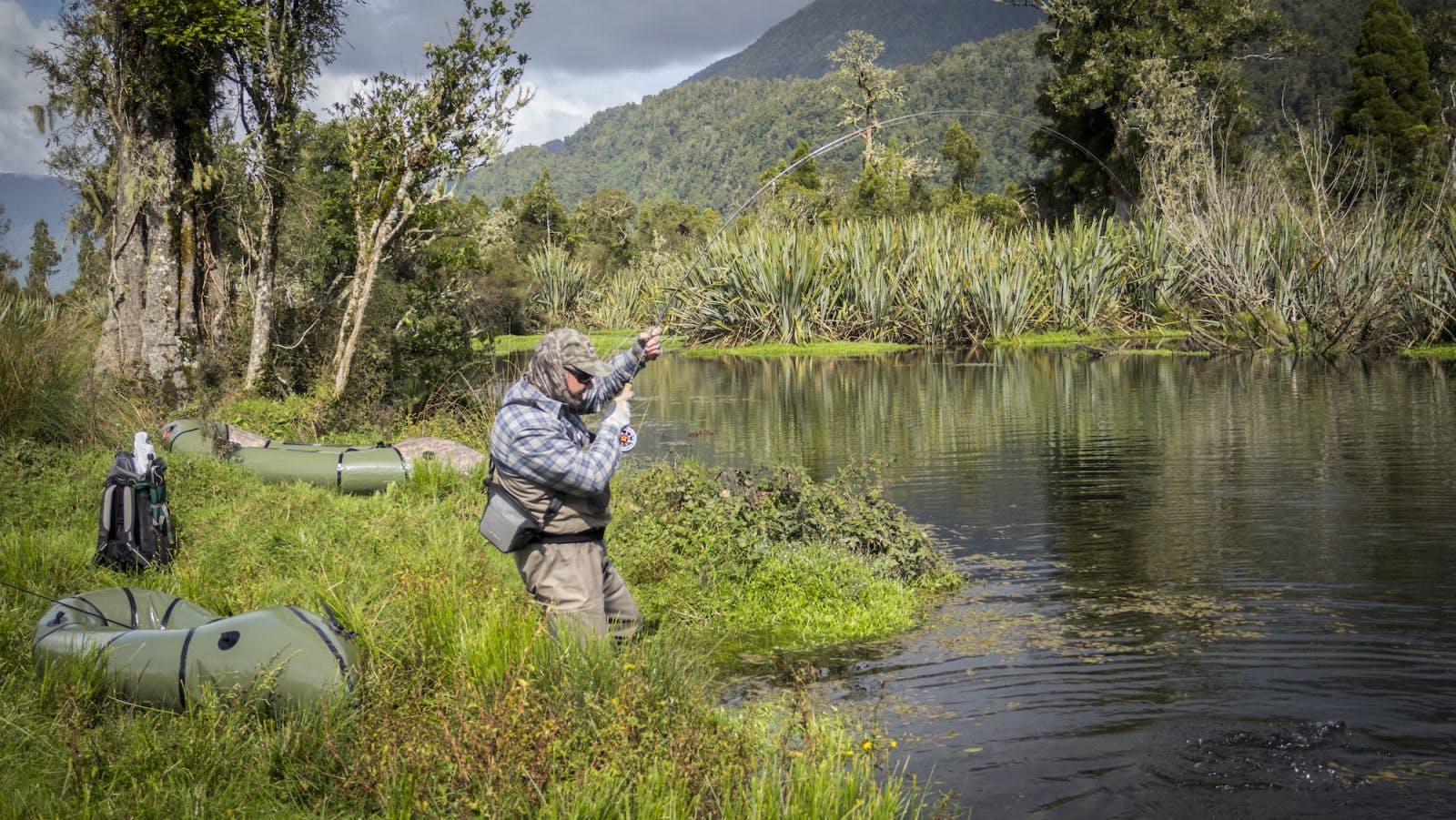 Brown Trout Everywhere
With no set itinerary, and a self-contained house on wheels with ALL the comforts of home, we headed predominantly to locations as far away from people as possible. We searched for the beautifully marked brown trout that inhabit basically every little sliver of water you can find in this country.
Over three weeks, we hit South Westland, located in the bottom left corner of the South Island before the season drew to an end. We walked and walked up rivers for many hours.
And, then we simply rafted back to the camper in our Alpacka Yaks (now Classics, size medium), rafting in 20 minutes what would take two to three hours to walk. Dan has a standard open boat configuration, and mine is a self-bailer… in camo of course. Neither weighed down our standard day packs more than usual.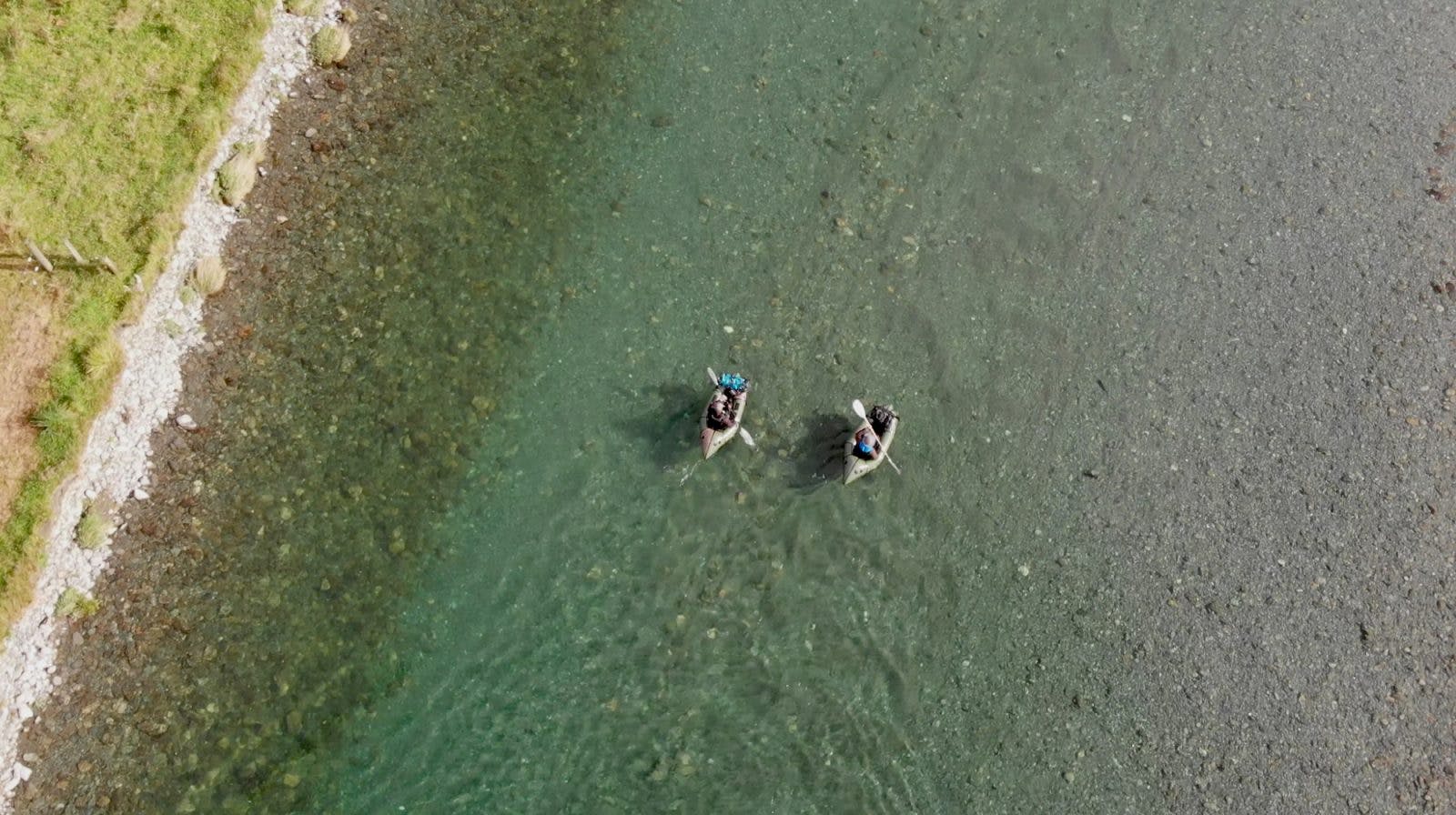 Exploring New Territory
We did nothing gnarly, just good old Class II water with a few challenging bits of whitewater here and there. This year, we explored a lot of new water, both rivers and lakes, locations only accessible only by raft or chopper. The latter we can most certainly not afford!
On one particularly memorable day we rafted lazily downstream for a change, on a river that flowed from a small mountain lake. Via a side-stream, we paddled through a narrow spring-fed channel into another small lake. Google Earth said it looked doable and it was.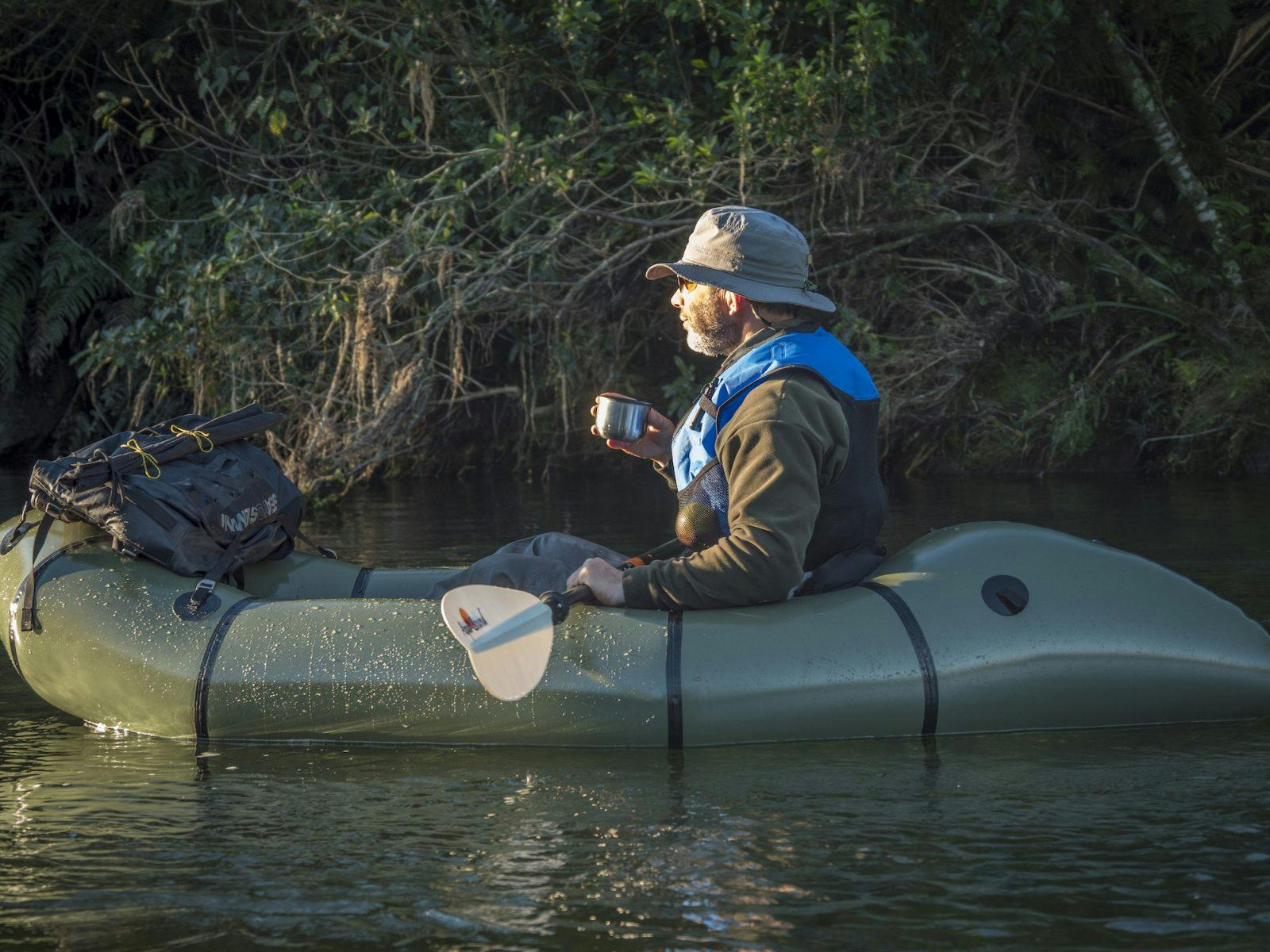 The gentle passage allowed Dan, a tea drinking addict, to drain his two-liter thermos of tea in no time at all on the float.
We passed New Zealand's native Blue Ducks (Whio). We skirted 300-year-old Kahikatea trees that would not look out of place in a Jurassic Park movie. And we watched as our native Parrot, the Kea, fed happily on stream-side vegetation.
Trout moved as well, but not until we were basically right on top of them. Most completely oblivious to the rafts and their shallow draft, they kept on feeding quite merrily as we paddled by. I'm not sure if they could just not see us. Or, maybe they didn't really care. They most certainly hadn't seen a raft before!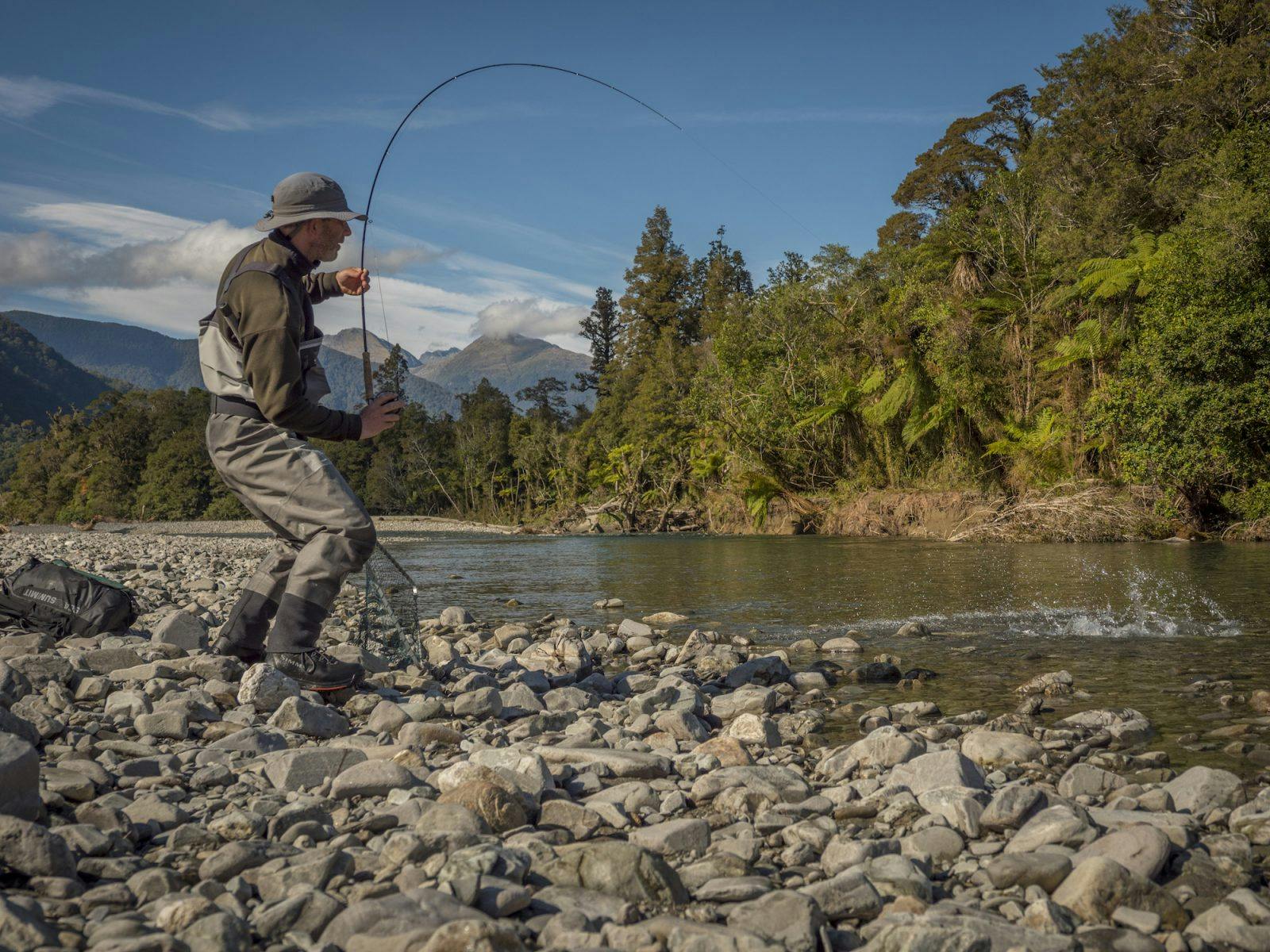 We also saw a stag happily feeding on a shingle fan deposited by the region's massive floods. (The rain measured in meters per year!) It gently raised his head to eyeball us, funny looking things floating by, before going back to chewing on his branch… It wasn't something you saw everyday.
"If we were hunters, what an awesome opportunity this would be to nab a quick feed of venison!" I said to Dan.
On the (Packraft Fly Fishing) Hunt
Not far from the ocean and feeling like we were the only anglers to ever set foot here, we fired out casts to the large browns marauding the flats in the verdant closed in valley. Their shark-like fins cut a swath through the surface film.
On the hunt, we stripped small baitfish imitations across their path on light fly gear. We watched as the submarine-like bow-wave accelerated towards our flies and inhaled them with a cavernous, tooth filled mouths. It's just one of the most exciting things to see on this planet!
We ripped line from the reel and tail walked across the placid lake flats. And with every trout we caught, we handled each with kid-gloves and returned them safely to the water to enjoy the following year.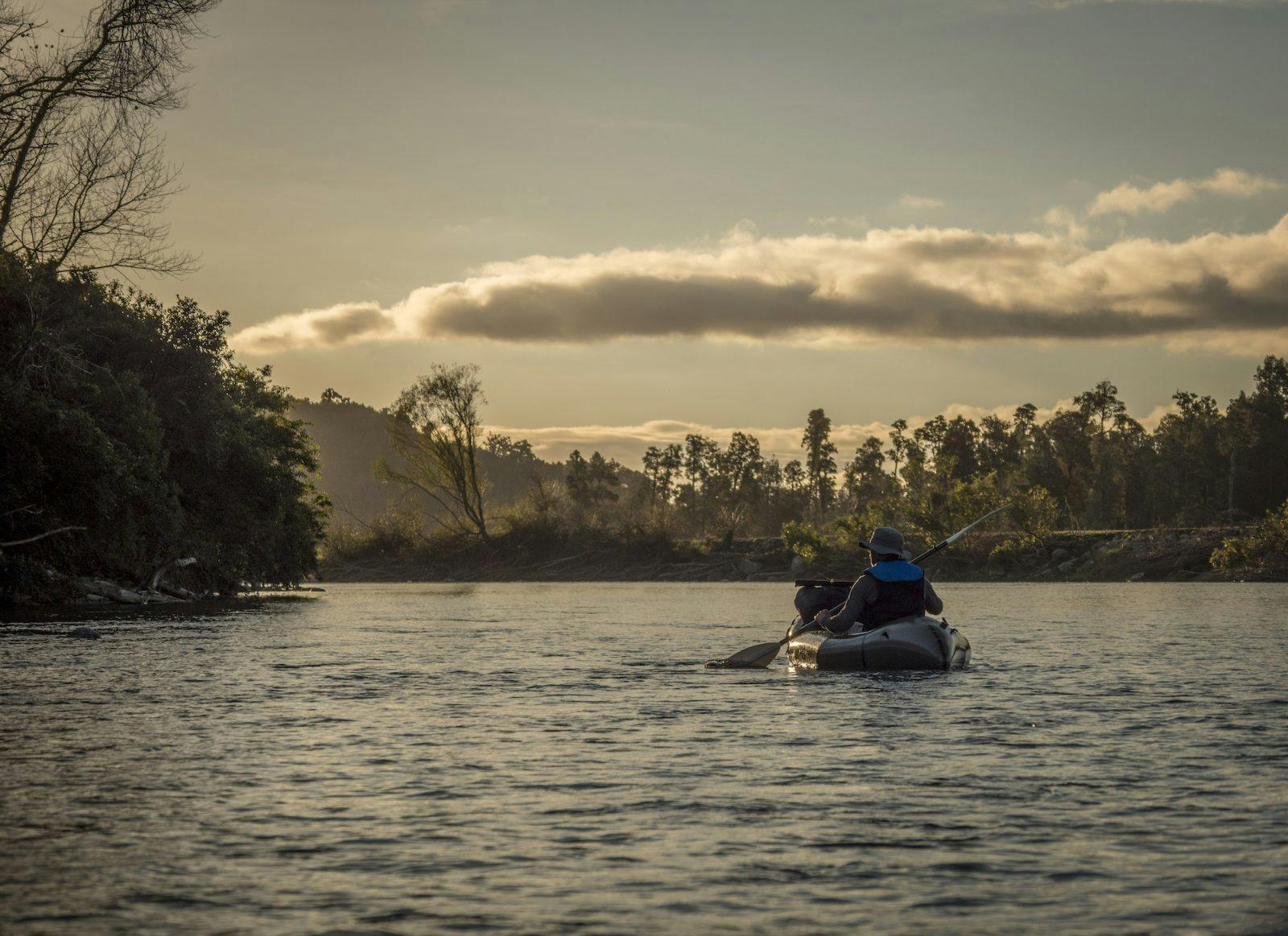 The Best Thing About Packraft Fly Fishing
As we walked back upstream through the dense vegetation, we discussed what we loved most about fly fishing with packrafts…
I love the fact that when I stop paddling, the boats spin in a gentle panaoramnic manner forcing me to just stare in awe at my surroundings…
As for Dan?
"I can have a cup of tea and float by the most magnificent scenery on the planet!" he says with a smile.
Fair call. Life doesn't get much better, mate. There's nothing quite as much fun as grown men messing about in wee rubber rafts!