Story by: Carmen Kuntz
Photos by: Rok Rozman and Carmen Kuntz
A paper map and some curiosity sparked this trip. Living in Slovenia's Soča Valley means there is no shortage of terrain and the blend of harsh limestone, ample freshwater, meadows and dense forests combines to form an abundance of multi-sport adventure possibilities.
Over the winter, paper maps became our entertainment. During some 2-D exploration, we discovered we could link trails and river and planned a route that would take us on a loop out our door, up and over the mountains, down the other side and along the river back home. We seized a weekend of calm weather – a break in the spring rainstorms – strapped our rafts to our packs and set out.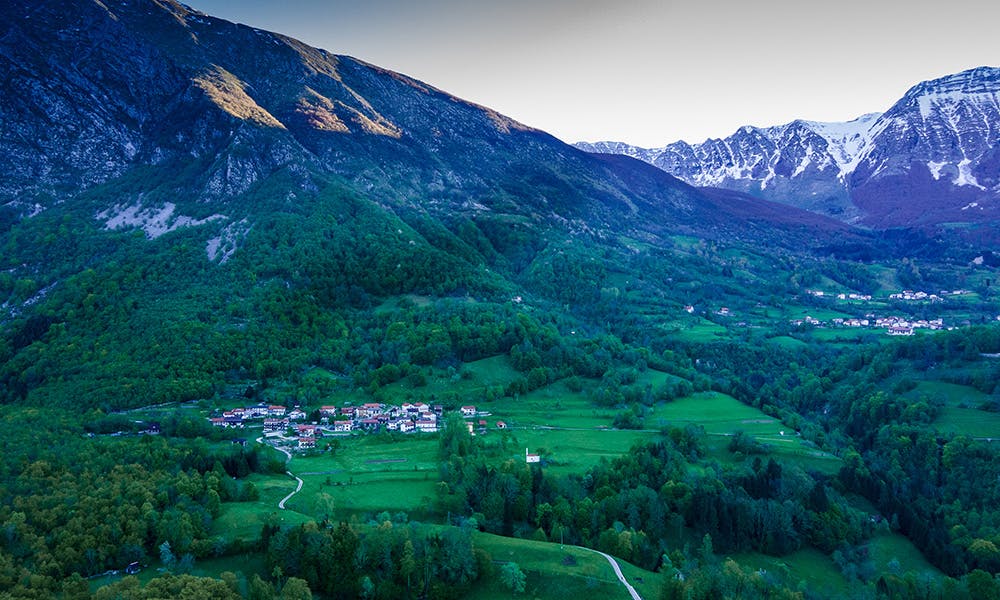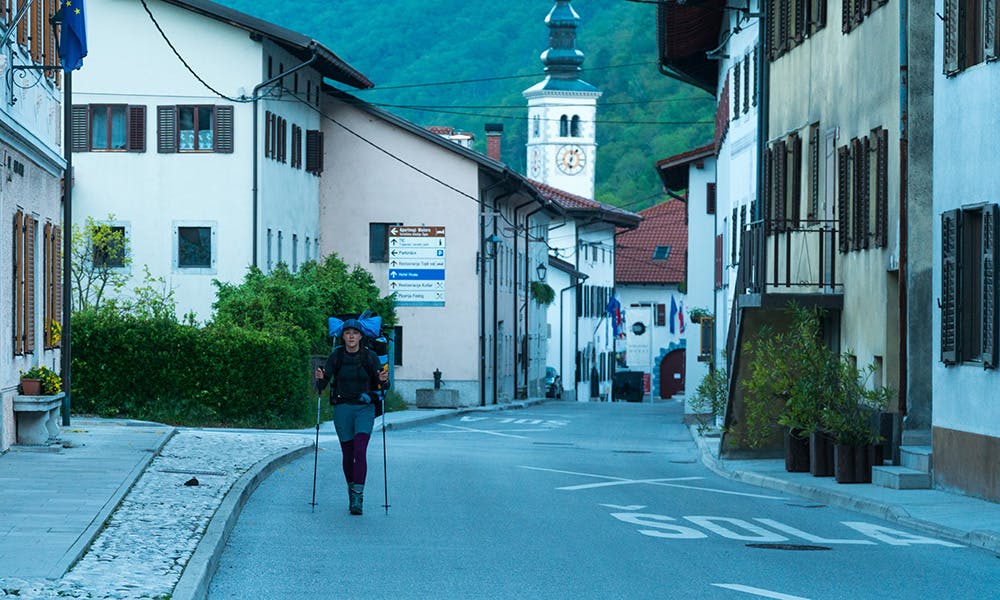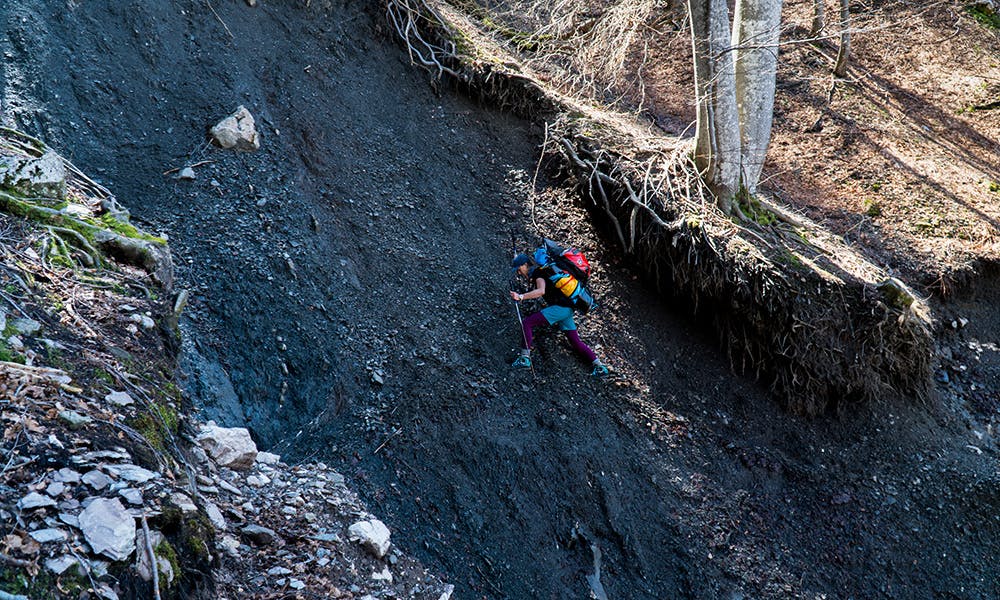 To the top
With an early morning start we shouldered packs and walked through the old town of Kobarid. An hour later we were winding upwards on trail and sometimes gravel road, past three local cheese making pastures. We toe picked our way over washed out streams, across crispy avalanche snow and debris, and through dense beech and pine forests.


We were sweating by the time we arrived on the top of 1,557 m high Javoršček - which translates to 'a place with maples' – an ironic name for a mountain which is dense with beech trees. But maybe it used to be packed with maples. Peaks are usually a place to pause, not unpack and stay. But we decided this trip would be different, and soon our boats, paddles, lifejackets and helmets decorated the small flat peak. (It is likely this mountain has never seen gear like this!) We ate lunch, napped in the sun, watched the areal dances of kestrel, golden eagles and ravens. We let thoughts entertain us, and silence rest between us as we experienced the changing light of a sedentary afternoon, revealing and hiding details of the mountains which formed a formidable 360 degrees view around us, and the snaking Soča River below.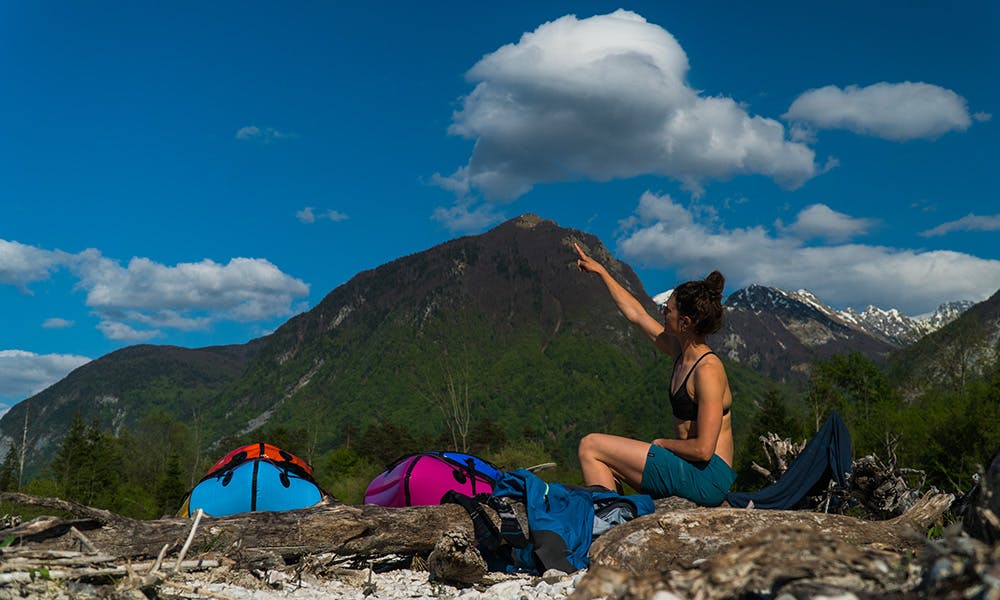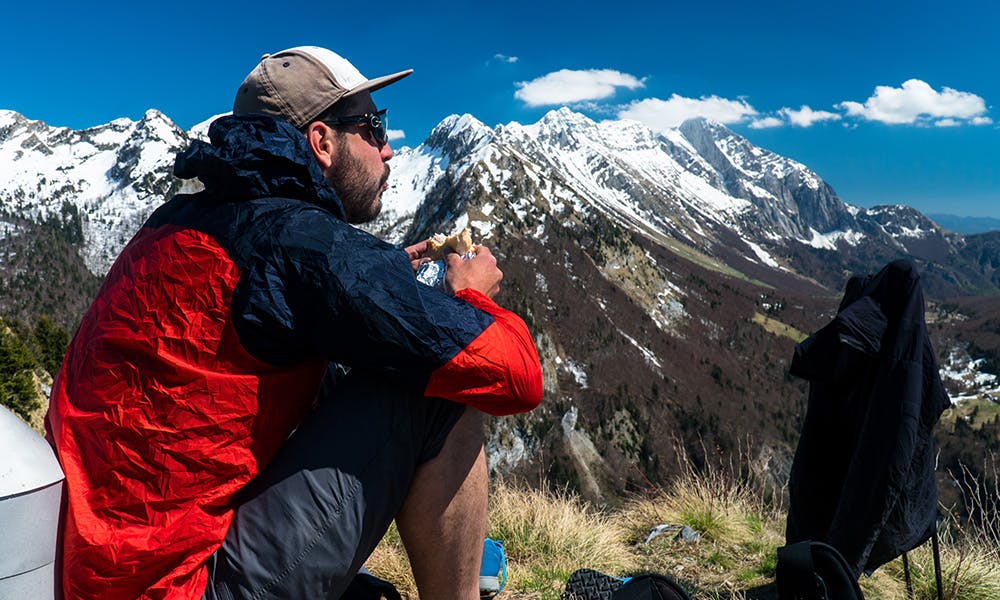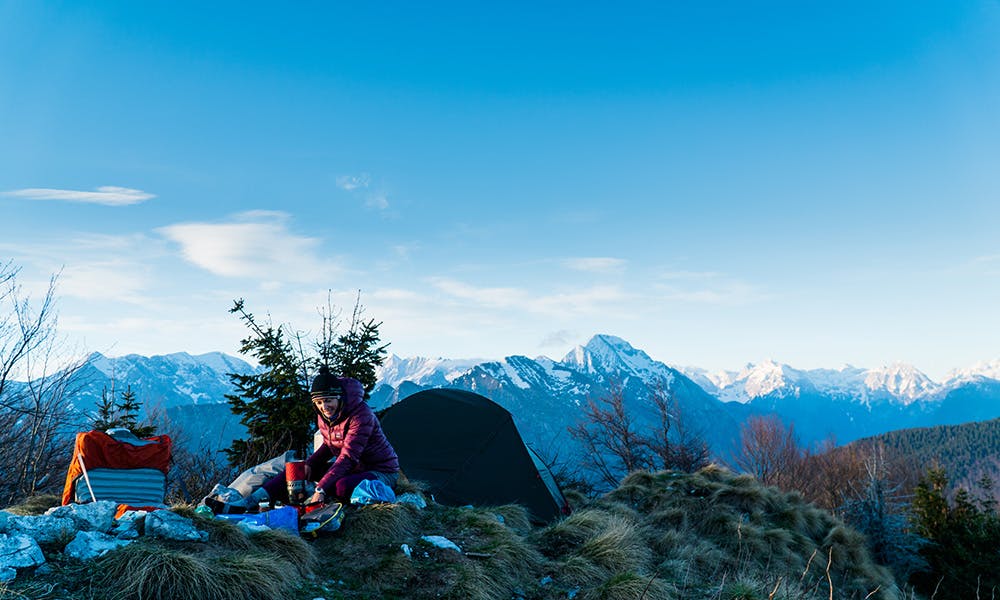 Winding down to the river
After the sun disappeared behind the Italian mountains to west, we disappeared to the tent. Low clouds greeted us in the morning, and we ate hot oats and hotter coffee under a roof of rolling grey, moving like a river ripples. We wandered downhill, across meadows peppered with spring wildflowers, descending from a post-winter world, to a full-on spring world.
Arriving at the river, we finally unrolled packrafts on a sun-dappled white pebble beach where we deposited our gear inside the tubes of our boats. The cloudy water told us that we were paddling on melted snow, the same snow that we ski toured on all winter. Shooting out of the shady eddy and into hot sun, effort was at a minimum and enjoyment at a maximum. I could feel the power and pull of the swollen river beneath my air-filled seat, and I thought to myself, "This is why we paddle…for this feeling." The river gained power as tributaries fed it, and once it widened into massive grey gravel bars, we again fought the instinct to keep going – we could have been at home in the early evening if we wanted – but instead we spent the day and night on the beach beside the river. Why not?! Why rush a weekend trip? When you have time, it's best to spend it. To slow down and just enjoy.
We swam and sunned, our skin drinking up the warmth after a long winter. When the source of this heat ducked behind the high mountains, we started a fire and let the driftwood warm us. Laying in the cold sand watching sparks turn to stars, we didn't need a book, a phone or anything to distract us.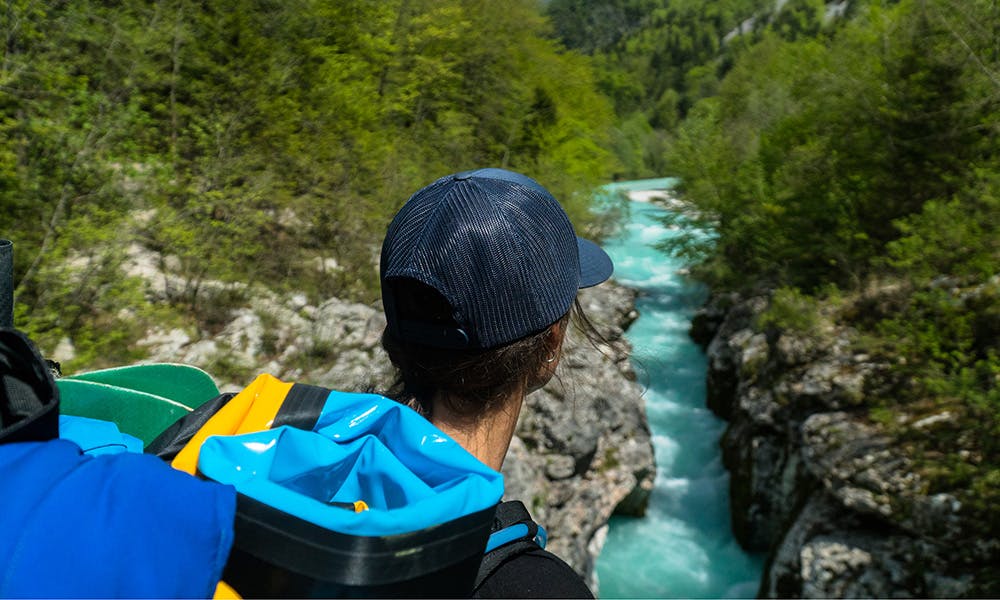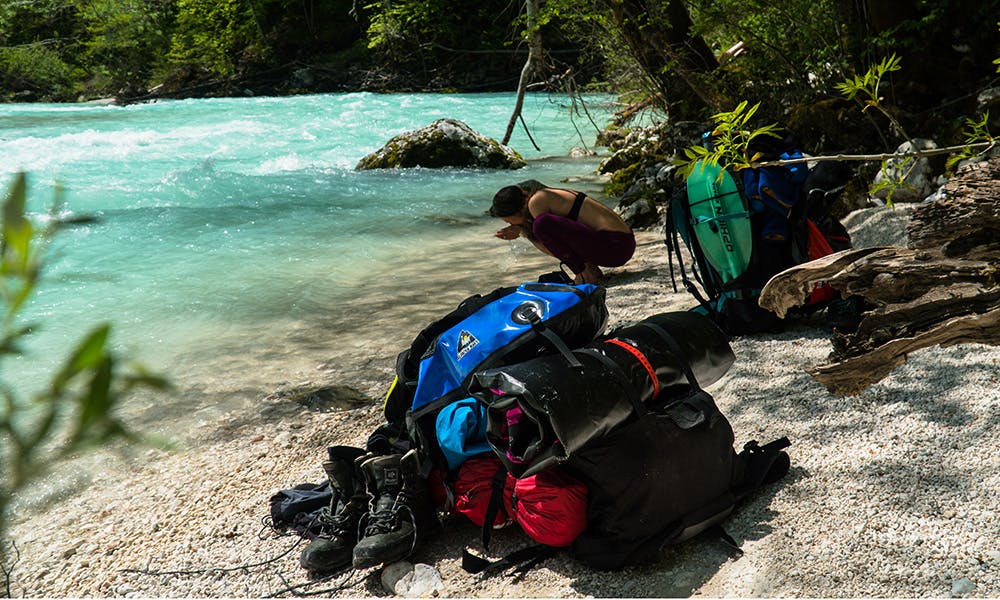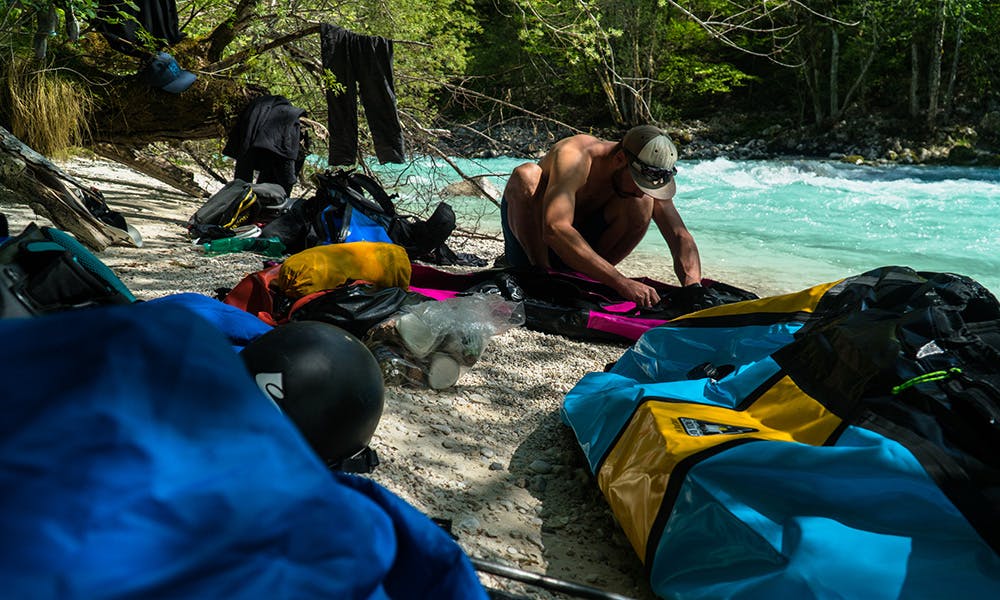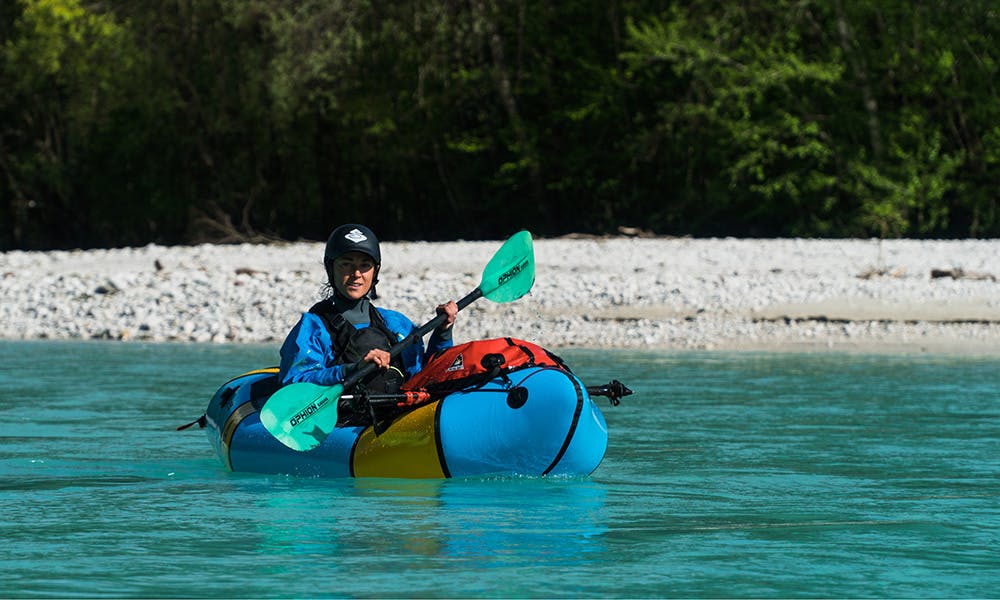 Highwater back to our home
Back in our boats the next morning, we readied ourselves for the challenge of more technical whitewater as the growing river squeezed into a tighter valley. With my hiking poles lashed to the outside of my boat, I had to be sure to steer clear of Rok's boat. He may have been paddling a Gnarwhal, but my Wolverine actually looked like one! We dropped into the whitewater rafting section of the river – a water level higher than any rafting company would run, taking many of the same lines we would in a kayaking, testing out what our fully-loaded boats could handle, a form of training in anticipation of the upcoming sections of higher consequence.
The gradient increased, and so did our paddle cadence. With drysuits and spraydecks, we didn't need to take dry lines, and we found ourselves continually taking lines that pushed our bodies and boats – to see what these inflatable are capable of. Through the final rapids of this segment, the river dropped further and the rapids became more continuous. But it was what lay downstream that made this section dangerous, with our take-out eddy just meters above where the river descends into the grade 5 section packed with siphons. A swim here would have been very serious.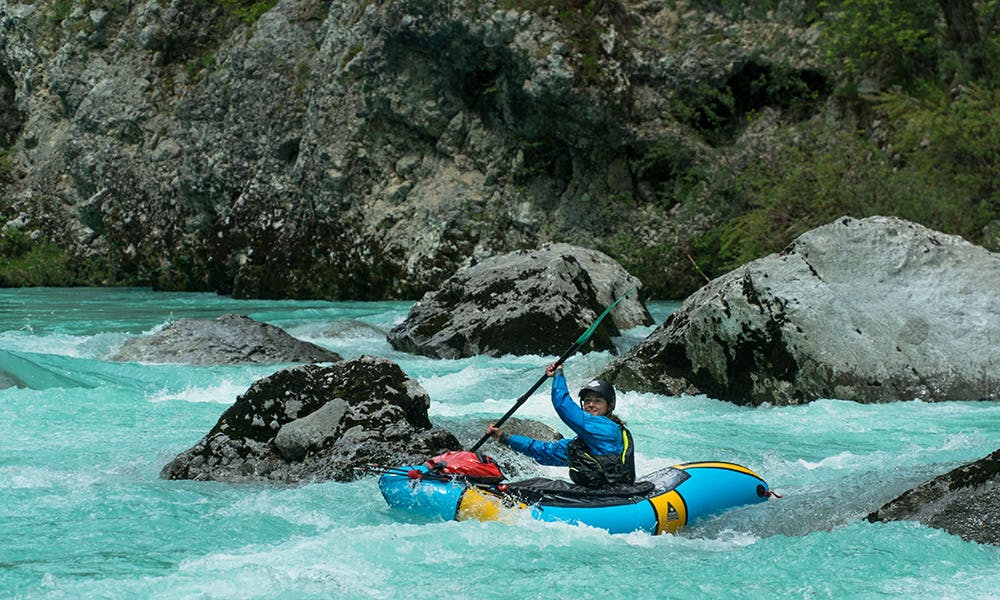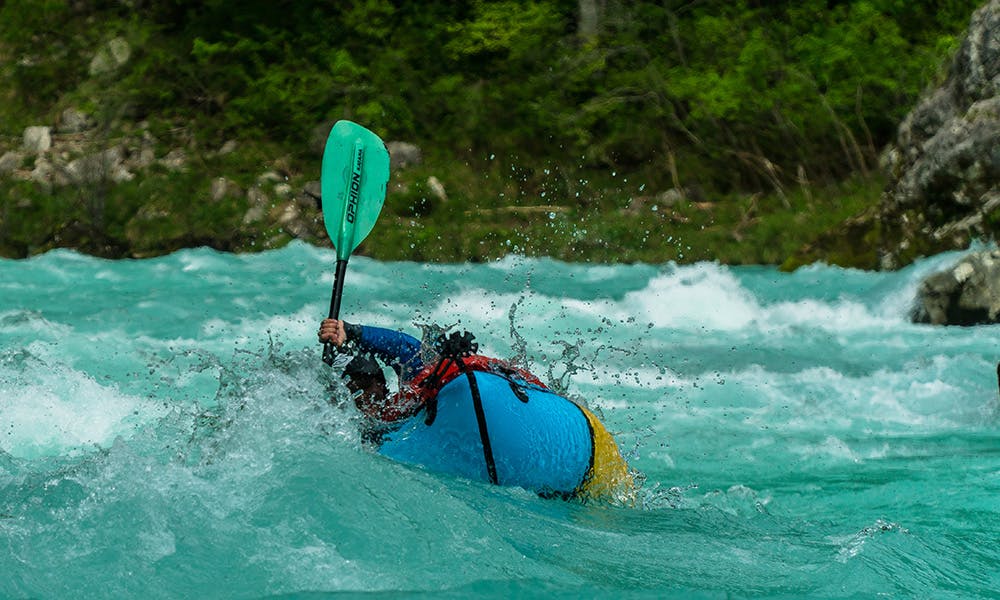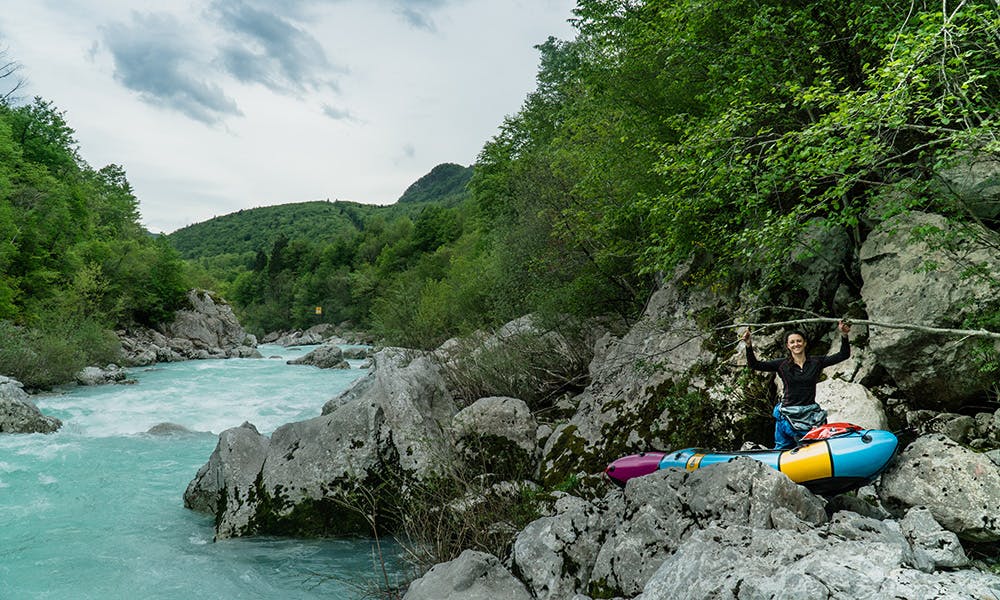 Wet boats tied to the outside of our packs drip into dry boots while we trekked the rolling trail that skirts Soča's infamous Katarakt rapids, stopping to stare at the power, the siphons and the thundering rapids.
After crossing the Soča on hanging wooden bridge, we inflated our rafts on the sandy beach of a pool called Otona, and prepared to paddle the last section of river. Imminent rain clouds crept in as we finished lunch, sipping cold water from the waterfalls that trickled in around us. In the last rays of sun, sparkling spray of water hitting rocks blended with the fluffy white willow seeds, airborne in the pre-rain wind, floating gently like snowflakes.
Half an hour of big whitewater later, we were walking home through town. The weekend was over but we would start the week refreshed, with clear heads, a better knowledge of our backyard, and what is possible with a packraft and hiking boots.