Exploring Finland's Käsivarsi Wilderness by Packraft
We love receiving customer adventure stories. Thanks so much to Jens Fredrik Allworthy for sharing his story and photos about the Käsivarsi Wilderness with us. Check out more of his photos on his Instagram page, @allverdig.
A lover of big adventures, Jens Fredrik Allworthy spent as much time outdoors as possible. But then he went to university, worked as the creative director for Norway's leading design and innovation agency (EGGS Design), and eventually became a father, all of which prevented him from getting into the backcountry as much as he would have liked. Then, seven or so years ago, he says, he began to reassess his life, realizing the importance a better work/life balance, with more outdoor adventure. And more adventure meant more packrafting.
His love of canoeing and kayaking led him to discover packrafts, a lighter and more versatile option to other styles of boats. Packrafting opened up new possibilities for him.
"The low weight, small size, and the freedom this way of transportation gives you inspires me," he says. "I can't express how much I love them. It opens up totally new opportunies and makes it possible to explore areas that before would have been impossible. And that the abilities of the rafts are amazing. Sitting so close to the elements, feeling the force from the rapids. It's hard to describe."
We checked in with Allworthy to find out more about his latest adventure to Käsivarsi Wilderness Area, Finland. Enjoy his story and stunning photos!
AR: What is the story behind your adventure to Finland? When, where, etc did you brainstorm it, and how did you actualize it?
JFA: We started researching Google Maps to find a place we could go that would be really remote, have beautiful and untouched wilderness, and that also offers an uncomplicated way to get in and out. We live in Norway, a country that has a lot of beautiful nature to offer. I had never been up north so that's where we started. After a few weeks, we found a remote area called Käsivarsi Wilderness Area, which was not that far from the Norwegian city of Tromsø.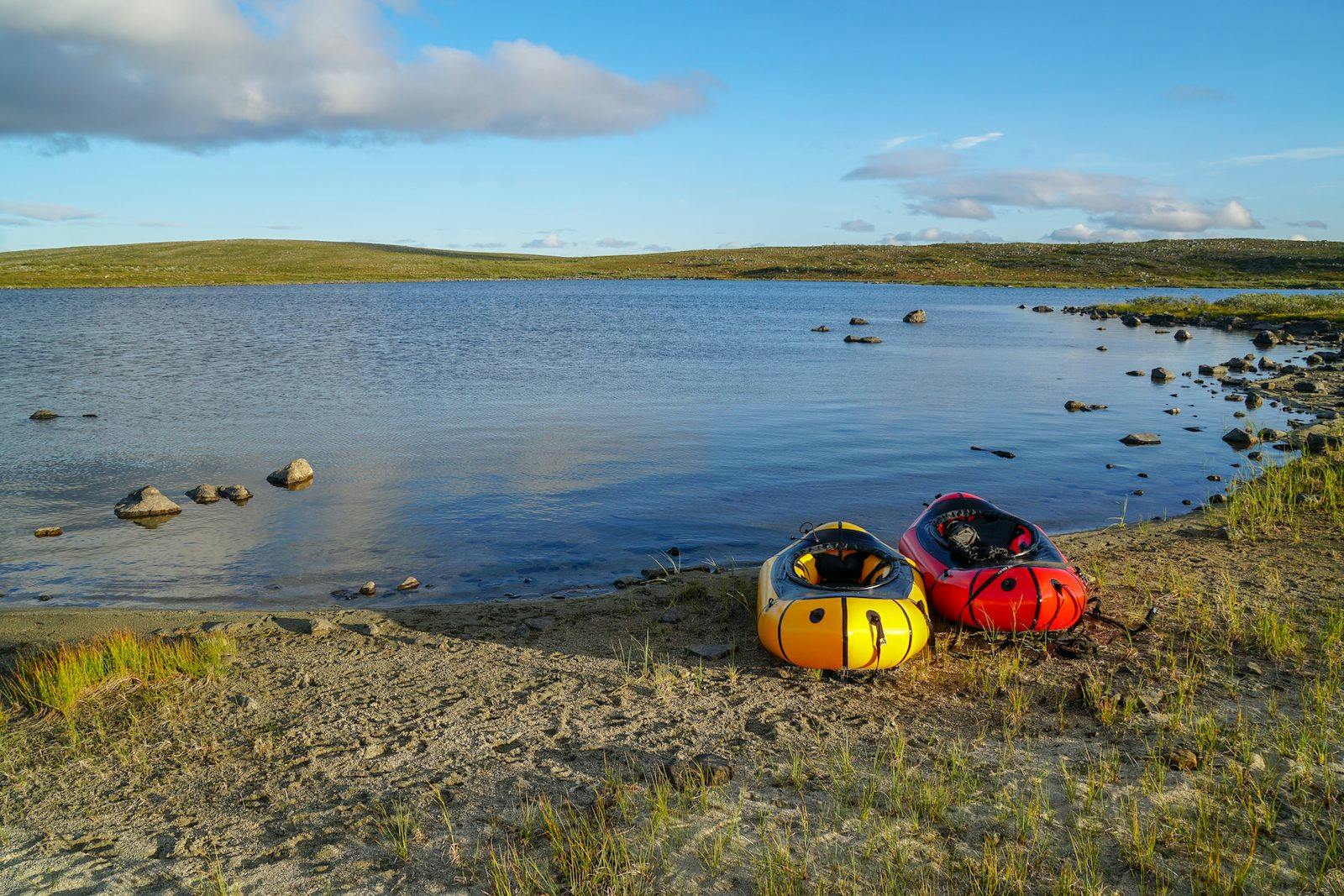 It offered mountains and lots of rivers and lakes. When we investigated further, we discovered that the rivers where all connected. When we found a Finnish bus-company that had a route from Tromsø to the outskirts of Käsivarsi–our tentative plan became our designated route. We bought Finnish maps, measured distances, and prepared as much as we could. Great fishing waters meant also that we could carry less food (and more whiskey). Then, this past August 2018, we were suddenly on a plane, heading for Tromsø, with 40 kilos backpacks. We spent 14 days without kids, thinking about work, or any mobile coverage.
AR: Can you give a few more details about the trip—where it started, how many miles, highlights, where it finished?
JFA: After arriving at Tromsø, we spent a night in a hotel. We unpacked a little and bought the last things we needed–fuel and some fishing gear. The next morning we jumped on a bus, got the driver to drop us where we wanted, and then 2.5 hours later, we started our climb up in the mountains, 15 km, 500 meter elevation, with 40-kilo backpacks. They were rather heavy. When we reach our first water, we inflated our rafts and started paddling. But we discovered one kilometer later, that the rivers on the map, in real life was just rocks. Because of a very warm summer, the rivers were dry. We then carried all our gear for three days and 45 kilometers until the river had enough water.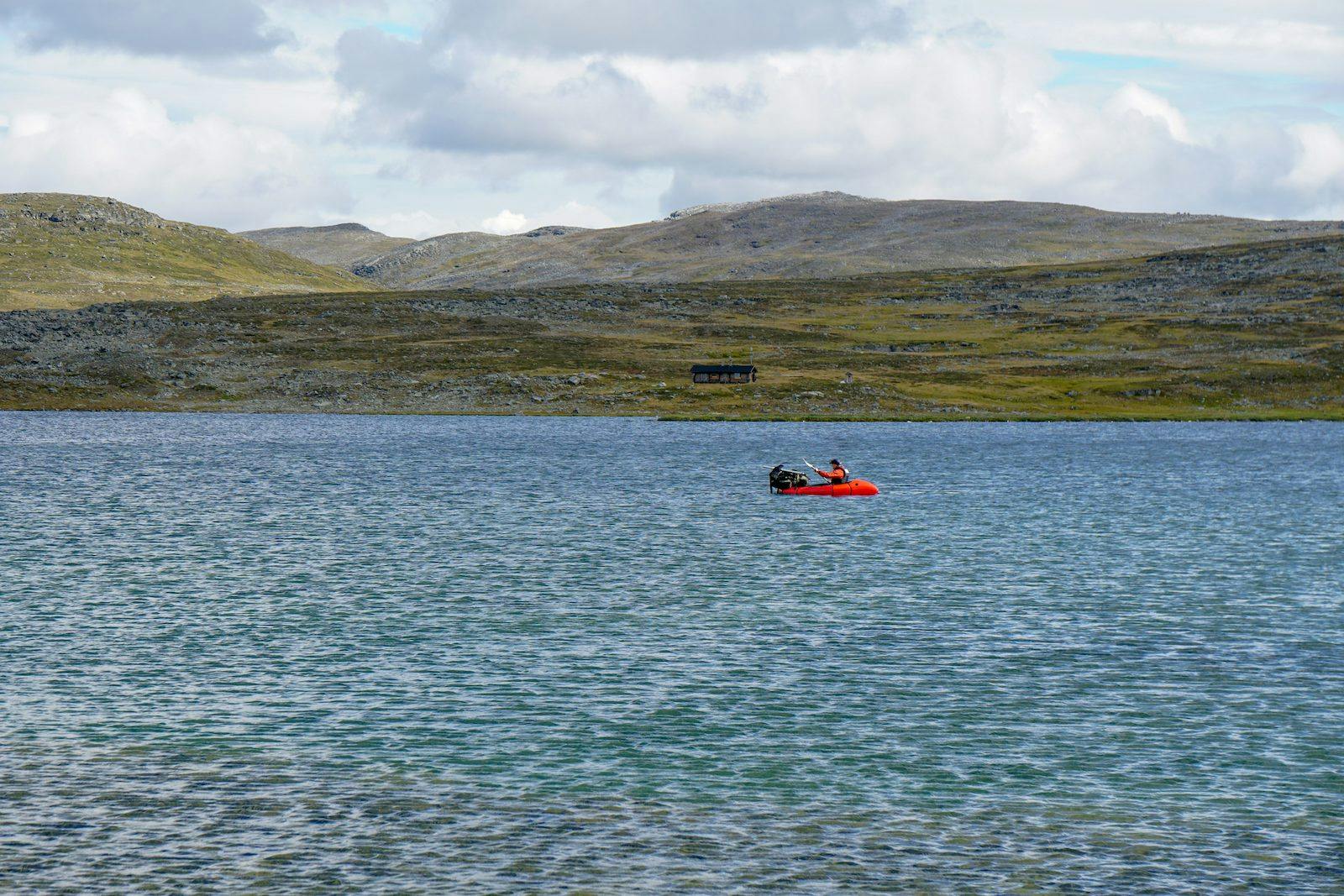 From that day, we felt pure joy. In the beginning the rivers contained just enough water so that we could slide above the rocks. We hit hundreds of rocks every day. But the packrafts tackled everything we threw at them. A few days later, the rivers picked up water, and we paddled 400 meters, down the coolest rapids I have ever experienced. What a rush! We capsized a few time, but luckily we didn't get hurt. But those boats? It's insane how great they were to paddle down rapids. We skipped lunch every day, just to spend as much time as possible in our boats, and to move as far as possible.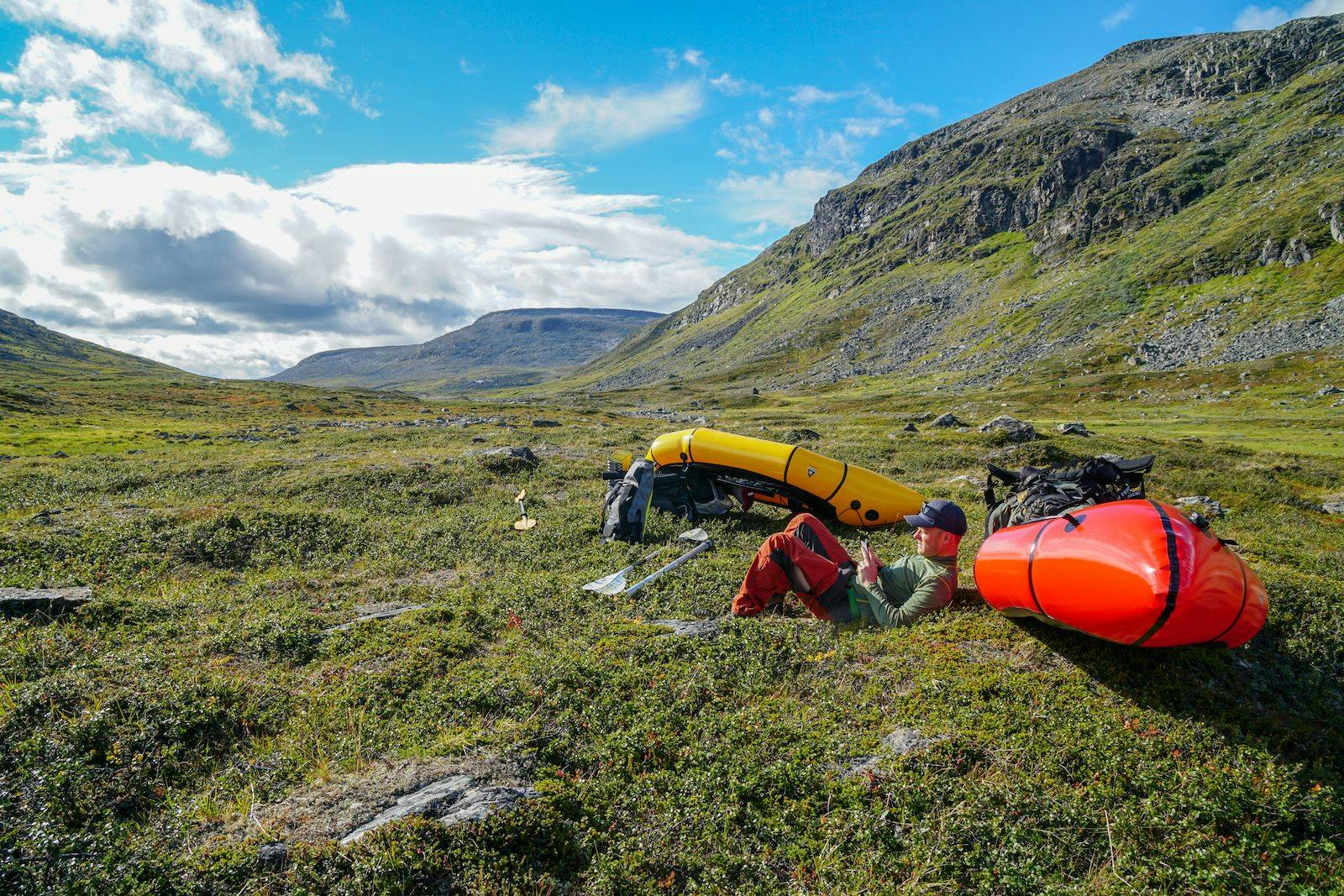 On our last day of paddling, we thought we had a simple stretch in front of us. Maybe we became too arrogant, but suddenly we were in the middle of really fast-moving water. Too late to escape, we had no other choice than go with the flow. Roles had changed–the river took charge. It felt like the rapids went on forever, (almost two kilometers). Miraculously I made it through. I turned around, but couldn't see my friend. I saw his packraft spinning around and around in the rapids, but he was gone. I jumped out of my boat, ran upstream to try to find him. He stumbled up on a rock. He was fine, but had lost some gear and his paddle.
So, plan B. We emptied our boats, packed them on our backpacks, and started walking through swamp and marsh. One kilometer took us two hours. The last part of our trip took us two days. But we made it. We spent a total of 10 days on the move, travelled 170 kilometers, and experienced fantastic wilderness. And the boats were amazing!
AR: What's next?
JFA: When we bought the packrafts, we were actually thinking (or dreaming) about going to Alaska. But time caught up with us, and we didn't have time to plan all the logistics. Alaska is still a dream, so this will happen one day. But our next trip/expedition will for sure be accompanied by our rafts.
AR: Is there anything I'm not asking that you want to share with me about your adventures, packrafting, your life?
JFA: Bring a leash for your paddle.