June 8, 2018
You, Too, Can Learn to Packraft A Tale From Someone Who Never Imagined Boating Whitewater
A Self-Proclaimed Non-Athlete On How Even Amateurs Can Become Solid Packrafters & Have The Most Fun on Whitewater — A 5000 Miles of Wild Story
Photos, illustrations, & story by Jeremie Lamart
When Alpacka asked me to write an article about my experience in whitewater I agreed immediately without even thinking about what I have to say about it. Then came the blank page syndrome: what the heck do I have to say about anything? Do I even know anything about it? Am I legitimate here? When I read articles or books written by athletes, adventurers, or people alike, they all seem to come from awesome places, they all started their sport even before being able to walk or go to the bathroom by themselves. What about me? I am the perfect opposite. First of all, I'm not an athlete or adventurer, second, my interest for the outdoors came late, in my mid 20's and, third, I come from a place where outdoor fun is none. But I have the advantage to be passionate about the things I like. I tend to go full throttle when I'm interested in something: I study, learn, and then I like to teach what I've learned. So I've decided to write about something I know for sure: my own experience as a human being with no predestination to water sports and the things that led me to use an inflatable boat to paddle some waves formed by the movement of water on rivers – aka whitewater packrafting.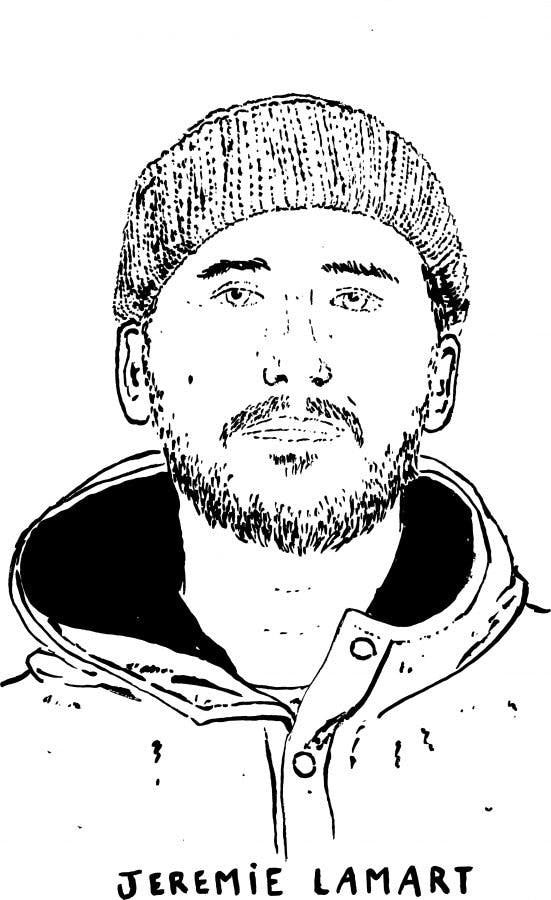 Baby Steps
In my early twenties I took a trip on a touristic river in South of France. I was with my girlfriend from back then, and we had a two person sit-on-top kayak. Neither of us had any previous experience in whitewater. It was a total carnage. We capsized, lost a paddle, broke a camera, and swam a lot. It was nothing to be proud of and quite the opposite of paddling clean lines, in style. I felt as comfortable on my boat as Bill Murray in, "What About Bob" when he goes sailing. This was my embarrassing introduction to whitewater. With such a first experience, the story should have stopped here. But here I am today.
Many years later, I started packrafting. At first I thought that I would only use my packraft for lake crossing and calm waters in general. I live in Sweden, a country covered by endless forests, big lakes, and rivers. A packraft is the perfect way to explore the country. So for a couple of years, I used a classic green packraft (Swede's favorite, even though I'm not a Swede), and I took it to many rivers in middle and northern Sweden. I also went back to that river in South of France and nailed it without a single swim, just to quench my thirst for revenge (it was actually really easy, but I won't say that too loud).
Then I felt that I was limited in terms of skills; I was also paddling mostly by myself and, to be honest, it wasn't always really safe. I remember a trip in Lapland where I had to bail because it was too dangerous. I was also missing the technical aspect of paddling. However, when some gnarly videos from the US packrafters were released on internet (thumbs up to Luc Mehl and co), my interest for whitewater started to grow. For most of my life I was a skateboarder. Everything is technical when you do that "sport," and it's kind of awkward when you start (just like kayaking); you have to figure out how to do a trick, you spend hours trying to slide on a handrail and, most importantly, you drink gallons of cheap beer. As I was already trained with beer, it was obvious that I would eventually get into whitewater.
Do you even Namaste?
I bought a modified packraft from Mike Curiak in 2014. The outfitting on this boat was really advanced at the time with thigh straps, kayak back band, a foot pillow, and the seat moved forward, pretty much like a Gnarwhal today. It was a multicolored boat that looked like a painting from Mondrian; it was beautiful. I got this boat right before going on a whitewater trip to Nepal where I took a kayak course and paddled some of the best rivers I've ever seen. This trip really changed the way I looked at a river and my use of a packraft. I was paddling with local kayakers who had never seen a packraft before and, of course, they were skeptical at first; something all kayakers have in common when they first see a packraft, right? They had every reason to be skeptical though, I was swimming a lot. But they were nice and chased my boat everytime it got away. I learned a lot. Most of the time I was practicing in a hardshell, but I made every run with my packraft. This is when I tackled my first class IV rapids, which was a huge step for me. During this trip I also met one of my best packrafting buddies, Peter Allen, who was living in Kathmandu. We went creeking together, and we slept in the open on a sandy beach along the river. We cracked a few brews (Brits + whitewater = even more beer), and during this trip we also found out that bamboo explodes when set on fire, not a crucial information here, but you may find it useful at time.
It was an amazing trip. Having had this experience with Nepali kayakers really opened my eyes on river safety, and paddling techniques. When I got home from this trip I was definitely hooked on whitewater.
So to answer the question: Yes! I namaste AF!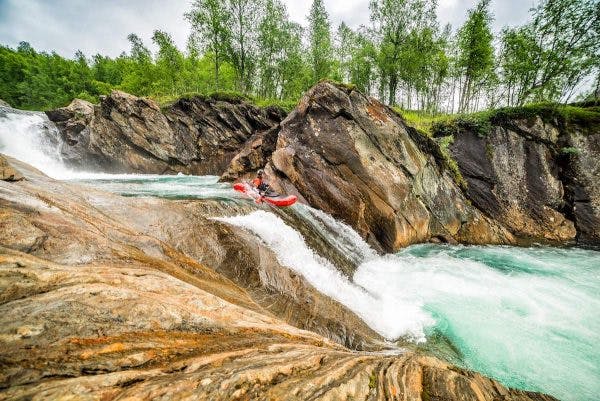 The Stockholm syndrome
I am no exception and like many others–probably 100% of the community in Sweden–I started packrafting through hiking. And packrafters in Scandinavia usually restrain themselves from technical rivers. During the 2016 roundup in Sweden I met Jacob Kastrup Haagensen (+ 10 points if you can pronounce his name correctly), who is interested in every form of packrafting, including whitewater. We started doing trips together, and we eventually created the Swedish Packrafting Association, which is funny because neither of us is Swedish.
In the recent years, my vision on packrafting has evolved a lot. I now consider myself a boater first, and then a packrafter. This means that it's not the kind of boat I use that defines who I am on the river, it's my technical skills and my ability to read the river. That way I feel more confident to push my own level in technical packrafting. I don't hesitate to train in a kayak, and I gladly take any advice I can get from kayakers.
I find it really exciting to live and to be part of the early stages of the whitewater packrafting scene in Europe. We have everything to learn, but it's the kind of challenge that I like. Packrafters on that side of the ocean need to build a solid culture of safety, to have routines on the river, but we are still at the beginning of it. Sadly, not a lot of people are interested in serious whitewater packrafting in Scandinavia. However, I hope that things will change in the future and that more people will understand that a packraft is a legit kind of boat on technical stretches. A kayak club in Finland has bought a couple of packrafts recently (including my Mondrian boat), and some good boaters are getting into our sport, which is great news because it's usually the other way around. Our sport is evolving, this is the good news, and I can't wait to meet new packrafters interested in going big!