June 21, 2018
2nd Annual Mancos Valley River Film Fest, June 29-30 - All Burro & 416 Firefighters Get in Free
2nd Annual Mancos Valley River Film Festival, June 29 & 30: Premiering Never-Before-Seen, "From the Doorstep"
Burro & 416 Firefighters Get in Free!
Local nonprofit Mancos Valley Resources (MVR) and Founding Sponsor Alpacka Raft are spearheading the 2Annual Mancos Valley River Film Fest with a "Local's Night" featuring Durango bikepacker Ashley Carruth at Outlier Cellars on Fri., June 29, and a night of bike, boat, fly fishing, and conservation films at the Mancos Opera House, Sat., June 30. All Burro and 416 firefighters get in free.
"Last year's festival was such a huge success that are excited to bring back that enthusiasm this year," said Clara Martinez, MVR Board President. "Nearly 300 people showed up in 2017, and we raised for Excelsior Plant employees who lost their jobs when the factory burned down. This year, we will raise funds for the Mancos Trails Group, which is one of our projects. This group has been exemplary in working to expand the local trail system."
"Having an event like this in our small town really raises the bar for what Mancos can offer," explained Lizzy Scully, Alpacka Raft Marketing Manager. "But more than that, Alpacka and the other companies and volunteers involved want to increase our local trails system for hiking, biking, and more. This year's recipient was a no-brainer; the Mancos Trails Group has done some excellent work, including spearheading a comprehensive Town of Mancos Trails Master Plan that the town adopted in 2017."
For more information or to buy tickets, please visit www.mancosvalleyriverfilmfest.com. Friday night's event is free, and Outlier Cellars is donating 10% of the proceeds of sales from cider. The Saturday main film event coincides with Mancos Grand Summer Nights, which will end just as the film fest begins. Tickets for Saturday night are if you purchase online and at the door. Please bring your own mug for beer, or purchase a 2018 Mancos Valley River Film Fest mug for . Key sponsors include Specialized Bicycles and Cortez-based Osprey Packs, along with two dozen local businesses and national outdoor industry companies. Please visit the film festival's Sponsors Page to see a full list of sponsors.
Check out a couple trailers for the films we are showing!
Premiere
by Pursuit Films
We are excited to announce the premiere of, "From the Doorstep," an inspiring urban bikerafting short by Pursuit Films. In this film, Brian Donnelly leaves from his house in Portland, Oregon, to bike and raft thru the city, down the Sandy River and across the Columbia River to Government Island, then back home. Director Steven Mortinson, Cinematographer Bryan Steele. Check out the Alpacka Raft Instagram page to get a glimpse of the behind-the-scenes making of the film!
From the Doorstep – An Urban BikeRaft Adventure from Alpacka Raft on Vimeo.
Feature Film
by Patagonia

The Balkan Peninsula is home to the last wild rivers in Europe. However, a deluge of hydropower development threatens to destroy the culture and ecology of this forgotten region. If fierce local opposition fails, the last undammed watersheds on the continent will be corralled by more than 3,000 proposed hydropower dams and diversions—at a time when dams are being decommissioned throughout much of the developed world.
Shorts (full listing to be announced soon!)
by Luc Mehl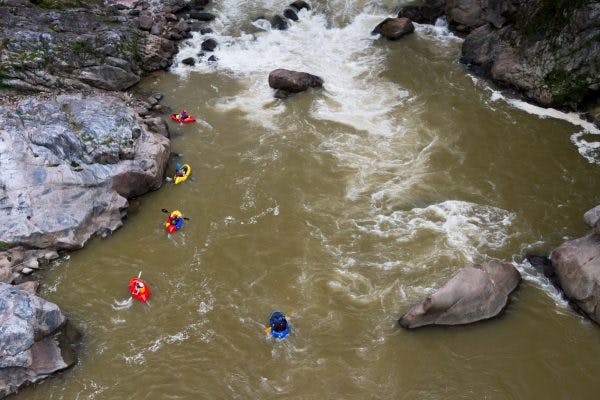 100 Miles, by Fly Out Media

Fly fishing and adventure go together like pizza and beer. By nature, an adventure is not defined by some pre-canned success story. Adventure is defined by an unknown outcome. And, as it turns out, the Alaska wilderness is a perfect canvas for genuine adventure and the unexpected. In the words of one of Alaska's great explorers and bush pilots Paul Claus, "Everything here is bigger, larger, harder and tougher than it looks. It doesn't matter who you are, what you've done, or how great shape you are in, if you come here, you'll contend with the Alaskan factor." For this group of anglers, that's exactly what the doctor ordered.
The goal of this expedition was simple – to use packrafts as a tool to explore and fish an extremely remote and braided river system, much of which is not accessible with larger rafts. The simple and no frills nature of packrafting offers the ultimate in flexibility and mobility. In climbing, they call it going alpine style – lightweight, fast, efficient. For an angler, this means accessing countless small channels and mouse-eating trout without the worry of dead ends, portages, and extra baggage.
This trip was not a first descent on an unnamed river. It was not some epic of mankind's quest through the uncharted. But, after going 100 river miles without seeing another human soul, it felt like it. To revel in the unknown is the greatest thrill for an angler. And when it's all over, the fishing, the adventure, and the solitude all culminate into a shared experience with the company you keep.

100 MILES – TRAILER from Fly Out Media on Vimeo.