February 12, 2019
Meghalaya Rivers - A New Guidebook on Packrafting & Boating in Northern India
Filmmaker and Guidebook Author Zorba Laloo on the Making of His New Boating & Packrafting Guidebook
Click here, and get yours today!
"Meghalaya Rivers" is a testament of life and the spirit of exploration that special places on our planet still affords those who are curious and restless." ~Zorba Laloo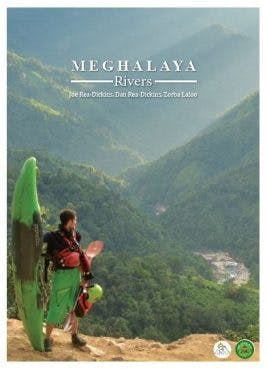 If you follow Alpacka Raft on Instagram, you may occasionally see exotic, stunning photos from India and Nepal taken by Zorba Laloo (@zorba.meghalaya). Zorba is a long-time friend of Alpacka Raft and user of our packrafts. He also makes documentary films and, now, publishes guidebooks. Check out our Q&A with the author of "Meghalaya Rivers."
Zorba – The Man Behind the Guidebook
Zorba first discovered his love of river running while on a 2200-kilometer, source-to-sea river expedition. He followed this trip with numerous other, lengthy river trips. He and his partners were among the first to use packrafts in Northern India. He became so enamored with the sport and contributed so much to it and to river conservation that, in 2012, the American Packrafting Association awarded him the 'Golden Paddle Award.
His contributions toward the sport including working to get more kids into packrafting and into the outdoors. Disappointed by the lack of opportunities for students to experience the outdoors in Meghalaya, he co-founded Campfire Trails. His organization works closely with villages to help them design and develop sustainable eco-rural tourism projects. Campfire Trails has so far educated 2000 students.
In celebration of the release of his gorgeous, photo-filled book, we asked Zorba a few questions about his life, love of packrafting, and his new guidebook.
Q&A – Why Packrafts?
Alpacka Raft: Why boating? Why packrafts?
Zorba Laloo: Packrafts, being ultralight, packable and durable seemed like the perfect craft for our steep hills and remote rivers of Meghalaya. 
I started paddling in 2010 with my friend Shane Hu. We begged his Mom who was on holiday in the United States to bring 10 kgs of Alpacka gear over. She had to leave some of her shopping behind for our stuff! We could barely afford boats and paddles at the time. So, we definitely couldn't afford to pay for shipping and import tax.
We started exploring rivers straight off the bat, learning about paddling as we went along. YouTube, online forums, and the Alaskan packrafting crew taught us, and rivers became the classroom. There was some pretty interesting carnage and swimming at the beginning. We also don't have a culture of learning to swim as part of our schooling here, so I learned how to swim in whitewater, at the age of 30.
Cliff Notes – A Synopsis of the Guidebook
AR: Can you give me a synopsis of the book?
ZL: At 300 pages, "Meghalaya Rivers" includes stellar, full color photos, folk stories from various rivers, chapters on the wildlife, flora, geography, history, culture, trip reports, river descriptions of various grades, and pretty usable maps. We threw in additional information about paddling in other parts of India as an added bonus.
You will not find much of the information published elsewhere. This project brought together teams of some of the best expedition kayakers, packrafters, outdoor enthusiasts and the collective skill sets of experts in various fields from Meghalaya and around the world.
A full-featured guide to the rivers of Meghalaya, made over six years, "Meghalaya Rivers," is the first book of it's kind from a country with 1.38 billion people.

The Inspiration Behind the Book
AR: What inspired you to put this book together?

ZL: India as a whole attracts a lot of people, but few in this vast country delve into outdoor pursuits. The outside world knows little about the North East of India. Shrouded in the mystique of being in "tribal" hills, with inflated reports of militancy, people generally think the area unsafe for travelers.
Explorers will easily find river guides and trip reports of popular paddling places. But, data is scare for any "off the map" regions not mentioned often in popular media.
The Lonely Planet guide book includes over 1000 pages for India, yet Meghalaya doesn't even get 10 of those. We wanted to write a book that would not just be a paddlers handbook, but also a book that appeals to a wider audience and helps attract paddlers of various grades.
Northeast India offers a lot to the intrepid traveller, and Meghalaya lies right in the thick of it. Also, we hope the book will be something that locals proudly share and that reflects the area accurately.


The Challenges of Making a Guidebook in India
AR: What were some of the biggest challenges you faced when putting it together?

ZL: Funny enough, it's actually not that easy to write a book. At times we wished we wrote a pamphlet instead! We banged our heads against the wall about the content we had and how to get that into words.
Sometimes research teams would find cool, absolutely awesome folk stories for the book, only to discover on a second visit they couldn't publish them. The elderly lady in the original story, who could turn herself into a fish (or crocodile depending who you spoke to), still lived and had decided she didn't want to be named.
Or we'd look at a GPS point on the map and be like, nope, that can't be right. And that would mean two friends taking a day to go verify the point again. But because the time was grossly underestimated, it turned into a crazy walk in and out with some sketchy night paddling and some gear being lost to the river boss in the process.
Language also proved to make things interesting, especially while getting information from villagers on river banks and the interviewers sometimes being foreigners. Meghalaya shares an international border with neighboring Bangladesh, and the Indian Government is a stickler for detail regarding this.
We took close to eight months to get our maps vetted by them; at times, we felt pretty low with this process. During the time it took to write this book, we also lost two kayaker friends, and my father passed away a year ago.
Knowing all this, and looking back at our journey, the book feels quite heavy in our hands. "Meghalaya Rivers" is a testament of life and the spirit of exploration that special places on our planet still affords those who are curious and restless.
Surprises & Campfire Stories
AR: What were some surprises you encountered on some of the adventures you were on while writing the book?

ZL: I'd actually like to narrate them, but many of the stories are already in the book. Many of the other stories are best shared over a campfire on a paddling trip.
This reminds me of a video I saw of Roman Dial sharing a tale with his friends on a river trip. Everyone was seated on the ground and on mats around a fire. While the details of that story are not relevant to this question, I do feel that that particular video captures the essence of what it is to be out messing about in nature with a bunch of mates.
Some of the surprises we've had on our adventures are in our book, some are not. And I'm sure both will be shared over countless more campfires around the world again by all those involved in this project. Considering the river community is so well connected, i'm sure that stories, printed or not, will travel.