March 5, 2018
A Brief History of Bikerafting (aka "Nature Biking," aka "Hell Biking," aka Anything But "Bikepacking," please)
Biking & Rafting (aka Bikerafting): An Early History of Two Human-Powered Travel Methods From the Perspective of Some Legendary Adventurers
By Lizzy Scully, with significant help from Steve "Doom" Fassbinder and Roman Dial
"Bikes and rafts are a really cool combination, one that will make you feel clever, especially when you ride up to the river with your boat on your bike, then paddle down it with your bike on board your boat. Yes, one of the all-time coolest feelings in my estimation."
Writers have explored packrafting history and adventures extensively since Dick Griffith introduced the concept to Alaskan adventurers in 1982, and bikes have been mentioned regularly along the way. However, no one so far has written a comprehensive story of the integration of these two methods of human-powered travel and how and why they work so well together.
It All Started With…The Packraft, Of Course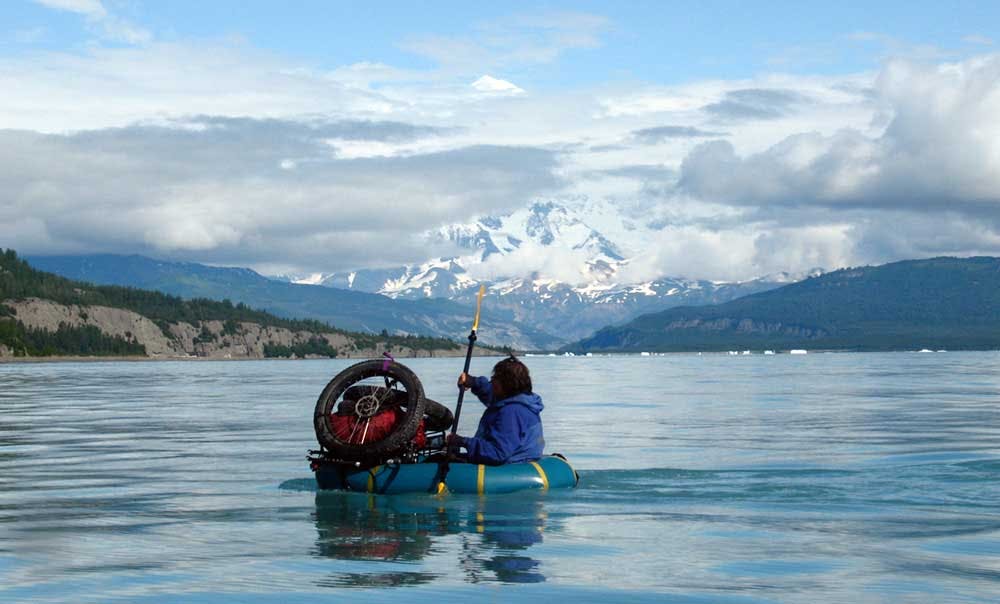 "We are at our core problem solvers and improvisers and so it is no surprise that modern adventurers have been toying with solutions for decades, and the first person to break through with a stroke of genius was Dick Griffith. Born into ranching life in Colorado in the 1920s, Griffith's first attempt at river adventure came in 1946, when he floated the White River on a self-made wooden raft, which he promptly capsized and lost; unwilling to deal with the weight and hassle of wood, he turned to rubber military surplus rafts hitting the market after World War II. In 1952, he and his wife Isabelle and a small team of Tarahumara used a small Air Force survival raft to descend the Urique River deep into Mexico's Sierra Madre Occidental, the first successful river run of the Barranca De Cobre. And thus began the age of packrafting."~Steve "Doom" Fassbinder, "Hike. Bike. Raft." Adventure Journal, Summer 2016
According to Alpacka Raft Founder, Sheri Tingey, it took nearly three decades from the time Griffith first "packrafted" in Mexico for him to introduce the concept to America's northernmost state. He brought those "funky little things" to the inaugural Alaska Mountain Wilderness Classic race in 1982 and blew the minds of the other competitors and the adventure community in general. He competed against legendary Alaskan explorer, then just in his twenties, Roman Dial. Upon reaching the raging Skilak River one evening, Tingey says, Roman and his partner had decided to cross the next morning when less ice melt meant the still-cold (35 degrees) river would at least not be so high. But just then, Dick showed up with a packraft," Tingey says (July 2017 interview).
"The 1982 Wilderness Classic was meant to be a self-contained, carry-all-your-gear-and-food overland footrace between the Kenai Peninsula towns of Hope and Homer, Alaska, but Dick Griffth and his rubber ducky changed all that. At 55, he caught the front-running racers half his age as they hesitated to swim a swift, wide, and deep glacial river. Here, Dick donned a fuzzy Viking hat, inflated his raft, crossed the river, and passed his youthful competition with the quip, 'You may be fast, but you young guys eat too much and don't know nuthin'. Old age and treachery conquer youth and skill any day.'" ~Roman Dial, "Packrafting: An Intro & How To Guide"
The next leg of the race took the other competitors 15 hours of "thrashing through alders," wrote Fassbinder in the Adventure Journal article, "but Griffith covered it in just three, floating happily downstream." After that inaugural event, Dial says, the Classic became a pack rafting wilderness race, its competitors skilled in packing and rafting.
Within a couple years, says Tingey, the "Alaska Crazies" (aka hardcore adventurers) had fully adopted the concept of using inflatable rafts to cross rivers, lakes, and other water bodies, either building their own or buying the coveted Sherpa Rafts (a snowshoe company that made lake fishing rafts for one year) or other rafts built by Sevlor or Curtis Designs.
"Sherpa had the idea right," Tingey explains. "They were way ahead of the others, and almost ten years ahead of themselves. But they didn't have the tools to manufacture in large quantities."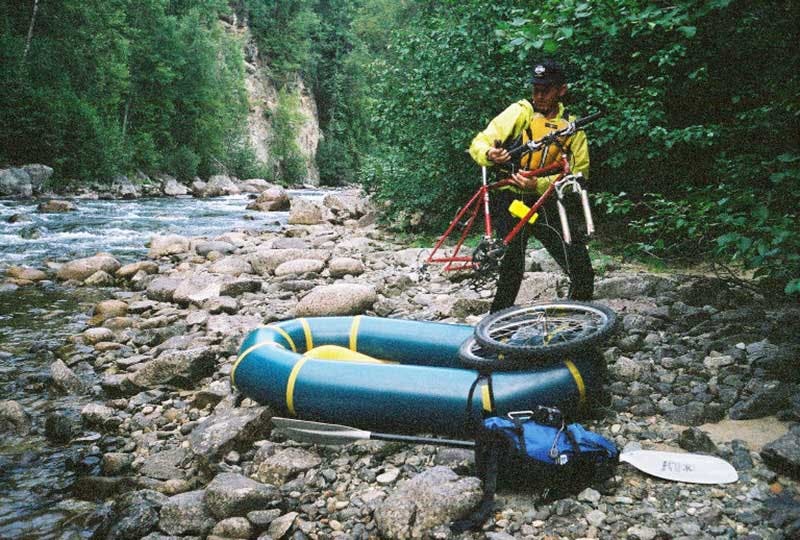 About that same time, Thor Tingey, Sheri's son, began envisioning on his own Alaska traverses. "One of those early Wildneress Classics came right down by our house in Alaska," Tingey recalls. "Thor was in grade school at the time. He remembered Roman stashing a bike at our house, and these people coming through. The finish line was just a little ways from the house." By the time he was a teenager, the junior Tingey would be embarking on his own wild trips across Alaska.
"In 1996, Roman made an 800-mile, seven-week traverse of the Alaska Range on bikes and rafts, a journey that was covered by National Geographic—and read by Thor Tingey, who was inspired to make his own packrafting traverses and eventually founded Alpacka Raft with his mother, Sheri Tingey." Fassbinder writes in his Adventure Journal article.
Thus, Alpacka Raft was born, and the course of packrafting history would be forever changed. But that's another story that you can read about on our website, "The Alpacka Story." Now on to the bicycles.
The Late 1980s: Roman Dial Envisions Bikes on Boats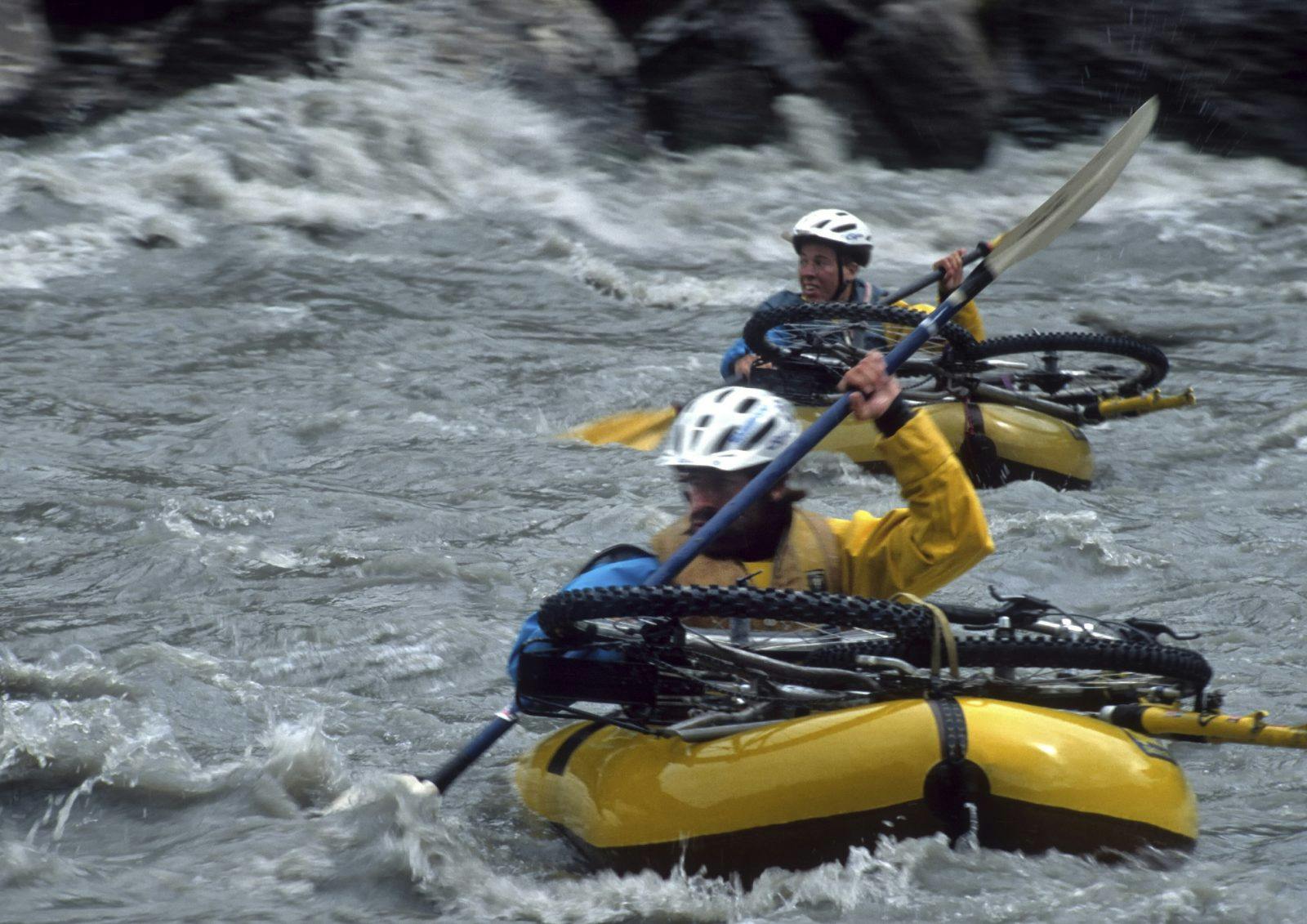 "So let's just get it straight, at first in the 1980s the bike was the main tool and the raft came along to get the bike across. I had been doing a bunch of long-distance wilderness traverses by foot and ski and packraft for about five years when I got my first mountain bike and realized that I could do the same trips with a bike. Then in the 1990s my friends got rafts, and now we could float our bikes when the brush was bad. We did the Grand Canyon as a one-off since I was sort of in an 'outlaw stage.' So far as we knew nobody had done anything like it [ride in from St. George, hike into the North Rim down Whitmore Wash to the Colorado, strap bikes onto Sherpa packrafts, paddle to Diamond Creek, and then pedal out to the South Rim]. Dick Griffith would do the whole Canyon in a Sherpa Packraft soon after to make sure he did it before we did!"~Roman Dial, Interview February 2018.
People have been packing their gear on two-wheeled, human-powered contraptions for centuries, traveling for hundreds of miles to buy and sell goods, to get from one place to another more quickly than they would be foot, or just for the fun of it. Mountain bikes made it easier to do in the backcountry. But lashing bikes onto boats? Unsurprisingly, it was adventurer and naturalist Roman Dial who first envisioned this combination and then actualized it in 1987.
"I had never heard of anybody else doing it before me," Dial explains. "It was my own idea with my first mountain bike. I wanted to explore an area for moose hunting on the far side of the Delta River, a big glacier river in the Alaska Range. I used a Sherpa Packraft to get across, rode buffalo trails, and ended up shooting a moose and using the bike to wheel meat to the river and then ferry it all over in my raft."
Just one year later, Dial, his long-time climbing partner Carl Tobin, and cross-country ski racing champ Jon Underwood did a 150-mile mountain bike traverse across the Wrangell St. Elias National Park with mountain bikes and a single packraft that they used to cross several very big rivers (two bigger than the Colorado)—the Nabesna, Chitistone, and Nizina rivers. The men had met while mountain bike racing and had begun to ride and/or climb together.
For Carl Tobin, a mountaineer "hooked on climbing," who spent years obsessing over alpinism, ice and mixed climbs, walls, anything really, from a very young age, this trip (and others he did with Roman) took his wilderness explorations to another level. "In phases of my life, at least, I only saw alpine challenges, surrounded by landscapes that complicated my or my bank account's ability to get across the bergschrund and start climbing," he explains (February 2018 interview). "The packraft told me that the possibilities for going along many routes I'd never thought of going along were many, and allowed me to consider going on those types of routes." The first route he chose was Roman's. It was in keeping with his adventure philosophy… If something absolutely, positively had to go wrong, he wanted to be there.
"The range is so rugged, vast, and dynamic that for its entire 300-mile length no roads cross it. Our route would follow no pavement, no graded road, no maintained doubletrack, no marked trails. For 150 miles we would bash over river bar boulders, crash through wild game trails, portage over dizzying scree slopes and canyon cliffs, and paddle across raging glacial rivers."~Roman Dial, October 1989 Mountain Bike Magazine
Likely the first wheeled-vehicle crossing of its kind through the St. Elias, the trio wanted maximum mountain bike riding "of the highest expedition ethic—fast, light, bold." They went ultralight, leaving behind shelter, stove, and other "luxuries," and strapping their sleeping bags, extra clothes, and food (about 20 pounds all together) on their bikes, so they could focus on riding. They also brought a paddle and a four-pound, two-person inflatable nylon raft, which Dial carried on his rack. "Without it we would never have succeeded," Dial writes in the Mountain Bike mag article. "…paddling was safe and painless compared to wading some of the creeks too fast, narrow, or shallow to deploy the raft."
"Only six feet long and less than four feet wide, the packraft proved adequate for ferrying three men and their babies. First, I'd paddle Carl across, then return for the bikes, layered like pancakes across the bow of the 'nylon bubble," as Jon called the yellow craft.
Even securely bound to the boat, my cargo of Klein, Yeti, and Victor worried Jon. Holding the boat as I climbed aboard, he pleaded, 'Don't you think you're a little top heavy? Remember you've got ,000 worth of bikes piled on there!"
'Yeah, yeah, Jon. And it's all threatening to pop this nylon bubble. But I'm in this to survive, and the bikes are the last of my worries."
In big water, as the boat climbed up then rode down four-foot waves, I'd dig hard with the kayak paddle to keep on course. Charged with adrenaline, I'd gouge my knuckles on naked dropouts, shave my shins on chain ring teeth, yet feel nothing until I reached the safety of the far shore."~Roman Dial, October 1989 Mountain Bike Magazine
According to Underwood, now a Fairbanks-based trail designer and builder: "Roman proposed the trip, insisting it could be done despite the lack of a trail, that it was not just a stunt like rappelling off a cliff with your bike over your shoulder. It turned out he was correct, and we rode our rigid-frame bikes a surprising distance over gravel bars, cane terraces, and game trails along the 155-mile route." It didn't take Underwood and Tobin long to realize that long, unsupported trips deep into the wilderness were possible and that they could begin to think more creatively when planning routes.
The trio would proceed to do a variety of trips in the 1980s. These trips, Underwood recalls, often involved "some fairly sketchy, two-man river crossings in 1980s-era packrafts designed for one person." On one trip, they rode 250 miles in the Alaska Range, including 75 across glaciers and up and over a high glacier pass, over 14 days.
"About 20 miles into the trip we realized we had forgotten the maps (no GPS in those days!), but decided we had memorized the route well enough that we could wing it for the remaining 230 miles. Surprisingly we were able to traverse the route with almost no mistakes in navigation. I travelled the last 100 miles without a pedal on my bike, just the stump of the pedal axle protruding from my crank arm. It was on this trip that we discovered that glacial ice can be a lot like slickrock. Often the surface of the glacier is very rough and covered with sand and gravel to provide traction. Roman coined the term, 'sliprock' to describe it."~Jon Underwood, Interview March 2018
High volume, swift, and cold rivers can represent barricades (existential sometimes) to a backcountry traveler, especially with a bicycle, which makes a poor swimming accessory, Tobin explains. "I suppose all of us wanted a light, dependable inflatable, that would fit in a pack or on a rack." And, despite the totally undependable early versions, they found this in the early packrafts.
The Early 1990s: The Epic Adventure of All BikeRaft Adventures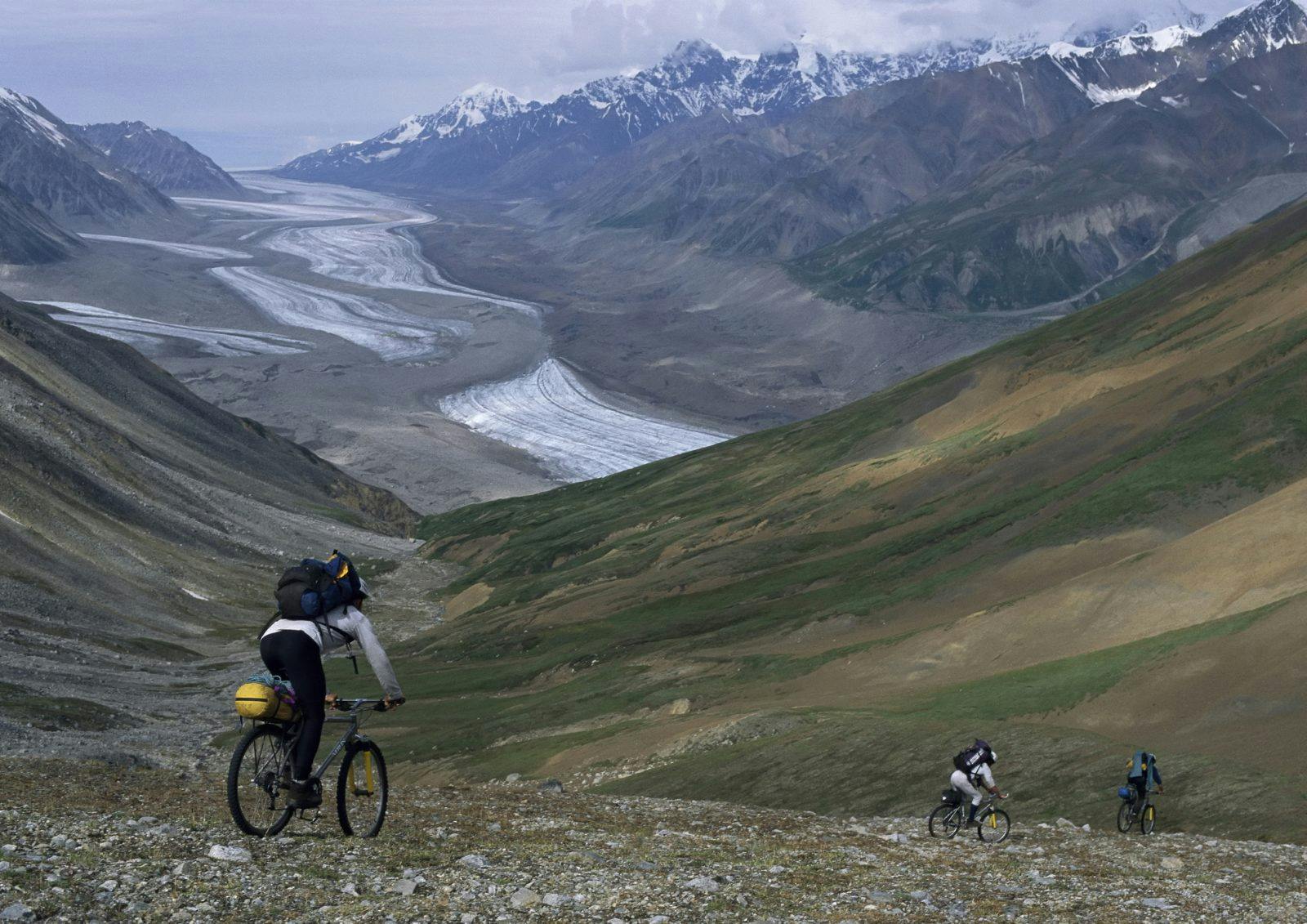 In the early 1990s, multi-sport adventurers and brothers Steve and (now deceased) Rocky Reifenstuhl started experimenting with bikes and boats, specifically during the Wilderness Classics and while on traverses of the Alaska landscape. (I couldn't find much on their adventures with packrafts, so that's a hole to be filled in future articles).
~The Anchorage Daily News, September 2016
As well, Roman Dial added a longer list of partners to his adventures—Yod Branch, Steve Garro, Bill Hatcher, Paul Adkins, Andrew Liske, Mark Stoppel. With various combinations of these partners, Dial did a 200-mile Brooks Range trip from the Arctic Ocean at Kaktovik to Alaska's interior at Arctic Village, "with two bikes, paddling salt water lagoons, crossing rivers and floating 50 miles down the Chandalar River" (1990); a 150-mile Kenai Peninsula trip, with 90 miles of single track, a 90-mile hike-a-bike across the Harding Ice Field, with a 30-mile float down the Fox River, and 30-mile road ride to Home (1995); and various other trips in Alaska and the Southwest.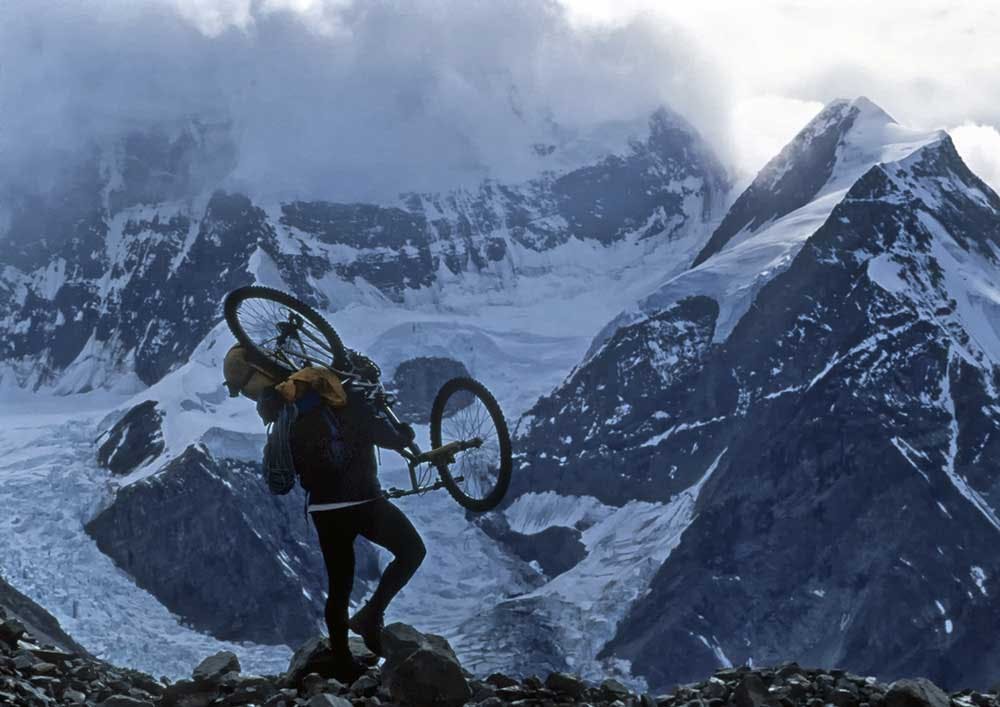 In 1996, all these trips culminated in what many might consider one of Dial's crowning achievements—an 800-mile mountain bike traverse of the Alaska Range that took seven weeks, on which they utilized bikes and packrafts.
"We're 11 days into a seven-week bike trip from one end of the Alaska Range to the other, a journey no one has ever made before. Stretching more than 700 miles from the Yukon border in the east to the base of the Aleutian Range in the west, the mountains span a wilderness of boulders, brush, and belly-deep bogs that would be a chore to traverse by foot or mountain bike, were it not for the game trails, gravel bars, and glaciers that crisscross the landscape…"~Roman Dial "Biking Across the Alaska Range: A Wild Ride," May 1997 National Geographic
And though they were able to ford some of the creeks and rivers by foot, across others they were forced to strap their bikes to rafts and run the whitewater. What it came down to for Dial was that he liked riding bikes and boating, and he really liked wild landscapes, so why not put them all together? "Hiking is so straight-forward," he writes (January 2018 Interview). "But riding a bike through wilderness requires a lot more skill and experience and decision making. And if you're in wilderness there'll be big rivers or bays to cross without bridges, and so you'll need a raft and if you have partners why not have them bring a raft, too?"
Late 1990s-2000s: Proof of Concept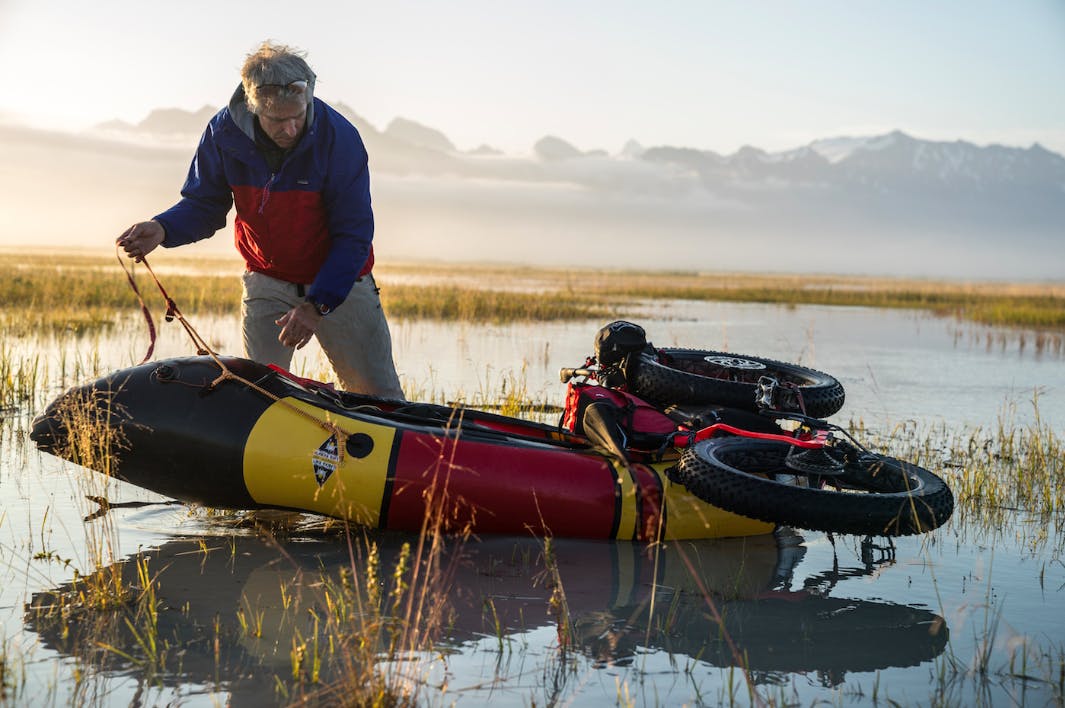 "Advancements in boats and bikes and other technical gear has allowed those things to be combined more safely and easily, due to the functionality of the bikes and the lightweight durability of the boats these days. The first time someone threw a bike on a boat, it probably didn't go that well. The boats weren't up for it. Now the technology makes these trips possible and safer. And the general public is also more in tune that these things are possible. In 2000 there were three Alpacka Raft packrafts in the world, and now there are thousands."~Steve "Doom" Fassbinder, Interview, March 2018
In the late 1990s, a handful of younger multi-sport adventures, aware of Roman Dial's bike and raft adventures and with extensive backgrounds in long-distance mountain bike racing and/or rugged backcountry bikepacking, started testing the waters using Alpacka rafts; Steve Fassbinder, Erik Parsons (Revelate Designs owner), Dylan Kentsch, Bjorn Olson, and Lacemine 29 Owner Mike Curiak all began lashing bikes onto boats.
For Fassbinder, Roman Dial's trips were "proof of concept"—they showed people could do these huge traverses once done only on foot or by ski, now with bikes and boats. Of course, he adds, "Alpacka packrafts didn't exist back then, and the boats they were using were horrible and just barely got by. They'd have to be repaired every day of use. They'd put five pounds of tape on the rafts each time they used them. When real boats—Alpacka rafts—existed 15, 20 years later, that was proof of concept that the materials worked. It was so much more realistic and less dicey; you could still make a trip risky, but it wouldn't be dangerous because your equipment fails on you…"
List of published articles or forum discussions about packrafts and bikes