Stories From a Cold-Weather Packrafter (Maybe?)
Katie Grauel reflects on her very cold trip to the Gates of Lodore on the Green River and whether or not she'll ever packraft in winter conditions again. Story and photos courtesy of Katie.
I only embark on river expeditions once my chances of getting hypothermia far outweigh my chances of getting heatstroke. At least this seems to be the trend of my overnight river experience so far: kayaking in January in Arkansas and New Mexico, kayaking and packrafting in Utah in November and February, and rafting the Grand Canyon also in November. And now this, the trip that may have broken my willingness to accept another November trip date: the Gates of Lodore section of the Green River in mid-November.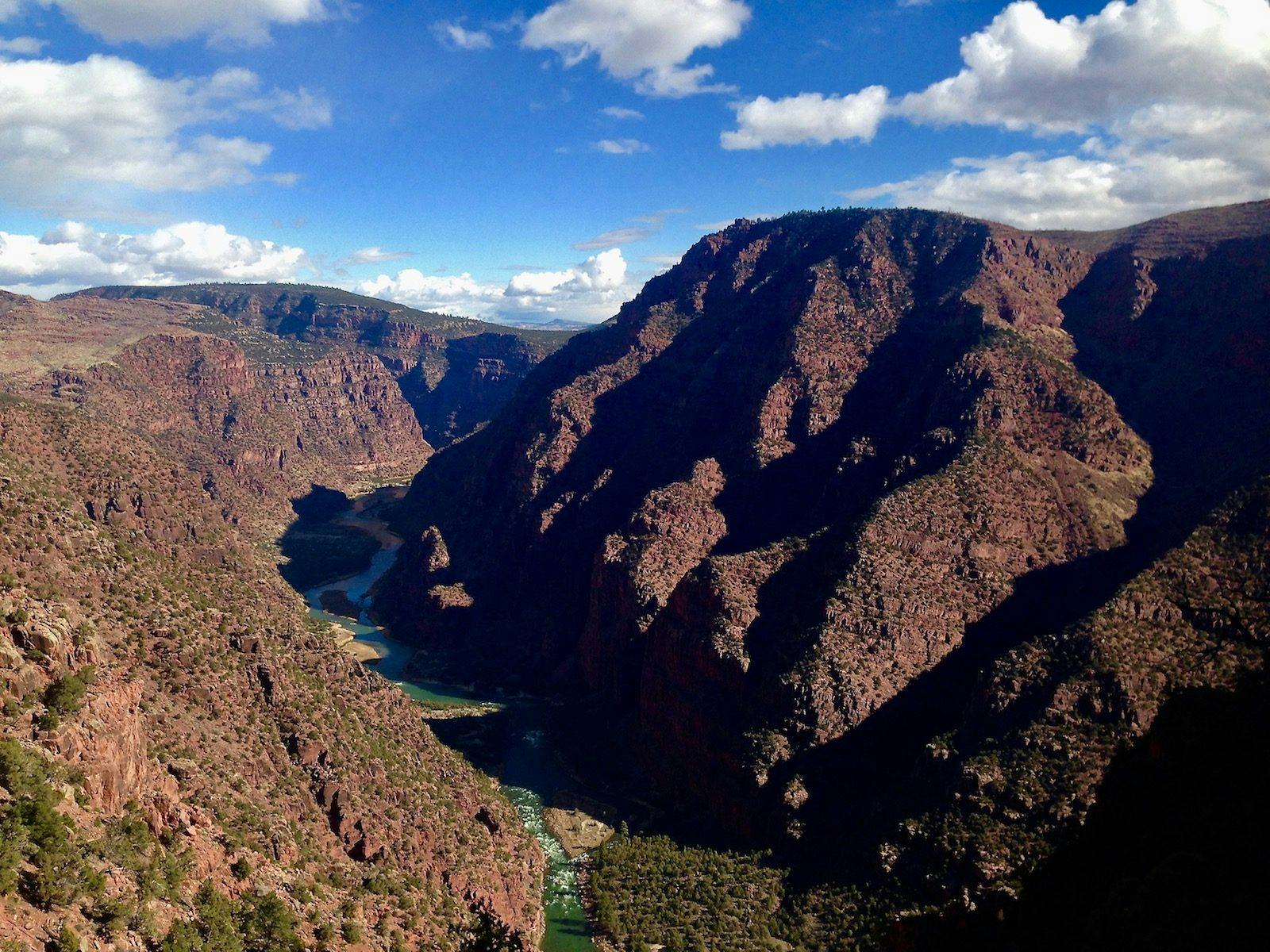 I jumped on a permit acquired by my co-worker and packraft buddy Nick, set to depart on November 6th, election day. Meeting a group of mostly strangers-soon-to-be-friends in the dark at a boat ramp was eerily reminiscent of my last big river expedition down the Grand Canyon on the eve 2016 presidential election.
I felt the same sense of anticipation of results withheld as I did in 2016, but with less dread, as the preliminary results looked far more hopeful before cell service was lost. I couldn't help but think of the past political battles fought to preserve this small section of land and river as we floated down over the next six days.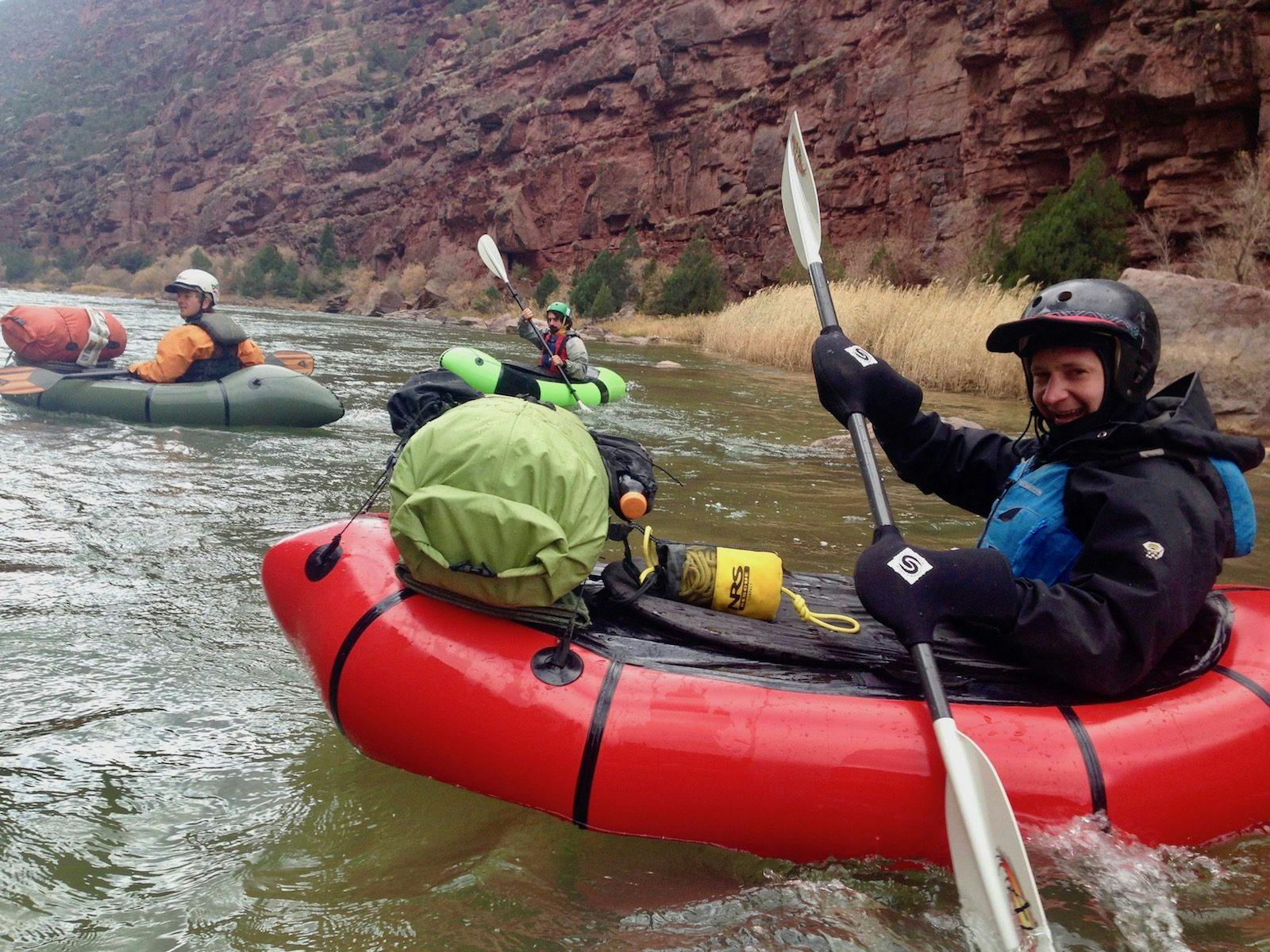 The First Day – OK
There were nine of us, seven in packrafts and two on a 14-foot oar-rig, a posse of brightly multi-colored specks floating lazily on the river so aptly named, the Green. The towering canyon walls of Uinta sandstone quickly swallowed even the mid-day sun, making the high temperatures of low to mid-40s feel much colder.
That first day we ran several Class III rapids, all fun and semi-technical with the lower flow water of 2700 CFS. Our first campsite only seven miles in offered us home in a grassy meadow under oak trees for the first two nights.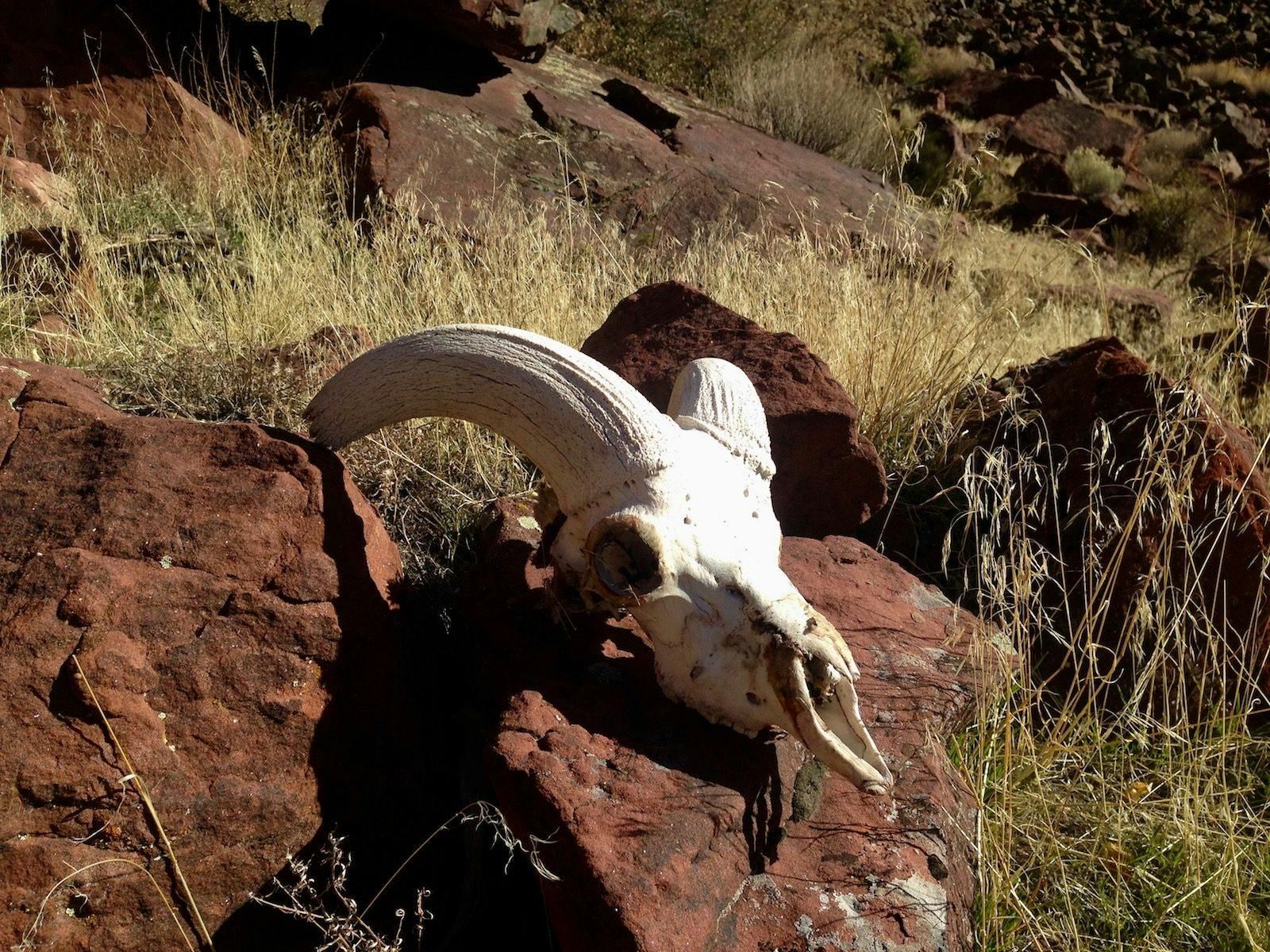 On our layover day we explored a side canyon, reaching a small summit of the canyon wall. We sighted our first bighorn sheep, although this one happened to be past desiccation, its curling horns and skull bleached white from the sun.
We received enough sunlight that day to both thaw and dry our gear. This was essential as the majority of us were wearing a combination of neoprene wetsuits and dry tops or splash jackets, which proved to be survivable if not comfortable warmth management.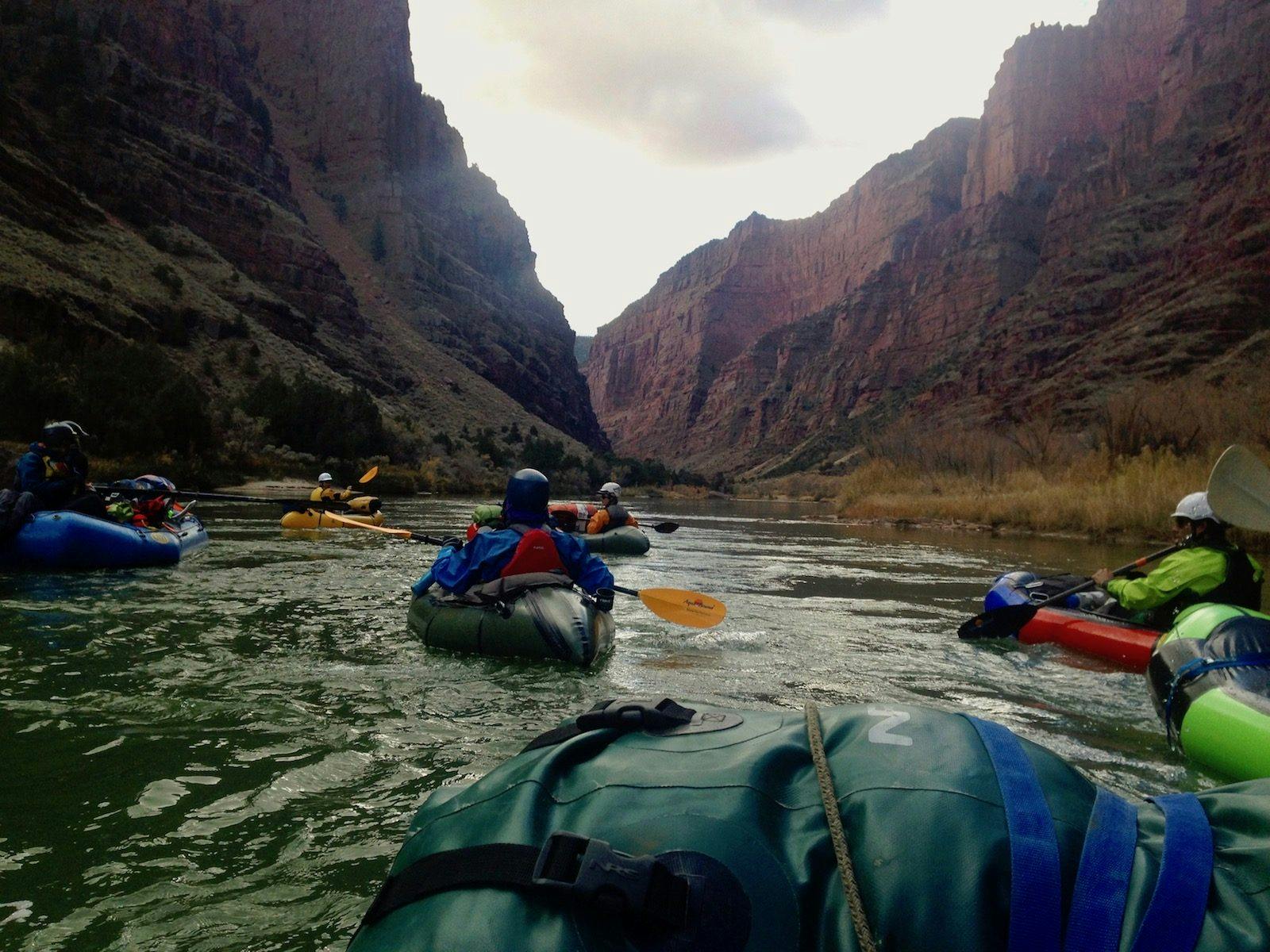 Day 2 – Not So Warm
Our next day on the river was the most technical, including several Class III and the only class IV rapid of our trip, called Hell's Half-Mile. Things did not go as smoothly as they had on the first day. In one of the Class III rapids, Jack broke his paddle just as he entered the first tongue of the rapid. He managed amazingly to stay upright, and we splinted the paddle with a combination of sticks and duct tape. 
When we stopped to scout Hell's Half-Mile, my hands chilled from barely-functioning to completely numb while we scrambled on rocks to get a better view of the obstacle course that lay ahead. The numbness in my hands did not help my dexterity in negotiating the rapid and maintaining my paddle or boat in an effective orientation.
I flipped just before a rock named Lucifer, where the current split in two. I pulled my skirt, kicked off my shoe and dropped my paddle as I tumbled underwater, managing at least to orient my feet downstream. I couldn't find my boat when I finally popped up. Fortunately, Nick paddled towards me and I caught onto his boat. We paddled and kicked our way to shallow waters where we could both stand and walk our way to an island. There I reunited miraculously with my boat, paddle and shoe, which had all been collected by others who previously run the rapid.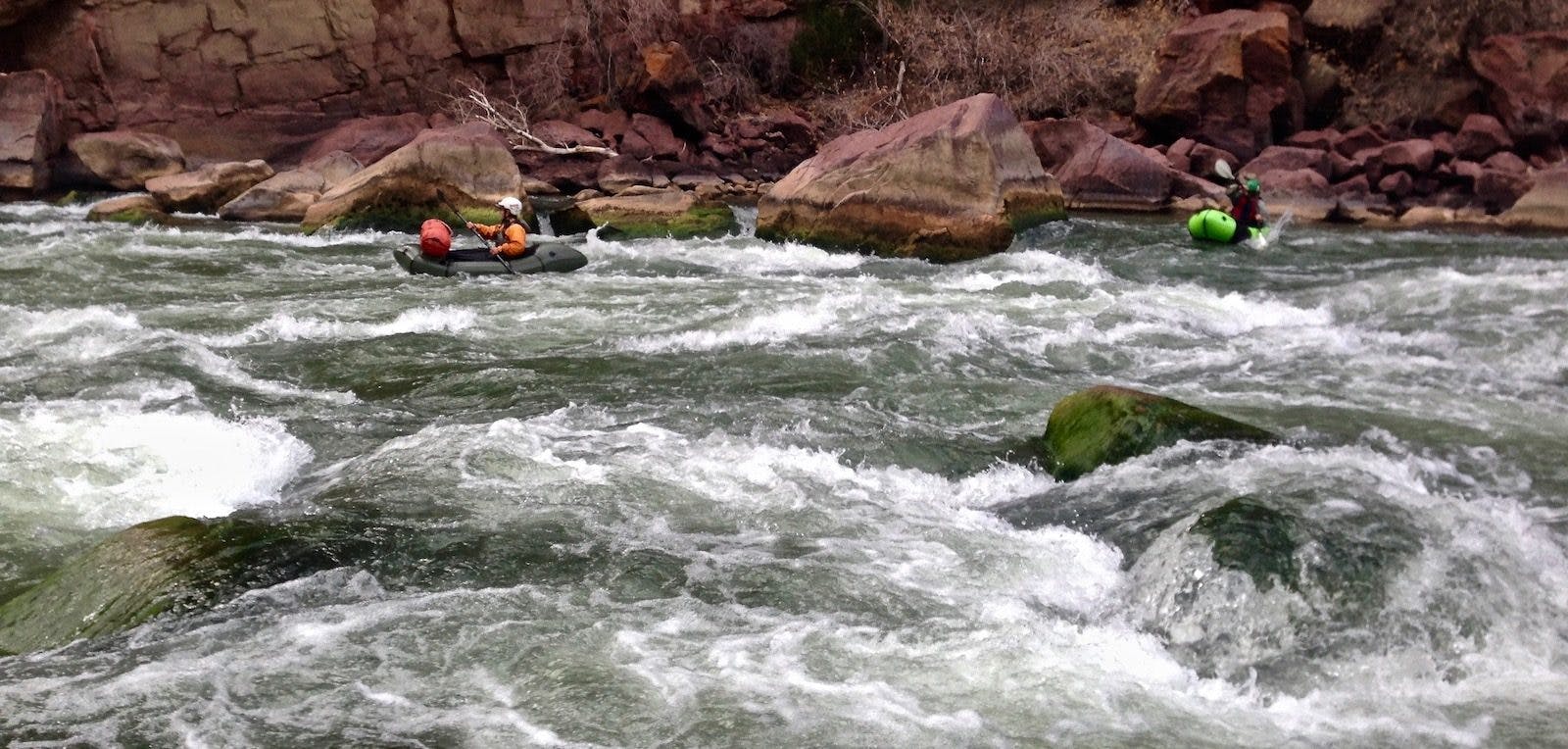 Unsurprisingly, I was shaking violently after the long swim, a combination of cold and adrenaline. Hank and I continued downstream to a spot of sunlight on the bank. He lent me a couple of dry layers on top of his dry bag as I stripped off my soaking dry jacket, wetsuit, and fleece.
The sun disappeared just as the rest of the crew congregated. Noel and I swapped boats and I jumped on the oar rig to warm up rowing with a little more distance between myself and the surface of the water. I was struck by the kindness and help from the entire group after a swim that shook my confidence. The questions: "Had I overestimated my ability?" "Was I the weakest link?" crossed my mind in the next couple miles. Also, why was I on a f***ing river when it was so damn cold?
Unfortunately our campsite was already in the shadow of the canyon rim by the time we arrived, which meant that all my soaking attire froze almost the instant it left the meager warmth of my body. I crashed hard that night, feeling my leadened body melt into my delightfully warm -20 degree sleeping bag.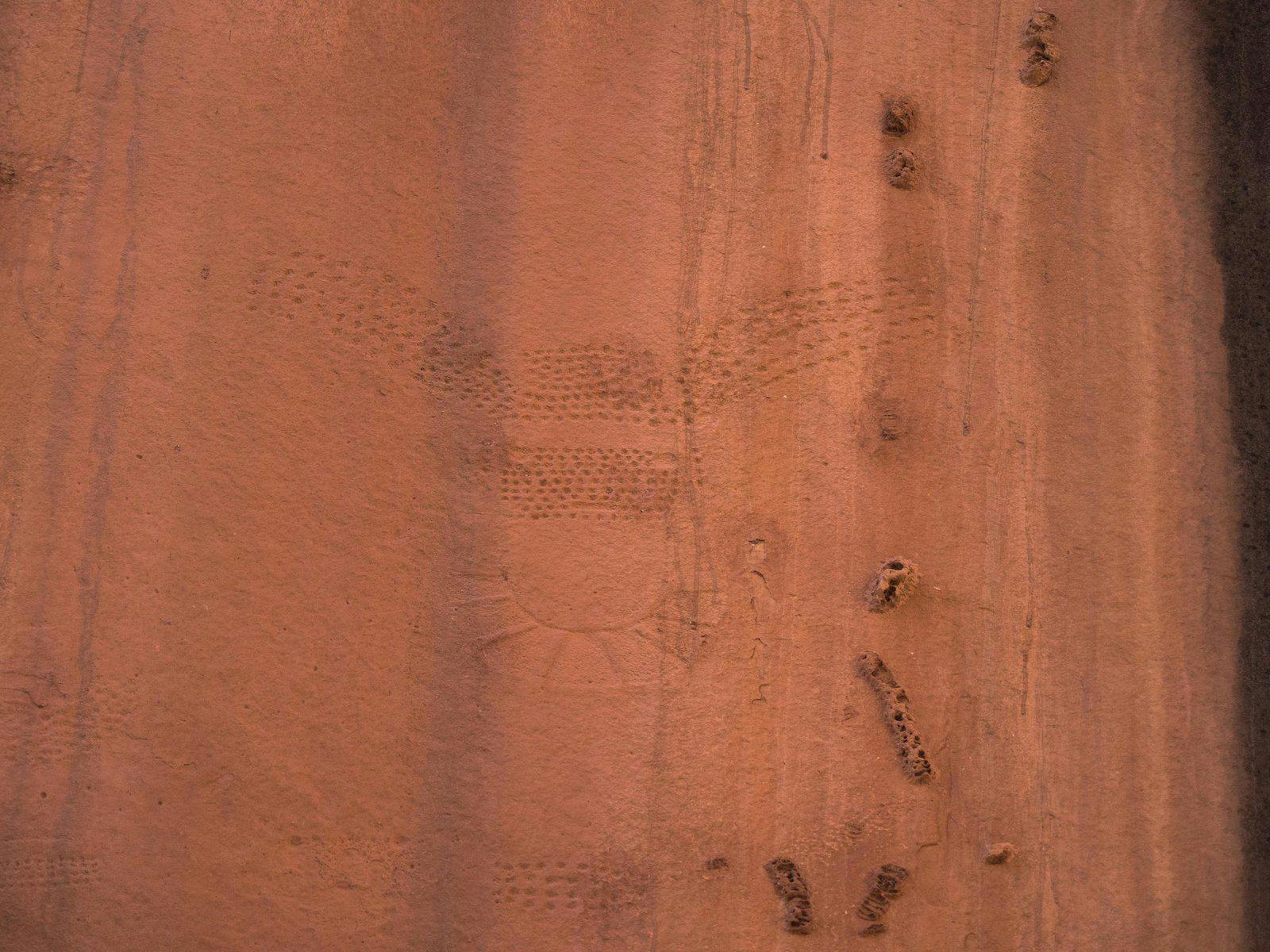 Day 3 – Reflecting on Petroglyphs, History, & Conservation (& not so cold)
The next day we floated to Echo Park, just below the confluence with the Yampa. A family of deer grazed unconcernedly in the open meadow as we walked past on the road. This road no doubt had been laid on top of a previous indigenous route out of the canyon. A little more than a mile up, it lead to a set of petroglyphs 35 feet up the canyon wall, different from any I'd seen before.
Just barely visible, the artists had stippled them into red sandstone instead of the dark varnished sections of rock. So, the patterns were only discernible with the faint shadows the shallow indents cast. The mere height this rock art existed above ground level attested to their age. Hundreds of years of flash floods had slowly eroding the ground below them.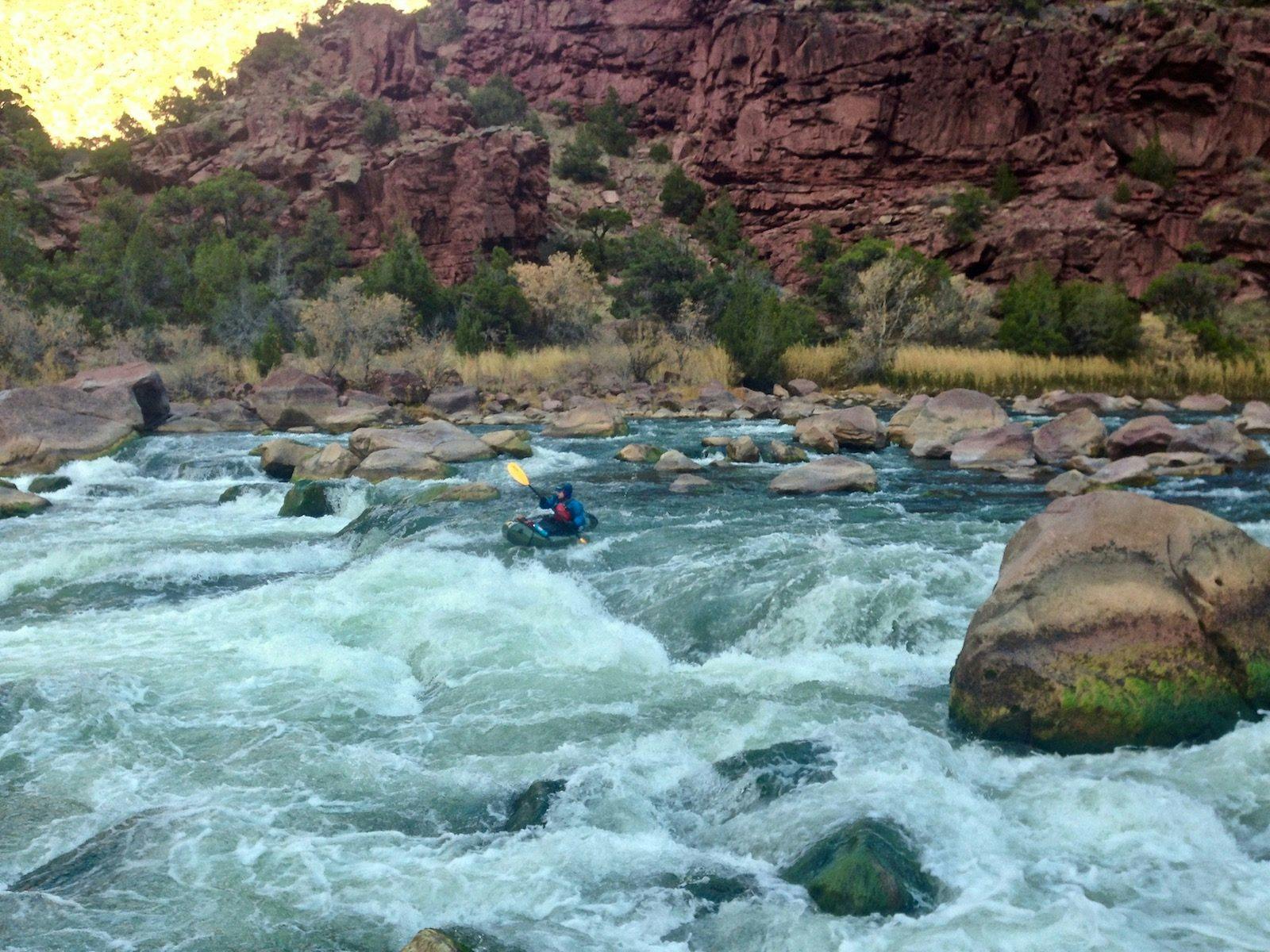 The leisurely pace of the morning was cranked up a notch once we realized the time (about 2p.m.) and that we had seven miles of flat water to paddle into a vicious headwind.
In those miles we also passed by the exploratory remnants of the Echo Park Dam, first proposed in 1949. Kevin Fedarko details the ensuing battle between Sierra Club president David Brower and the federal government in his book The Emerald Mile. This battle ultimately resulted in the Glen Canyon Dam. Passing by the site I felt a deep sadness as I pondered the hypothetical question: "Would I have traded destroying this place for the preservation of Glen Canyon?"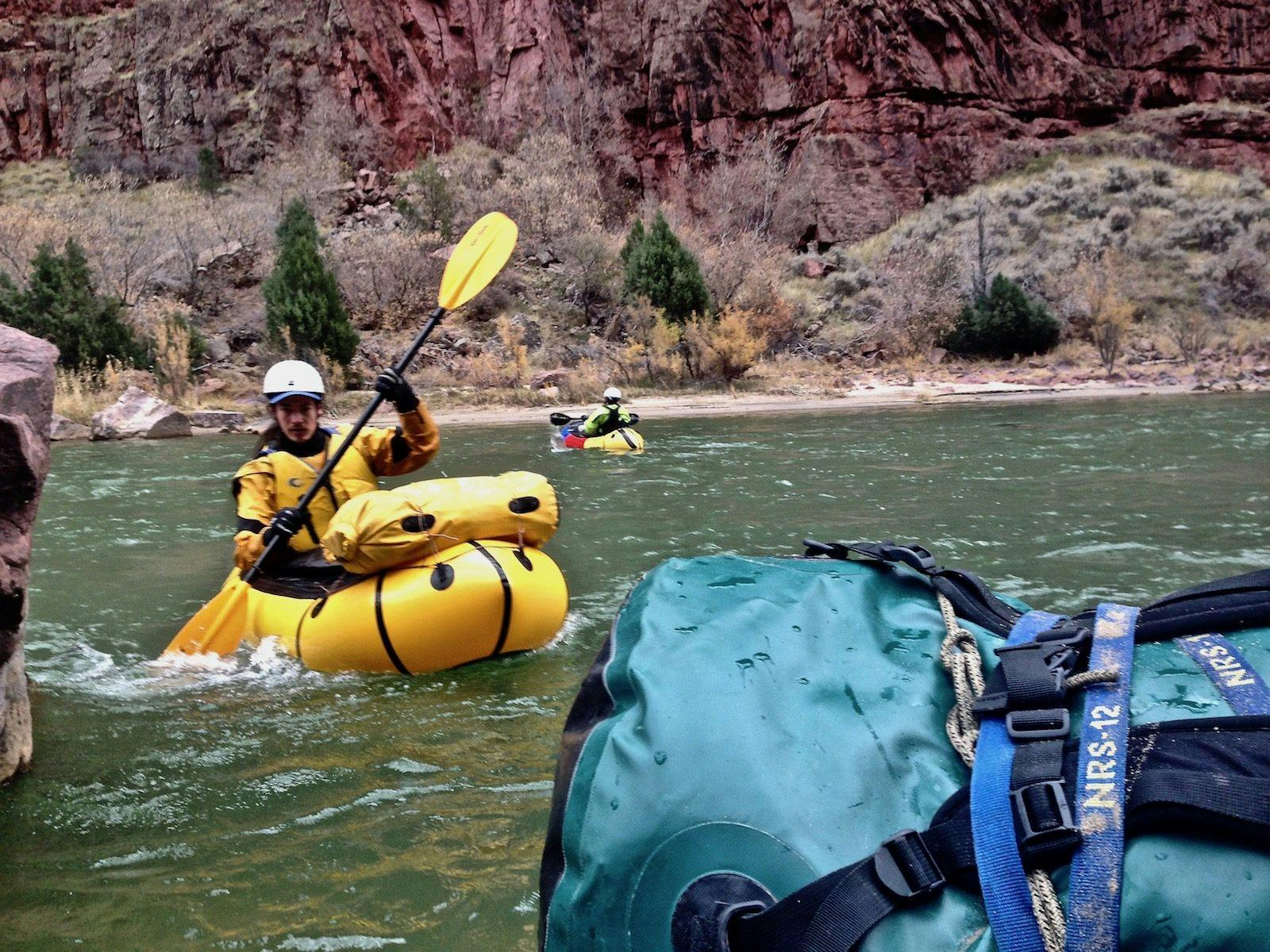 With the 20/20 hindsight from having spent time in the un-flooded tributaries to Glen Canyon, and the past few days experience through here, I must admit I would have flooded Echo Park. However, the mere premise of the choice angers me. What little understanding we humans have of the impact of our decisions. Even those who thought they were fighting for the planet caused more harm than they could have possibly conceived.
Still, it brought up yet another question, If we don't protest the degradation of the planet and give voice to the landscapes and silent residents thereof, who will? Even though we humans cannot foresee the full consequences of our actions, I fear even more the consequences of inaction and apathy.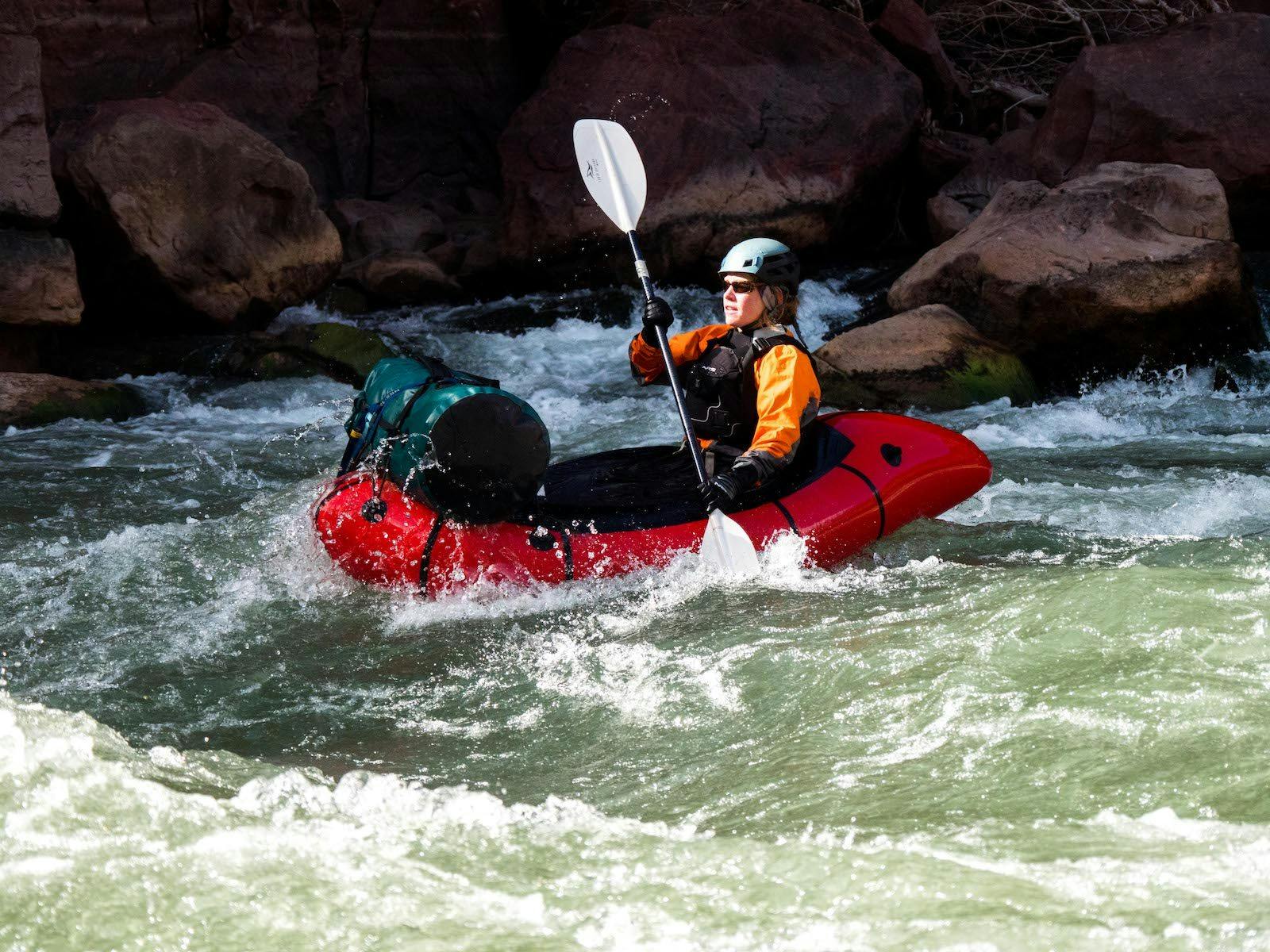 The Last Days – Finally Sun!
The next day we passed through the anticline, an arching rainbow of rock layers uplifted almost vertically and then cut in two by the river. This formation literally cemented the immense scale of the passage of time. Each layer we had passed through so far rose on display. Each told its own history, whether that be of indigenous people, or floods, or dinosaurs. One only had to look to see the evidence of each.
This day we celebrated our last full day on the river and our first day of making camp in the sun, and our first night of a campfire. Thanks to previous campers who left a bundle of wood by the metal ring! All together this led to high spirits and the latest night yet on the river. 
The final morning we embarked in record time. Eight miles of whitewater later we reached the takeout not long after our usual put-in time. The wind was fierce that day, blowing a mist of water off the surface of the river, which froze and stung before it hit your face. Drops of water that fell as I paddled froze instantly as they landed on my drybag and boat. The truck thermometer read 31 degrees. Excellent rafting weather.  
As we rode back in the relative comfort and warmth of the truck, I could not help but think back to the dam site, and wonder about the results of the election. At what cost was I enjoying the luxury of an internal combustion engine burning gasoline and producing enough heat to blow onto my face and still-numb fingertips? What natural and human resources had been exploited, plundered, and destroyed in order to afford me this comfort? Is it a fair trade? And if not, what was I willing to do about it?