August 15, 2018
Packraft Innovation: Sheri Tingey & A Brief History of the Cargo Fly
Alpacka Raft's Head Designer & Co-Founder, Sheri Tingey, on How, When, & Why She Figured Out How to Put Those Nifty Waterproof TIZIP® Zippers on All Packrafts & How That Packraft Innovation Changed the Game.
"It was 2004 or 2005, when I was on a trip to the Copper Canyon with Roman Dial and his son, Cody, Forrest McCarthy, and Cindy (a Jackson Hole Mountain Guide) that Forrest muttered something about how nice it would be to shove all your stuff inside the tubes instead of loading it on the top," says Sheri Tingey. "I was like, 'yeah right, Forrest.' But he put that pea in my brain… Could I pull it off? Could you get stuff inside the boat?"
Just one year later Tingey discovered air-tight zippers, and despite being "terrified" that the zipper might compromise the boat holding air, she tried putting one on the side of a boat. "I was thinking about doing a whole separate inside chamber," she says. "Then if you got a hole in the boat, you wouldn't compromise the zipper because it wouldn't compromise the main chamber."
But it didn't work.
She tried again in 2007, but, she says, "It didn't fly at all, so I shelved it. You know sometimes you try something, and you're just not ready."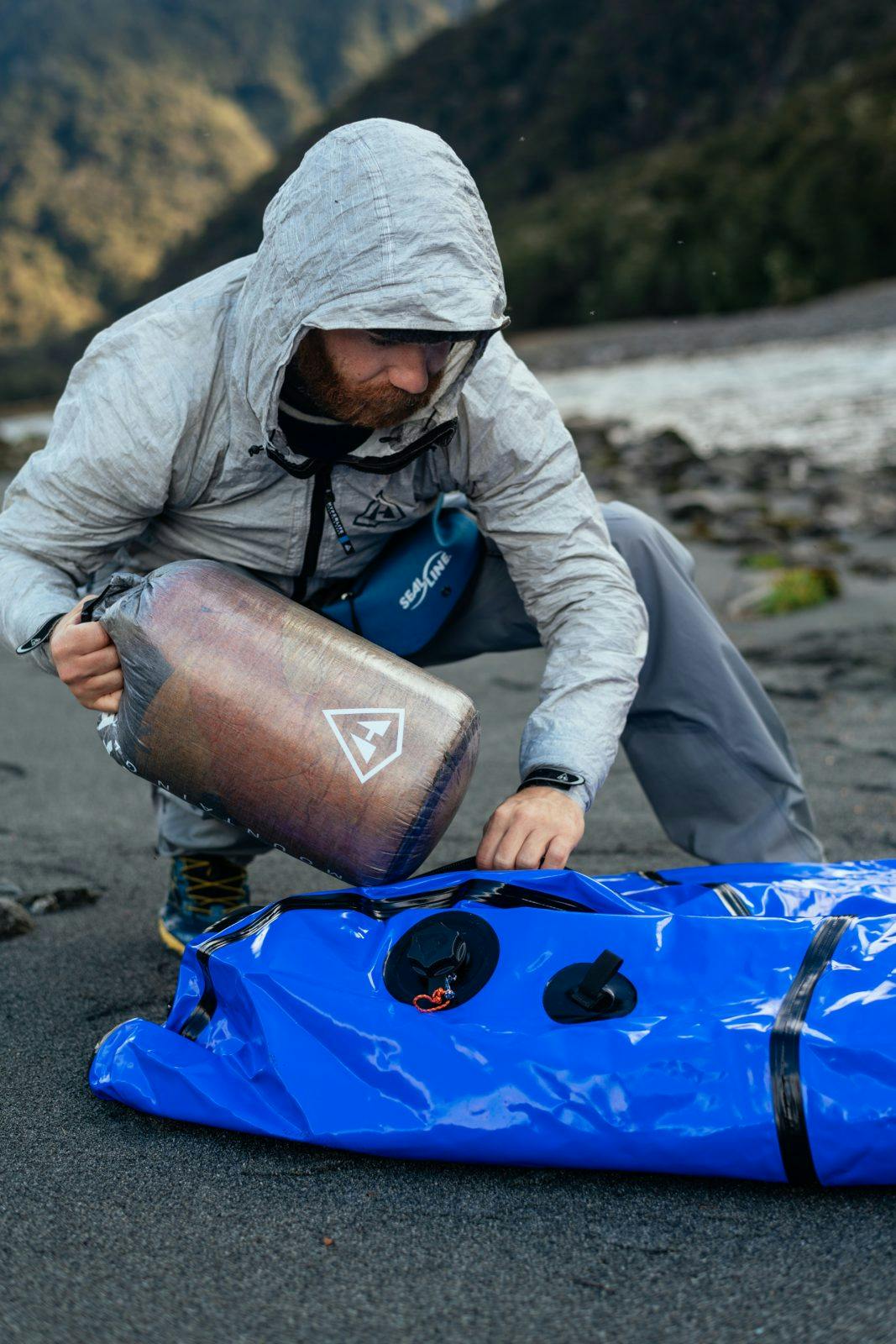 By 2012, technology had improved and Tingey decided to give it another go. The ability to store gear inside the tubes of the boat was just too tempting. She tried the chamber inside a chamber again, but that turned out to be too bulky.
"But by then we were working hard on the Alpackalypse, which had the new extended butt design," Tingey recalls. "And I realized there was finally a safe spot for the zipper. I didn't want it along the side of the boat because it gets in the way. But now that the butt was longer, I could put it there. So we threw a couple zippers on the stern of two boats, and Ben Phillips (Alpacka's Repairs Manager and a Class V boater) and I tried the boats on the San Juan River. We found out they were awesome!"
By January, Tingey had put them on numerous boats. "It was so mind boggling," she adds. "I didn't expect it to work, and I didn't realize how much better it would make the boat work. So we no longer had to put a big lump on top of our packrafts; we could put 30 to 40 pounds inside instead. The second we got in the boat, we realized that the boat also performed really well. We were both just looking at each other saying, 'wow, this really works!' In some ways it was the biggest jump we made in packraft innovation. It made these boats so much more streamlined."
"The cargo fly proved to be a big leap forward for the development of our whitewater series," Phillips adds. "Moving your pack off of the bow and integrating it into the tubes allowed us to make more difficult moves and consistently roll instead of swimming after each flip.   There's no doubt this waterproof TIZIP zipper helped push packrafting into more challenging whitewater. A trip that was once a real challenge in a packraft, such as a self supported trip through the Grand Canyon, now seems like a rather comfortable walk in the park."
Check out what happens when you open it while it's afloat 😂. And click here to see what folks were saying about this innovative addition to the packraft on forums back in 2012. Feature photo by Braden Gunem (don't try this at home).
Featured photo by Braden Gunem. Don't try this at home! 😉