The Packraft Trip to Quarantine
Prepping and packing our way to solitude.
Written By: Outdoor Adventure Ultra Athlete and Global Influencer,
Buck Macho (a.k.a. Jesse Angelo)
As it became clear that things were about to go a little sideways, my wife and I made the decision to make our way up to a small cabin we own in the mountains. Our cabin is local, close to home, has no people around, and we actually reside there more often than we do our in-town home, so we felt comfortable staying there during this pandemic.
We were pretty ready from the onset; I wouldn't have considered ourselves "preppers", but it turns out we were, in fact, pretty well-prepared. We watched, in awe, as people, who were clearly frazzled, stocked up on toilet paper and other non-essentials. Turns out wiping your butt is more important than, say, avoiding crowds of toilet paper hoarders at the local supermarket; but such is the state of the American intellect. 

The approach to the cabin is short; there's a public parking area where the road ends, and from here, it's a short ski to the cabin. 

Now, usually, we load up a few 60 liter CiloGear packs with supplies and, usually, that's sufficient. But considering the impending collapse of Western Civilization, we had more supplies than usual.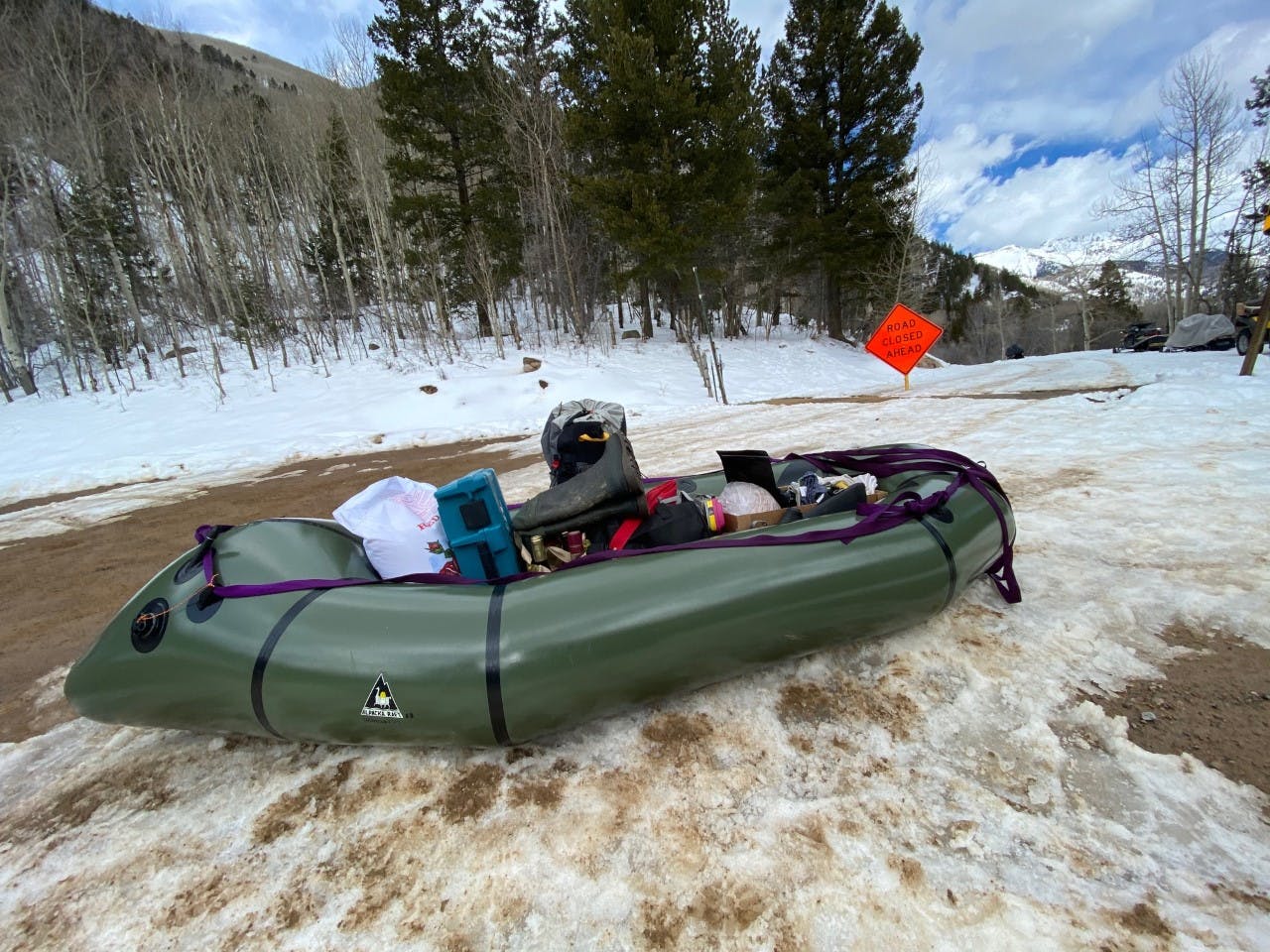 I went into our gear shed and stared at the collection of Alpacka Raft's we'd accumulated. An old Denali Llama, which was a wedding gift from my parents, who obviously have excellent taste in wedding presents; a prototype Wolverine that doesn't (yet) have a whitewater deck, thigh straps, or any other whitewater accoutrements; a Gnarwhal self-bailer (which was won at the Mancos River Valley Film Festival's silent auction, and recently went down the Grand Canyon, piloted by local artist Jean Belay); a custom whitewater packraft originally designed for Jenny Curiak, which ended up in my wife's possession, and fits her like a glove; and finally, an open deck oar boat prototype, a packraft that never made it to market.
I'd seen people use their packrafts to haul gear on long trips. None of these packrafts were going to be seeing water anytime soon, and they looked lonely. Especially the poor, abandoned oar boat. I figured it had found its calling. 
I inflated the boat, rigged some webbing for hauling from my pack's waist belt, and headed to the car, where a few hundred pounds of toilet paper, hand sanitizer, and Lysol-brand disinfectant spray awaited. I was told toilet paper has calories, that hand sanitizer's alcohol content would get you buzzed, and that inhaling Lysol kills the virus in your upper AND lower respiratory tract while providing a pleasant (and safe!) high. Seems legit to me (DO NOT TRY THIS AT HOME OR EVER!!!). I went to the grocery store and maxed out my credit card on these crucial essentials. 
Raw Survival. This is it. 
In reality, our Alpacka, in two trips, carried the following: 50 lbs of dried beans from Adobe Milling, 50 lbs of brown rice (from Zuma Natural Foods in Mancos), 25lbs of deer and pig meat, multiple six-packs of Fenceline Cider, bottles of wine from our good friend Drake Whitcraft in Santa Barbara, 6 dozen Mancos farm eggs, raw milk from Cortez, sourdough bread baked by Sarah Tingey (her maternity leave has worked out well for us); potatoes, onions, garlic, etc., and a whole bunch of other random things, like my drill and impact driver.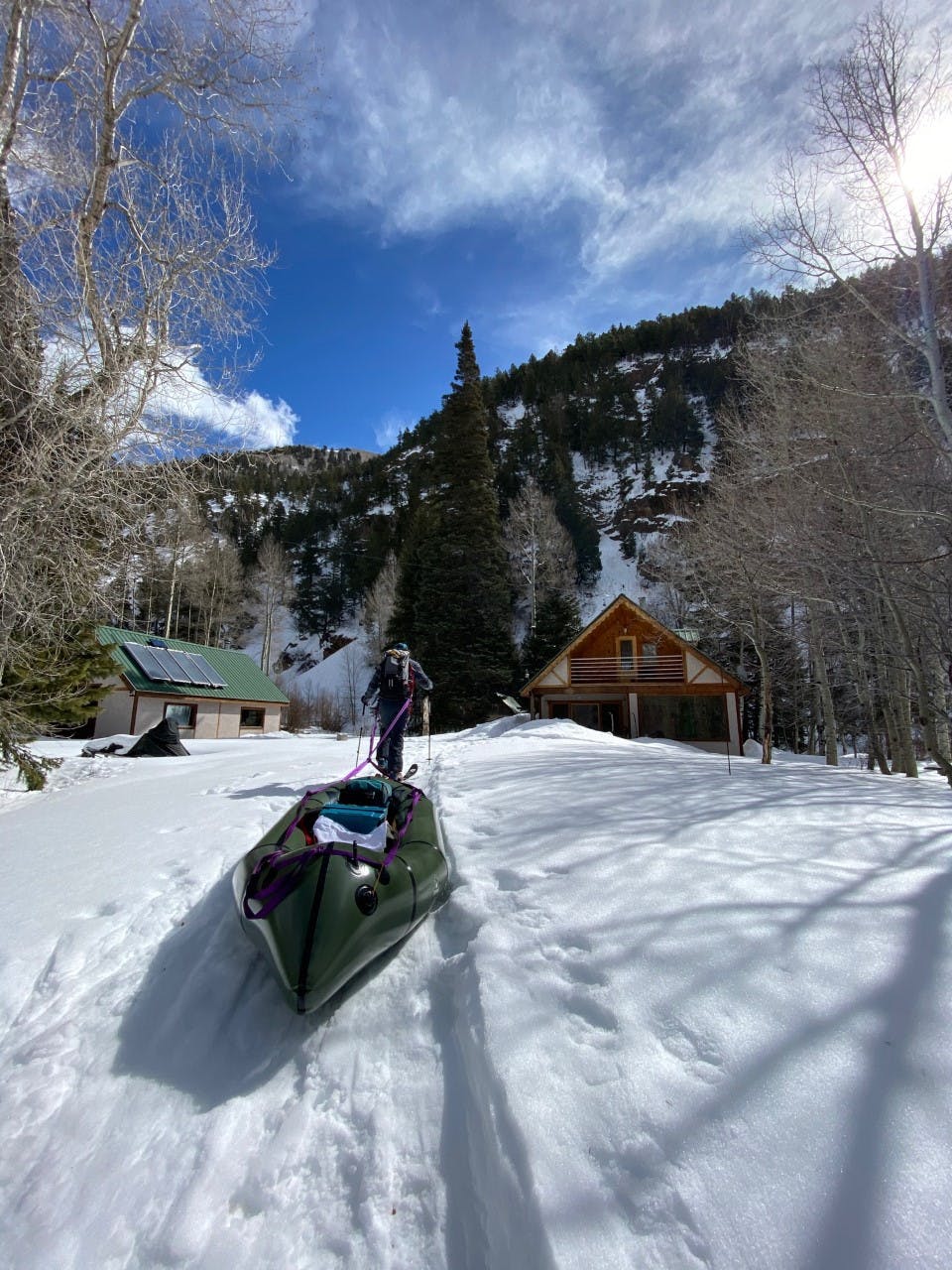 Life in quarantine at the cabin has been, well, pretty much the same as life at the cabin when not quarantined. I've made it a personal goal to listen to my wife's entire record collection, and have been reading a lot more than usual. Our dogs don't seem to know anything is different. They're lucky. But then again, so are we. 

We've been going skiing from the cabin, keeping it safe. The metal-edge touring skis are seeing unprecedented use, and the Voile 75mm 3-Pin is feeling vindicated. It's been wonderful running into some of the regulars – they're all staying healthy. Some of them have been living up there since before I was born. They're legends – I admire them. 
Recently, Colorado's governor has issued a "stay-at-home" order. It has been interesting seeing how many people (re: backcountry skiers and snowmobilers) don't seem to be taking this seriously. I'm not suggesting that people stop recreating in the backcountry; I think each individual needs to asses risks and make their own decisions, and I think we all know how important spending time in nature is. I think it could effectively be argued that driving to the trailhead is more dangerous than making ski turns. 
However, a packed trailhead, with people making no effort at "social distancing", is disappointing. Over the last few weeks, I've watched dozens of cars pull up, packed with backcountry skiers, using the pandemic as their vacation time. I get it.  But I also don't. There's an element of selfishness and vapidity amongst a growing segment of "outdoor athletes" that I haven't experienced since Hollywood, CA, circa 2005.  This shallowness is really rearing it's ugly head in the face of a global health crisis. Get outside, go skiing, and enjoy our public lands. It's as crucial now as ever. But please, at least make an attempt at social responsibility. Now probably isn't the time for you and a dozen of your friends to carpool to the trailhead. The intake snorkel and rooftop tent/campsite/shovel/gas can/garden rake on your Toyota Tacoma won't do you much good if your lungs end up wrecked (But, then, maybe you can put a positive and/or inspirational spin on it and get a few more Instagram followers?) 
Then again, what do I know? I was, after all, asked to leave (aka kicked out of) the Catholic high school I attended for "unsatisfactory performance."  I was infinitely more interested in digging at my local trails, which is where I met my long-time friend Ty H., who eventually introduced me to the Alpacka Raft crew. It was also the wicked web that bikes weaved which led me to many of my closest friends, and eventually, my wife. Can't say I regret prioritizing bikes…

I'm starting to ramble…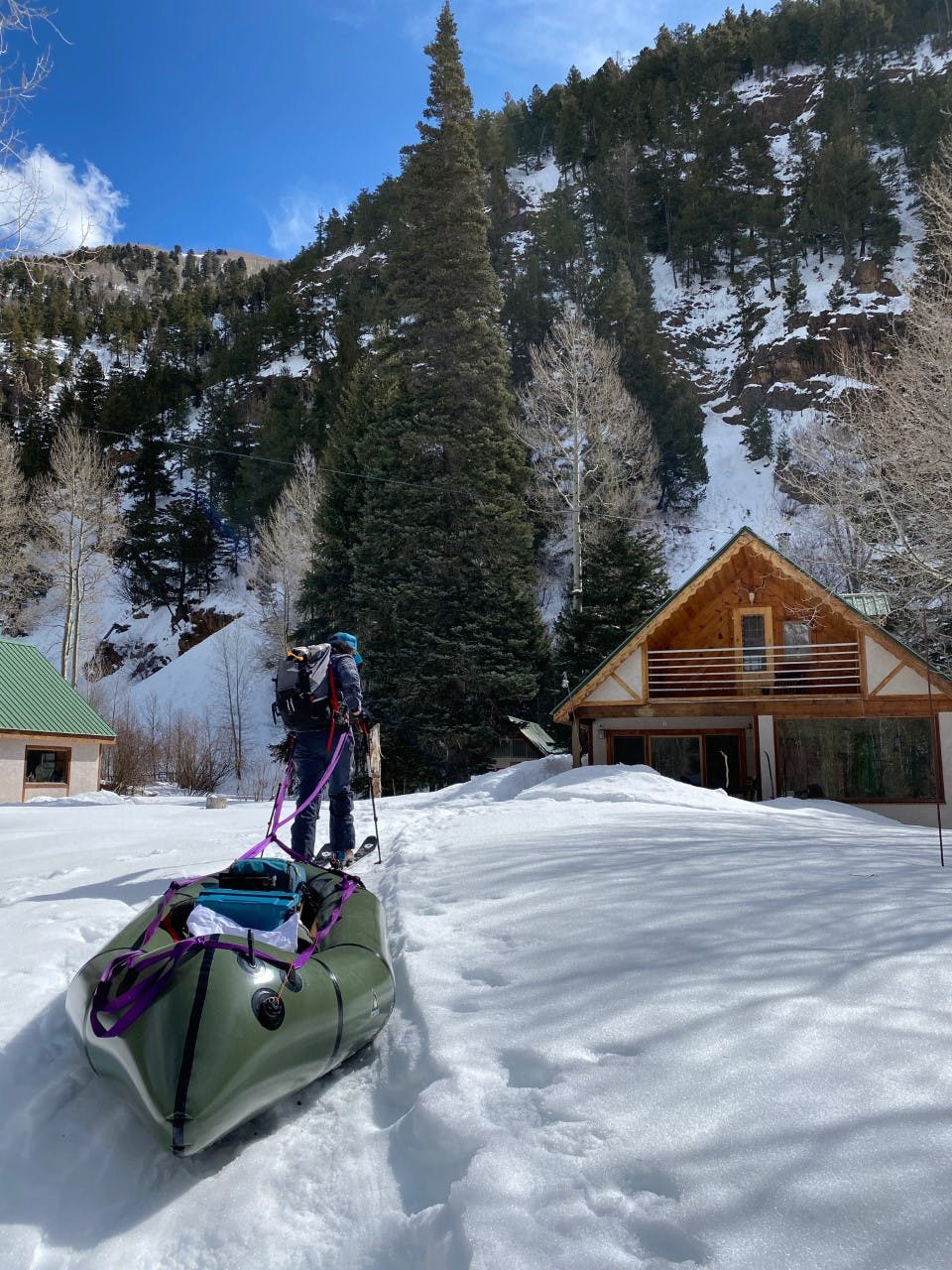 Meanwhile, the Alpacka Raft sits outside the cabin, partially inflated, anxiously awaiting another opportunity to shuttle gear from the trailhead. I can assume that, these days, it's a happy boat. Just last year, it was the result of an abandoned project at Alpacka, sitting around at their annual sidewalk sale, unloved and passed-over by shoppers. 

Unwanted. Uncool. 

But now, as it gracefully (well, relatively gracefully) slides over the snow, hauling essential supplies to our cabin, it has purpose. It basks in the sunshine while it's "cooler" siblings sit in the shed, unused. 

Right now, in the Mancos River valley,  Alpacka Raft is still providing work to a lot of people; many of whom are my friends. In fact, they're some of my only friends who still have a steady job right now. I'm grateful for all of the companies who are committed to domestic manufacturing, and times like this seem to be proof that companies like Alpacka Raft (and so many others) should be a model for how we move forward when the dust settles.