October 17, 2018
Perfectly Packable. Easily Storable - Urban Packraft Adventure w/ Jacob Kastrup Haagensen
 Advice & Stories From One of Europe's Most Prolific Urban Packrafters
If you don't live in the wilderness, but want to bring some adventure into your urban life, there's a solution. Packrafts.
Jacob Kastrup Haagensen (aka @UrbanPackrafter) bought his first packraft where he was born and raised in Copenhagen, Denmark.  Like most people, he didn't live close to any wilderness areas, but he still loved adventuring in his own back yard. So, it was only natural for him to explore the local harbors and lakes in his urban environment. And, he found no better way to do it than by packraft.
His first urban packraft adventures took him to various tourist attractions in the city. He paddled by Nyhavn, a 17th-century waterfront, canal, and entertainment district. And that inspired him to start taking his boat with him on all city holidays from Stockholm to Gothenburg to Venice.
"Venice was a perfect place to use packrafting," Haagensen says. "My girlfriend was going to Italy for a conference, and we flew in with an Explorer 42 in my luggage. We only spent one night in Venice, but most of the second day we paddled around the channels in the northern part of the cities. It was bliss, and we learned that gondolas had left handed traffic."
Though he's since moved to Sweden, where he has much more access to and immensely enjoys exploring both more rural and wilder environments, he's sticking with his Instagram name for now. We had the chance to ask Haagensen some questions about his urban packraft exploits.
Alpacka Raft
Jacob Kastrup Haagensen: My approach towards urban planning is interdisciplinary, as my education is a mix of sociology and geography. And I have worked with city administrations on many different types of project, including maintenance and littering, graffiti and street art, developing public toilets, promoting social efforts to revitalize social housing, and engaging citizens to do more hard core urban planning with zoning and develop of new housing areas. I'm interested in urban life, livability, and social cohesion in cities.

JKH: I've tried to be a proponent for recreation in urban environments as much as possible. I worked with volunteers and communities so people could contribute and have influence over their own neighborhoods, such as through urban farming, allowing street art, and helping with clean ups. I had a partnership with a kayak rental company that wanted to arrange clean ups in the harbor and remove trash in the water. Combining work and paddling was bliss. The clean up of the harbor is still an ongoing project, and it makes me glad to see so many citizens contributing to projects like this.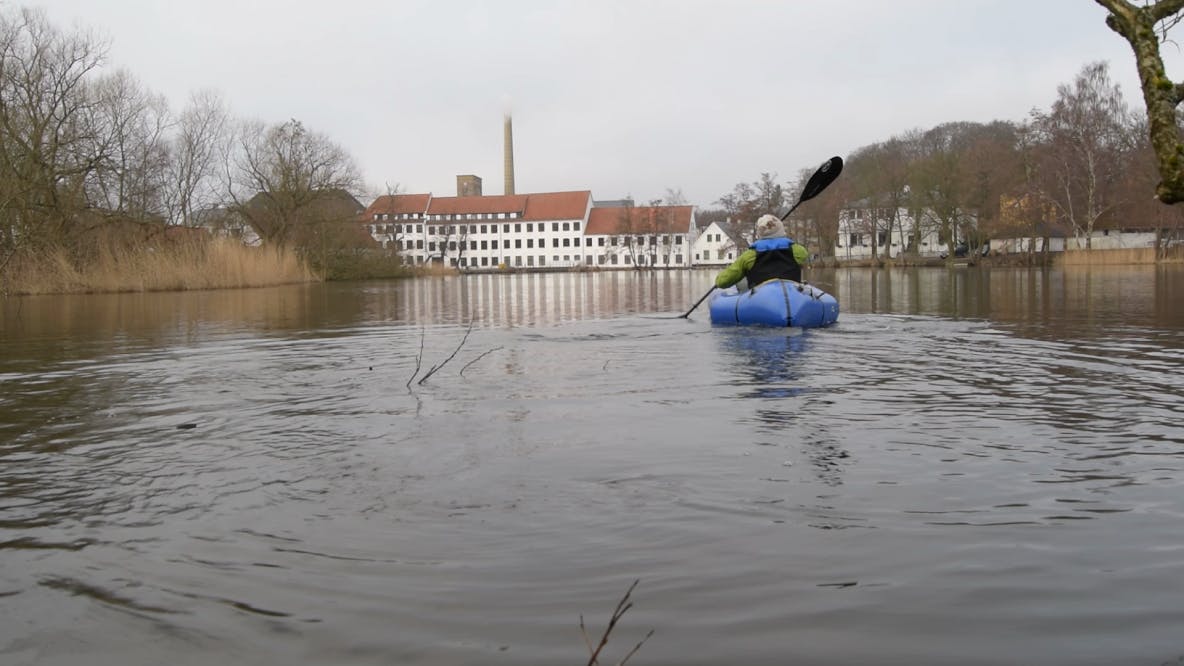 AR: Did your work in urban development inspire you to packraft?
JKH: I mostly wanted to packraft because of my love for outdoor activities, as I've been hiking since I was six. But my interest in cities and the need for using them for recreational purposes did influence my urban packrafting endeavors.
AR: What appeals to you about exploring urban landscapes?
JKH: I really enjoy exploring from a "odd angle" and using the environment in a way it's not usually used. It's a new angle to experience cities and hence a whole different perspective.
Also, cities can be quite crowded, noisy, and stressful. But while in a packraft on an urban lake, canal, or harbor it's just the opposite. It's peaceful and recreational, even when you're only 50 meters away from a crowded street.
For example, we have this strange tradition in Denmark whereby we celebrate midsummer eve (aka. St. John's Eve) by burning these huge bonfires that have a papier mache witch on the top. Someone gives a speech, and there's a singalong of an old national romantic song. One of those bonfires was on a lake pretty close to where I lived in Copenhagen, so I biked down with my packraft. The event was crowded, but out on the lake there was only me, a couple of these hired plastic swan pedal boats, and the guys lighting the bonfire. As the sun set, the sky turned red and purple. I enjoyed the fire and tranquility in one of the most densely populated areas in Copenhagen.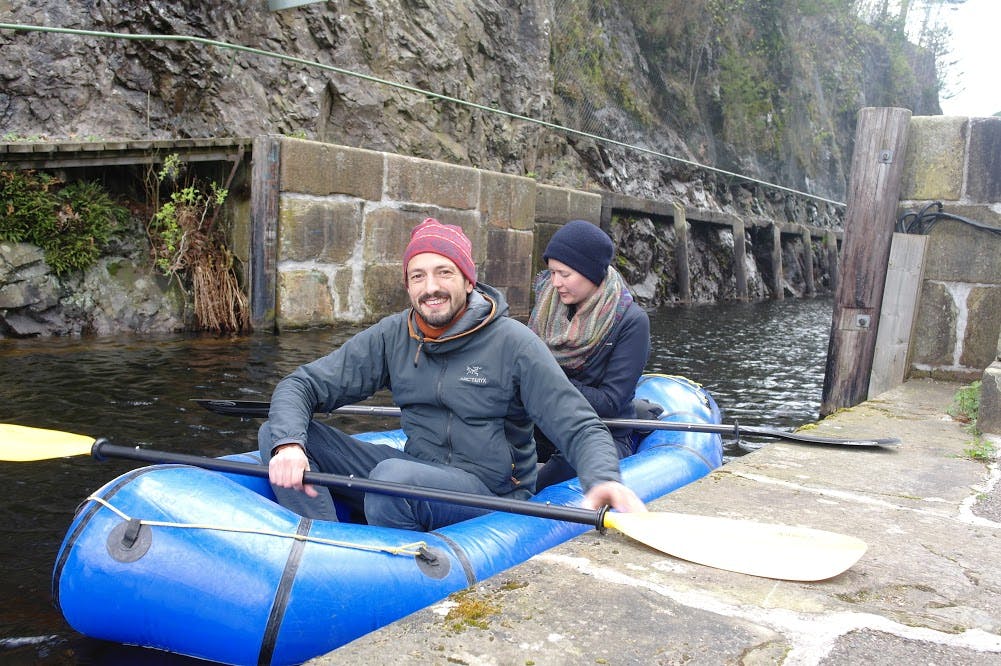 JKH: The water is much cleaner in the wild, at least when it comes to urban lakes and rivers. Although the sea, at least in places like Copenhagen and Stockholm, is normally pretty clean. I have primarily done one-day micro adventures in urban environments, rather than the multi-day trips I do in the wilderness. And finally, you're never alone in the city. You have to get used to people looking at you.
I remember the first time I took my packraft out in the harbor of Copenhagen. I found a quiet place, but then a couple of women from of a kayak club showed up and were practicing their Eskimo rolls. They gave me this weird look, asking: "What are you doing in a little red dingey?!" I also remember packrafting in Venice where a tourist approach us and wanted to hire our packraft. It tempted us, but we didn't have the time for waiting.
AR:What do you love about it? In what ways does it satisfy your wanderlust?
JKH: It's a lovely way to see a city. And I like that I can combine travelling to cities with packrafting adventures. Every time I'm in a new city where there is water, I always wish I'd brought my packraft along. Once my girlfriend and I were in a small Medieval town in Sweden that had a small stream running right through it. I wished I had had my packraft!
AR: What are some things that people have to watch out for embarking on an urban packraft adventure?
JKH: In general, it's pretty safe to urban packraft as long you remember a PFD. But, of course, there can be hazards depending on where you go. In Copenhagen you have to watch out for other boats, such as the canal tours or harbor busses. It's also illegal to jet ski inside the harbor, but sometimes people do it anyway. This creates hazardous situations. A year ago, a jet skier collided with another boat, killing a tourist. As well, in cities with rivers there can be other hazards such as weirs—low head dams that create a barrier across the horizontal width of a river. Other cities ban paddling in certain areas or for certain vessels. For example, recently Venice banned small craft in its canals.
Going to Copenhagen? Check out Haagensen's guide to four urban packraft route recommendations. Photos and video by Jacob Kastrup Haagensen. Featured photo: Urban packrafting in the old city of Sneek, the Netherlands. Photo by Konstantin Gridnevskiy.