The Puelo, An Expedition From Source to Sea
Story & photos by Fernando Fainberg
About a year ago I saw some pictures of Chilean expeditionary great, Pablo Besser, on an trip to the Patagonian fjords. He was using an inflatable boat to navigate, that could be stored in his backpack. It took about a second for me to realize I had to have one and do something of that style.
I would never do brutal adventures as Pablo did, but I could navigate rivers and mountain lakes where arriving with a normal boat or kayak would be too difficult.
I sold my mountain gear because I was tired of carrying kilos and kilos of iron to climb hills, and bought a packraft. Of course, I included Claudia in the equation, since on one hand it would help with the expense, and on the other we would use it both, since we bought one where two people can fit (and that on this trip it would prove to be very comfortable and stable).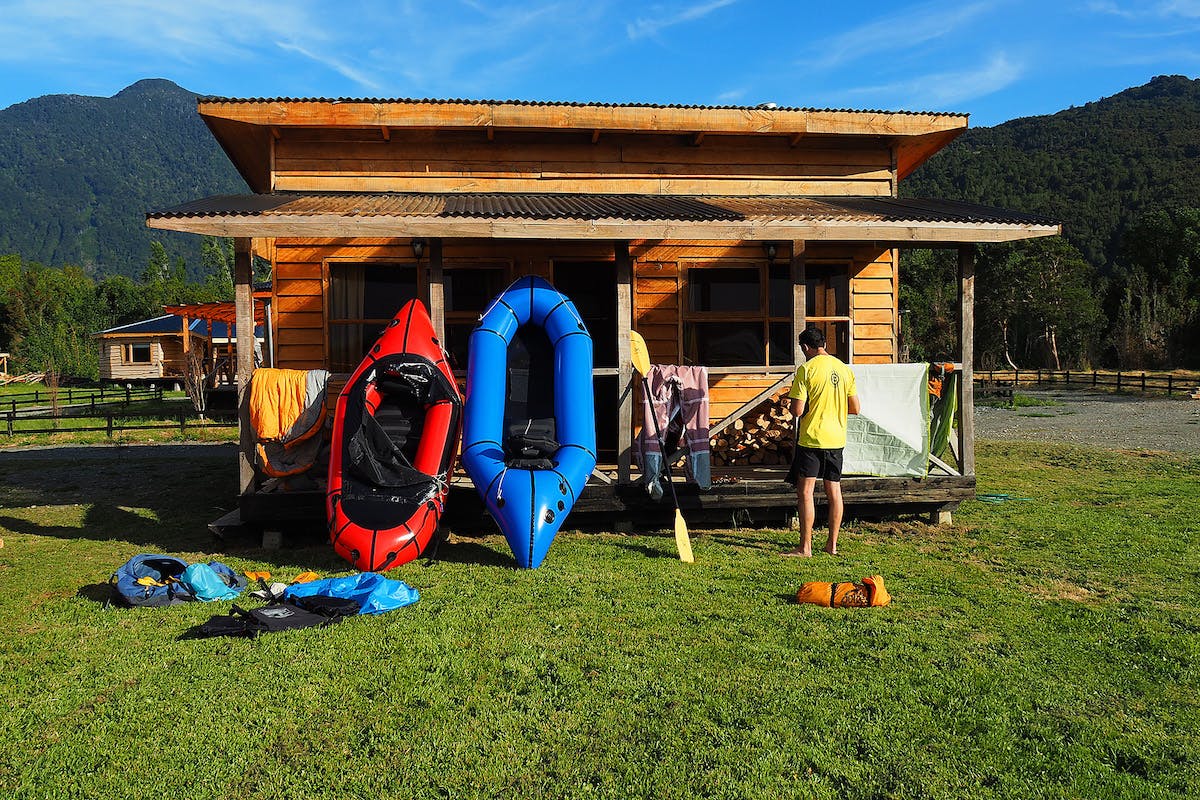 At that time, I put a post on Facebook that my packraft was already on the way. Andrés Mora saw it and understood that there was a partner for a trip along the Puelo River that he was planning; he had also bought a packraft after seeing a Pablo's slideshow of his expedition to Patagonia!
As soon as our boats arrived, we left to go down the Rapel River to try them. Everything was decided, and the last days of November we left for Argentina, passing through Bariloche until we reached El Bolsón, where we would begin our adventure on the shores of Lake Puelo.
When we arrived at the Lago Puelo National Park, the park rangers, the customs and gendarmerie people were all curious about the boats, wanting to see how we inflated them. Impressed, they decided to make the papers to leave the country right there and thus allow us to avoid passing through customs in Argentina.
We set off at noon across Puelo Lake. With no wind and transparent water, the lake invited us to bathe. But we knew we couldn't waste time if we wanted to get to our first camp, so we paddled.
We bypassed some difficult rapids, paddled some others that made us nervous, and eventually reached the lower lake, purely enjoying the ride. Unfortunately, the wind picked up on the next lake, and wind and small waves made advancing difficult.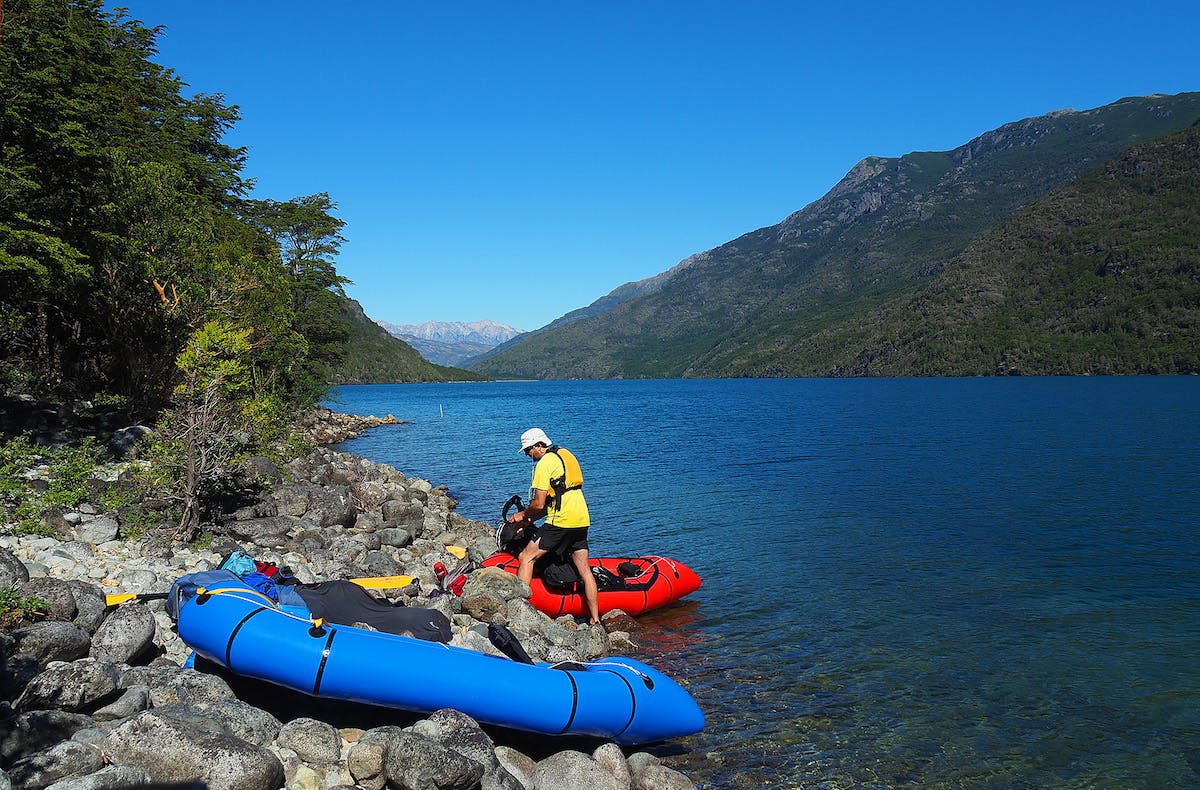 On the border of Chile and Argentino, and the Carabiniers (Chilean national police force) were waiting for us. The Argentine gendarmes had warned them that there were two guys in packrafts, so after a tense start, they told us that everything was OK and that we could continue. 
The outflow of the Lower Lake was very calm, but the river eventually picked up speed. The first, fast-moving rapid appeared suddenly, and I took the wrong line, sped towards a whirlpool and some big rocks, and barely managed to stay afloat.
Meanwhile, Andres had to cross the river, as we knew that a little further on the Puelo canyon starts with world class rapids up to V grade and likely would have drowned us. A quick row in diagonal to the current, and he was able to reach some rocks and haul his boat to camp on the banks of Puelo.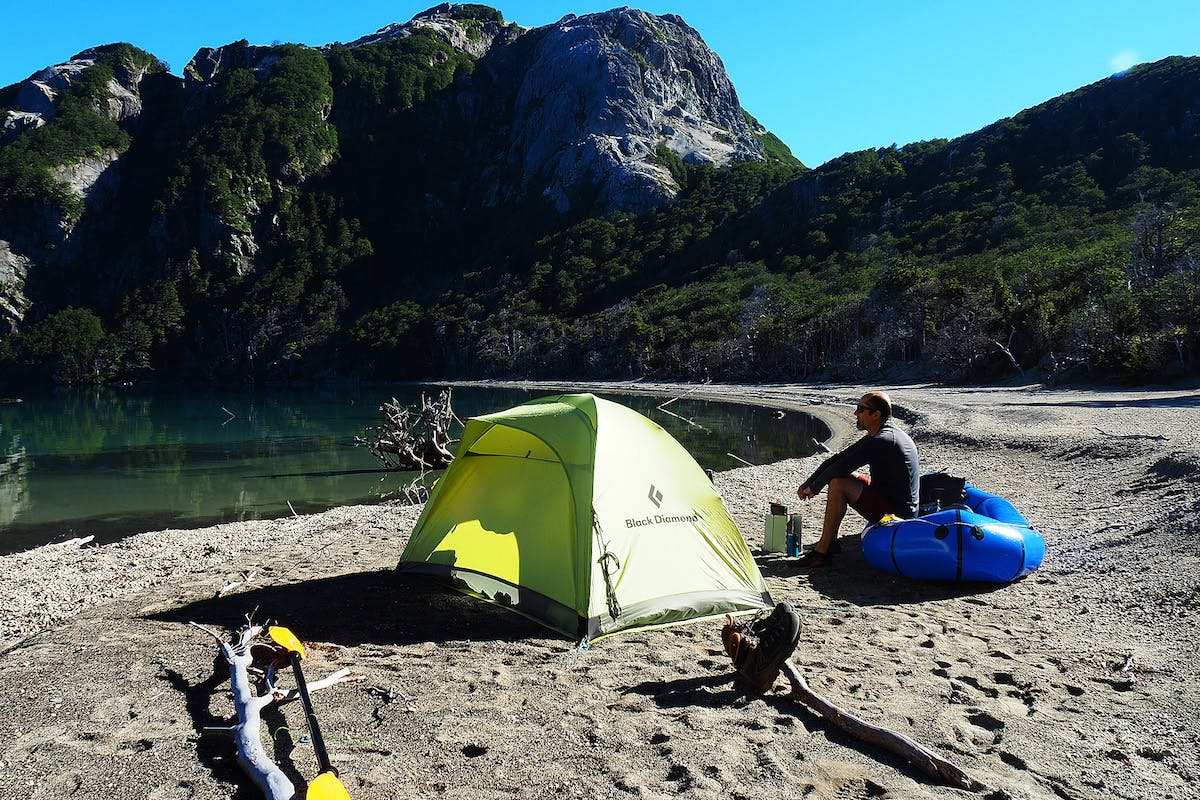 This is one of the most beautiful areas of the river, because it is quite wide, the rapids are a little softer. And, where the river joins the Ventisquero River, you can see snowy mountains in the background that give an incredible framework to a wonderful landscape.
A nice consistent flow allowed us to relax to the fullest and enjoy the moment. But then another fast rapid arrived, jumping to the left. Since we did not know it was there, we threw ourselves to the right and a strong current grabbed us and threw us with all speed against the shore and some branches of trees and strong waves.
Fear returned after that, so we started concentrating again. At that time, the first semi-submerged trees began to appear, and they would be the main concern on the rest of the trip, as they could split our boats.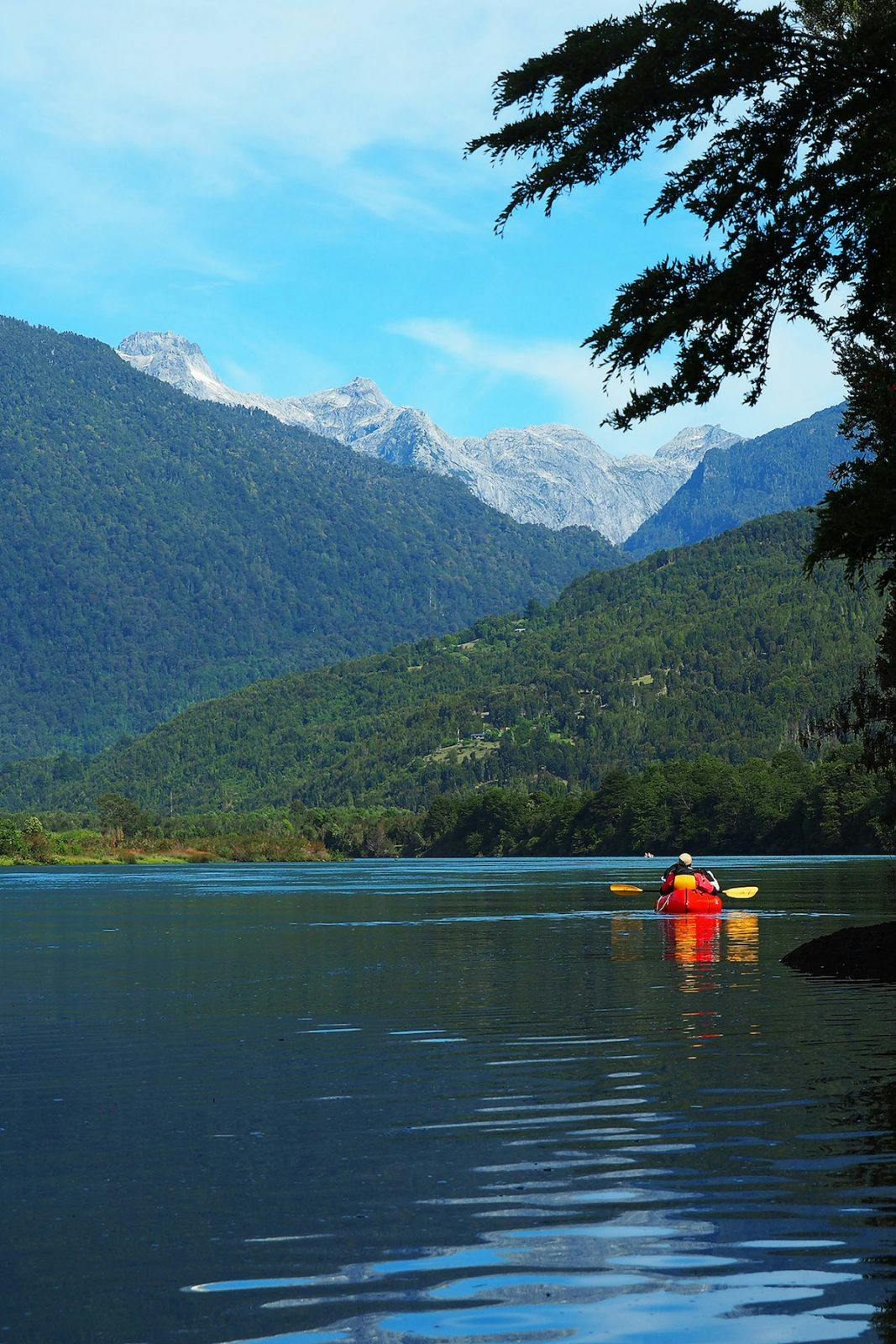 Without major complications we reached the sector of Llanada Grande. There, we knew we had to go to the right bank to avoid the fast El Portón. It looked quite large and could cause problems.
We left the river with 23-kilo backpacks to find how to get out of there. The Llanada Grande is about 250 meters higher in altitude, and there are few ways to escape.
We decided to follow some cow tracks, which led us to a field where we could follow some trails. While taking a brief rest, we met a lady who came with her daughter from school. We asked where we could eat something, and she told us about a grocery store that was probably closed. So, she gave us some small rolls with avocado that she had brought for lunch, and so we ate happily.
Llanada Grande is a road with a few houses, a Carabineros checkpoint, and a business where for our delight they sold cold beer! We made a deal with a local, and he took us to the put in for the river in Puerto Santo Domingo, saving us a six-kilometer hike. We set up camp again in the late afternoon.
The next morning we set out for one of the most beautiful areas of the river, a stretch through a canyon, surrounded by stone walls and with a lot of native forest and big trees that reach the shore. Turquoise color, the water lacks rapids, but is still fast, making it a real delight. After this, the river forms great meanders that lengthen the route.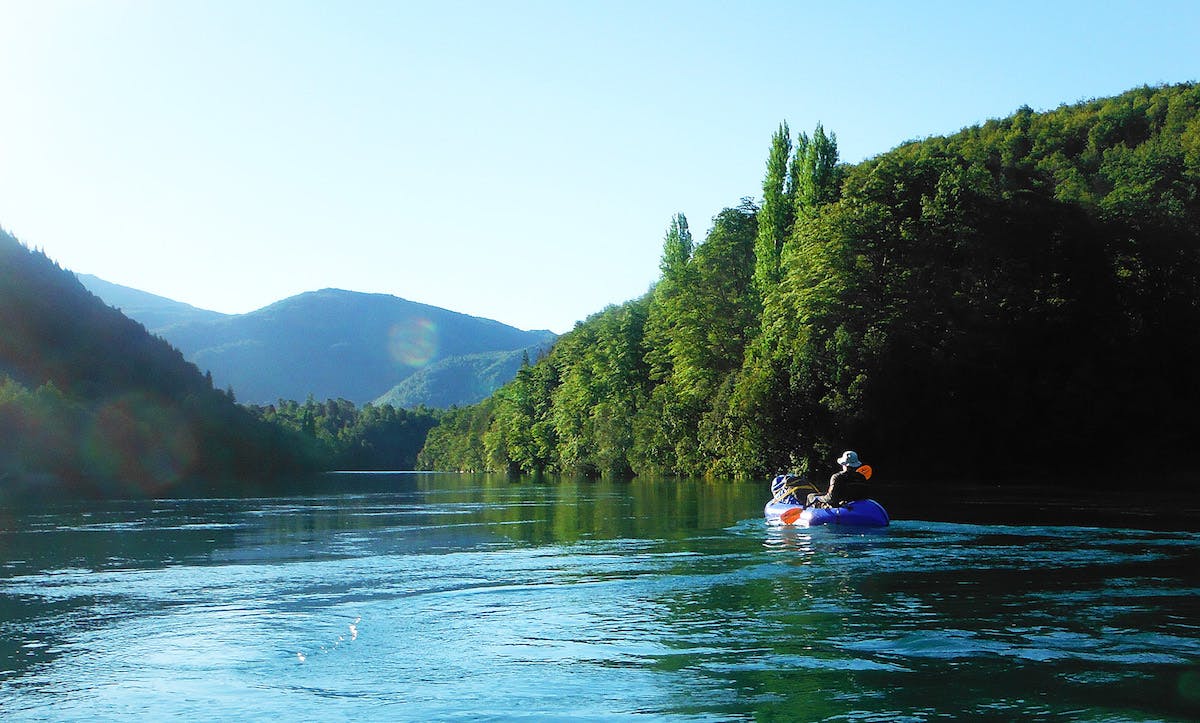 We arrived in the afternoon at Lake Tagua Tagua, where wind and big waves forced us to camp on the first beach we saw. It turned out to be on the shores of the mythical Puelo Lodge, where the administrator threw us out. Due to his unpleasant nature, we decided to go back to Puerto Maldonado and camp out front.
We woke up early the next day to ensure a timely crossing to the Tagua Tagua without wind. By 7a.m., we were with the boats in the water. A few hours of very nice paddling left us on the other side of the lake. A small, fast rapid woke us up as we entered our exit point. But, it ended once we entered the sector of the Poza, a fairly large lake.
Just before the rapid, the river narrows. Lined with vertical walls, we saw the waves and foam in the distance, and so decided to stop and scope the rapid. We climbed a small, forested hill to get a better view. We found we could easily pass it if we stayed left.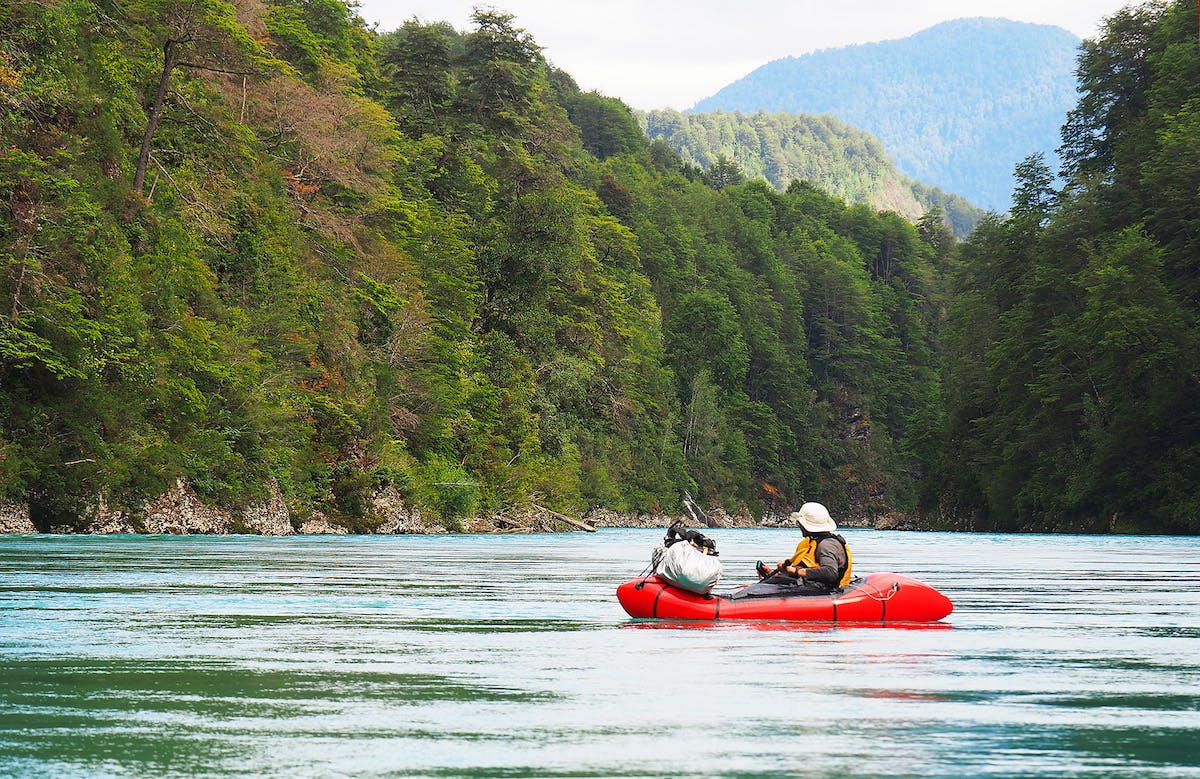 We spoke to a nice Spaniard who lived there and was fishing. He told us that after this rapid, river ran "smooth" to the sea. The river ran with enough speed that we doubted what the Spanish had told us! And then we found more rapids.
In one of them, Andrés could not get out of the current and when trying to take a turn and leave it, the wave grabbed him and turned him around and dumped him out of the boat. He managed to hang on to it, and ended up floating downstream to a backwater where he could retrieve his things. He lost a hat and his bottle Nalgene. We rested for an hour at the next beach while the sun dried Andres's things.
The following hours were calmer, although we still had two more rapids that tossed us around. But, in general we let ourselves be carried by the river until we saw the great bridge that connects the town of Puelo with Cochamó, and that was one of our landmarks. From there, only a couple of kilometers separated us from our final destination, the Reloncaví fjord.
The high tide caused the the river to run very slowly, and it took us a long time to reach the mouth. When we arrived, we went to the shore just at the point where the river ends. Already receding, the current pulled us strongly into the fjord, and we didn't want to risk being taken inside.
Happily we got off the boats and gave each other hugs. It took us four days, navigating 120 kilometers, walking, and packrafting. We confronted some risky situations, experienced much tranquility, saw tons of nature almost untouched, and enjoyed unforgettable landscapes. And we fulfilled our goal to navigate the River Puelo from its source to the sea!