Reflections from the Rio Bravo
Written by Monica Morin | Photos by Parker Anders
It's winter and the desert is calling. The decision was made to push the boundaries and plan a 19-day packrafting trip down the Rio Grande River in Texas/Rio Bravo in Chihuahua Mexico. The 210 mile stretch between Lajitas and Dryden captures some of the most iconic canyons along the 1,200 or so miles that form the border between the US and Mexico. Of those miles, 196 are protected as Wild and Scenic Rivers. A mix of land management agencies both in the United States and in Mexico help to conserve some of the corridor and surrounding desert including Big Bend National Park, which protects the largest area of the Chihuahua Desert in the United States.
Trading ice fog of the Pacific Northwest for the crystal-clear starry nights of the desert, we headed for the border.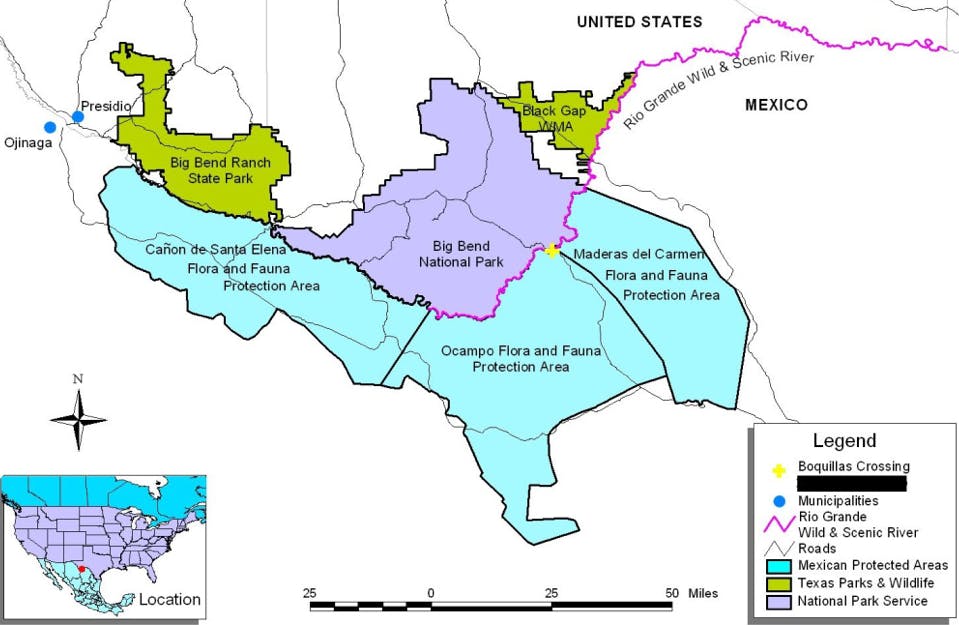 After irrigation and municipal uses, only a trickle of water makes it to Lajitas. The exceptions being monsoons and dam releases from Rio Conchos in Mexico, the largest tributary to the Rio Grande. According to local outfitters, Mexico generally shuts off the water around January 1st. It was January 7th, and we still had 600 cfs—a great flow. No one knew when it would get shut off. The beauty of having packrafts is if all else fails, just hike out.
The plan was to put in as a group of four individuals in Lajitas, resupply at Rio Grande Village, and pick up a few more people and be on our merry way. By the end of day one, I came down with the flu. Before committing to a long stretch, I sadly waved goodbye to my friends at the takeout to Santa Elena, an absolutely stunning stretch of canyon.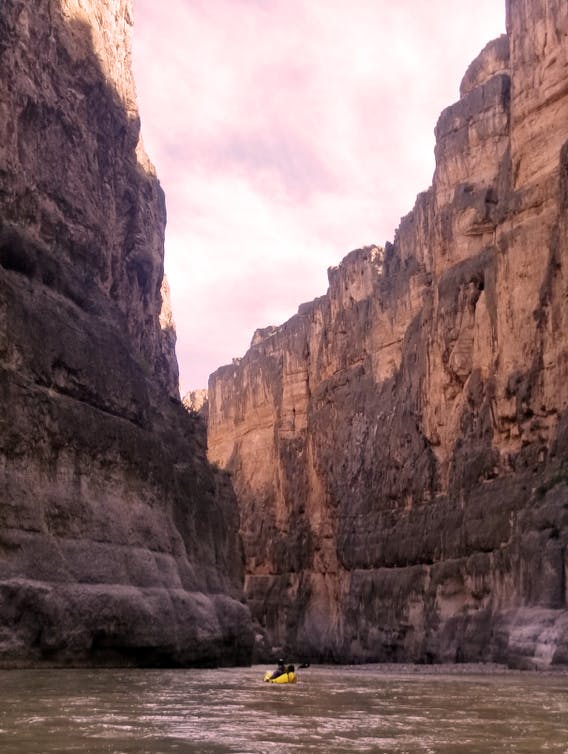 After getting the flu, having an allergic reaction, and making a trip to the ER, I was finally on my way back to meet the group at the Village. Missing five days of the trip was disheartening. It's rare to be able to go on trips this long, especially in the world of "adulting". Considering recent memories and fear of crippling ailments, I was thankful to be healthy enough to get back on the river.  We now had seven people with us, including a badass Alaskan mom and her two boys ages 10 and 13. It was truly a great team.
On day one of the lower stretch, we had already forgotten we were on the border with Mexico. The kids needed to change layers and we found ourselves on river right a little too close to a population center. After a few moments we looked up to see uniformed police officers with assault rifles. "They must be guarding the hot springs. Maybe we should go, NOW?!" we thought.
After a second look the officers were smiling and taking photos of our funny boats with their smartphones. We had enough Spanish in our group to converse and gave them our phones to take photos of us. They enthusiastically motioned for us to check out the hot springs, while showing deep concern for our lack of supplies for such a long trip.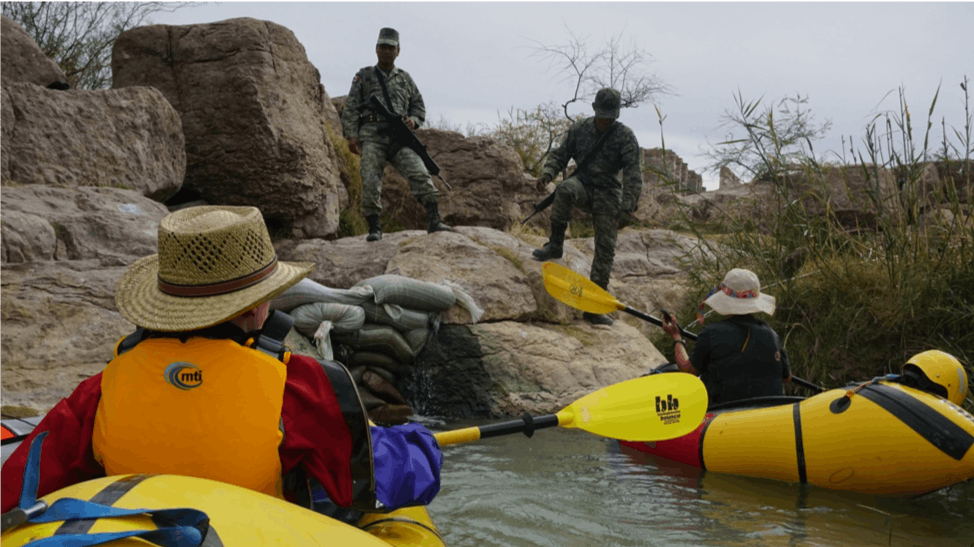 As we floated by the small Mexican town of Boquillas, the youngest of the group practiced his Spanish with the man rowing the "ferry" across from Big Bend National Park. The border was opened here as a port of entry in 2013 after being closed in 2002. It is the only legal border crossing on the US-Mexican border unstaffed by US customs. However, one must check in with NPS officials and take a video call with customs. You are supposed to check in with Mexican officials, but the word was they were on "vacaciones" and had been for over a month. I absolutely LOVE Mexico! The town survives off of selling wire sculptures of desert critters and "no wall" paraphernalia, along with burritos and margaritas to United States tourists.
When the closure hit in 2002, most residents had to leave. Some have returned but are afraid of the impacts of a border wall. 
The abstract idea of politics and stress of modern society crumbled quickly as Boquillas faded into the distance and the walls of Boquillas Canyon grew to dominate the landscape. The river was a place, an intact ecosystem, water in an expansive desert, a sanctuary for all living creatures, a path, and our livelihood for the next 11 days. We were now in the "middle of everywhere", and the fact we were along a major frontera slipped from our minds. The theme of the trip became wonderfully relaxing, with opportunities for side hikes before, during, or after daily river miles were made. Every side canyon begged to be explored, and we found ourselves wandering up slot canyons and huge open drainages full of polished rock and potholes.  We saw turtles, herons, raccoons, a tarantula and cougar tracks in the mud.  We enjoyed each other's company around the campfire while contemplating life, with a wonder of why fifteen or so satellites crossed the night sky in a single line somewhere around 8 p.m.—perhaps aliens!? These moments became more vibrant by watching the excitement and enthusiasm in the kid's eyes as they experienced their first desert excursion and we delved deeper and deeper into this unimpeded wilderness. 
There were a few moments that reminded us of how others may be experiencing the desert landscape. We found a backpack washed up on a gravel bar along with a few camps full of garbage rumored to be frequented by who the locals refer to as "illegals".  For us, it was purely enjoyment, a place to reconnect with the land and with each other. For those crossing into the United States it was likely not a choice, but a major obstacle along the path to pursue an idea of a better life or for survival. Mom explained to the children that not everyone is as fortunate as we are. That didn't mean we couldn't enjoy where we were. It meant that we should appreciate what we have and share with others when given the opportunity. Everyone has a story.
By day seven or eight, evening conversations started to focus on food. "I'll trade you only what you need for something that I actually want". I kept saying as I was sick of the OWYN bars. I think we all lost a little weight on that trip. However, I love the challenge and simplicity of packing backpack style as opposed to huge canoes or rafts laden with gear that must be portaged through rapids easily run with packrafts. I once heard, "you don't own your things, your things own you". Although, I admittedly enjoyed and appreciated the oranges donated to us by canoeists on the eighth day!
By days nine and ten, discussions started to include what people were doing after the trip, which visibly affected everyones moods and focus. Some of us were excited to see loved ones left at home, others had to get back to the grind, while some were planning for more adventures. I personally considered the thought of leaving the simplicity of river life, the night sky, and my new family, absolutely daunting. I think many people experience this when ending trips such as the Grand Canyon. This time, for me, my desire to stay was stronger than ever. We celebrated our last night with a surprised cornbread dessert, reminiscing by the fire under yet another crystal clear, beautiful starry night.
At the take-out we were greeted by our shuttle driver who was early and delivered beer. The second we got into cell service I turned on my phone and instantly felt nauseous as the van seemed to break the sound barrier. Let's turn that back off. Thank goodness no one had any battery life in their cell phones. It all happened so fast, leaving the kids confused and the group split. "It's okay we'll see you tomorrow."
I've been there before, out on a great trip with great people, completely living in the moment. When the bubble bursts, reality floods back in. Whatever issues you were dealing with prior; the loss of a loved one, sickness, divorce or major break up, finances, feeling directionless, frustration at work, rejection, you have to face again.  It's called reacclimation, and not all of us acclimate well. Maybe that's why many of us are drawn to these places and why some of us decide to never leave.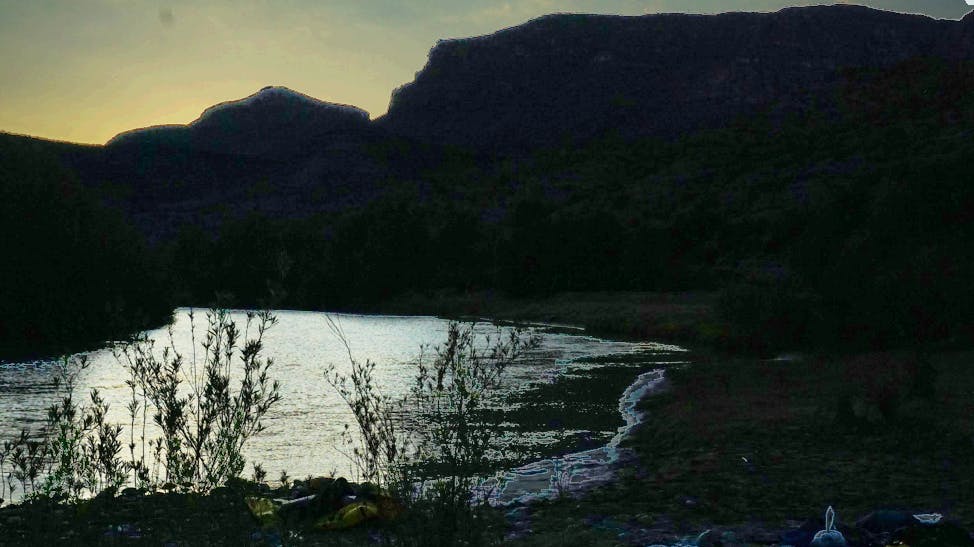 The next day, we traveled to El Paso via train, which was a cultural experience in its own right. The train was five hours late, irrelevant as time still had little meaning. Phones were on and charged. It had happened. The end. I let my mom know we were okay, ignored voicemail messages, and turned off my phone. Easy: disconnect to connect, remaining in the moment, the here and now. Practicing Spanish with the older ladies from Mexico helped to stave off the pressure to acclimate as I held onto the last thread of reality.
We rolled into El Paso late and caught a glimpse of the big red "X". It was so close I felt I could touch it as we speeded by on a six-lane freeway. The X, also known as "La Equis", is a lit sculpture located on the south bank of the Rio Grande in Ciudad Juárez.  It signifies a welcome to Mexico and the merging of two cultures: the Aztecs and the Spanish. To me it brought finality to the trip, bringing it full circle. It was a reminder of the border, the vast difference in its significance in an urban versus wilderness setting, and the stories behind it, most untold.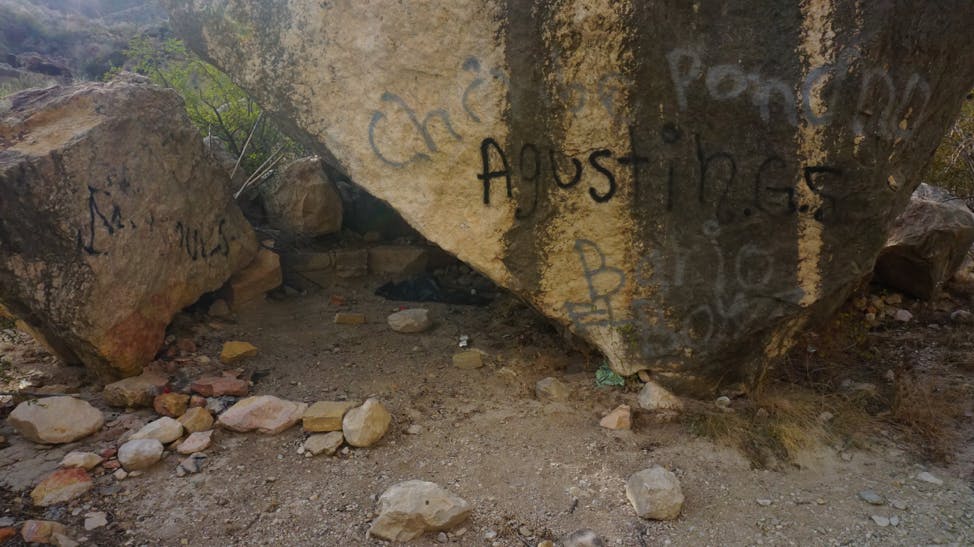 Now it's back to the grind. After traveling across theentire country via trains, planes, automobiles, and packrafts, I can't help butstop and reflect. In the midst of confusion and struggles over first worldproblems, the river has a way of putting it all into perspective, deliveringlessons often swift but sometimes subtle.
These subtle messages echoed from the calm and untamedwaters of the Rio Bravo, through its open, wind-swept banks and steep canyonwalls, and into our lives and the lives of those whose story is untold.
We sat back to listen as mom reminded the kids to appreciate what we have, to recognize we might not always have it, to share with others when given the opportunity, and to tear down walls by listening and learning with an open mind. She echoes from deep within the steep walled canyons, where the outside cannot be heard, where all living creatures are free from the pressure of the masses, where all who hear her live a life Sin Fronteras.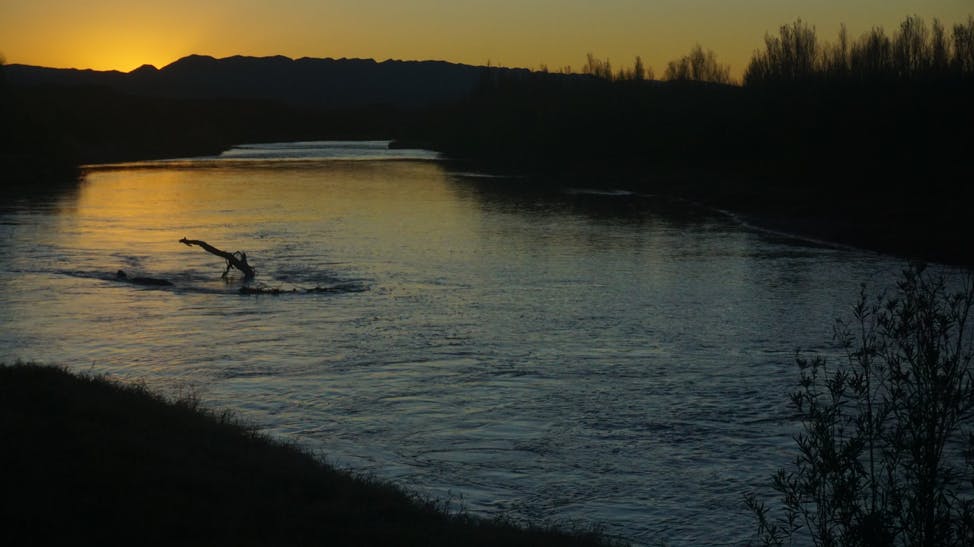 Interested in learning more? Visit American Rivers to learn more about recent struggles along the lower Rio Grande Wild and Scenic River.
Read additional articles by Monica Morin, author of this post.
Packraft Safety: How Do We Prepare for Rescue?
5 Key Things to Consider When Rigging Your Packraft for Safety
Safety First Packrafting
Multi-sport Adventurer & Alaskan to Teach Packrafting Safety Classes