Project Packraft-In-Place
Sheltering in place—how I incorporated packrafts while staying home.
Written by: Emily Ledergerber | Photos: Cody Doig
Who knew packrafts had so many uses? From yoga, to sofa chairs, to the perfect desk, packrafts helped me shake things up a bit. Packrafts have been a great tool to help reset the at home monotony and can be used for pretty much any everyday activity—so I found.
After a few weeks of sheltering in place, the daily routine was starting to get a bit stale. Hikes and dog walks, followed by work, and then more walks and hikes. Being able to go on hikes has definitely helped curb the sanity, but a little indoor spice was in order to keep the sanity in our home.
After a bit of creative thinking, I grabbed the packrafts from the garage and asked myself, "How can I incorporate these into my everyday, stay-in-place, work from home, COVID-19 pandemic life?"
Of course I also had to work, so playing with my packraft 24/7 was unfortunately off limits, but I did my best to incorporate packrafts into the daily routine. My husband thought I was a total weirdo, but was a good sport.

This goofy project went went a little something like this…
7:30 am: Yoga
I didn't know it at the time, but I was able to complete a full online yoga class in my packraft. Even for sivananda I was able to flip it over and lay flat on the packraft floor for ending meditation session. I caught myself giggling at the nuttiness of what I was doing while practicing, but it brought an entirely new twist to yoga. It was the first step to reseting the week.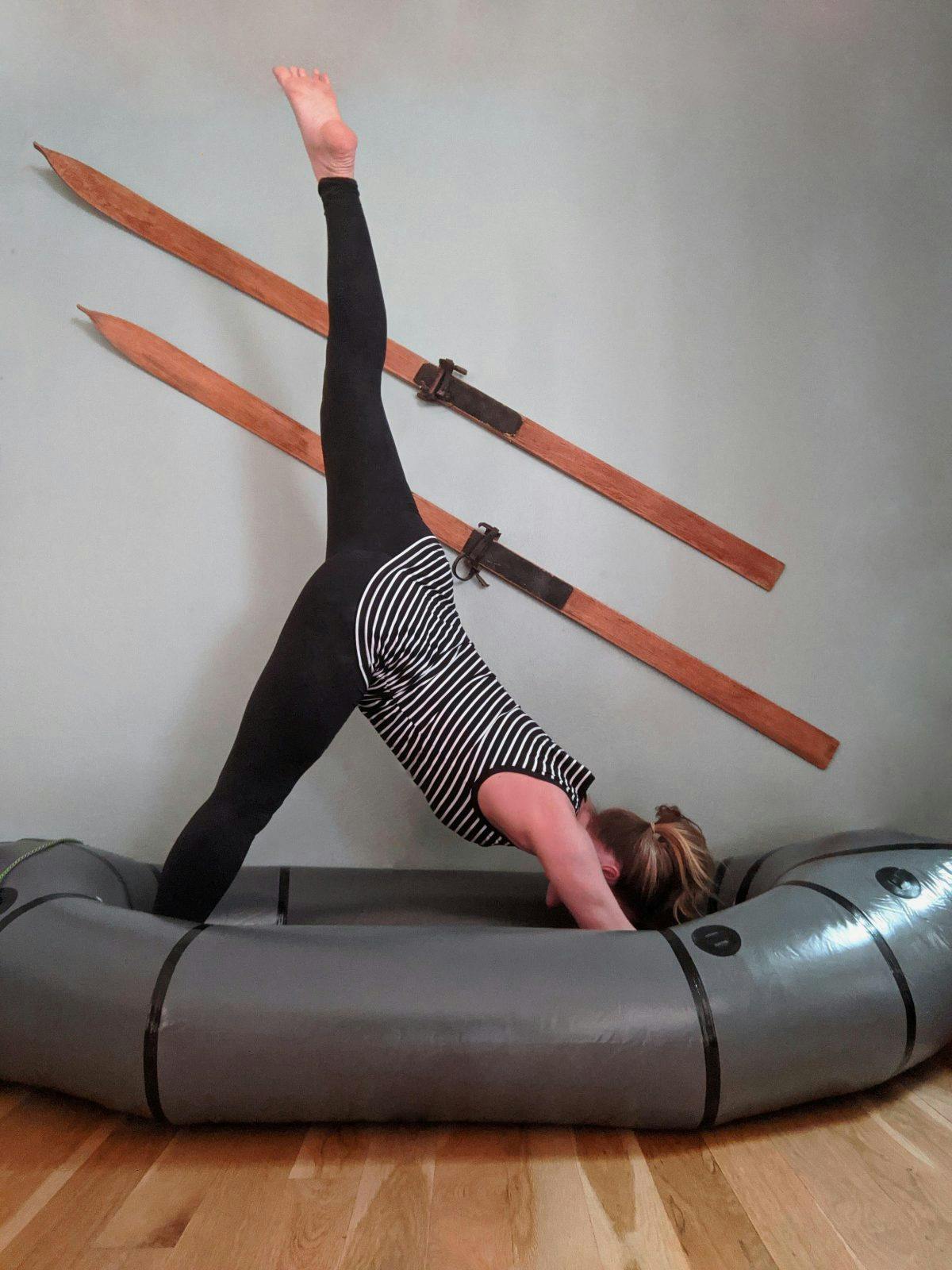 8:30 am: Time to work!
Switching up the home office was kind of fun. Luckily most of my job includes being on my laptop, so I spent my workday using my packraft as my desk, coffee and all.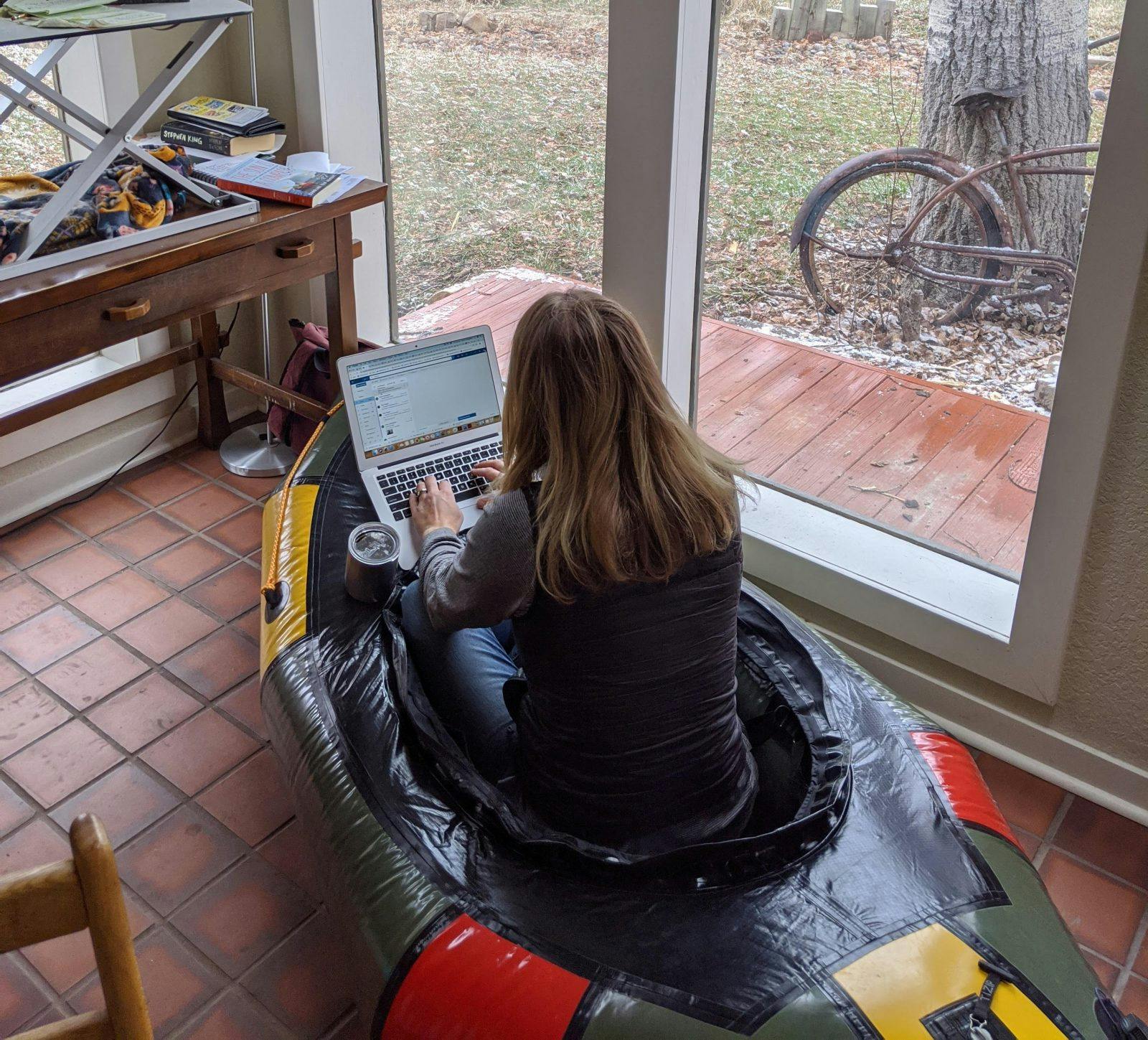 Noon: Lunch!
Grilled cheese and tomato soup. Yum! Spillage wasn't a problem in a packraft. Finding space in the kitchen, on the other had, was it's own adventure. Moving furniture to accommodate the packraft was a feat, but once space was made, I just sat down and enjoyed my lunch.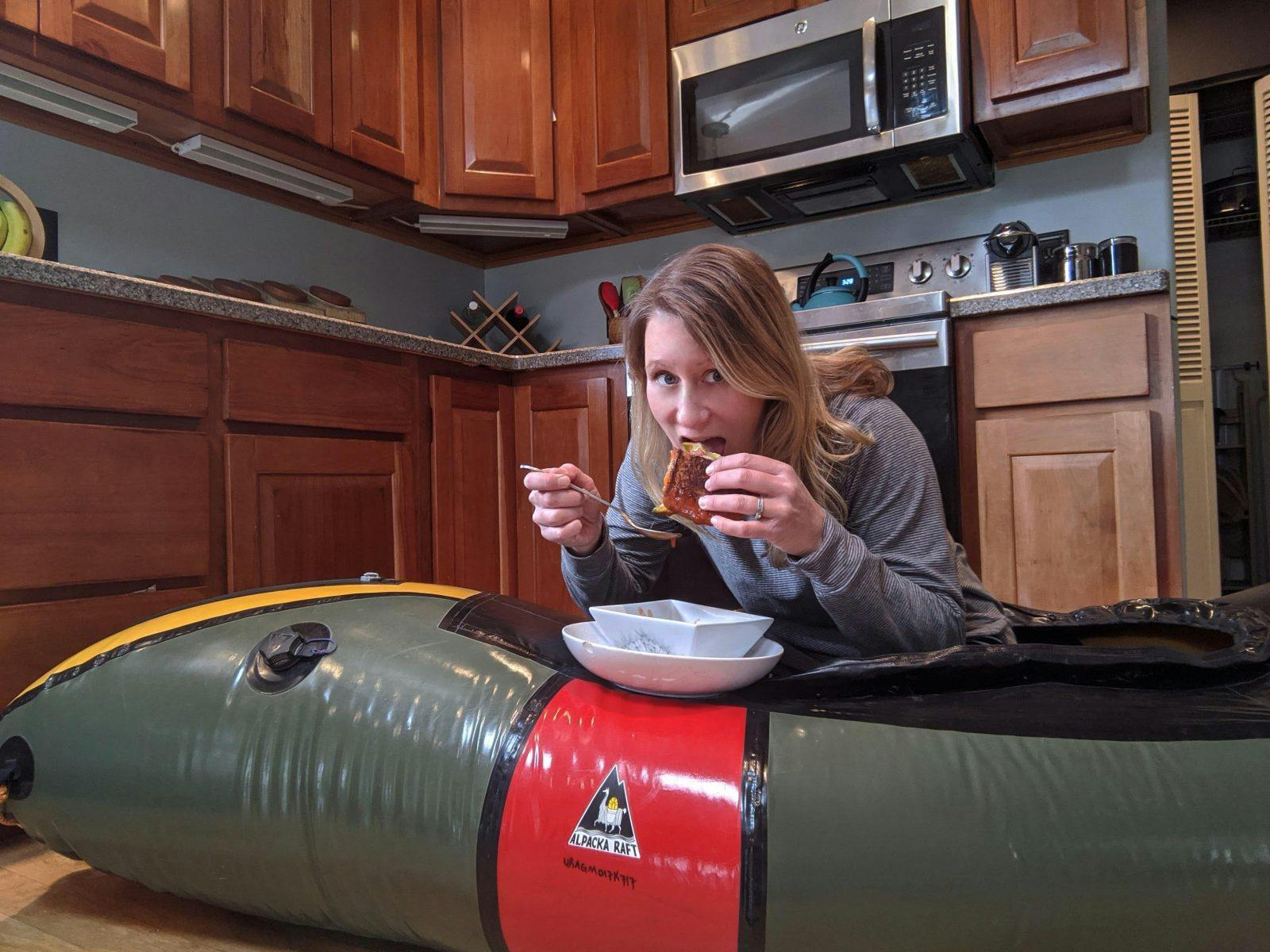 12:30pm: Exercising the pup.
My dog was starting to find the same old walk around the neighborhood were quickly becoming a bore. And quite frankly, so was I. Outside we go, with packraft in tow. I got creative and set up a little obstacle course of doggie fun. Anything for treats from that one. And even better, belly laughs from all.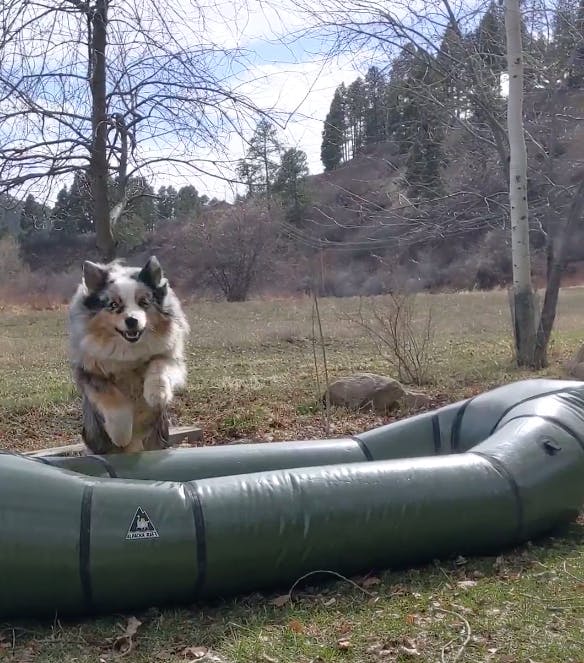 1:15pm: Back at it.
A new outlook on the standup desk. When I was tired of sitting, the standup desk was key. Plus, the packraft seat created a cushy fatigue mat keeping my back happy. A balance board underneath the packraft would make for an additional challenge, but face planting didn't sound so great at the time.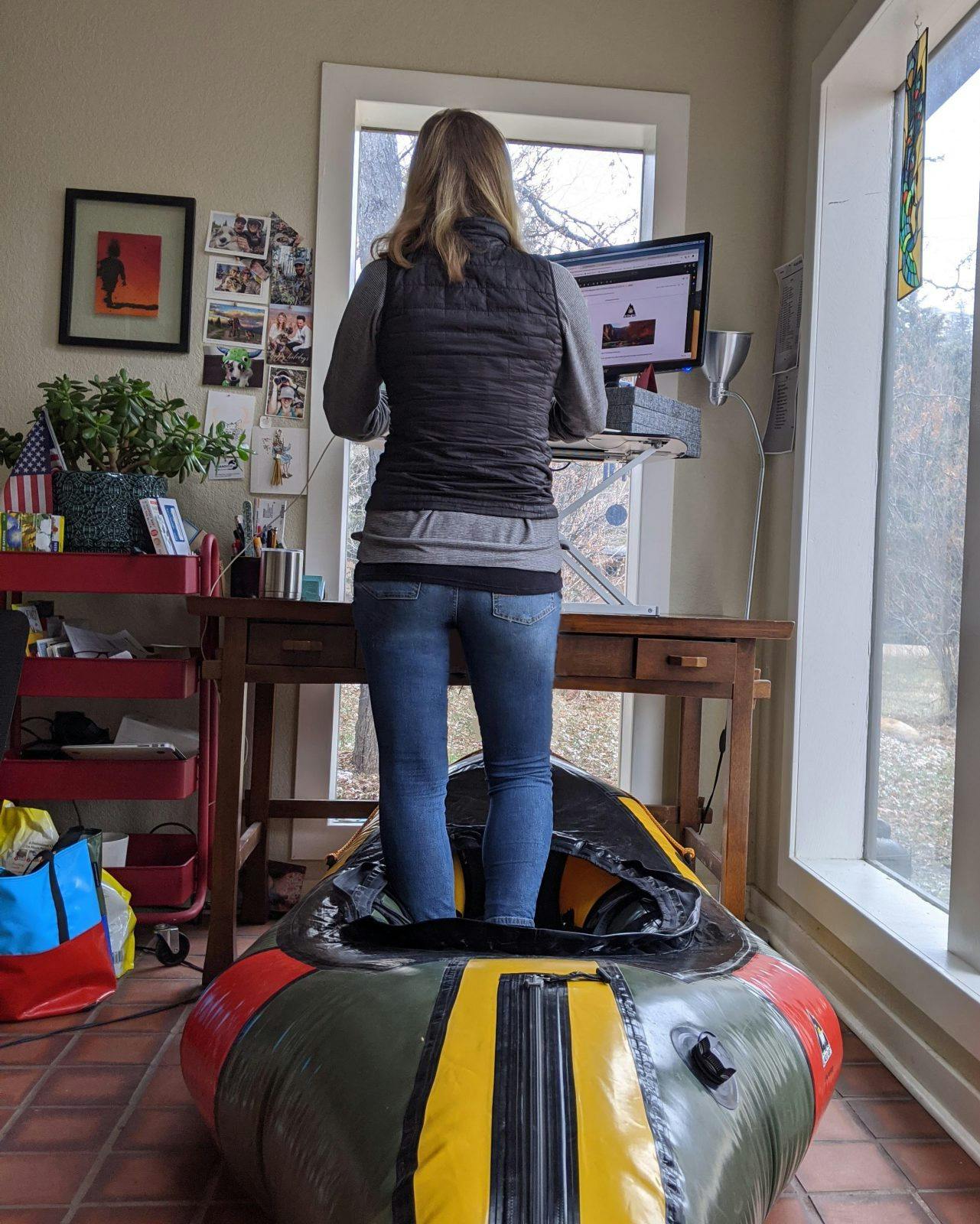 3:30pm: Playing with your cat.
When your cat starts driving you crazy and he's becoming a bit stir crazy too. It was time for a kitty packraft play time intervention as well. So, in the packraft we go, with as many fake cat mice toys we could find.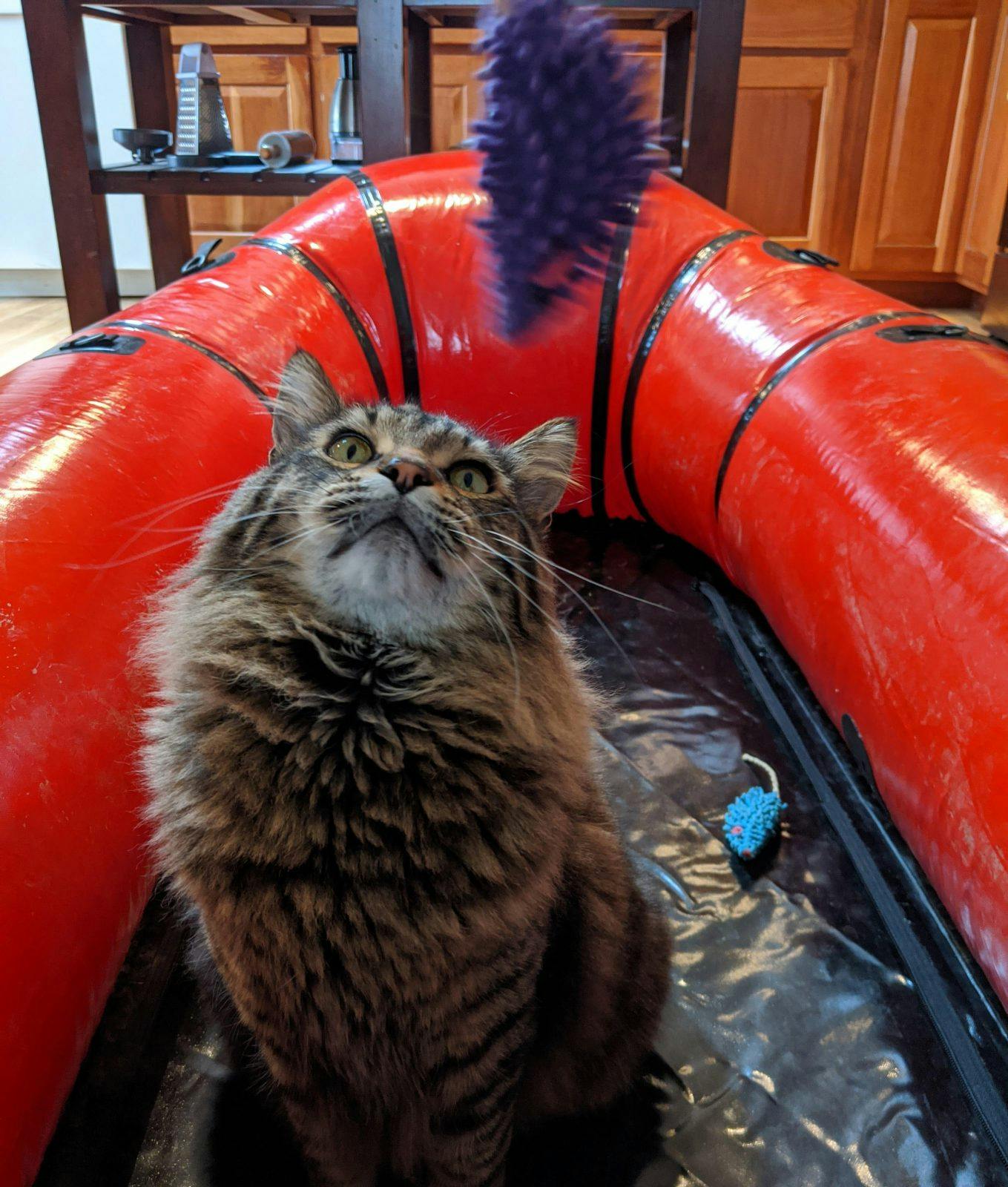 6pm: A good book and a fire.
Screen time was over, and a dog walk was done. I built a fire, grabbed my book and plopped in the packraft for a comfy departure from the day. I've been reading Caroline Van Hemert's "The Sun in A Compass" about adventuring and packrafting in Alaska, very fitting while lounging in the packraft. Lounging felt pretty good.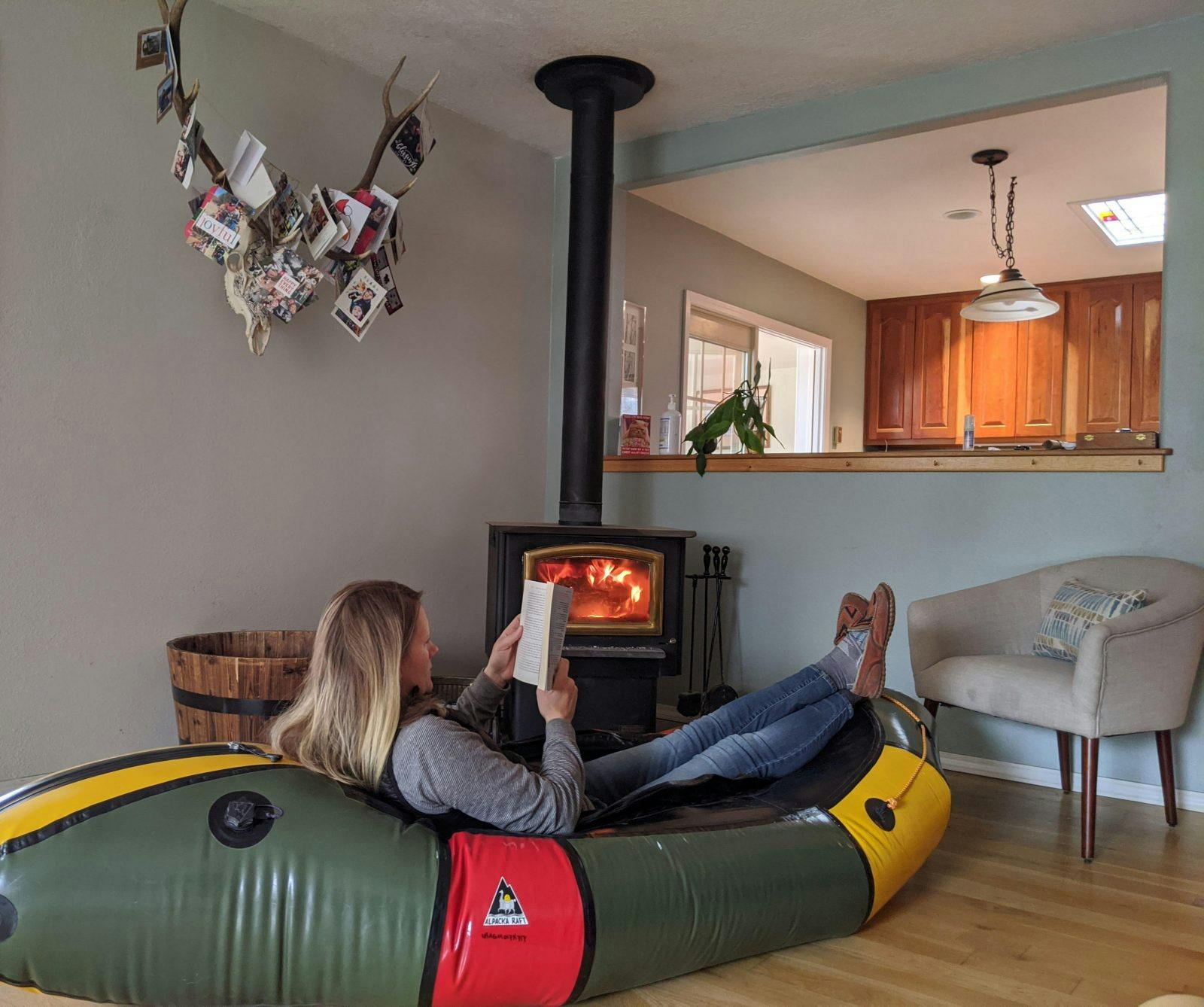 8pm: Netflix and Chill. Yeah, really.
Food, chats with my husband, and a good movie are generally entertaining, especially when stuck at home. Bringing the packrafts into the mix, was a new element, and a comfortable one at that. We hunkered down, ate pizza and watched some Netflix as a great ending to the packraft day.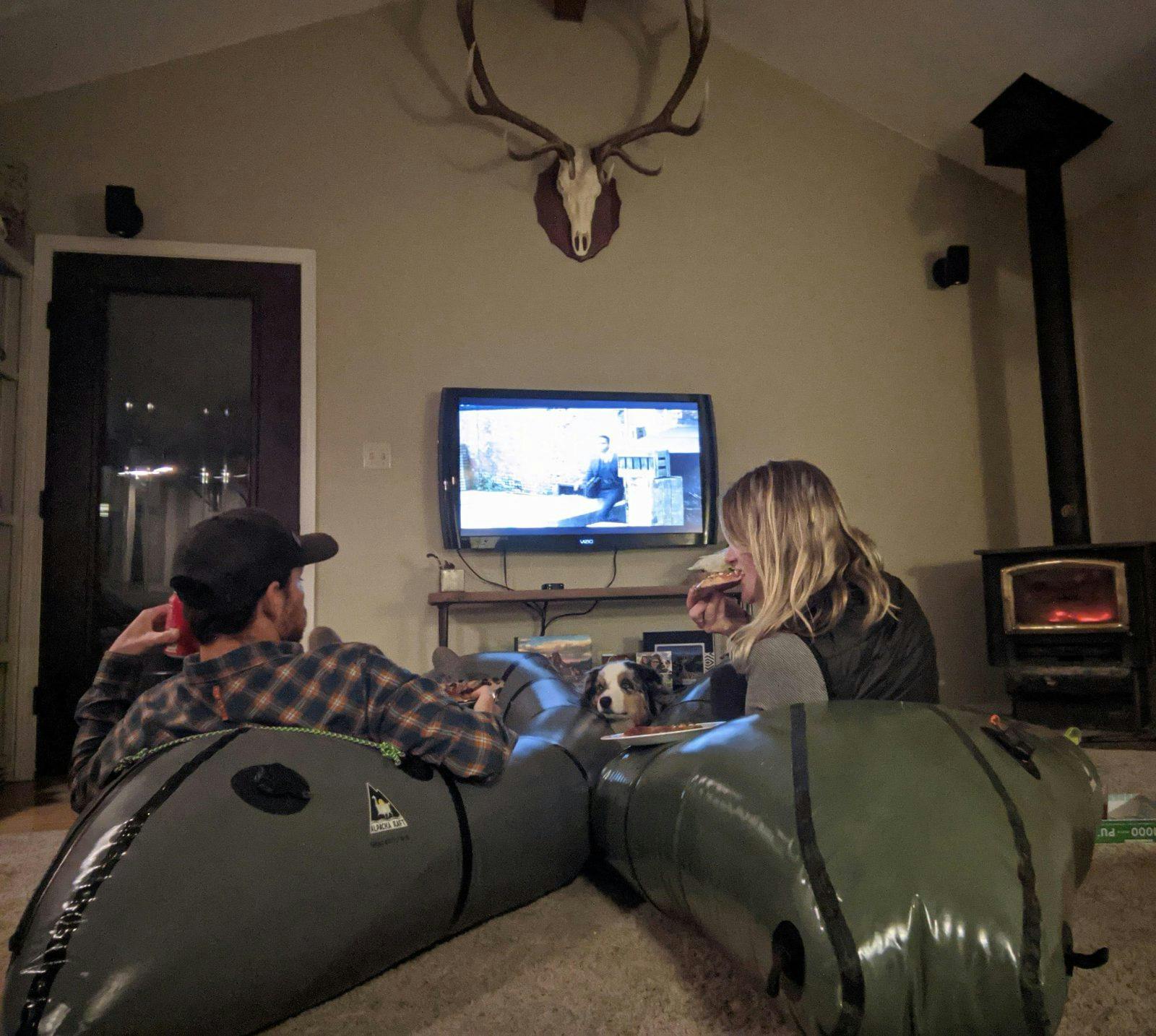 You may be wondering, why did you stop after couch time? I actually did think about sleeping in it, or well on it flipping it upside down to sleep on it, but threw that idea out when my comfy bed was calling, a place I know would provide a good night's sleep.
Think this idea is crazy? Maybe. Or are you thinking of creative ways you can incorporate your packraft into your current shelter in place, pandemic life? Send us stories and photos of your packraft in use! Tag us on Facebook or Instagram of you using your packraft in new ways and we will repost.
Packrafts used in this piece: Mule, Caribou, Gnarwhal and Forager.