April 4, 2018
What You Need to Know to Go On a Self-Supported Grand Canyon Adventure
From Packing to Boat Care, our Ambassador Casey Fulton Reviews What You Need to Know to Succeed on a Self-Supported Packraft Adventure on the Grand Canyon
Story & photos by Casey Fulton, Alpacka Raft Ambassador
There might only be one piece of advice I can confidently offer a river lover, when you get invited on a self-support Grand Canyon trip, say, "YES!" For river rats around the world the Grand Canyon has a special place in our hearts. For most packrafters though, the Grand Canyon is an odd choice for a trip. It is far from being off the beaten path, permits are hard to come by, thousands of people do it every year, and it is heavily regulated. That being said, I would do it again in a heartbeat. There is a reason people dedicated their lives to exploring this area, it's magical. As you float down the canyon, the power of the place consumes you. You experience so much raw life it takes weeks afterwards to process just how vast and inspiring the place truly is.
On January 23rd, our group of 10 launched from Lee's Ferry to begin our wintertime Grand Canyon trip. For three of us in the group it was going to be our first time down the Grand. We were carrying everything we needed for 12 days in dry bags stored in the tubes of our Alpacka packrafts, and in our expedition dry bags attached to the bow of our boats. In the weeks leading up to the trip my emotions ranged from extreme excitement, and kid on Christmas morning giddiness, to trying to wrap my head around why I was paddling a packraft down the Grand Canyon.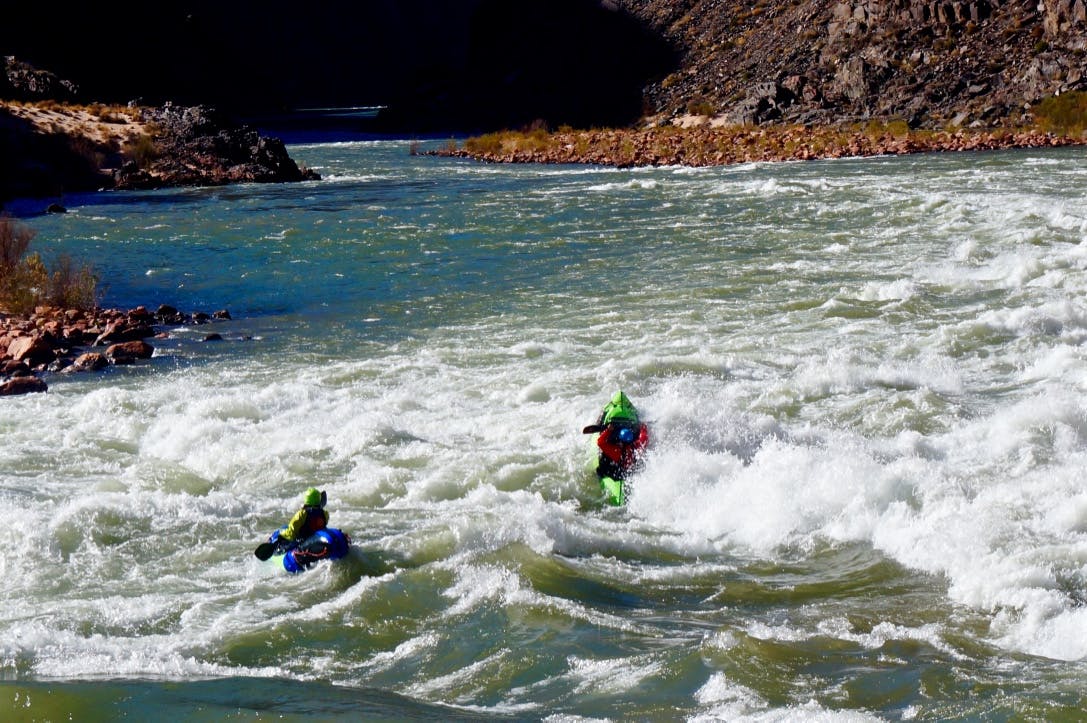 My apprehension stems from the fact that the Grand Canyon has notoriously huge rapids and contains a lot of flat water. Just saying the names Granite, Crystal, Hermit, and Lava among river runners is enough to stir up memories and stories of wild rides and extreme carnage. Then there's the flatwater–90% of the 225 miles we planned to packraft would be flat. I was worried about how my body, and more so, how the boats would hold up. I have spent a lot of time in a packraft, but most of that time was in the context of bikerafting down the Mekong through Laos, Cambodia, and Vietnam, which except for one section, is a flat meandering river. I never thought I'd take a packraft on the Grand Canyon.
Two days into the trip all my worries faded. I loved paddling a tiny boat in the massive waves. At the bottom of every rapid I couldn't help but smile and laugh at how well the fully loaded packrafts handled the chaotic whitewater, massive boils, and swirling eddy lines. I paddled Alpackalypse into big water and felt confident doing so; it felt stable, responsive, and even surfy. During the long flat water sections, my body was extremely grateful for the comfortable seat and the ability to stretch out my legs, I was hooked. And it turned out to be the trip of a lifetime.
The Essentials: What You Need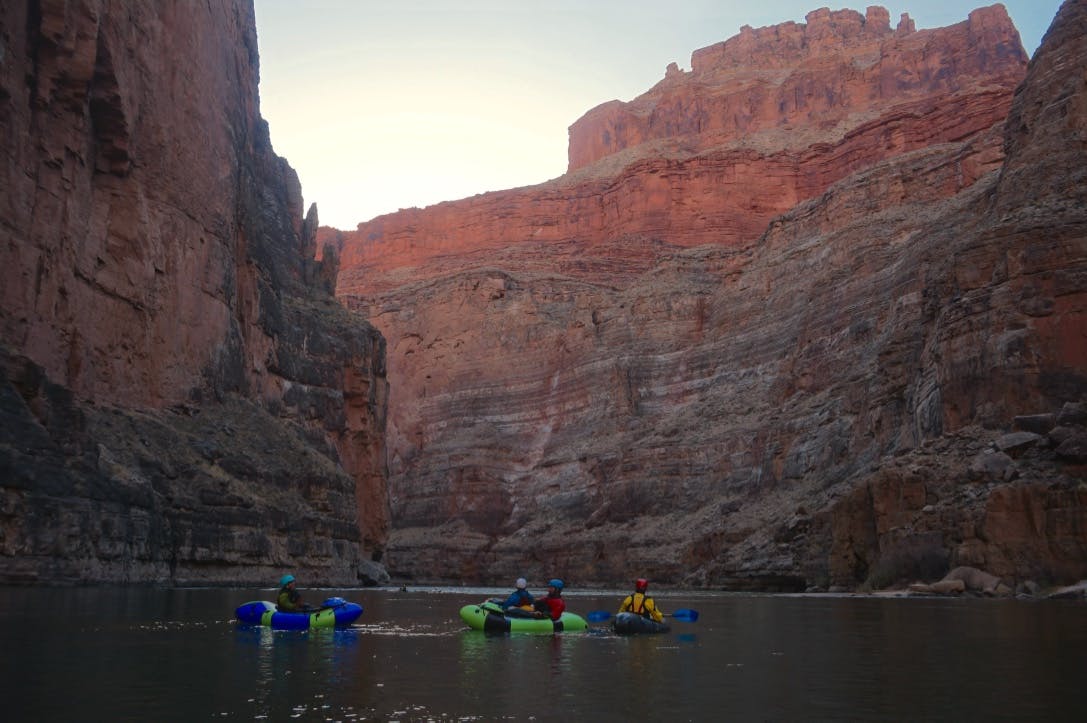 Packing for a self-supported, wintertime Grand Canyon packraft trip is a lot different then packing for other traditional packrafting trips. While there are variations of the trip that would lead to the actual packing of boats, the standard trip from Lee's Ferry to Diamond involves no actual packing, you simply show-up, blow-up, and hold-on for a few weeks. Since there is no actual packing you can bring things you normally would never consider bringing on a traditional packrafting trip. Members of our 10 person team had multiple books, pie irons, chairs, tents with stovepipes, several loaves of bread, and uncrushed bags of chips for every night at camp.
That being said, the five essentials of paddling are still required for this trip. Those essentials are a drysuit, your boat, a paddle, a lifejacket and a helmet. Before you ever go paddling make sure you have these and that their quality lines up to the trip that you are trying to do. Failing to have this gear can put you, and your team members at risk.
When planning for this trip, I found a plethora of information, but also a bunch of holes in regard to what to bring on the trip. I hope that this list of five essentials items and five things that I wish I had brought/left at home help you pack. While I wrote this with the Grand Canyon in mind, it can also be useful to any longer multi-day trip in cold weather.
#1 Drysuit
For anybody doing a self-supported packraft trip in cold water you must get a drysuit; it'll save your life, and the dryness makes it so you can actually enjoy the landscape that you're in. Kokatat makes some of the best drysuits; they're durable and have a great warranty where they'll pressure test your suit for you and fix any pinhole leaks. That said, I bought a new Immersion Research 7 Figure drysuit for this trip, and I love it. I stayed dry the entire trip in this comfortable suit, even after wearing it for 7+ hours a day, for 12 days straight.
You pretty much need a drysuit most of the year. During the winter, the Colorado River at the bottom of the Grand Canyon receives little daylight and the water being released from the dam is in the 40's. Taking a swim without a drysuit would be horrible. And since most of the great boating takes place in the spring and normally involves rainy days and snow-melt runoff, you'll use a drysuit then as well. Think of a drysuit as an investment to yourself and your desire to get outside, no matter what the weather is.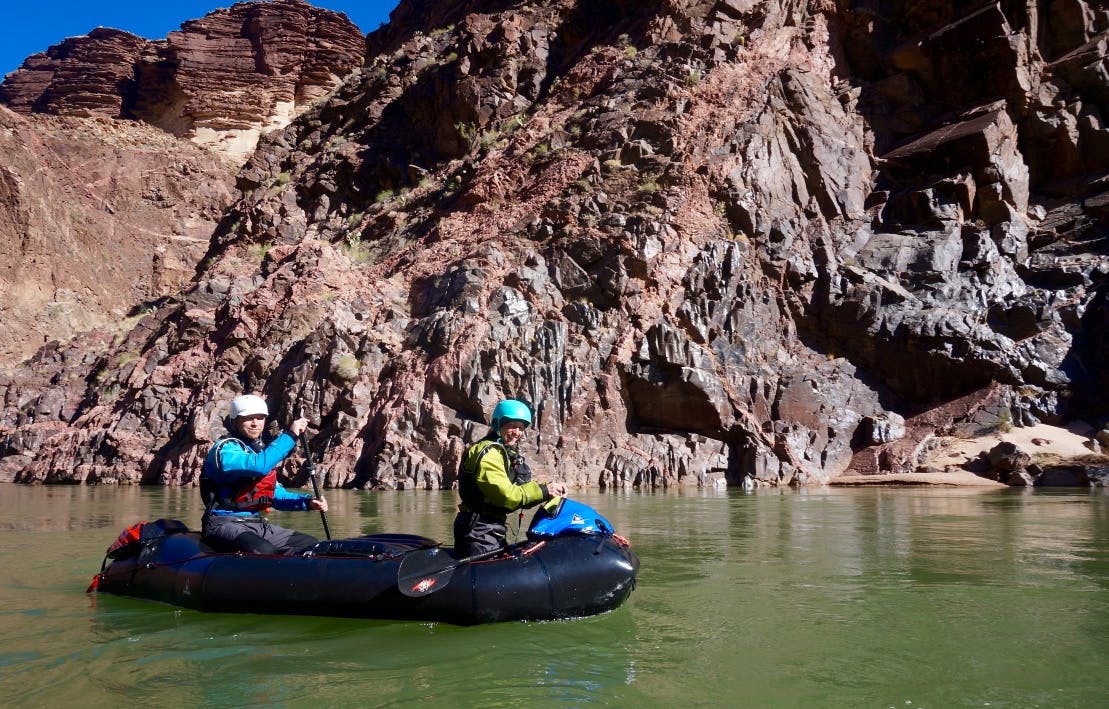 #2 Boats, Zippers, and Bow Bags
Our group consisted of six people paddling Gnarwhals, two in Alpackalypses, and two in the new Alpacka Forager. Coming from more of a kayaking background, I loved the sportiness of the Alpackalypse; this boat catches and peels out of eddies like a river-running kayak, surfs, and handles really well in big water. This being said the Gnarwhal is a much more forgiving boat than the Alpackalypse. I paddled the Gnarwhal for a few laps on 205 rapid, and it was super stable; I had to work to flip it. If you want to push yourself to become a better boater, the Alpackalypse is for you; if you want the fun, but a little more stability, than choose the Gnarwhal.
The only thing more fun than paddling whitewater, is paddling it with a friend. Becky and Tony easily won the "most fun on the river" award. They paddled the undecked, two-person Forager with two Aqua-Bound Shred Apart paddles. Our entire group felt a bit silly for not jumping on the Forager bandwagon earlier. Besides crushing through the rapids and cruising through the flatwater, the self-bailing floor of the boat doubles as a cooler. At mile marker 100, we came across another private trip that two cases of beer waiting for us. We put the beers in the self-bailing floor of the Forager to stay cold, and enjoyed one (to start) around the campfire each night; the groups morale skyrocketed after this.
Cargo flies and expedition dry bags really made this trip possible and comfortable. Having the weight in the tubes of your boat gives them the extra umph and stability to punch through waves and holes, as well as the carrying capacity to bring all of our gear. I can't stress enough how important it is to do everything in your power to keep your zipper sand free. I struggled with this a few mornings and eventually had to empty my boat and clean the zipper with soap, water, and a toothbrush in order to get it running smoothly again. Again, take care of your zipper and it will take care of you. Bring a zipper repair kit that has lube, alcohol, a grease rag, toothbrush (preferably not you're normal one), soap, and know how to use them. Watch the videos on Alpacka's website (Care & Maintenance) about zipper maintenance, and have the right gear.
Also, I love the 18L Expedition Bow Bags,which easily stored my camera, lunch, Aqua Mira, sunglasses, hat, river map, and sunscreen. I didn't notice any difference in rolling the boat with a fully loaded bow-bag or without one, and all of my gear in the bag stayed dry.
#3 Paddles
If you currently have any desire to paddle whitewater, I recommend Werner Paddles; they're made in Washington, are strong, and won't fail you. If you worry about it fitting into your pack during more traditional packrafting trips, don't. Werner makes the Powerhouse paddle in 4-piece breakdown model, which is convenient for packrafting trips, along with the Sherpa. The surface area of the Powerhouse is noticeable and allows you to get in quality paddle strokes each time you dip the blade. It's great for Class 2-5 rapids, flatwater, big water, or creek boating. You don't want your paddle to fail at a critical point in a rapid. Taking a swim because your gear fails you is frustrating. Spend the few extra dollars and get a Werner, and be stress free.
I'm 5'8 and normally use a 194cm paddle for kayaking. When I packraft I use a slightly longer paddle, and on this trip I used a 197cm paddle. I find that the extra length helps my paddle reach over the tubes of a packraft and the extra length saves my shoulders in the flatwater.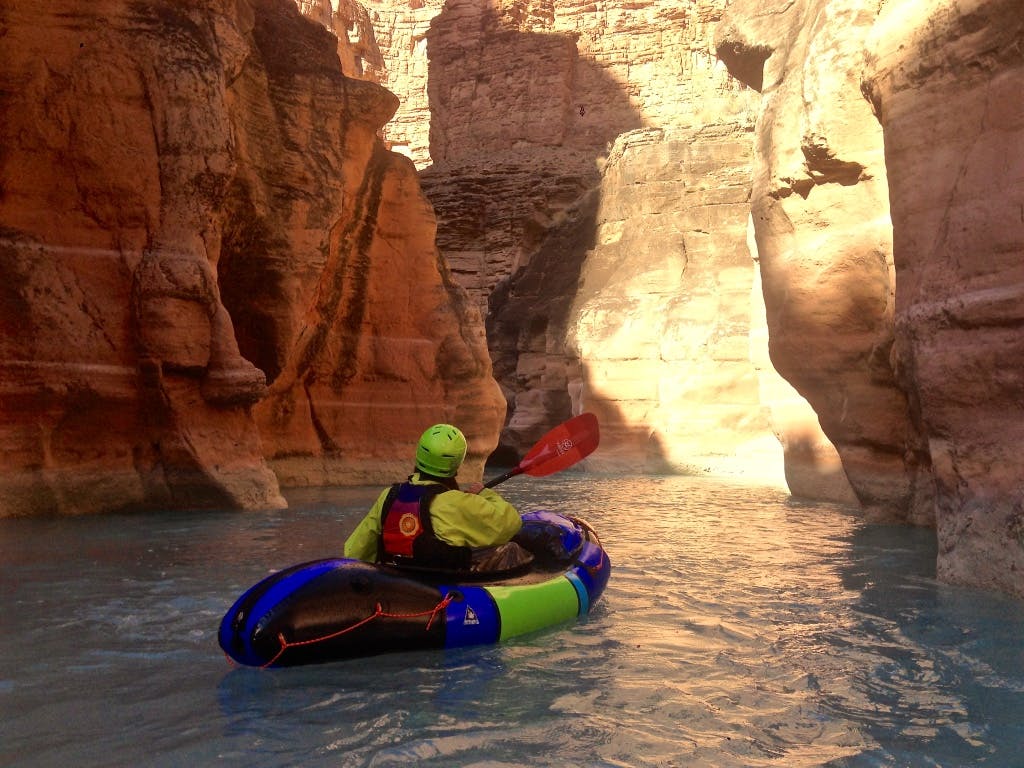 #4 Helmet and PFD
Get a helmet and a PFD that are comfortable so you'll want to wear them. Even though the Grand Canyon is technically a big water river there are still rocks and holes that can suck you in deep. Do yourself and your crew a favor, buy a helmet and a PFD and wear them. Evaluate what you're trying to accomplish on your trip, and get a PFD that's suitable for the situation. On the Grand Canyon and other big water rivers, Astral's Green Jacket and Kokatat's Maximus Prime Rescue PFD provide adequate flotation and protect your chest and back in case you hit a rock. This past summer at the APA RoundUp I watched somebody take a much bigger swim than they had to because their PFD didn't have the proper amount of floatation. Again, this is your life, spend the money to prevent unnecessary risks.
#5 What I Wish I Had Brought
Looking back on my trip there are a few things I wish I had thought of/known about before I put on the Grand Canyon.
I wish I had known that Wag Bags were multiple use. Wag Bags help keep Wilderness areas, such as the Grand with its 30,000 annual visitors per year, beautiful. Pack out and keep our special places special.
Bring a chair. Since there is no actual packing on this trip, it's easy to fit a small camp chair into your boat. It will make your life much more comfortable.
Get a spoon that reaches the bottom of your Mountain House or Good To Go dehydrated food. One of the members of our group, Tony Perelli, is a wood worker up in Alaska who hand carves spoons, amongst other things, that fill this niche. Additionally, Alpacka Raft athlete Luc Mehl vouches that these spoons are the only thing the cheese from the Mountain House lasagna doesn't stick to.
In a classic move on my part, I overpacked in the clothing department. I really only needed one pair of paddling clothes, two pairs of socks, a puffy coat, puffy pants, and a beanie. Everything else was overkill and never left my dry bags.
Get some books on the history of the canyon before you go. I enjoyed my trip down the Grand, but there were definitely times when I caught my mind wondering about John Wesley Powell and his first descent of the river, the geology of the canyon, native history, and the history of previous boatmen. While this isn't a must for some people, I enjoy hearing the stories of previous explorers and what they went through with make-shift gear and wild imaginations.
Finally, enjoy the river and the people that you are sharing the experience with. Challenge yourself in the rapids, stare in awe at the canyon walls, and get lost in the stars at night. Life is for the living, so get out there and live.
The Forager – Alpacka's 2-Person Raft Runs Huge Grand Canyon Rapids from Alpacka Raft on Vimeo.