Three Adventurers Explore One of the World's Largest Unmodified Natural Areas Cultivated by Humans
Check out our Instagram page August 3-6 to see more stunning shots of Sjaunja.
Adventurer and packrafter Caj Koskinen recently reached out to us to share some of the stunning photos he shot while packrafting through a remote nature reserve in Sweden called Sjaunja. This wilderness area lies in the 3,600-square-mile "Laponian Area," one of the largest unmodified natural areas still cultivated by native people—the reindeer herding Sami. Designated in 1996 as a UNESCO World Heritage Site for its cultural and natural wonders, it boasts rivers, lakes, mountains. Sjaunja itself sits between Stora Sjöfallets and Muddus National Park and close to Sarek National Park.
"We had an epic trip!" Koskinen wrote us. "Sjaunja is a wilderness area in middle of nowhere; it's hard to get to it, and it's full of swamps. It's not great place to hike, but is a paradise to paddlers."
He, his wife, Katja and Peter Tjärnlund started discussing the trip shortly after the 2016 Swedish Round-Up.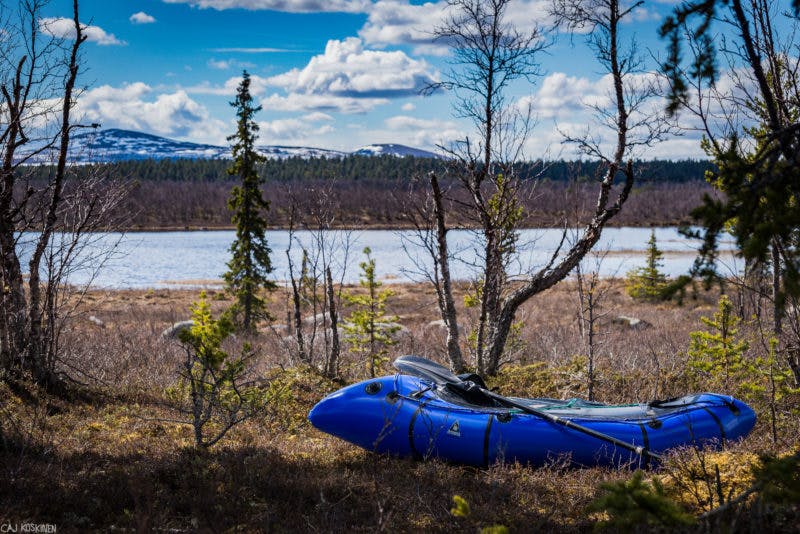 "Peter asked us the join him," explains Koskinen. "Of course, we said yes!" Their trip started in the mountains, where the trio confronted a lot of snow, some of which they had to crawl over because it was so deep. As well as a frozen lake and upper rivers too rock-filled to run. But, finally temps warmed up and they found some doable rivers with both moderate class II rapids and very exciting, bumpy class III rapids.
"Our luck did change and we got much warmer weather, all I could ever dream about!" Koskinen says. "We had over 20ºC (68ºF) days every day, and the sun didn't set anymore!"
Thanks so much to Caj and his crew for sharing their photos. If you would like to share your adventure, please drop us an email!