March 25, 2019
The Adventures of Fat Kid & Twiggy: Fatbikes & Packrafts on the Great Salt Lake
Two Crazies Embark on an Improbable Mission to Circumnavigate the Great Salt Lake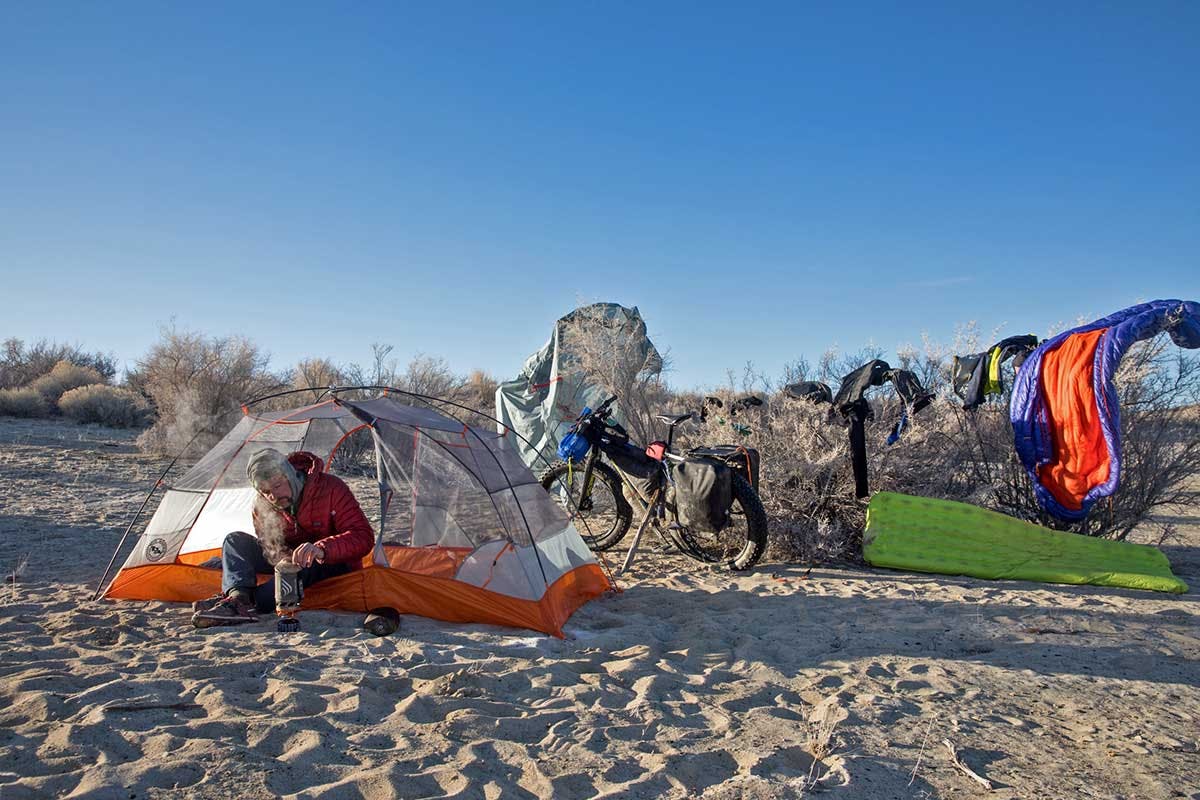 Story by Steve "Doom" Fassbinder. Photos by Doom and Andy Burr.
"Over the years I've been fortunate to have found a few super solid adventure partners. This human, Andrew Burr, has been a pillar of that list as of late. He possesses the ability to formulate bad ideas, and bring them to fruition. Like riding the 200 plus mile (pretty f'd) shoreline of The Great Salt Lake. I've had some wild bike tours, but this one lands solidly within the the parameters of, "one for the books." It's impossible for me to list the trials, tribulations, and trespasses involved with what we just completed, but I'll be sharing some this week as they trickle in. All hail #KingSalt." ~Doom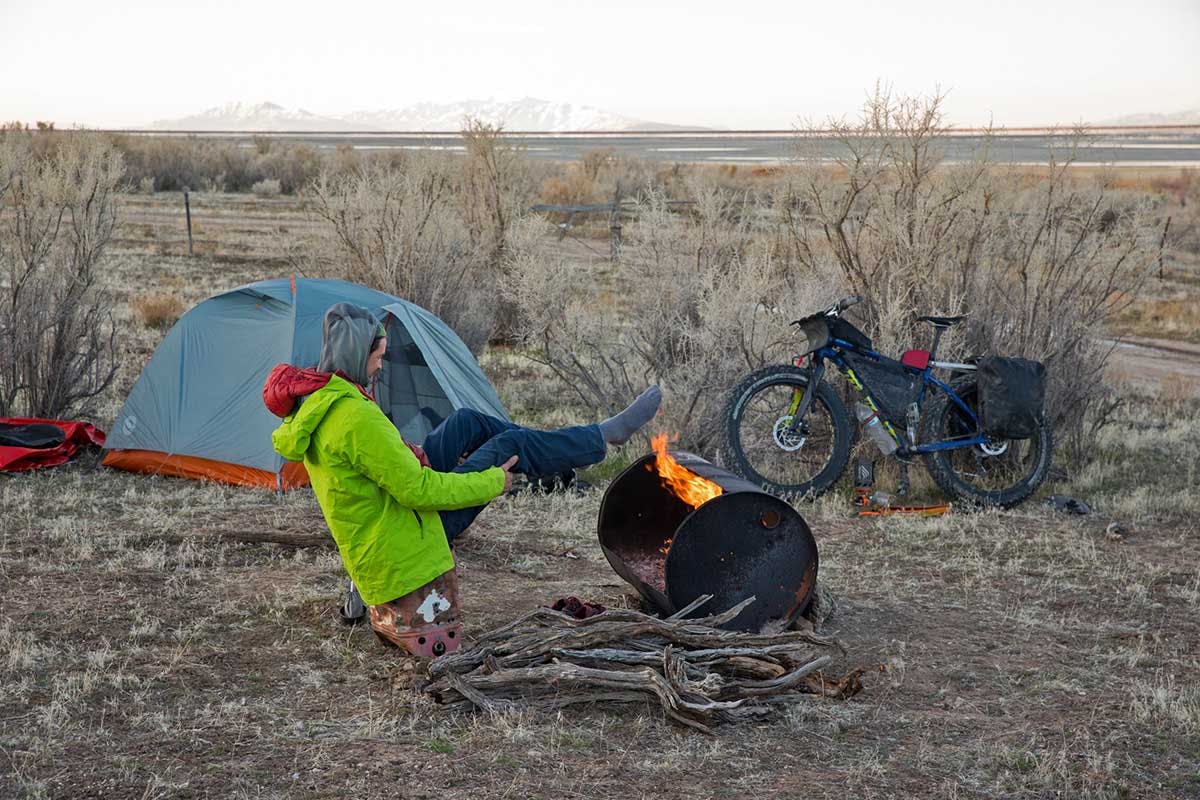 There are so many places to ride and inspiring routes to be ridden, but bodies of water and rivers can be substantial obstacles. Armed with a simple packraft these obstacles can be either bypassed or, in the case of certain rivers, can become part of the route that you are trying to complete.
Andrew Burr conceived of our latest trip to circumnavigate the Great Salt Lake by packraft and fat bike. He found inspiration living for 20+ years next to the Great Salt Lake and frequently flying over this other planetary landscape countless times. We've done numerous wild bike trips together, and he knew I would be one of the few people keen on trying this improbable loop with him. 
At it's most basic, we planned to ride a loop around the shoreline of the lake. As best we could measure this would be about 200+ miles, and take about a week. My personal expectation of the terrain was somewhat bleak, and I expected to see a lot of salt flats mixed with mud at times, and not a whole lot in between. I could not have been more wrong.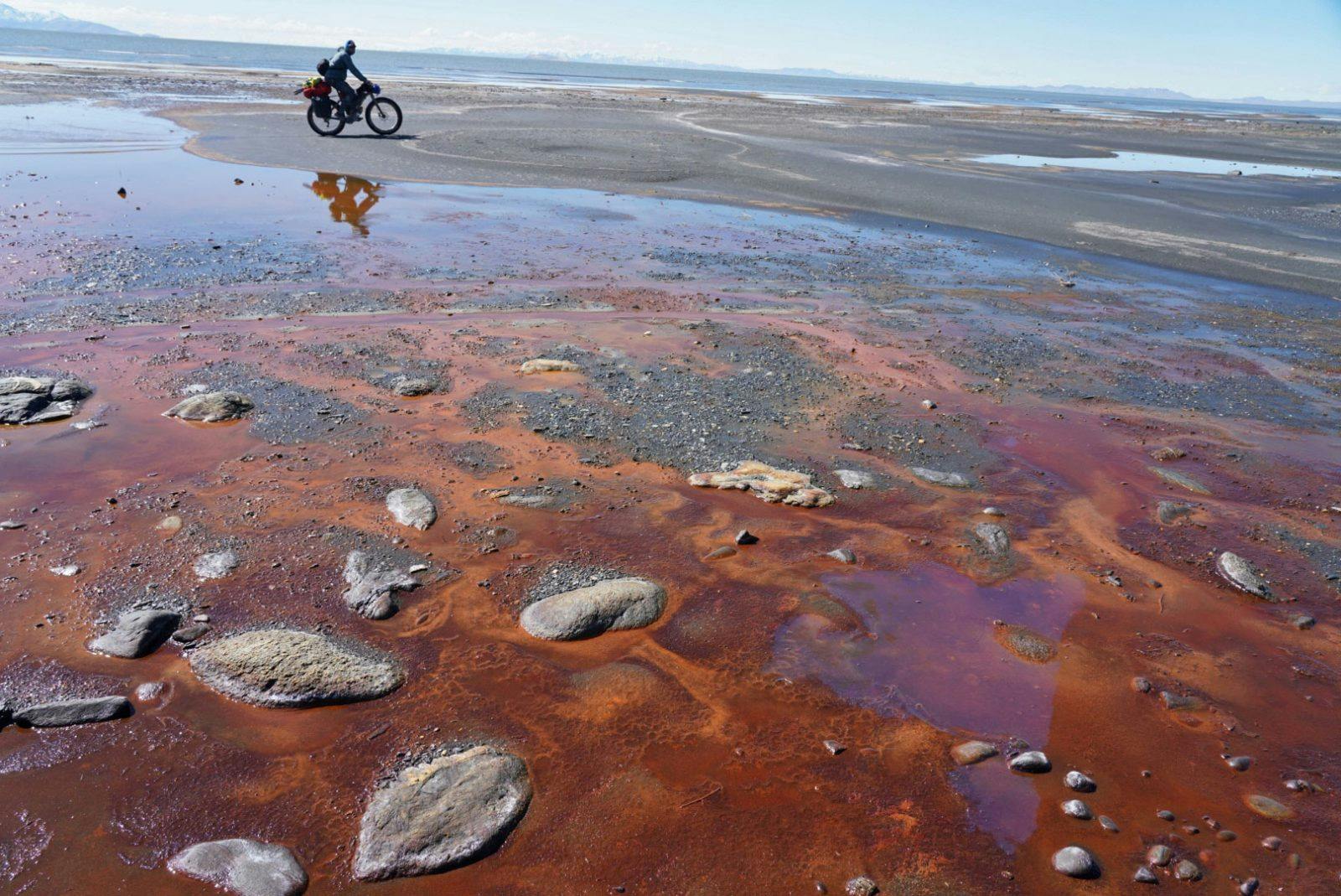 The terrain varied beyond description. The Inuit of the Arctic North have something like 80 different words for snow and the conditions that it can present. Likewise with the Great Salt Lake. We started our own vocabulary to describe and comment on the different types of mud, salt formations, and rocks that we traversed. They seemed to change form from moment to moment. 
I wouldn't recommend beginners try this adventure. We dealt with tons of logistical, gear related, weather, and seasonal obstacles. And the terrain out there changes from day to day, so you can't forecast many of these conditions ahead of time.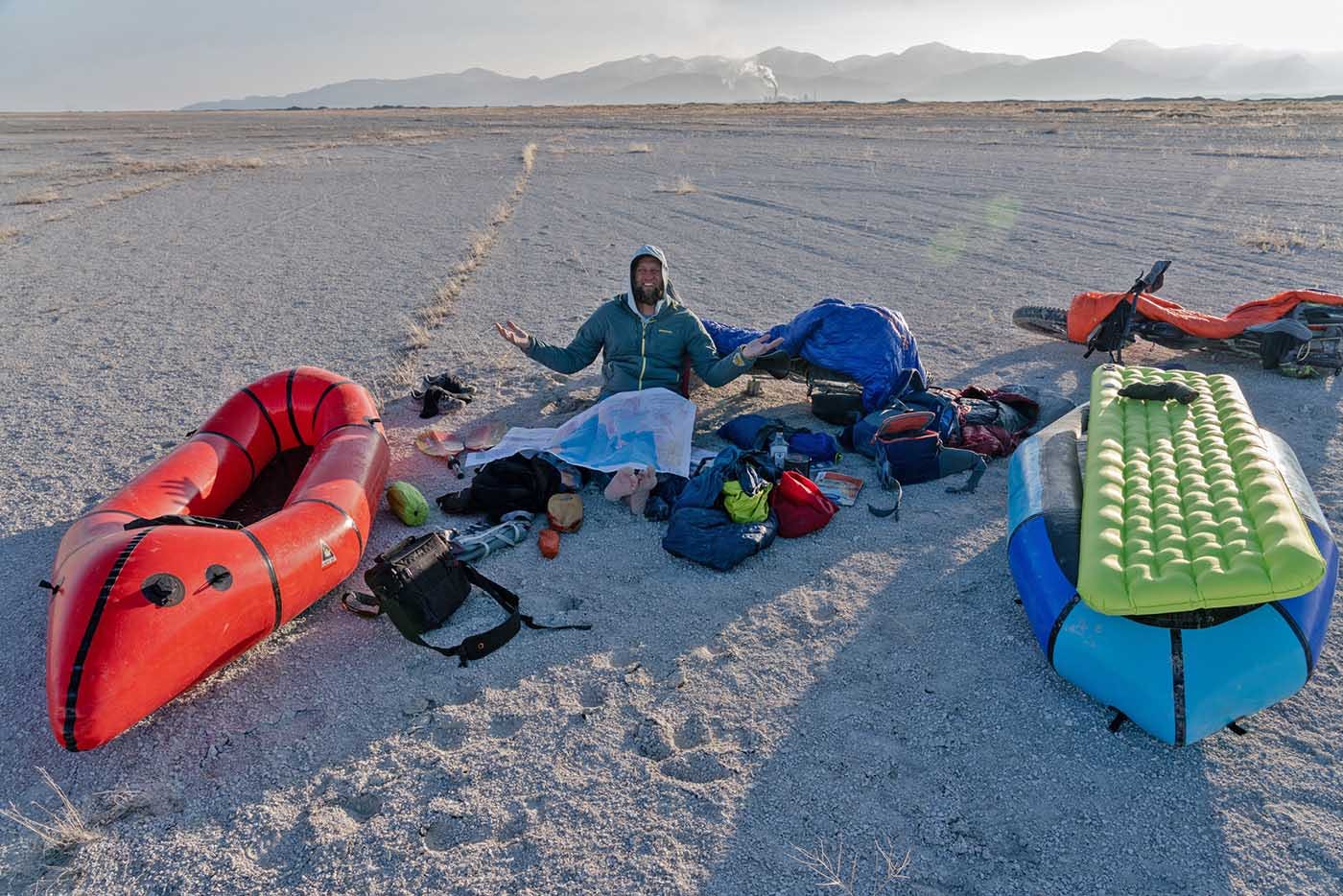 In one particularly long and muddy section we woke up at 1:30a.m. to ride through the cold and slightly frozen mud, a strategy that made finishing the trip possible. We built a raging fire at dawn and thawed our wet and frozen feet and continued to ride until the end of the day, in an attempt to get back on track.
While the packrafting on this trip was short and fairly easy, we used the boats to make an essential three-mile crossing, as well as to get across some deep cold irrigation canals. 
I've been doing this for a decade, and the thrill of overcoming these water hazards with Alpacka's rafts never gets old. In fact, I still feel like I've gotten away with something after a successful crossing.
To be quite honest, these boats are still just as exhilarating and improbable as they were ten years ago. I've gotten much more proficient at packing, and making the bike to boat and back to bike transitions. And, the boats have seen some nice improvements as well.
I'm currently looking at blue lines on maps and looking forward to the upcoming river season!
Doom & Andy used two of our newly streamlined Alpacka Series Classics on this bikerafting adventure for their light weight and versatility.