August 29, 2019
The Birthday Paddling Micro Adventure – Exploring Doesburg by Packraft
Konstantin Gridnevskiy's Urban Packrafting Adventures in Doesburg
Story & photos by Konstantin.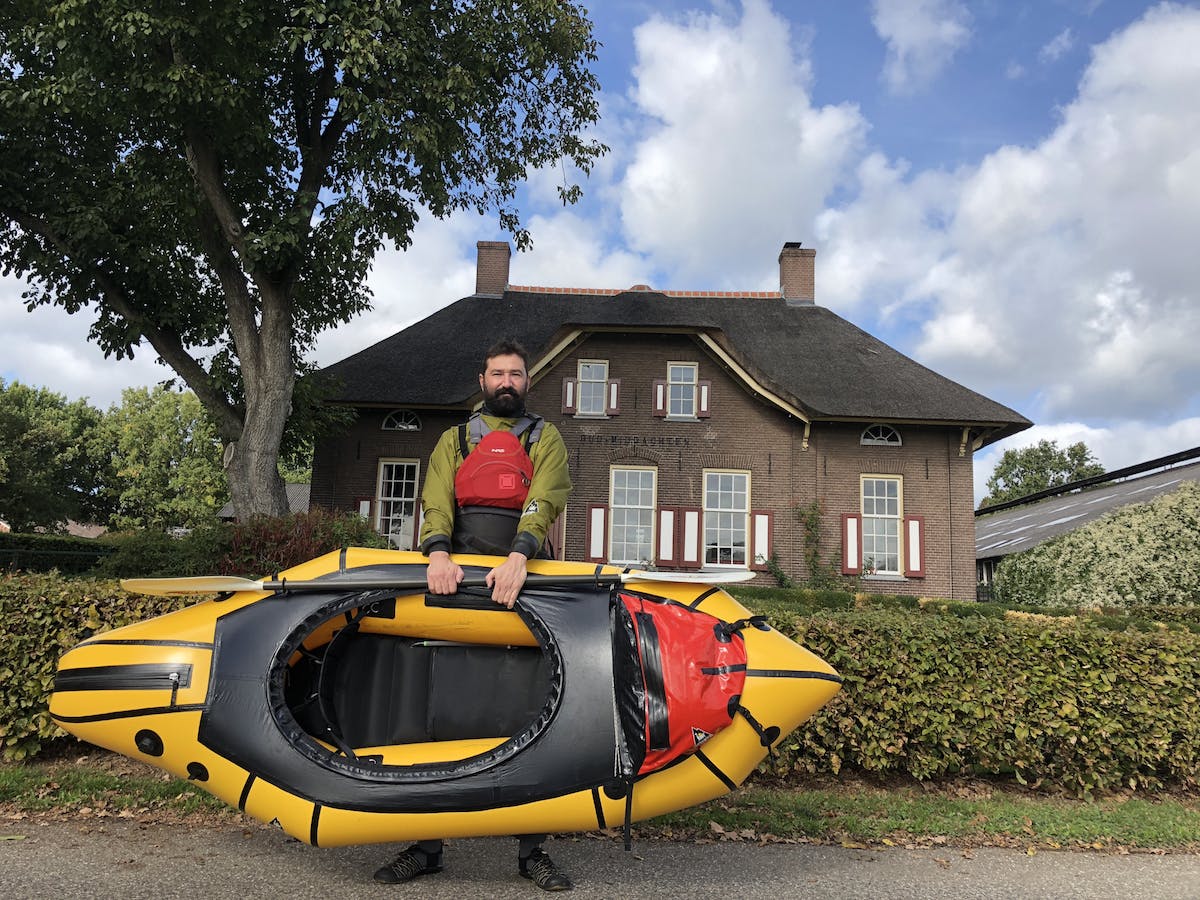 When you have a small child, time seems to magically disappear, especially when you don't have family around to help. I can hardly find time to travel and paddle as much as before. That's why when my wife, Marta, asked me what I wanted for my 40birthday, I immediately asked if I could go paddling for a few hours. To my surprise, she said: "Yes! Where would you like to go?"
We live in Leeuwarden, north of the Netherlands. Though mostly flat, water abounds in the region's lakes and canals. It's charming, but I wanted to experience something different. I wanted some 'moving' water. So I suggested going East to the border of the Veluwezoom National Park and the River Ijssel, a place I had seen many times from the train but never had the chance to paddle.
Though only two hours by car from where we live, the landscape there boasts beautiful forests and moors on the one hand and a river with 'moving' water on the other. My wife enjoyed this combination, as she could walk with our 11-months-old daughter, Helena, in the nature, while I could be on my "birthday-present" paddling micro adventure.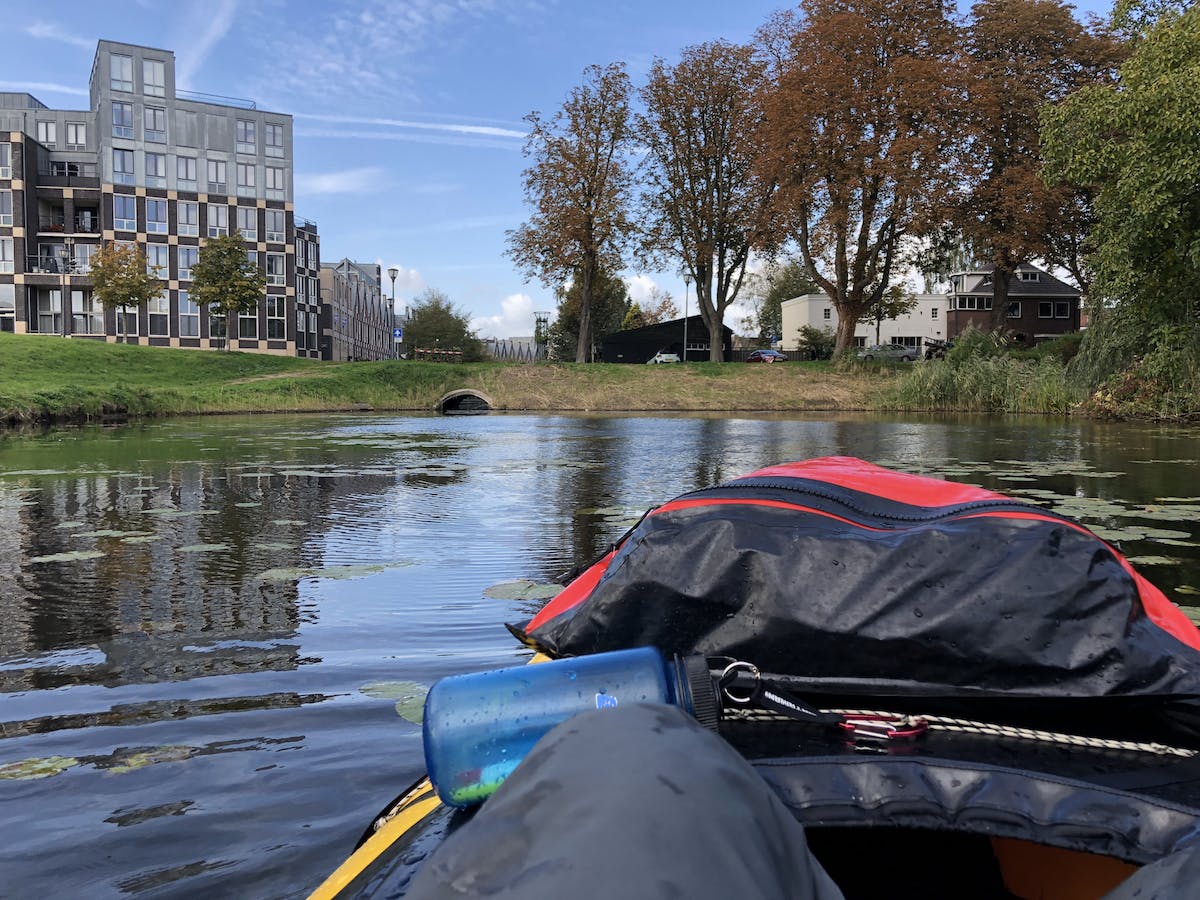 Driving to De Steeg
Our first morning, we drove to De Steeg (which literally means, "The Alley"), where we parked our car at the parking lot of a small castle, just a short walk from the river. I quickly inflated the packraft and and changed into a drysuit. 
"How much time do you need?" Marta asked before waving me goodbye. 
"It's just about 11km to the take-out point in Dieren, so three hours should be enough," I answered. 
"Great, you have two and a half then."
The Ijssel
A broad river with rather dense navigation, the Ijssel is regulated with most of its banks 'fortified' with stones, old bricks, and some other construction rubble. And while nice to be on the 'moving' water again, I found the river less than exciting. Good thing I could enjoy a sub-hobby of mine – spotting and collecting fishing lures from a packraft. This time I managed to get three more for my collection. 
After covering about two-thirds of the distance in 1.5 hours, I checked in with Marta. 
"Helena has fallen asleep in the stroller," she said. "And it does not look like she is going to wake up any time soon. So, you have extra time. Enjoy!"
Though a pleasant surprise, I wondered what to do with my time. While preparing for the trip, I saw the river would take me next to Doesburg, an old Hanseatic town. Judging by the map and some satellite images, it still had some remnants of its old fortifications – ramparts and moats/canals. These moats attracted me most. Why not paddle them?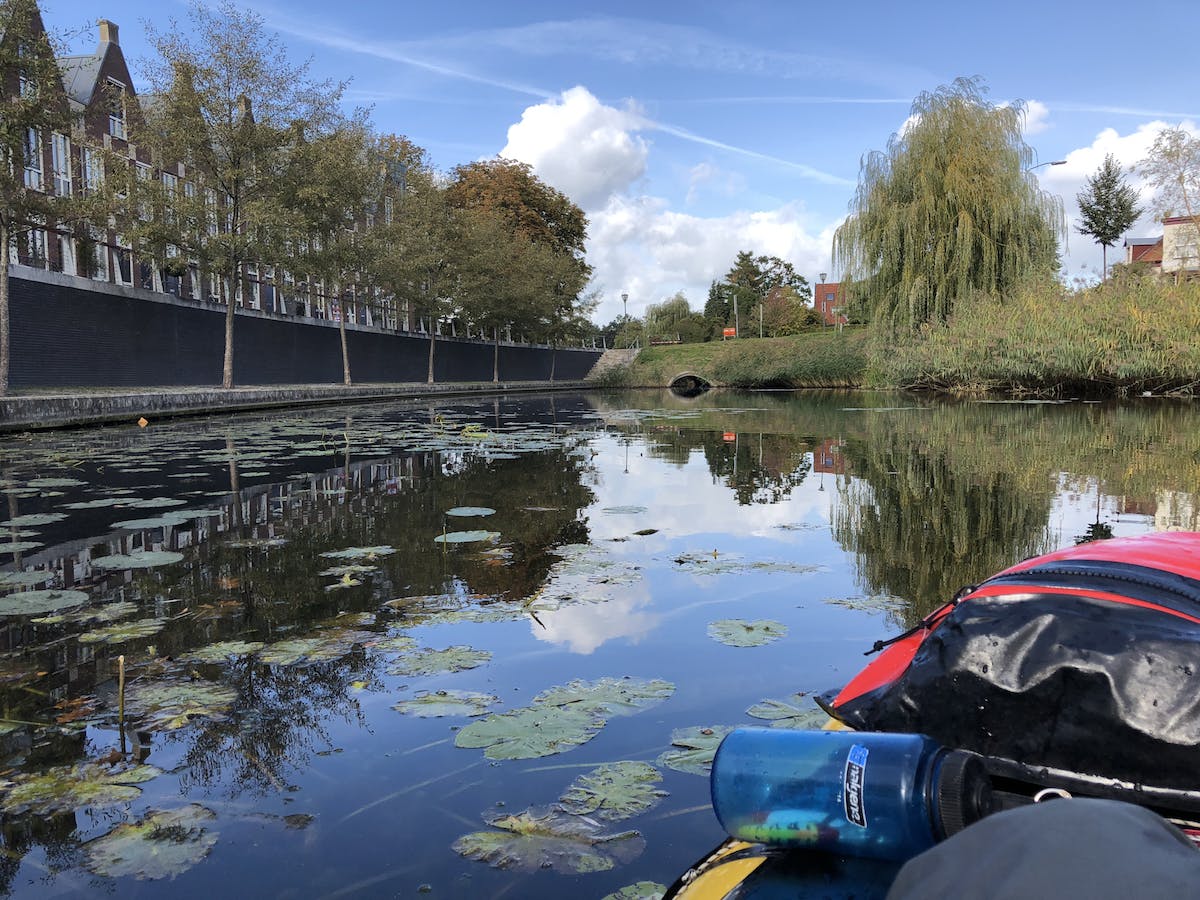 The Old Hanseatic Moats
The first challenge came when I approached the city and wanted to get out of the river. The embankment towered high above the water, and even though ladders were build into the walls, I could not easily get to them from my packraft.
Luckily, a short distance further, I found a small harbor with a steep ramp leading to the top. I picked up my packraft and walked up to some warehouses (covered in graffiti) next to a small street on the other side of which I could see the first moat. 
Back on the water, I faced another challenge – I was not sure which way to go next. According to Google Maps, more canals lay to the east (away from the river). However, they all looked disjointed, and I couldn't see if there was any way to get from one to another. In fact, it looked very much like a dead-end to me. On the other side, I could see a low pipe-like opening, just big enough for a packraft to pass. So I chose that route.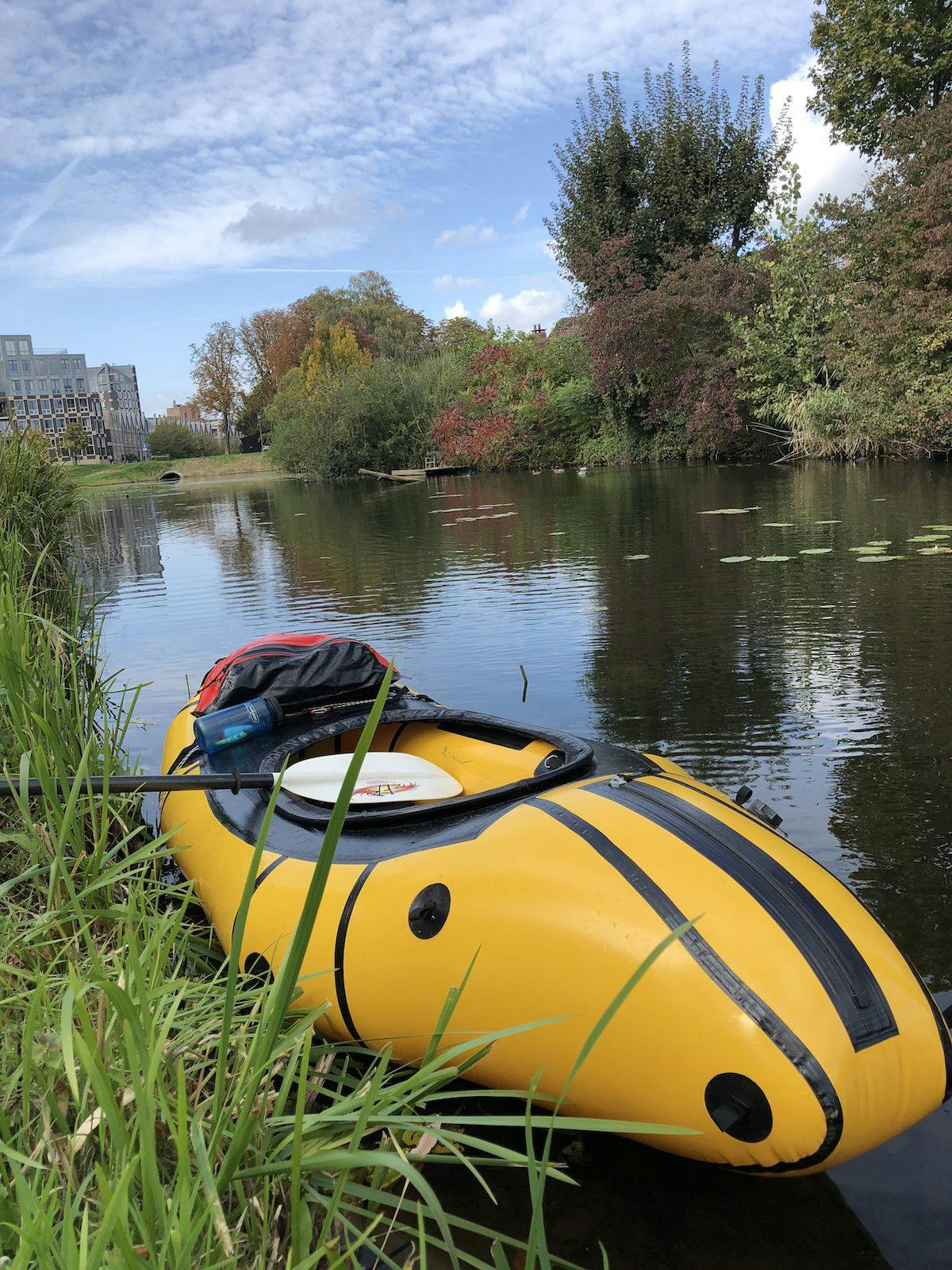 The Challenges of the Underground
Once under the bridge, I faced another challenge – lots and lots of spider webs. They were so thick that it made me think that I was the first person in a long time to go under there. But I persevered and emerged on the other side victorious, albeit covered in sticky web and dead flies.
Few people walked the streets, and those who did paid no attention to me and my Halloween-inspired camouflage. So I continued on until my wife called, urging me to hurry up, as my daughter was awakening.
I checked the maps once again and decided to not go further. Instead, I climbed out from the canal and walked with my packraft back to the embankment, getting down from which, proved to be my final challenge. For a moment, when standing high above the water I entertained an idea of throwing my packraft down and jumping myself after it, but I changed my mind. 
Instead, I walked a bit back and found a bridge leading to a small island, from where I could get back on the water. And 40 uneventful minutes later, I was at the take-out point in Dieren, waiting for my wife to tell her all about my birthday micro adventure.