Dogs of Packrafting (and cats too ) Photo Contest
Official Photo Contest Entry Page:
---CONTEST CLOSED---
Ready to win some great Alpacka Raft swag? Submit photos of your dog, cat or other pet, in, on, or around an Alpacka Raft to be entered to win our annual Dogs of Packrafting photo contest. Bonus points will be given to those that also post their photos on Instagram using the hashtag #DogsOfPackrafting and tagging @Alpacka_Raft (plus, we may re-share, with credit of course).
This contest will end on Monday, June 5, 2023 at 11:59pm MST. Contest winners will be announced shortly after.

Need a little inspiration?
Check out last year's winners and finalists and below is Gary the Cat, 2021 contest winner. Last year's winning photo is pictured above (credit: Amie Wu).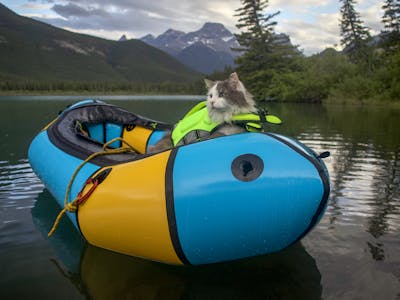 CONTEST RULES:
Photos MUST be yours to enter.
Photos of your dogs, cats or other pets must be wearing a PFD if in a packraft to be considered (if not in the packraft, PFDs are not required)
Please submit no more than five (5) photos. You will have to submit each photo separately, and fill out the form each time..
Contest ends Monday, June 5th at 11:59pm MST. Entries must be received before the contest ends.
By submitting your photos you are acknowledging and allowing photos to be used in, or on Alpacka Raft marketing materials, including social media, email, website, print, and other forms of marketing.

To enter, fill out the form below and submit your photo.
JUDGING:
Photo submissions will be narrowed down to approximately 5 finalists. Finalists will be announced on social media and the winner will be chosen by the greater packrafting community.
PRIZES:
Winner(s) will receive some amazing Alpacka Raft swag and bragging rights, as well as highlights on our social media outlets. Winners will be announced after June 5, 2023.
Good luck and we look forward to seeing your photos!